What's better than wandering through a city and finding little gems of artwork around every corner?
Fortunately, Hamburg is a city that values good street art and after the sudden death of Hamburg's most famous graffiti artist Oz last September (sadly he was hit by a train while spraying) street art has been given an extra push of attention.
edit: I've done an updated walk through the Sternschanze area, with some new pieces.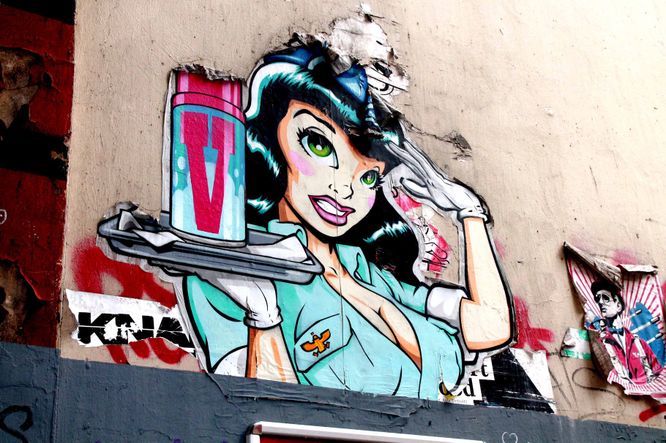 ---
---
There are areas, which are almost decorated completely, others only have the occasional piece of art.
I'll try to show you around the areas where you will find a lot and there's going to be something hidden for every taste. Also, there are great cafés and bars in these areas, so don't worry about your play time in between walking around. Please don't only walk the roads I suggest, the streets are changing every day, you should definitely have a look for yourself as well.
Grab a friend, a drink and your camera and start exploring!
---
My friend Antje and I started at S-Bahn Sternschanze.
Getting out of the station, we turned left and checked what is currently papered under the bridge. This area is changing quickly, so make sure to take a picture of whatever artwork you like.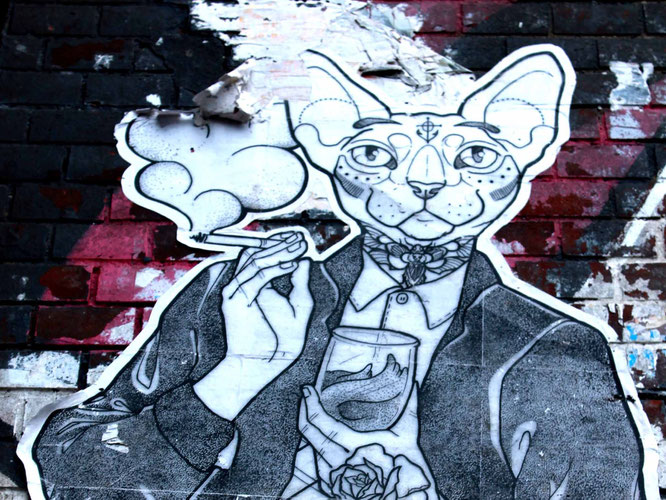 After the bridge, turn right into Susannenstraße. Here you'll find one of my favourites, the girl with the pink dress. I love the composition of the two smaller gentlemen appearing to be taking a picture of her and her bright colours which make her stand out in this already colourful street (edit 2017: unfortunately, she has been tagged over by now. The street is still worth visiting though!)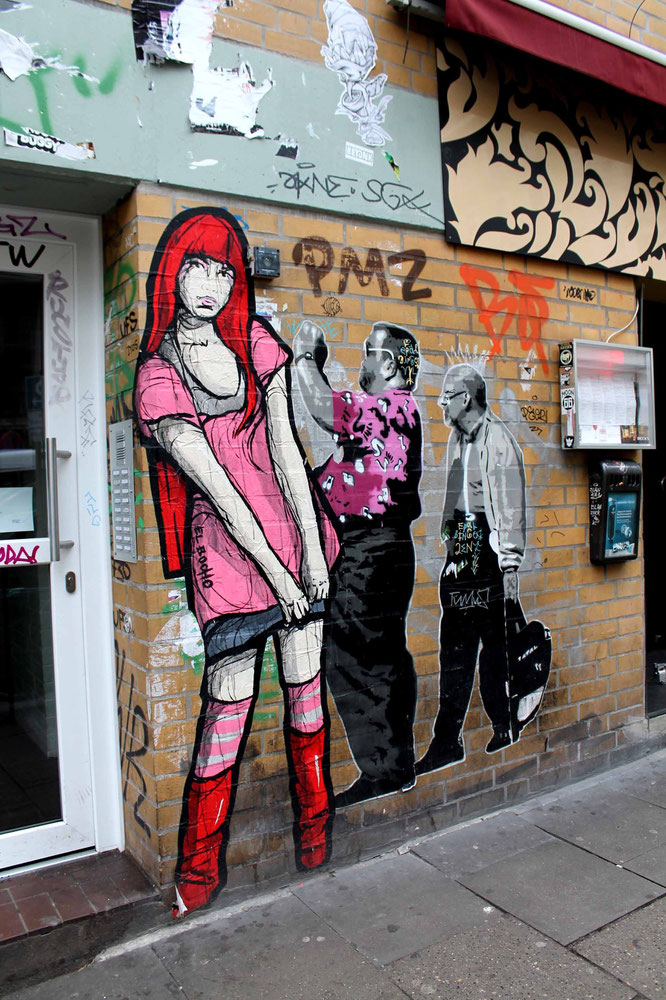 Then turn right into Rosenhofstraße. You'll find a vast amount of graffiti in every house entrance, so please
take your time here.
I especially like these stencil pieces and you will also find the pink girl's little sister.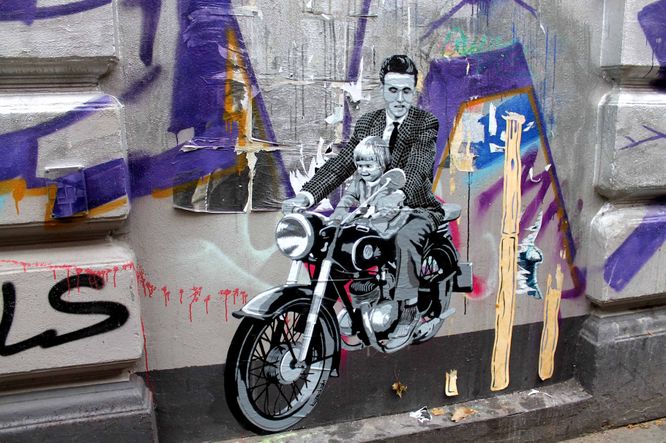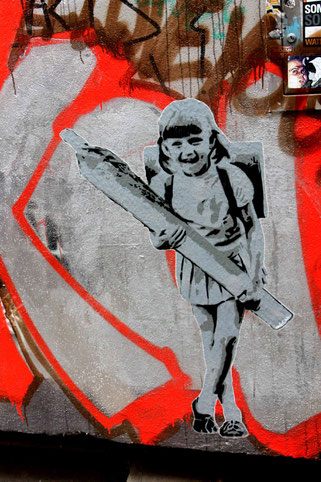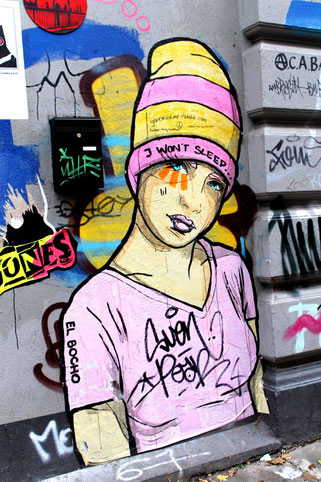 At the road's end, you'll arrive at Rote Flora, an old theatre which has been squatted since 1989 and is decorated entirely with graffitis, stencils, drawings etc. And I mean entirely! It looks a little scary but every now and then it's open for public concerts and you should dare to go in. Every single wall is coloured completely and it makes an important piece of history in the middle of the city.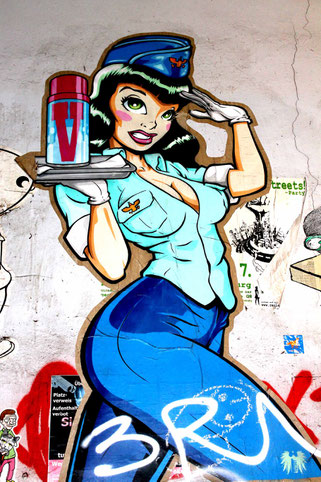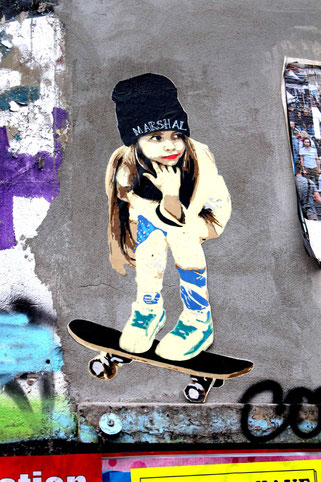 From there, walk on towards Karoviertel, which is another very alternative quarter, coined by it's squatted apartment blocks. These streets are also full of artwork, I found those two in a little alley leading to a playground.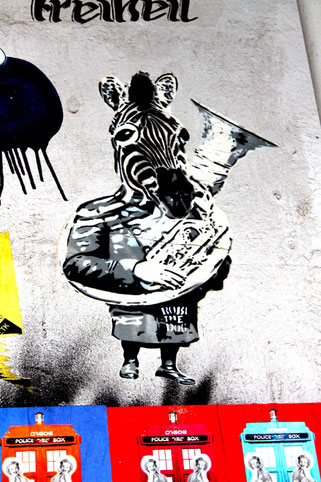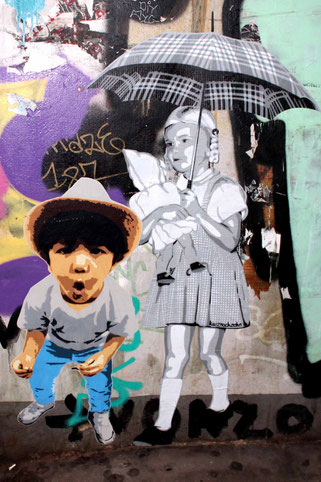 Then walk towards Reeperbahn, the red light district.
At the moment, you will find a massive mural by several artists, which is covering a building site (edit 2017: also gone by now - have a beer instead).
Like in the Sternschanze Area, you will also find several pieces of art hidden in smaller alleys or doorways. If the Reeperbahn is a little too "much" for you during day time, you are close to the harbour now, so if you still feel like walking around you could check out one of my favourite parks: Park fiction. Also, there are plenty of nice restaurants and bars in this area, so it's definitely worth staying for a bit.
Have you found more exciting street art in Hamburg? Please let us know in the comments section!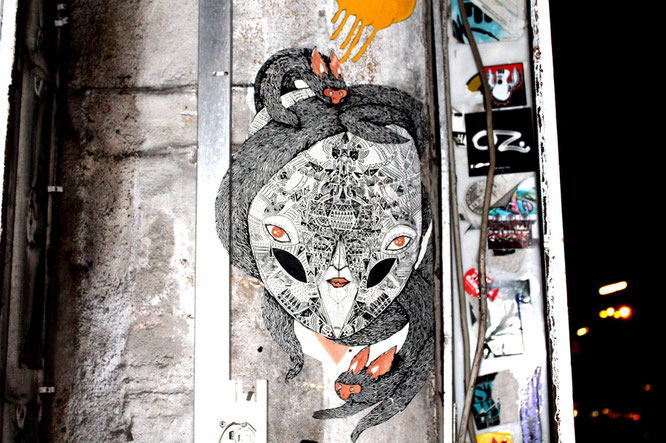 Where:
Sternschanze / Karoviertel / St. Pauli
How to get there:
by train: U3, S11, S21, S31
by bus: 15
both to Sternschanze
How much:
free!
If you're looking for a place to stay around Sternschanze, I can highly recommend Superbude St.Pauli, an adorable hostel / hotel right in the middle of all the Street Art.