This is the second part of the new category on Journey to Design summarizing the best restaurants for people who are into design and into food, one city at a time!

When I "researched" for the first post about Hamburg (aka forced my friends to have dinner with me at every nice restaurant in town), I realized that there are way too many nice restaurants in Hamburg to fit in one story.
So this is part two of "Hungry for design" featuring Alpenkantine, Altes Mädchen and Elbgold in Hamburg.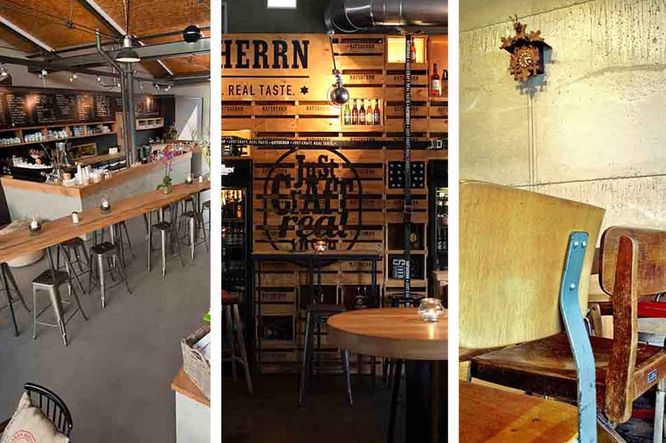 ---
ALPENKANTINE
Alpenkantine is a restaurant in Hamburg's Eimsbüttel, that is rocking the concept of a canteen (=kantine) by combining the efficient process of an industrial kitchen with a large counter and the architecture of a very modern chalet.
The design process was every architect's dream: no client with a briefing but a group of people (a caterer, her partner a building contractor, an industrial designer and an architect) all developing the concept together in several workshops.
To bring their ideas to life, they had to tear down the facade and renovate the entire store.
The result was this beautiful space with blue cement tiles and untreated timber, that look like they came straight out of your grandma's kitchen, combined with a very straight design of rough concrete and wooden furniture.
Their food is amazing and this is the perfect place for dinner with some friends.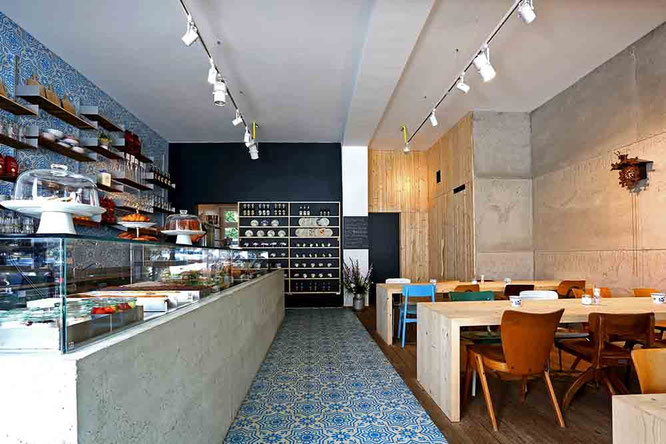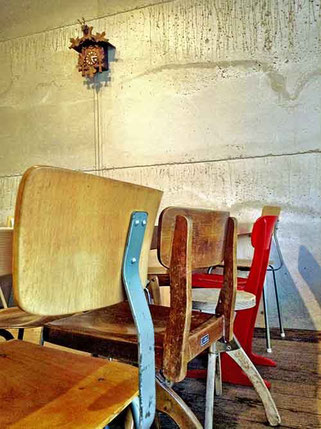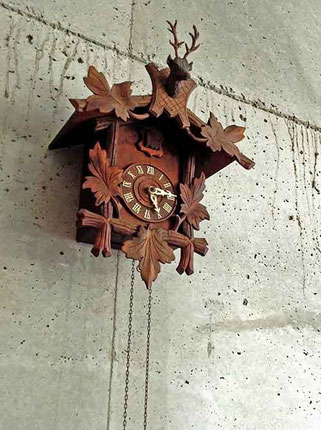 Where:
Alpenkantine
Osterstraße 98
20259 Hamburg
How to get there:
Take the U2 to Osterstraße, it's right next to the station
How much:
Dinner and drinks for about 15€
---
ALTES MÄDCHEN
Altes Mädchen is a bar and restaurant located at "Schanzenhöfe", a former industrial area, which is now taken over by restaurants and bars.
Altes Mädchen specializes in craft beers and they show their love for their product with their simple design staging the beer as the centre of attention.
Coming in, a massive bar dominates the space. Arranged around it, there are several comfy seating areas and even a chimney to warm you up during winter.
Thomas Hinsche, their designer, used wooden beer crates and timber as main materials referencing American craft beer pubs while the lamps, seating and many other elements match the industrial surrounding.
Showcases are set into one of the timber walls, highlighting single bottles of beer like exhibition pieces while retro beer signs everywhere remind you why you are there.
It's a geat place to meet up with friends and there's even space for larger groups. They also have a great terrace to spend the summer!
I listed this place under "restaurant" because I can't say much about beer (I really don't have a clue) BUT I can talk about food:
They serve classic brewery food like burgers and schnitzel but are known for their "Stullen", simple but great sandwiches with fresh homemade bread.
This is the kind of food many expect to find in Germany, just way better!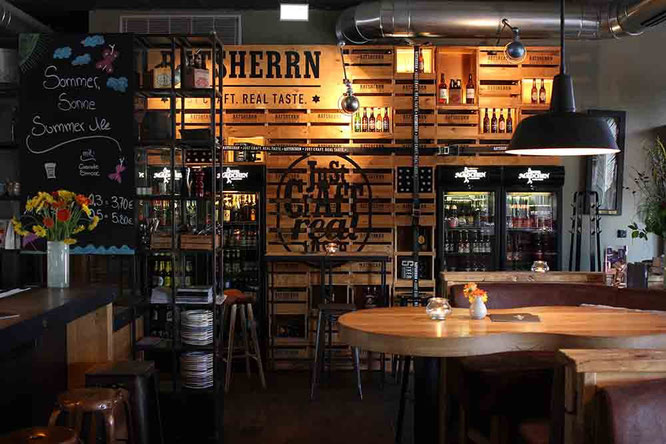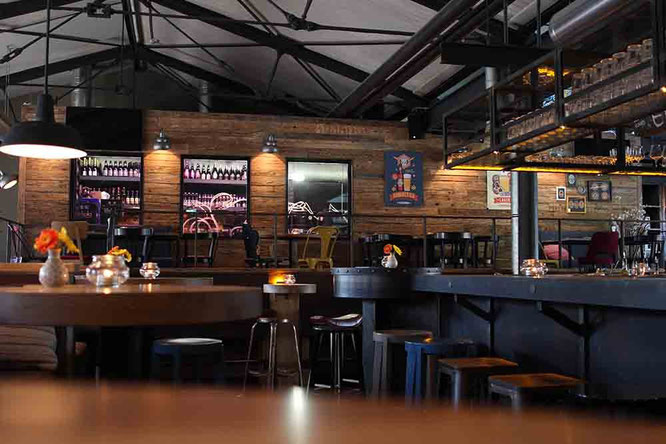 Where:
Altes Mädchen
Lagerstraße 28b
20357 Hamburg
How to get there:
Take the U3 to Sternschanze and walk for about 5 min
How much:
a sandwich and a beer for 10€
---
ELBGOLD
Elbgold is a café and coffee roastery located in Hamburg's "Schanzenhöfe", right in between Altes Mädchen and Bullerei.
Their massive industrial space is divided by a corten steel grid into a café and a production area, so you can watch the roasting process while having your coffee.
The first thing you'll see coming in are the massive silos on your right-hand side, which have been painted with blackboard paint, so the coffee is labeled right on the silo.
Their furniture is a mix of simple Scandinavian design and cushions made from coffee bags.
With two facades being completely glazed and very high ceilings, the space appears light and airy. Although the room is so big, the team still managed to design a cosy place, where you can spend an entire day watching the roasters work and the hipsters walk by.
This is a great place to have coffee with friends before heading to the nearby Schanze area!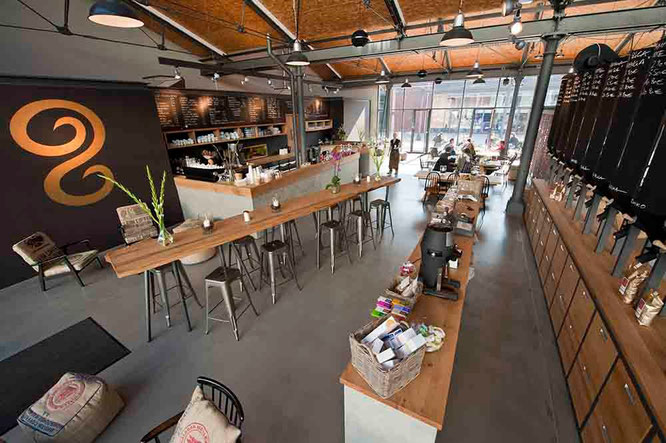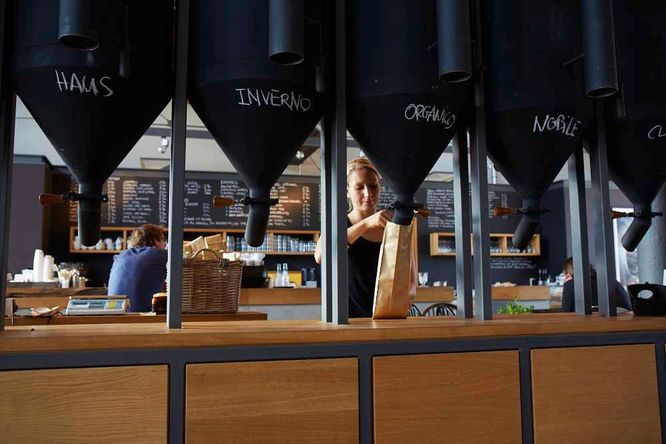 Where:
Elbgold
Lagerstraße 34C
20357 Hamburg
How to get there:
Take the U3 to Sternschanze and walk for about 5 min
How much:
regular café prices
---
What's your favourite restaurant in Hamburg? Let us know in the comments section!
---
YOU MIGHT ALSO LIKE
---