this is a new category on Journey to Design summarizing the best restaurants for people who are into design and into food, one city at a time!
And what could be a better start for that than my hometown Hamburg?
This is part one of "Hungry for design" featuring the restaurants Bullerei, Witwenball and Marend in Hamburg.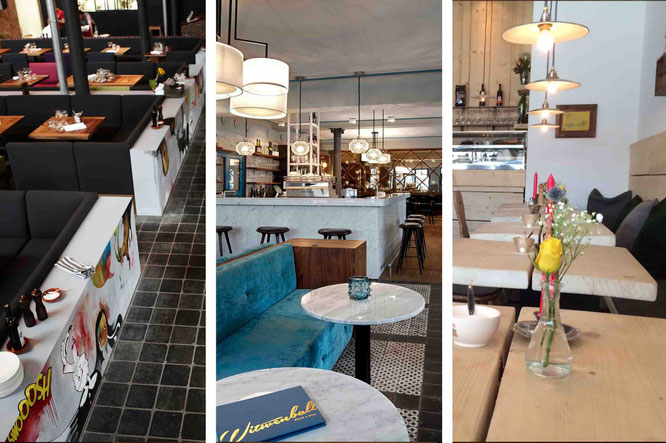 ---
---
BULLEREI
You will find the restaurant Bullerei at "Schanzenhöfe", a former abattoir, which is now conversed into a very hip gastronomic area.
Bullerei based their concept on the past of this place with a design that brings out the best of the industrial hall they are located at any by specializing in meaty dishes (they are famous for their steaks).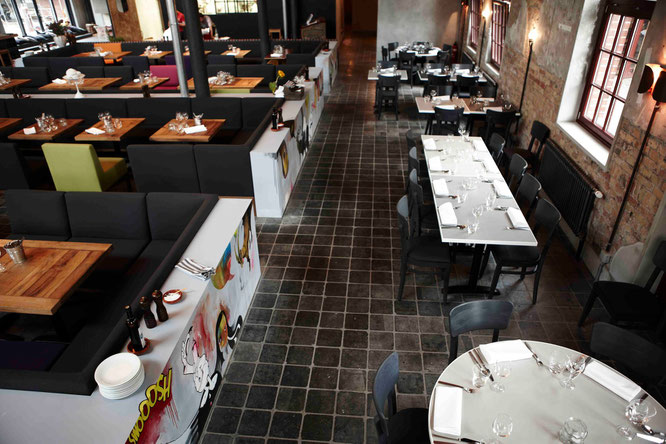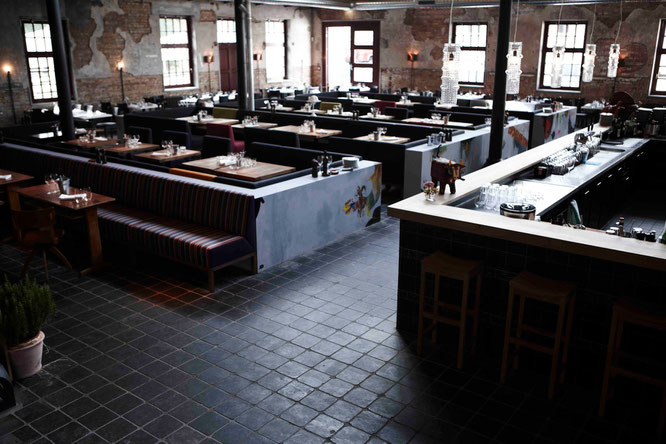 Giorgio Gulotta, the architect, kept the natural stone floor and unplastered walls and even used wooden barn doors (adorable detail: with hearts cut-out of the bathroom doors). The dining room is structured by concrete booths, each encasing a group of benches for the guests to sit in. The concrete is decorated with street art style drawings, referencing the surrounding "Sternschanze" area.
One of the main objectives in a large scale restaurant like this is to keep the noise level down and to still make it feel comfortable. Gulotta's team did a great job here, by choosing the right materials for the seating and by structuring the place without dividing the space into smaller areas.
While the main restaurant is staging the former "barn", their adjacent deli looks like a home for the farmer's family. Tables from driftwood, several kinds of different chairs and beautiful tiles on the counter make a cosy place, that remind me of my grandma's kitchen (in a good way!).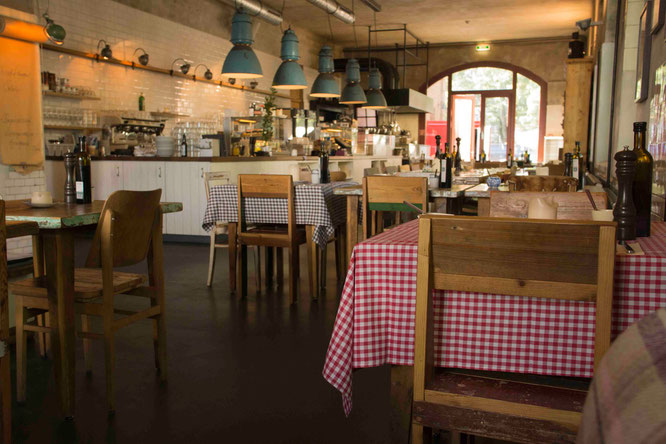 All three photos by Bullerei

Bullerei is a great place for an evening with a group of meat-loving friends.
Keep your eyes open for the cute details referencing a farm, that you will find everywhere.
Where:
Bullerei
Lagerstraße 34b
20357 Hamburg
How to get there:
Take the U3 to Sternschanze
How much:
Bullerei: about 50€ for dinner+drinks, Make sure to book your table way in advance.
Deli: about 20€ for dinner+drinks
---
WITWENBALL
Witwenball is a restaurant and wine bar located between Schanzenviertel and Eimsbüttel in Hamburg.
While many of the surrounding restaurants share the same style using industrial furniture and a "shabby chique" look, the owners decided to go the opposite way.
When they sat down with their architect Giorgio Gulotta – yes, he also designed Bullerei –, they already knew that the design should go in a more glamourous direction.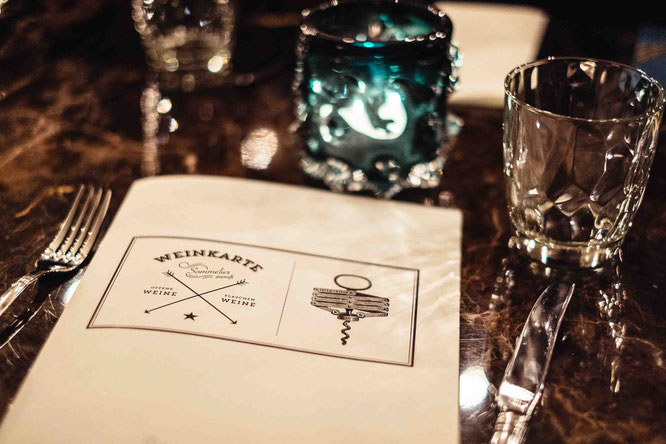 The result was this beautiful place which brings you back to a 1920s Paris with an impressive carrara-counter, a wall covered with an antique mirror and high end surfaces.
Keep your eyes open for the different kinds of lamps (the lighting was designed by Lichtspiel Lichtprojekte & Design), bathing the room in a golden glow.
What makes this place special, is that –although so glamourous– you don't feel like visiting the rich kid's grandma at all: it's classy but still fresh.
With a young corporate identity and an even so modern menu, it's a great place for a group of friends to have a cozy dinner together or to impress your date with your good taste in wine (bonus: they don't make fun of you if you pick your bottle by the prettiest label, have tried that).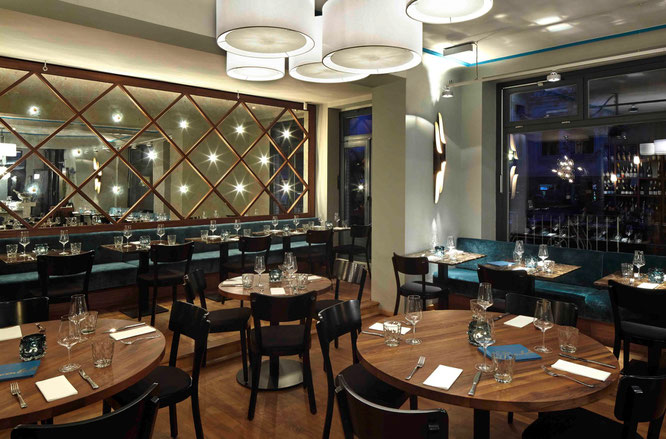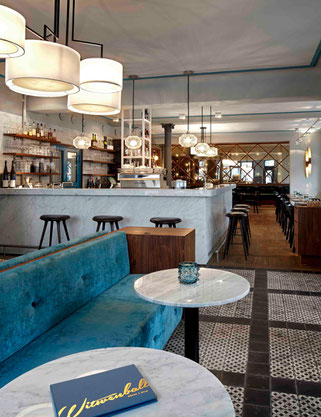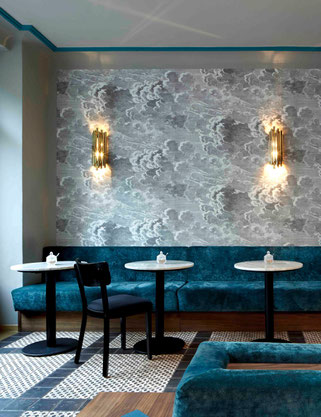 Where:
Witwenball
Weidenallee 20
20357 Hamburg
How to get there:
Take the U3 to Sternschanze and walk for about 5 min
How much:
about 35€ for dinner + drinks
---
MAREND
Marend serves typical food from Tyrol making you feel like in a chalet in the alps in the middle of Hamburg's Karoviertel.
What's great about their design is that they managed to combine the chalet-style – wooden benches, chairs with a heart cut out in their back rest and felt cushions – with modern elements like the light grey wall colour, a raised seating area in front of the window and a polygonal kitchen element.
While they had the idea for the design themselves, the owners had a great team helping them realize their project:
Harald Hofer is a designer from Tyrol, who helped them with their wooden furniture. They got their lamps via jolg.de and got great advice and their bar chairs from Luv, a store in Hamburg's Schanzenviertel.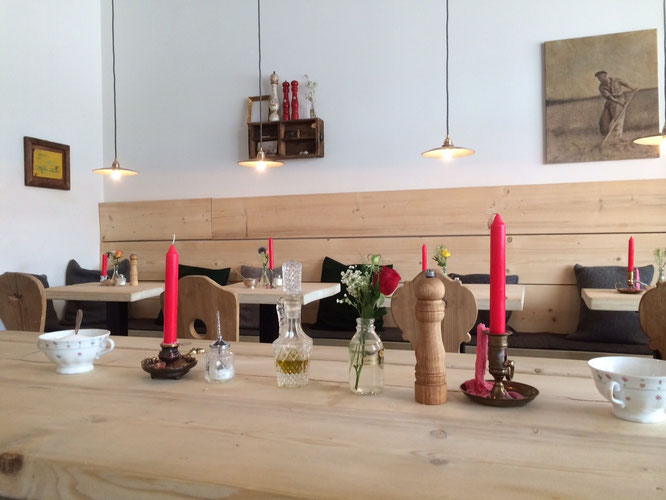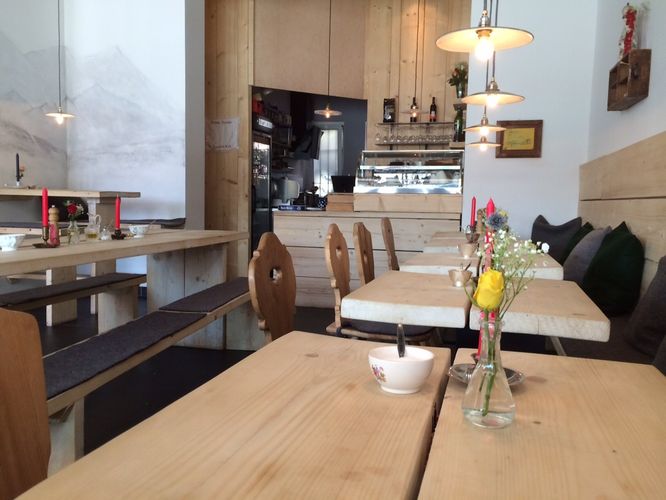 Their feelgood food is lifting the spirits on a rainy day in Hamburg: Knödel – that's kind of an Austrian dumpling – most meals containing bacon or sandwiches made from whole-grain bread.
Since the place is tiny, it's perfect for a first date or a relaxed evening with a friend.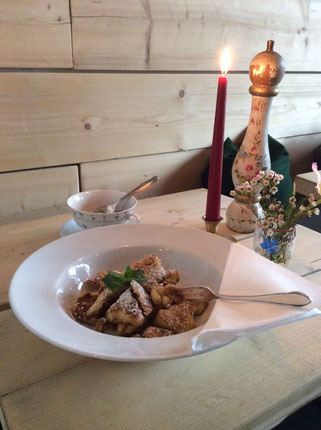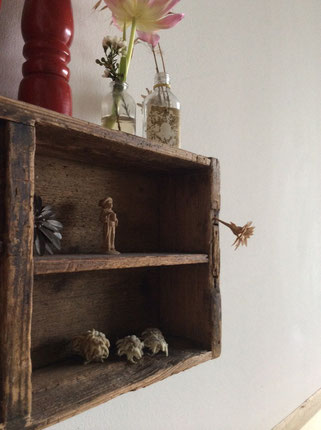 All three photos by Marend

Where:
Marend | Tiroler Küche
Feldstraße 29, 20359 Hamburg
How to get there:
Take the U3 to Feldstraße, it's right on the other side of the road
How much:
about 15 € for dinner+drinks.
Try to book a table in advance.
---
YOU MIGHT ALSO LIKE
---