There are a couple of things I consider highly luxurious:
This includes champagne showers, soaking up the sun on a private yacht, anything involving learjets or staying in hotel in the city you live in.
So when Superbude invited me to stay with them in Hamburg, I didn't hesitate for a second, although or just because their hotel is just a 15 min walk from my apartment. I had wanted to look at this hotel/hostel for ages and never really found an excuse: now it was here.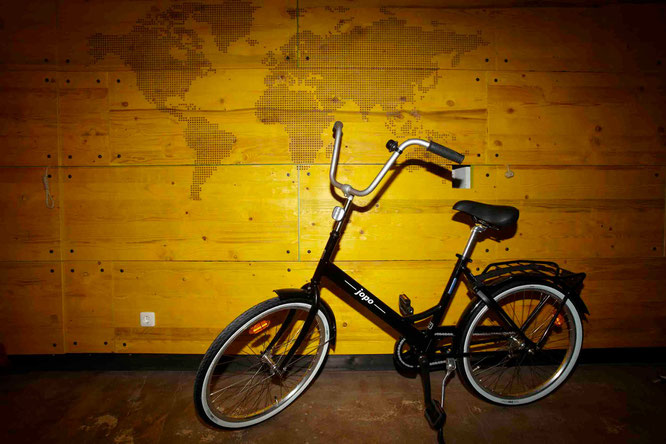 ---
---
LOCATION
The hotel is in Schanzenviertel, a hip neighbourhood in Hamburg and was built into a listed building, which had been used by Deutsche Post.
Just around the corner you will find my favourite café Herr Max and hundreds of bars, restaurants and shops. Walking in the other direction you get to St. Pauli, Hamburg's well-known red-light and
Meaning: if you are in Hamburg to party, shop, eat or dance, this is the perfect location!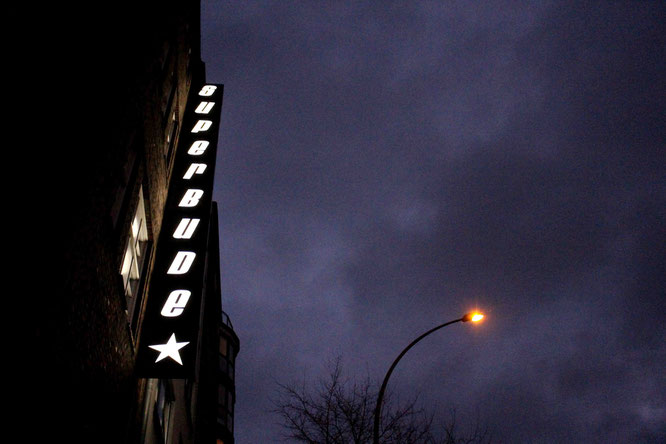 THE DESIGN
The location and a young target group allowed the designers – DREIMETA from Augsburg – to go for an unconventional design:
Their aim was to mix simple hostel accommodation with the benefits of a hotel, offering not only great service and facilities but also great design.
The design incorporates references to the close harbour, giving the hotel an authentic character quoting design elements like ropes and materials used for transportation.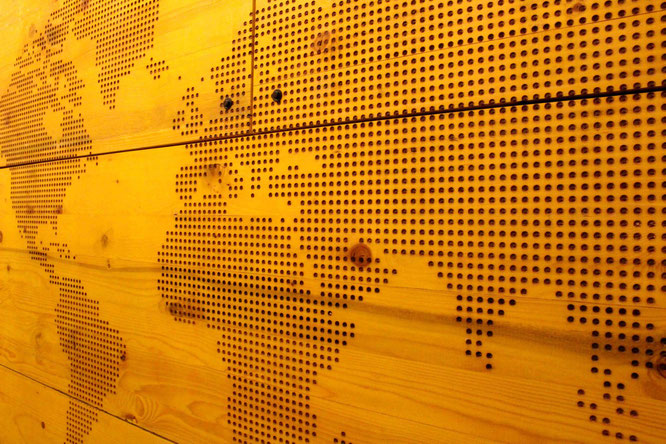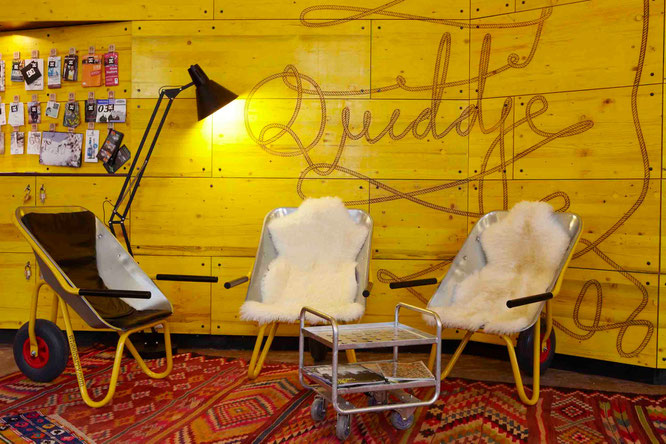 The ground floor is characterised by a multi-functional wall made of yellow concrete form work panels.
All functions for the guests are incorporated in this wall, like fridges, the internet station, benches and a water station.
The breakfast area (called "kitchen club") can be used by the guests during the entire day and offers microwaves and ovens for a quick and low-budget lunch.
The surfaces here are made of red silkscreen panels and the counter top was faced with sheet copper,
a nice shiny contrast to the other mostly wooden elements.

A very smart detail was combining acoustic panels with lamps, thus including them in the design instead of just pasting them under the ceiling.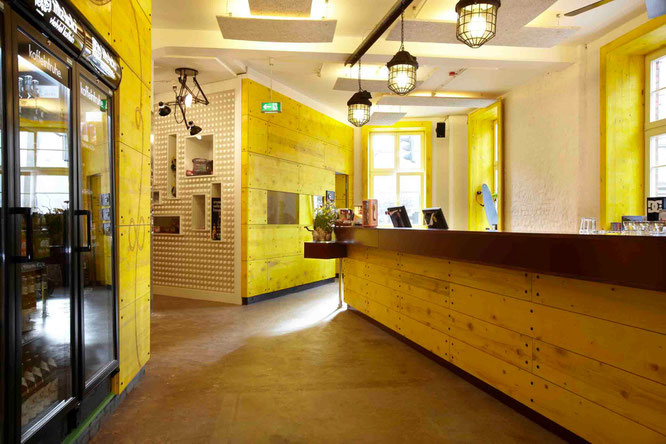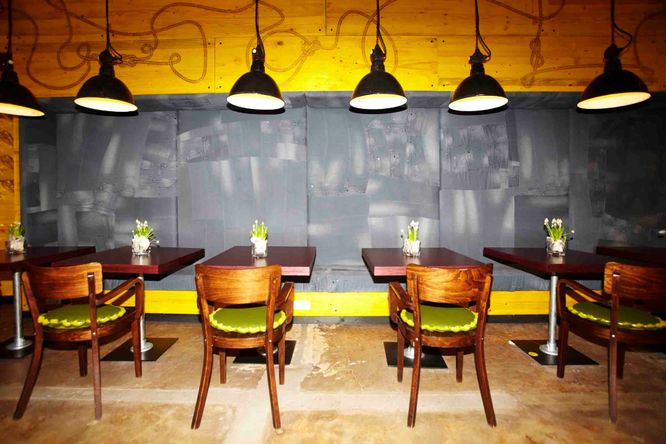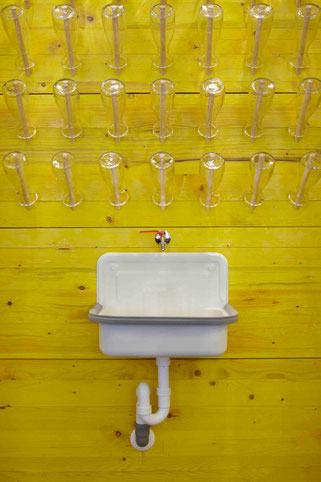 I probably still would have found new details after a week of staying there, like the water station set in the yellow wall, mousetraps used as pin boards or this wall made of empty bottles.
So if you get to visit Superbude, please take your time to hang out in their "kitchen club" to enjoy the atmosphere and great design.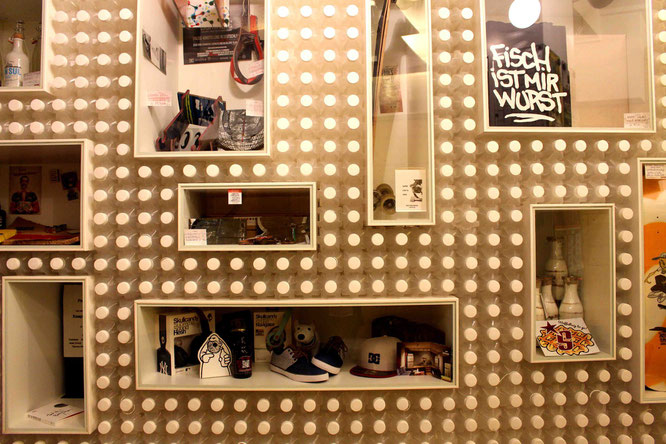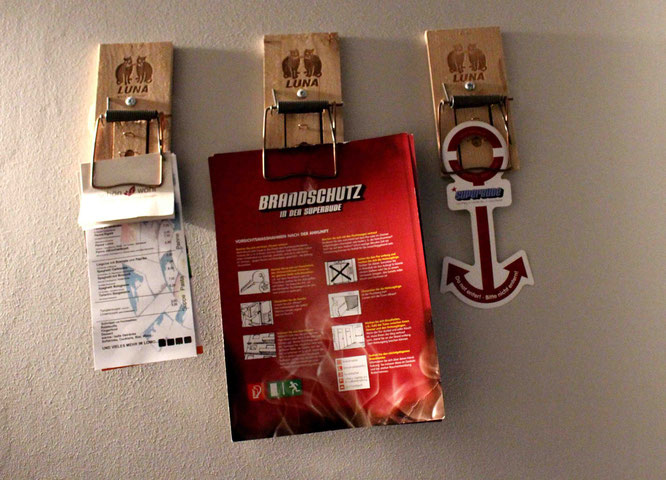 THE ROOM
The rooms have a special feature:
The beds are stackable, turning a double room into 4-bed-room and boosting the capacity up to 170 guests in 90 rooms (hence hotel AND hostel).
The guest rooms' furniture is built from yellow form work panels as well and details like plungers serving as coat hooks and beer creates as stools bring the industrial charm from the ground floor into the rooms.
We had a "Doppelbude", a room for two, which had everything we needed and was probably the same size as my apartment (to be fair, my apartment is quite small but it was huge for a hotel room. You know what I mean). In the rooms you will find little references to the harbour again like anchor-towel-hangers, the rope print and a cable drum used as a side table.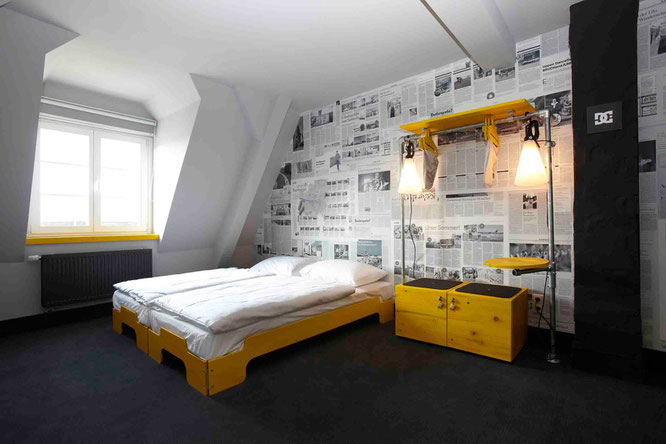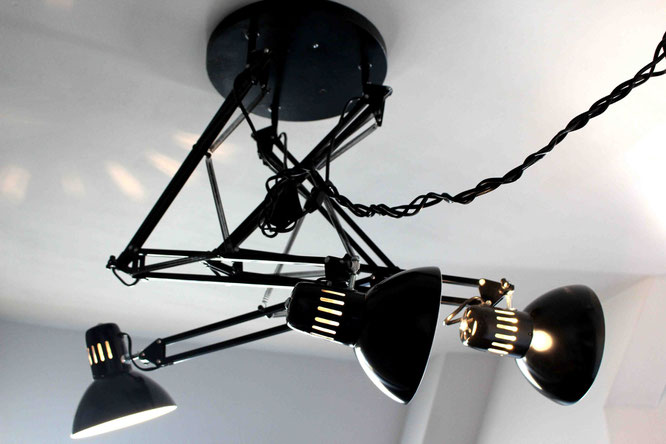 FOOD
So this is something I really love:
at Superbude you can snack all day long. They serve breakfast until noon but if you oversleep you can always help yourself for some bread with Nutella or buy some noodles to warm up in their microwave.
The buffet style breakfast has everything you can dream of and you can even make your own waffles!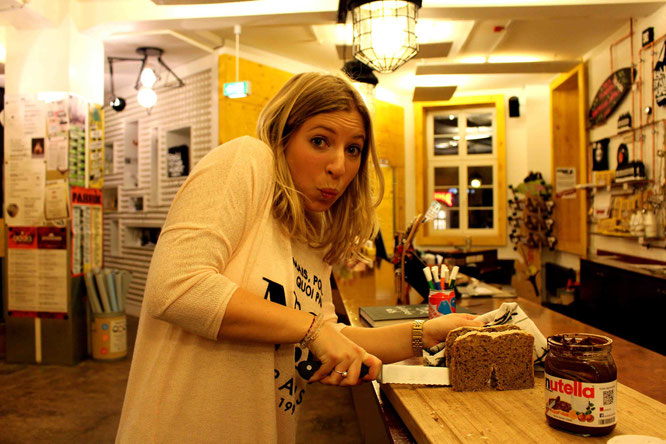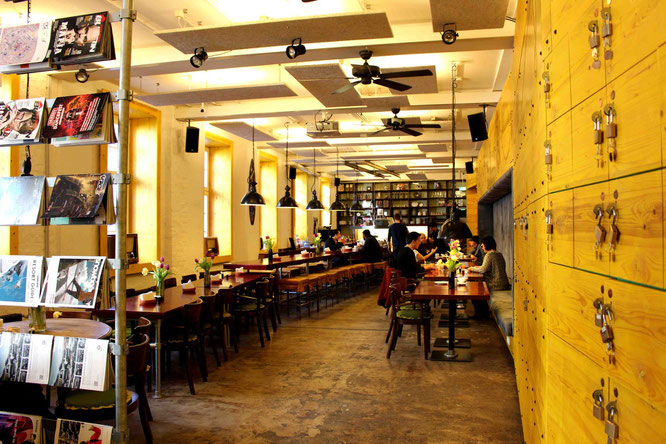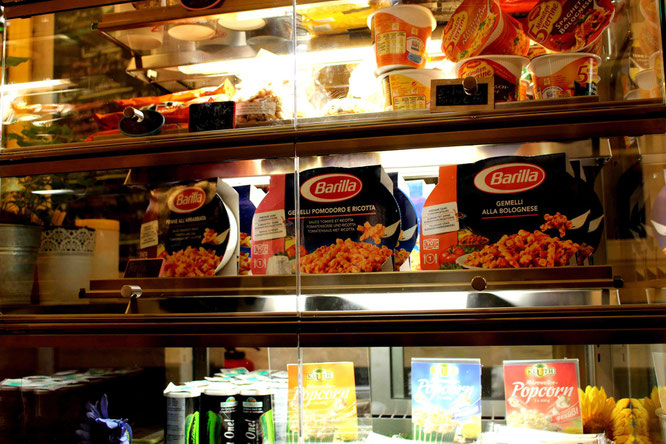 OVERALL
In my opinion the design team did a great job incorporating the surrounding district, a young and fresh style and a cost-oriented approach into their design, which is absolutely worth a visit!
The staff is very welcoming and you can simply have a good time there, discovering Hamburg or working on your laptop or one of the computers in the lounge (free wifi!).
This is the perfect place for everyone who wants to discover the city, enjoys some good company and hotel service on a hostel budget.
PS: I'm not the only one with this opinion, Superbude just won­ the Geo-award for best hotel under 100€ in Europe!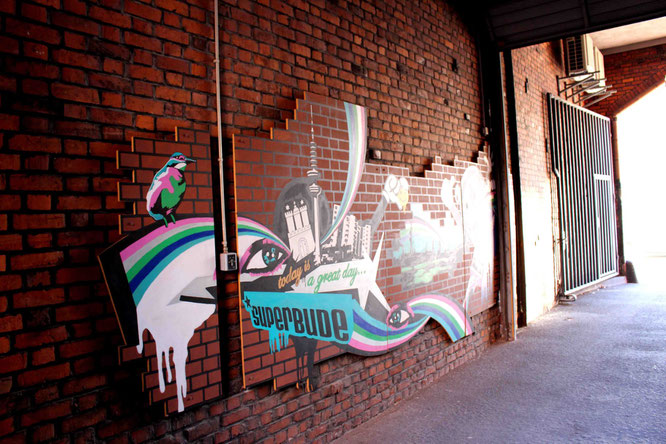 ---
Where:
Superbude St. Pauli
Juliusstr. 1-7,
22769 Hamburg
How to get there:
Take the U3 to Feldstraße and walk for about 5 min
How much:
it's cheaper the earlier you book.
Click here for current rates and bookings.
Many thanks to Superbude for inviting us! As always, all opinions in this post are my own.
Please note that I am an affiliate for booking.com and will earn a small percentage of your purchase if you buy through these links at no additional cost to you. Thank you for supporting Journey to Design! 
---
YOU MIGHT ALSO LIKE
---