After an amazing month in the Philippines my last stop was Manila.
Z hostel had invited me to stay with them and as design hostels are my favourite kind of accomodation and the Philippines have some of my favourite places in the world, I knew this would be good.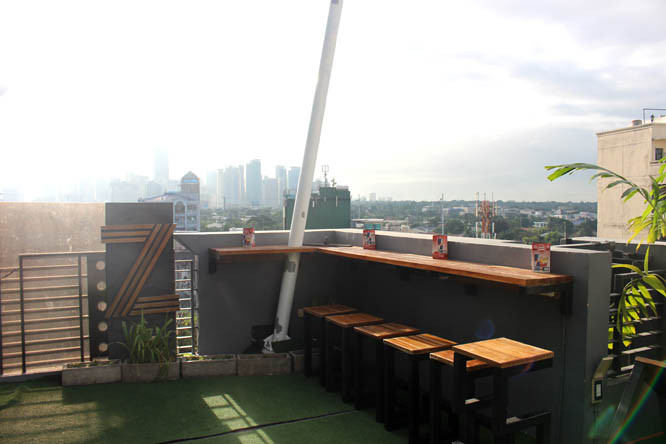 ---
---
The Area
The hostel is located in Makati, one of the sixteen cities that make up Metro Manila. It's the financial centre of the Philippines and apart from the stock exchange you'll find lot of entertainment and several large malls there.
Just around the corner from the hostel there are little markets, restaurants and shops, while Z hostel itself is located in a quiet, small street.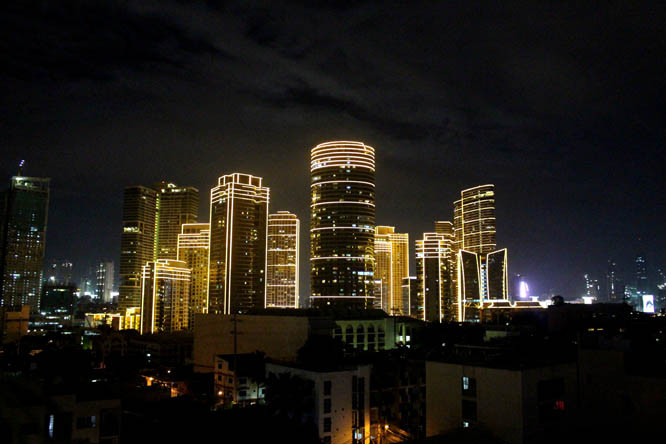 ---
The Design
Z hostel rocks an industrial look with lots of steel and grey walls, combined with dark wood. This combination makes is super cozy without loosing any of its coolness.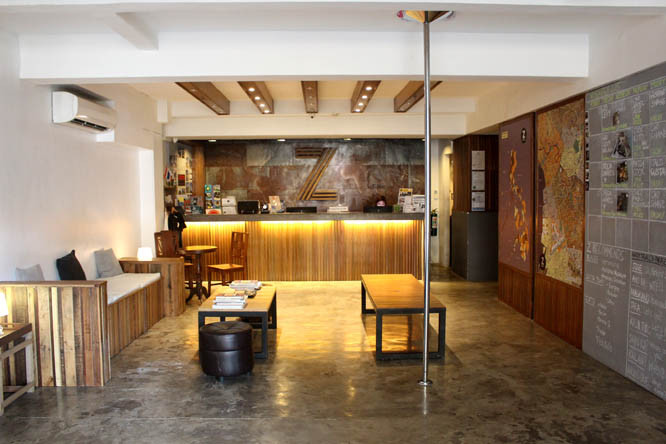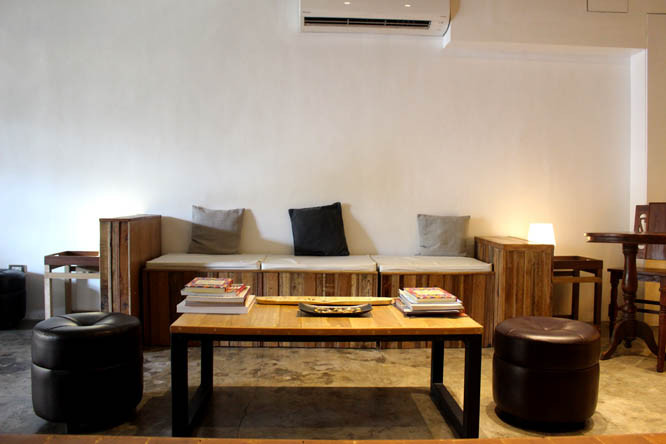 All communal spaces are very airy and there are several places to hang out and make new friends.
I loved their lobby, which already shows the style I found again and again throughout the hostel:
A concrete floor combined with furniture that mixed wood and steel. On one of the walls, there is a chalkboard area with information about the parties on the roof top, some tips on what to do in Manila and how to get there. Combined with a couple of cute polaroids of guests, you already get the good vibe right there.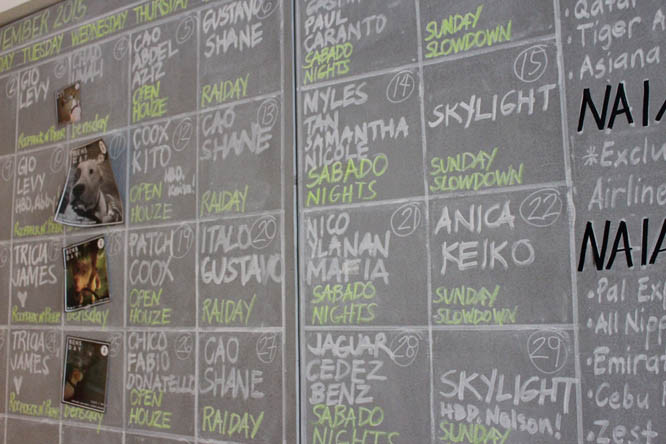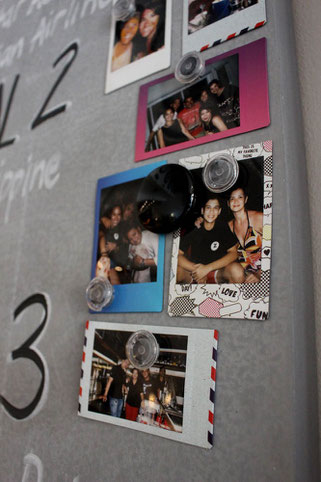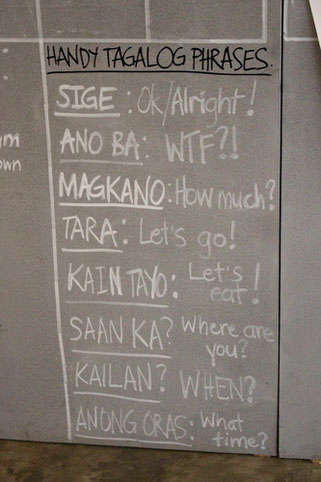 There are also two computers for the guests to use, not only to help with the travel planning but places like this make people hang out in the communal areas and meet new friends.
I liked the use of wood on the walls here as a contrast to the grey paint, creating a much warmer atmosphere, marking the areas where people are supposed to relax.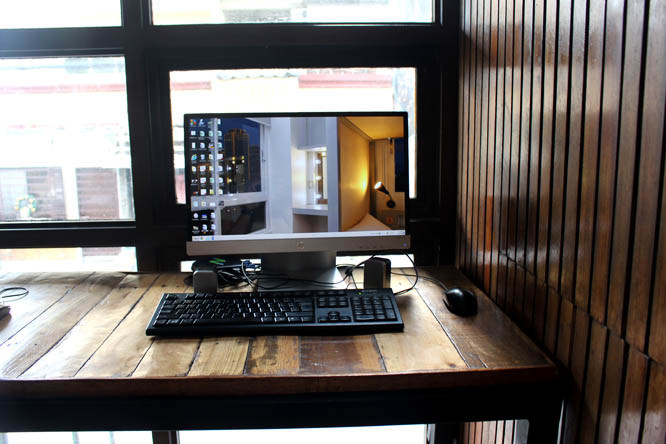 ---
The Room
The rooms have the same cool industrial style and a couple of features that make a traveller's life so much easier. It's the simple things like having enough outlets that make me really happy when travelling.
The night stands are big enough for a laptop (and the wifi is strong enough to actually watch movies), there is a large desk in front of the window and the wardrobe is big enough to fit two backpacks in.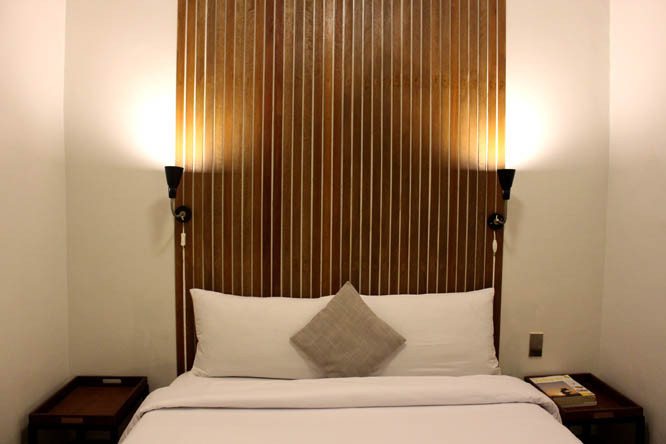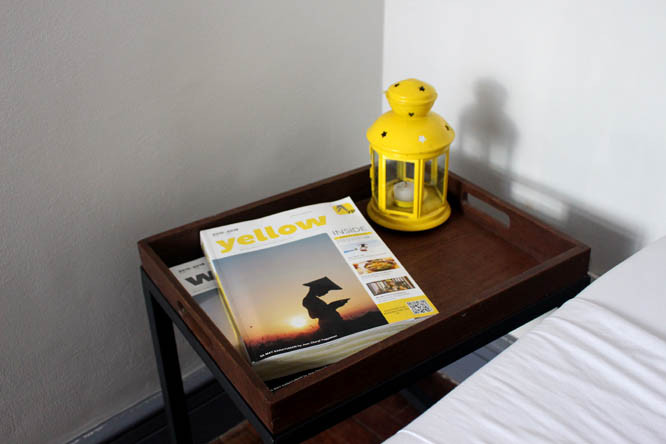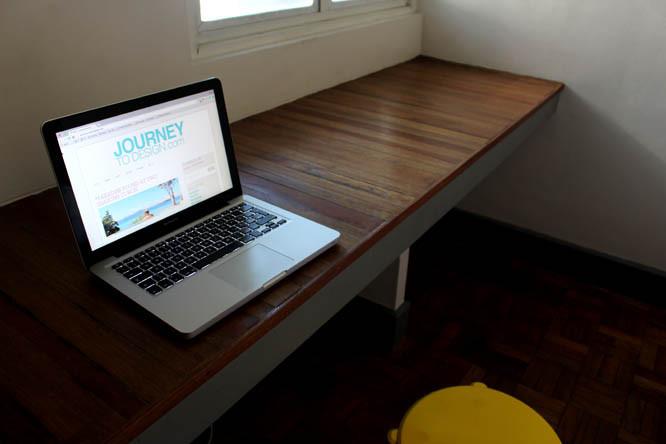 I loved the parquet flooring, which made the room feel much more cozy than the other areas.
The bathroom is less fancy but was super clean and had everything I needed.
The private rooms are located on a sixth floor and I had a great view over Makati from there. This also means that they are located right underneath the roof terrace, so if there is a party you will hear it, but I simply joined the party and had a brilliant time there.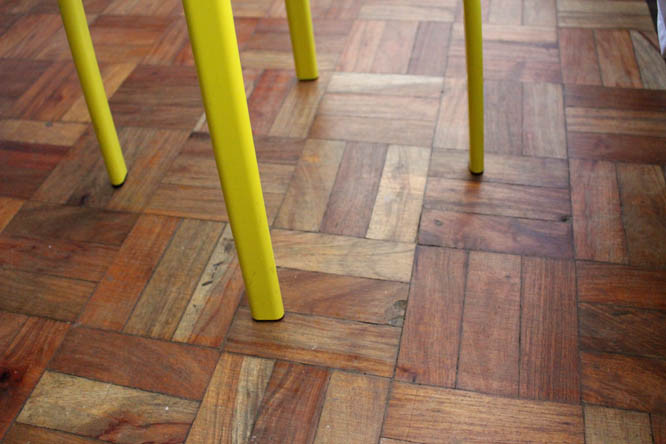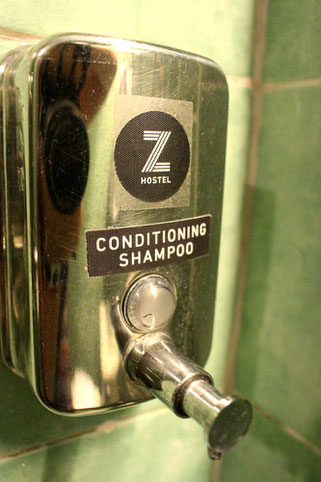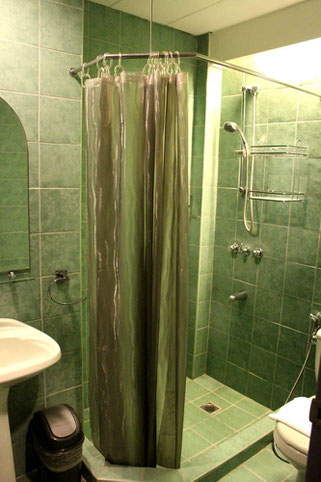 The dorms are located on the other floors and have the same cool style and smart little tweaks to make
the travellers happy (lockers with outlets inside and extra large beds, hellya!)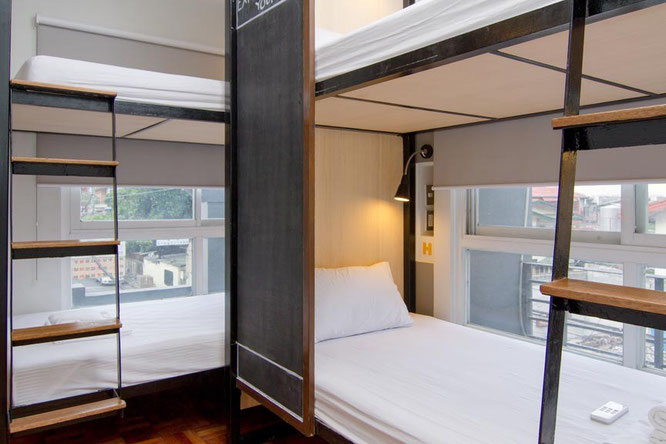 ---
The Rooftop
The rooftop really is the highlight at Z hostel. Actually, there are two roof terraces, one with a DJ and one with a BBQ. They are connected, so at some point there was just one giant party up there. I was staying at the hostel over the weekend and both nights they had great DJs playing and many locals joined us on the rooftop.
I made friends right away and felt at home at the hostel and in Manila quickly.
Oh, and did I mention the view?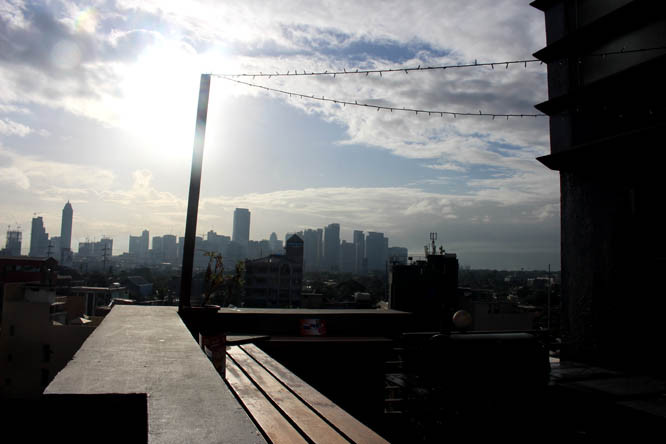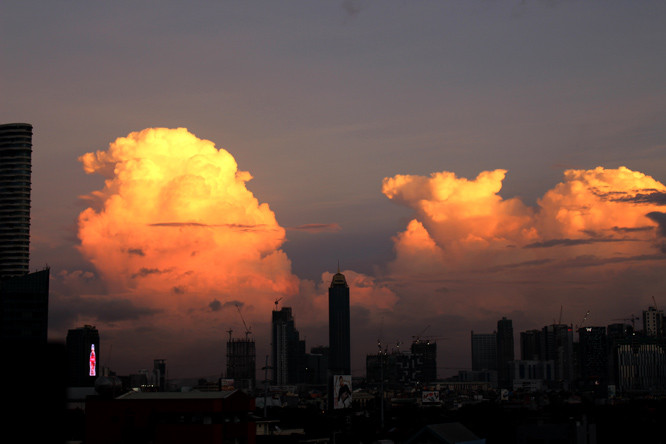 ---
The Café
Breakfast is served at the café but you can also go there any other time to order some amazing food.
With the "Gameroom", an additional upstairs seating area, I also found a quiet working space, which is just perfect for sitting down with a laptop for a couple of hours.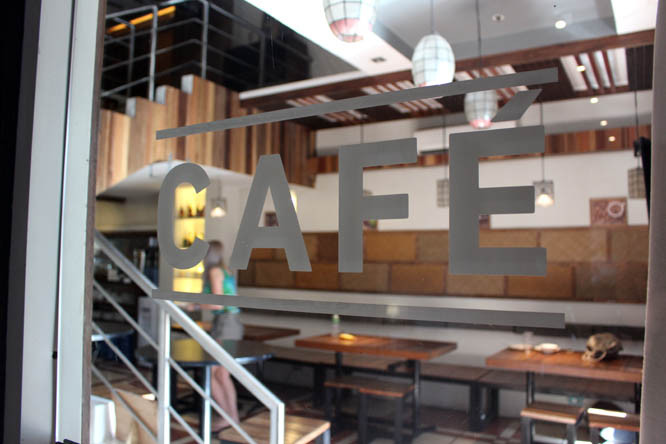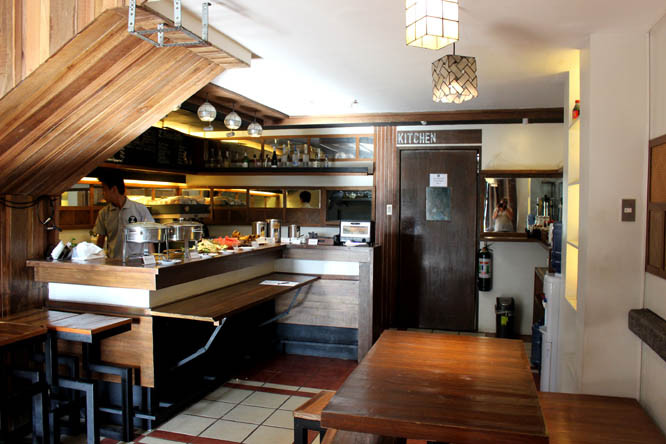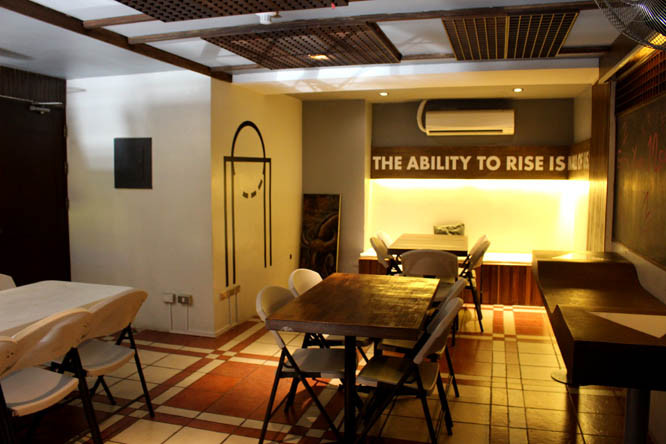 When checking in a Z hostel I was given an RFID bracelet, which I could top up to pay with at the café and at the roof top. I loved that system because it meant I didn't have to carry anything with me when heading to the roof top parties or downstairs to the café for a meal.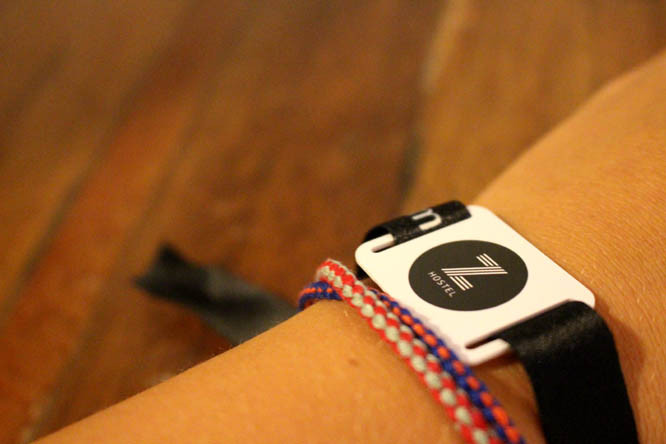 ---
The Vibe
The hostel is designed to stimulate conversation and you basically can't get out there without making friends. Within just five minutes on the roof top I started talking to three other travellers and I spent my entire stay with this amazing little group of people.
The staff were super friendly as well and I felt welcome at all times.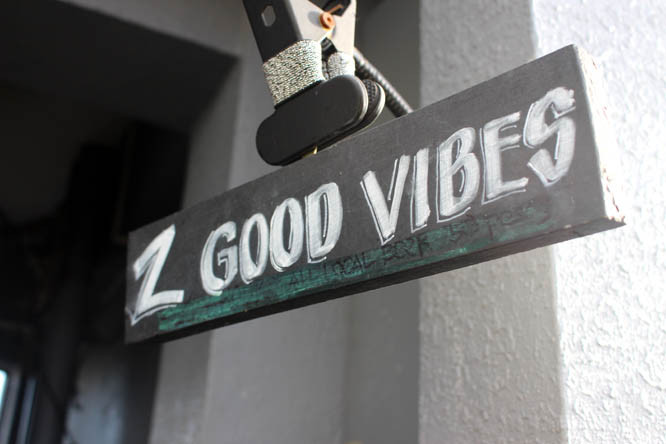 ---
Over all
I can absolutely recommend staying at Z Hostel and I'll definitely come back the next time I'm in Manila. Everybody I met there was super nice and I loved the cool and cozy design. This is a great starting point to explore the city and to make new friends at the roof top terrace.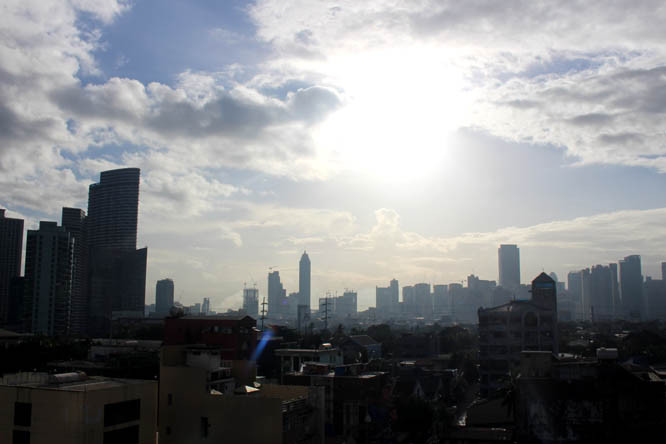 ---
---
Where:
5660, Don Pedro
Makati, Metro Manila
How to get there:
Most taxi drivers will know Kalayaan Ave. Turn right at the Mini Stop Convenience Store into Don Pedro Street, the hostel is right there.
Depending on the traffic, it takes 30 minutes to two hours to get there from the airport.
How much:
I had a private room, which costs 52 USD or 2430 PHP.
Dorms start at 17 USD or 740 PHP.
click here for current rates
---
This post was sponsored by Z hostel. As always, you still get my full and honest opinion.
Please note that I am an affiliate for booking.com and will earn a small percentage of your purchase if you buy through these links at no additional cost to you. Thank you for supporting Journey to Design! 
---
YOU MIGHT ALSO LIKE
---