El Nido has been on my list for ages. One stunning beach next to another, amazing diving and beautiful cliff surroundings? Sounds like my kind of place.
So on my trip through the Philippines, I made sure that this was my first longer stop.
The lovely people at Spin Designer Hostel invited me to stay with them, which obviously made my time in El Nido even better.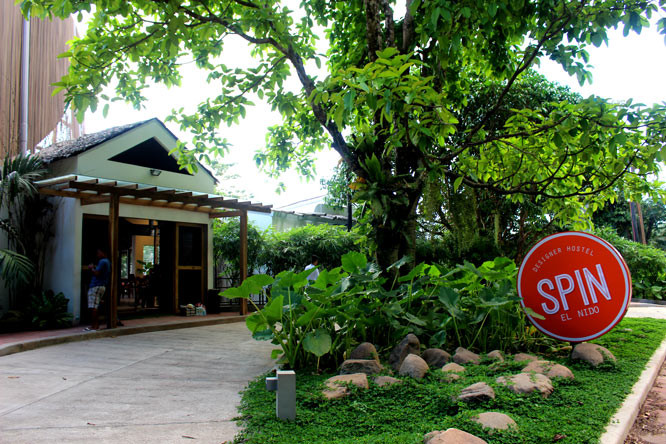 ---
---
The Area
El Nido is a small town in the northern part of Palawan, a "short" 5 hour bus ride from Puerto Princesa.
It has gotten the reputation of being very busy in the last couple of years, which is only true for the walk along the main beach.
Spin is located just five minutes from there, surrounded by lush gardens, where you'll hear nothing but birds and the kids from the school next door. As soon as you drive a couple of minutes (basically in any direction), you'll find cliffs and beaches, which you'll probably have all for yourself.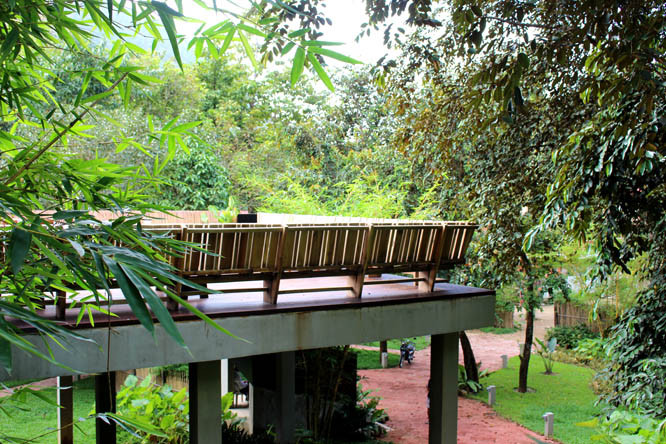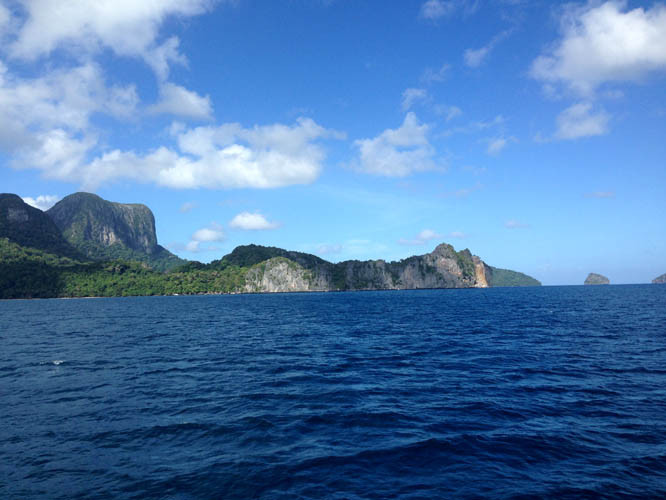 ---
The Action
As there is so much to do around El Nido, my three days were pretty packed.
After arriving in the afternoon, I went for a walk looking for a supermarket to find sunscreen.
Walking down the main street, I ran into several friends I had met earlier on my trip. 
It's a small world and El Nido is a very small place.
When I walked by the tiny local gym, I heard my friend Gareth shouting "hey luv" in his thick Manchester
accent, waving through the window and I felt right at home.
That night I invited them all to the BBQ at Spin Hostel. It takes place twice a week and is a great opportunity to meet the other "spinners". My group of friends quickly grew bigger and we were joined by many cool people, who were staying at the hostel as well.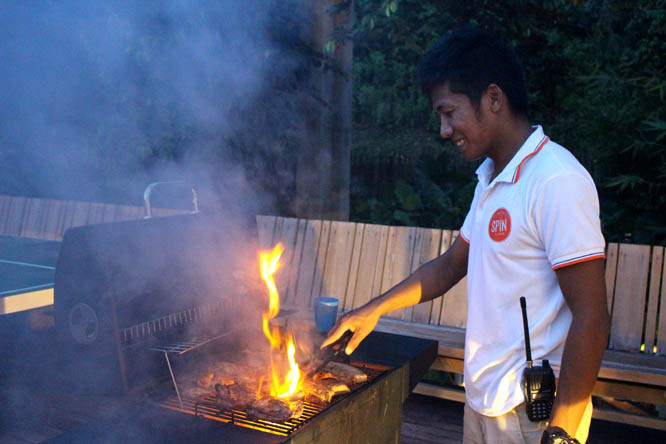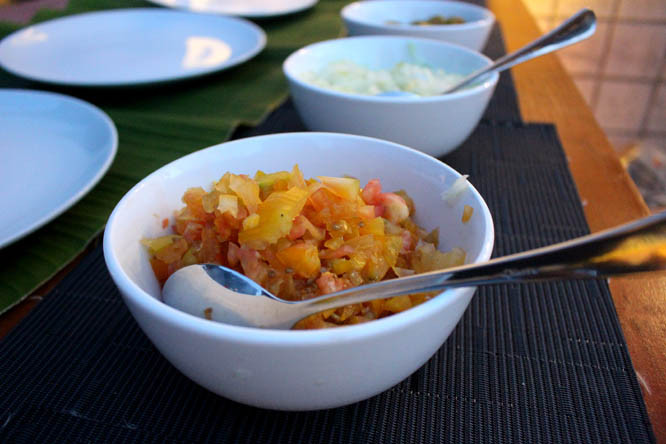 The next day was reserved for diving. My first time since I left Koh Tao! I was pretty nervous and lucky to
have an instructor on vacation as my buddy, who literally held my hand under water.
I went on three dives at three different bays with amazing visibility and saw a turtle and a ghost pipe fish.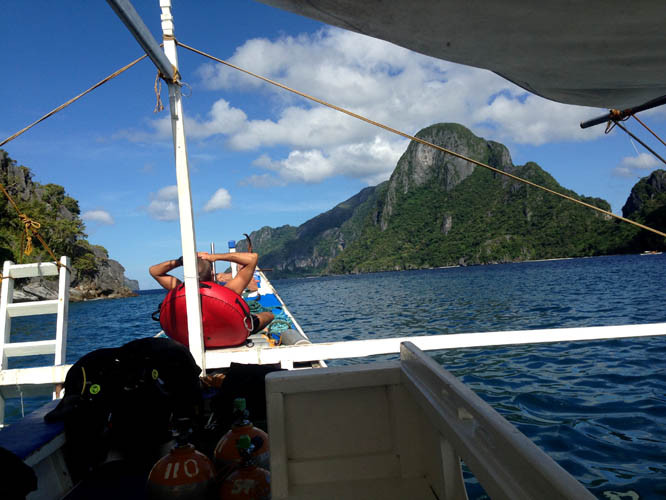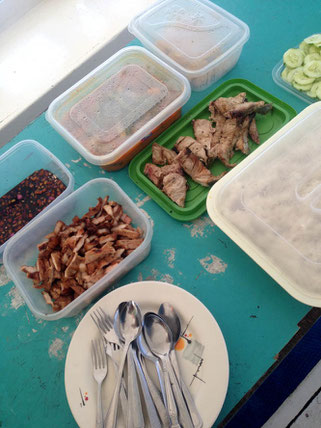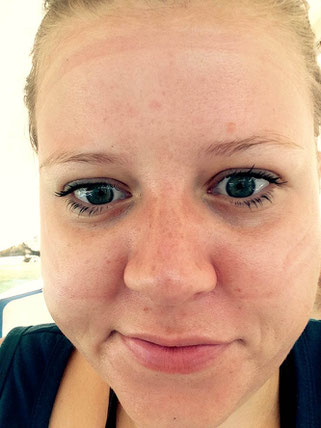 On my third day, the boys and I were joined by some friends from the hostel and we rented a boat to look at more bays and to do some hardcore snorkelling and BBQ-ing. With just the six of us, we could decide how long we wanted to stay at each bay and where to head next.
Some advice if you're trying to do a tour as well:
If you don't find enough people, you can also join one of the tour groups but after seeing their packed boats, I would highly recommend to make new friends and organise a private tour. If you are four or more people, it's actually cheaper as well.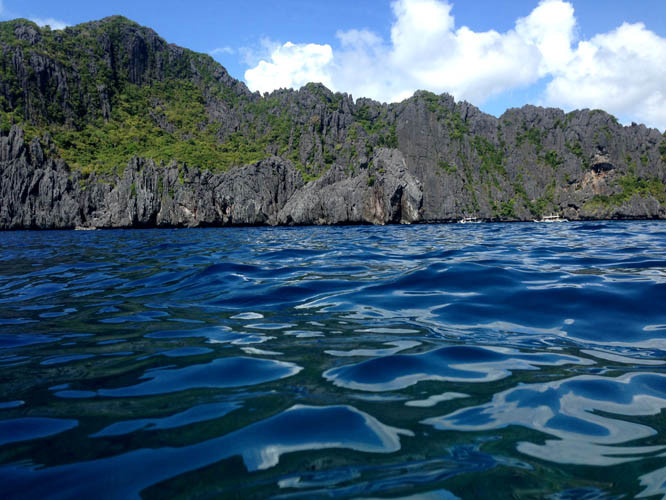 To top off a day of scenic views around the island, we decided to grab a drink at Sunset Republica, a bar basically hanging over a cliff, which is just ten minutes by tricycle from the hostel. As the name says, it's famous for the view over the bay at sunset.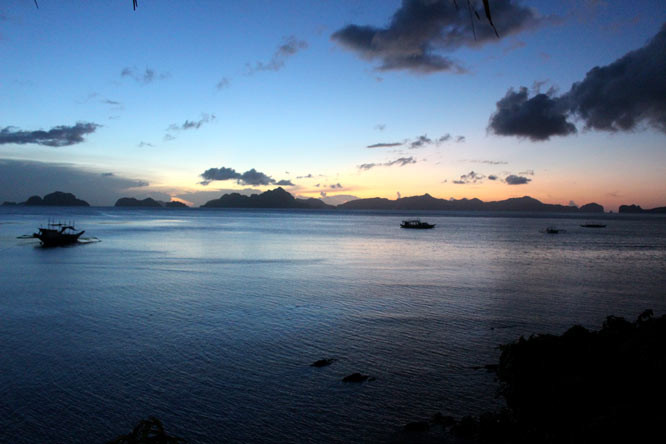 My head filled up with stunning pictures and I was happy to be able to return to my cute room at Spin every night. 
---
The Design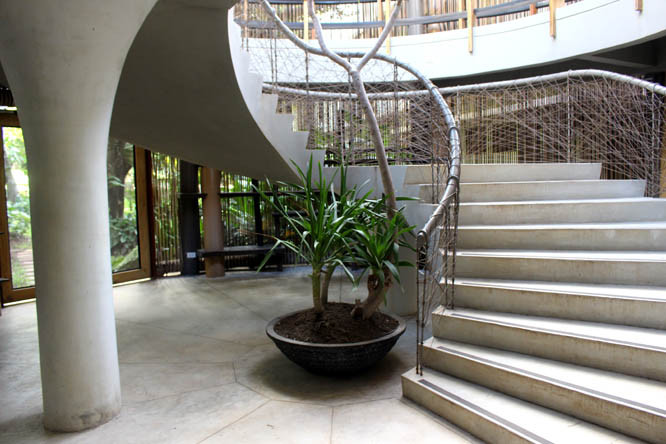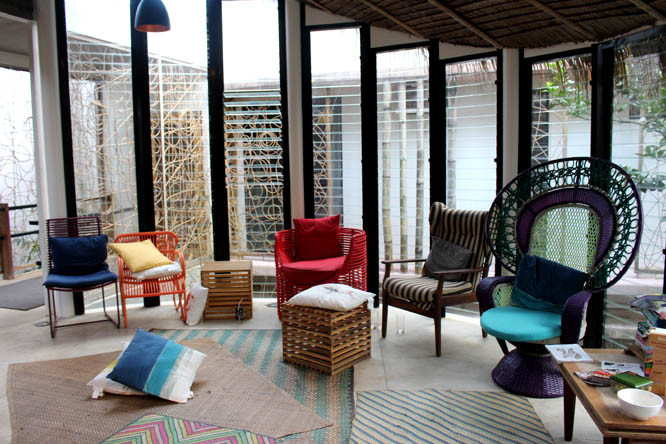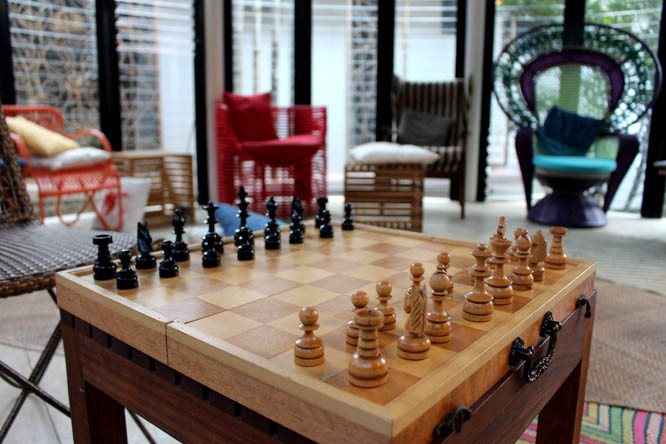 There are many cool details showing the love architect Edwin Uy put into this place.
The atrium doesn't have actual walls but ropes tied between the ceiling and the floor in a dense pattern creating an atmosphere of a closed room while still letting light (and the sound of the birds singing!) in.
I found these ropes again and again replacing walls, each time installed in a different pattern.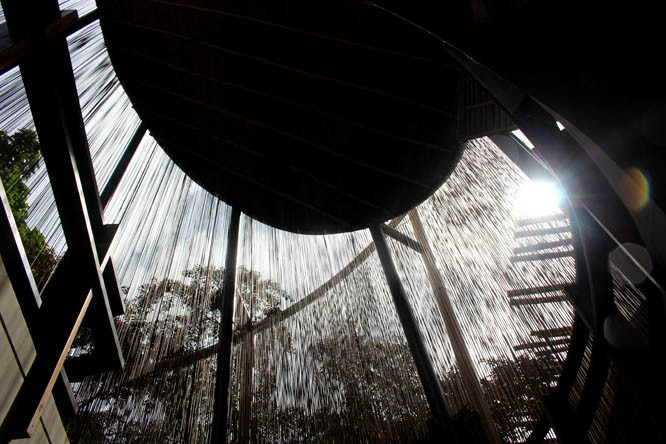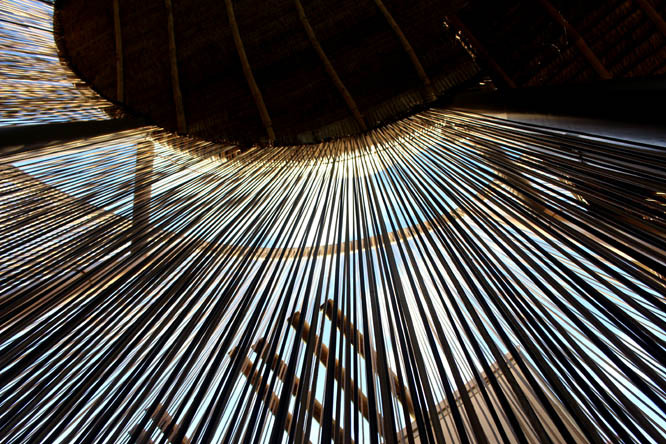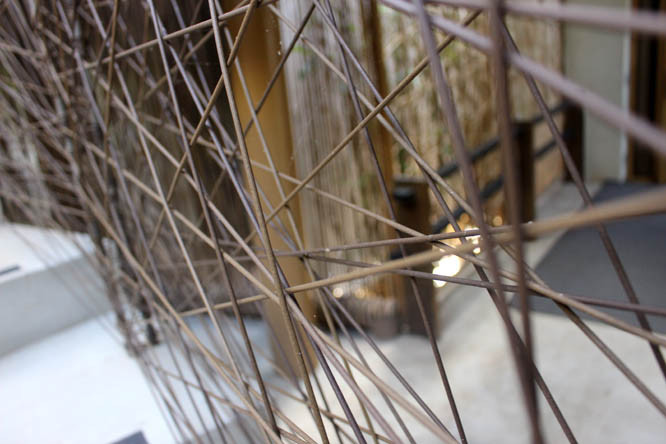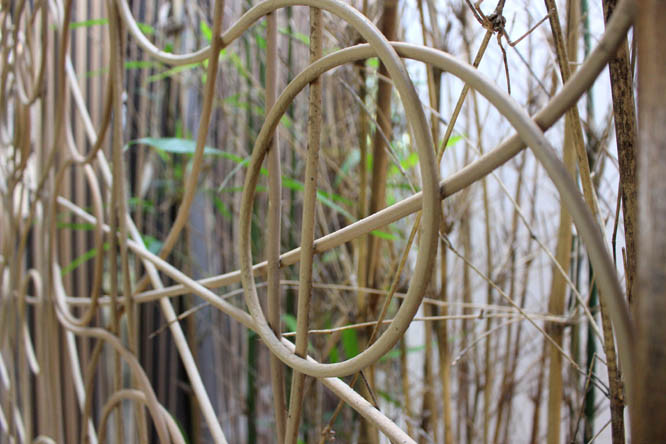 Another detail I liked were the lamps in the common areas as well as in the rooms. With a cool industrial look, they still create a nice atmosphere in the room due to their warm light colours.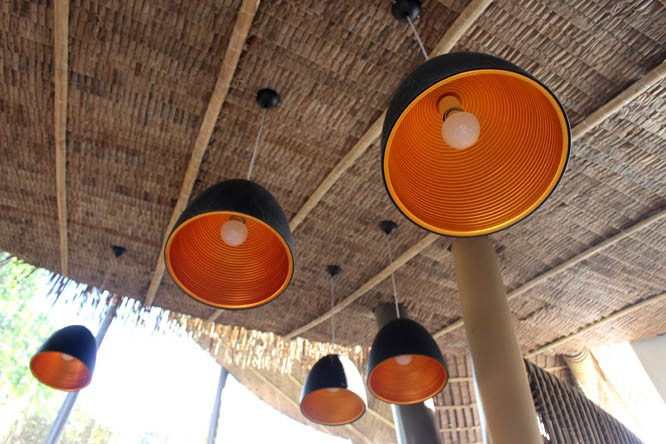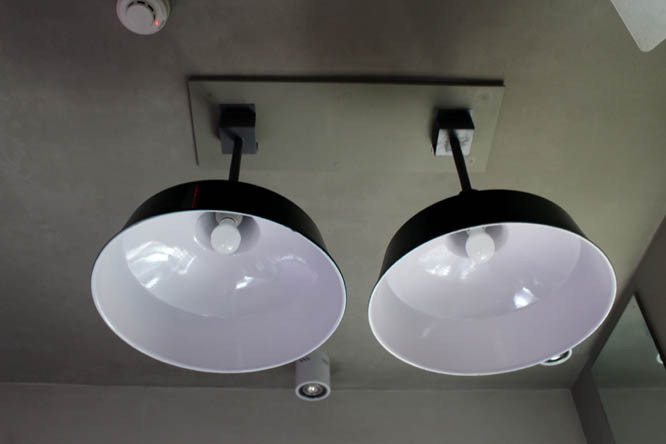 ---
The Room
I had a private room, looking over a garden and a school. With a double bed, a small desk and a bathroom, it had everything I needed.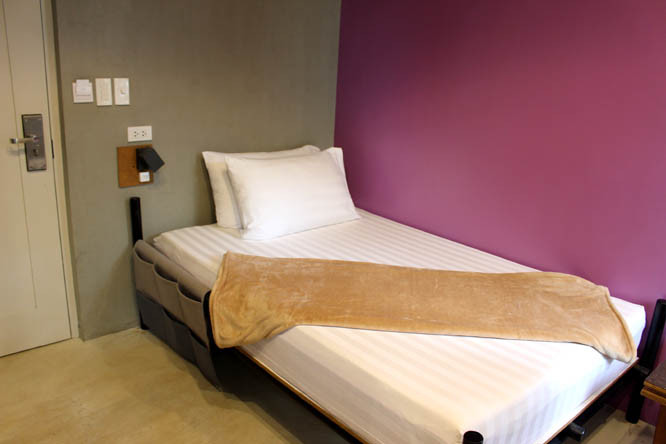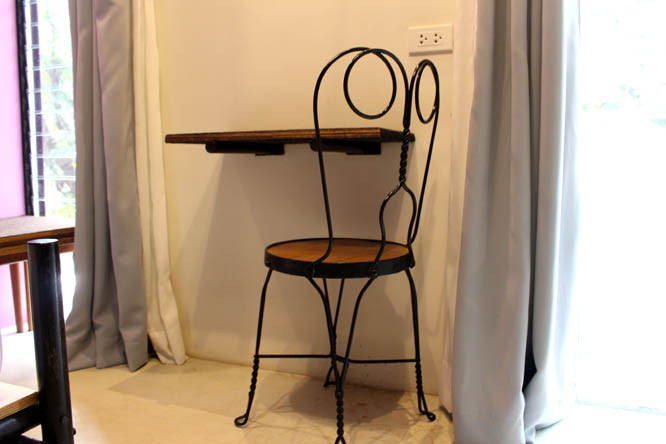 My favourite part was actually the bathroom, isn't that the most beautiful shower you've ever seen?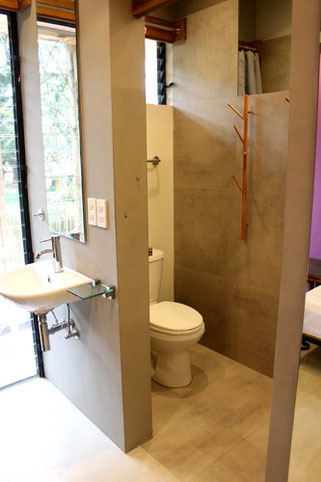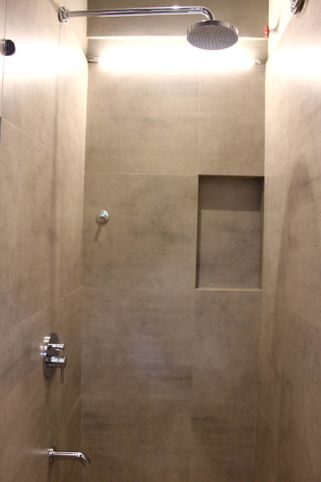 Of course there are also dorms. They have the same funky colour scheme as my room and you can tell, that the people designing it have stayed in a hostel before. With simple things like these felt pockets attached to each bed, massive lockers, a water dispenser and a washing machine for everyone to use, they make a traveller's life so much easier!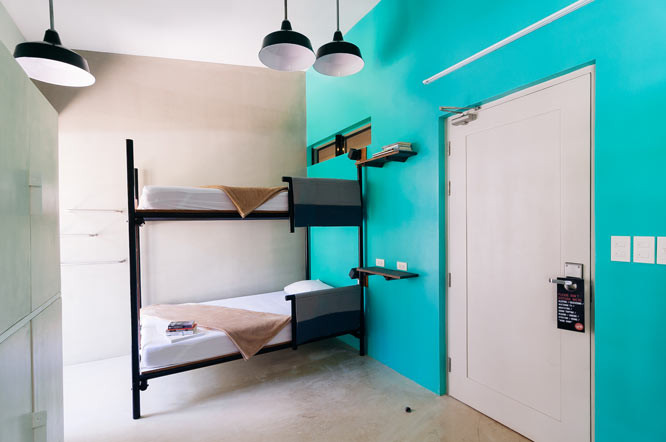 ---
The People
If you're trying to design a space that stimulates conversations, do it like these guys. There are all kinds of common areas, a ping pong table, a kitchen and a roof terrace to make friends at.
You're going to meet every one at the BBQ at the latest.
The staff were in a very good mood all the time I was there, playing ping pong and karaoke with the guest or just assisting me with booking my next trip or finding my way through El Nido.
The atmosphere was just very friendly and I knew that I could ask for help anytime.
Wifi is only accessible in the common areas, which means that everyone is hanging out there.
While writing this story, I was invited on several island trips, for a BBQ and a ping pong match.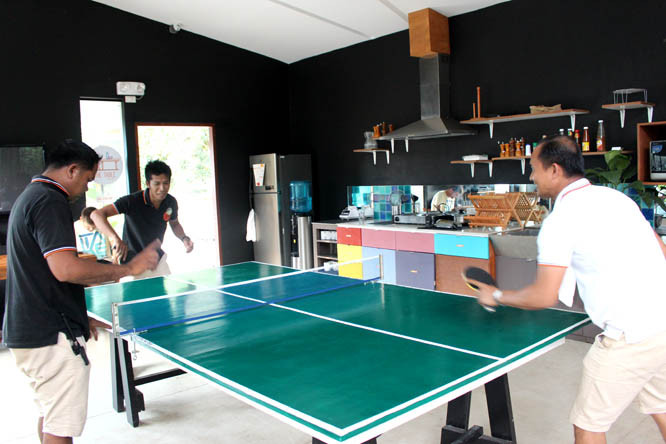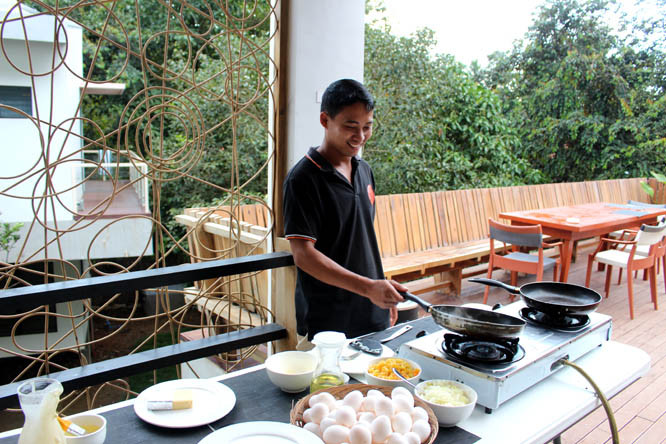 ---
Over All
Hands down, my trip to El Nido was one of the highlights of my time in South East Asia so far.
A day of diving followed by a day of island hopping with friends is just paradise for me. After all these activities, I was very happy about returning to Spin Designer Hostel every night. Compared to other hostels in the area, it is a bit more expensive but I enjoyed my room, the atmosphere and the company of the people there so much that I'd return any time.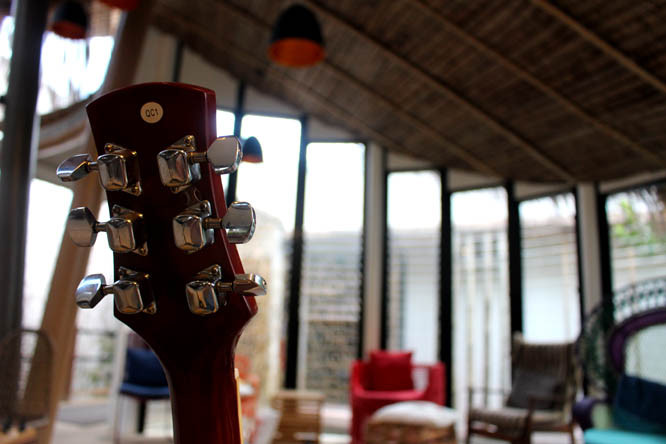 ---
---
Where:
Balinsasayaw road cor. Calle Real
El Nido, Palawan
How to get there:
the easiest way is to take a mini-bus from Puerto Princesa. El Nido itself is small enough, you can't miss the hostel.
How much: 
dorms start from 1000 Pesos a night
click here for current rates
---
Thank you, Spin Designer Hostel for inviting me. As always, you guys get my full and honest opinion!


Please note that I am an affiliate for booking.com and will earn a small percentage of your purchase if you buy through these links at no additional cost to you. Thank you for supporting Journey to Design! 
---
YOU MIGHT ALSO LIKE
---