It is hot here in Bangkok! With temperatures close to 40°C (sorry Fahrenheit's, that's 100°F) I feel like I am melting here.
So I went looking for nice cool places where I could just lay and nap under a tree or walk around in peace and here's what I found: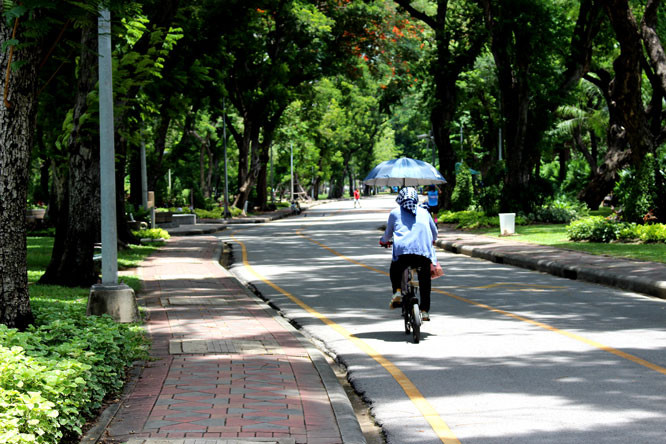 ---
---
Lumphini Park
This massive park has all you need for a break from the heat, dust and air of the city. It's the perfect place to have a pic-nic, nap, take a walk, (there are even people jogging through the heat!) and watch people.
There is actually a massive outdoor gym inside the park, but as I was trying to get away from the heat, that definitely wasn't for me.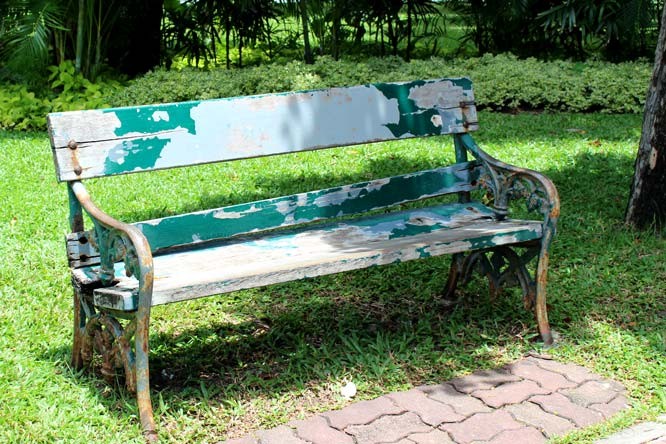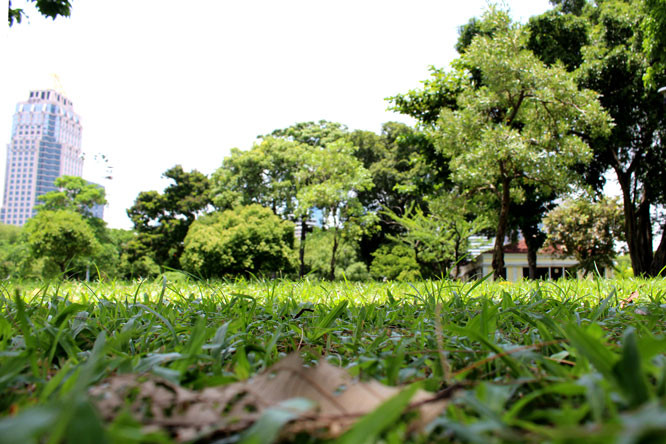 You can also rent a boat and paddle through a lake (there are swan-boats as well, that's my kind of workout for this weather)!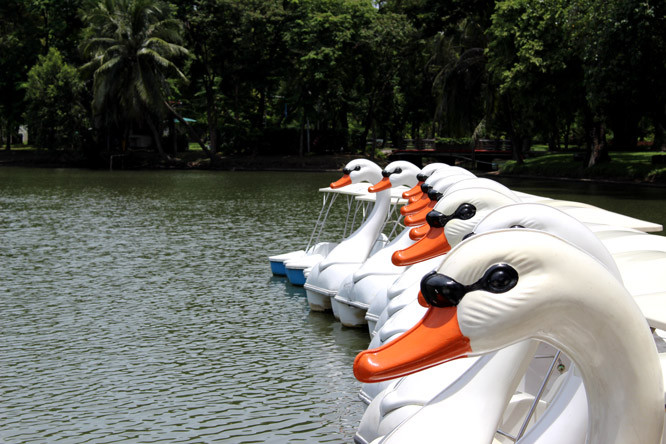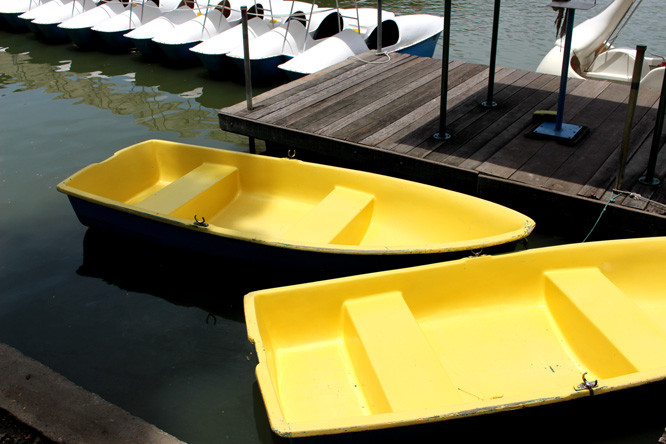 I got off the MRT at Lumphini Station and then walked through the park to Si Lom, which takes about half an hour, if you don't take any stops.
The perfect spot for a nap under a tree!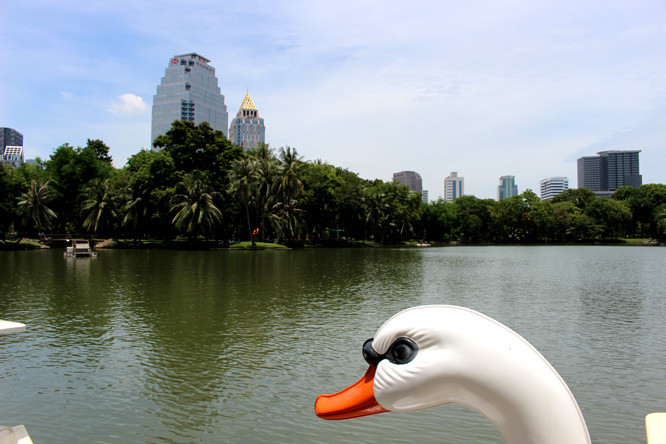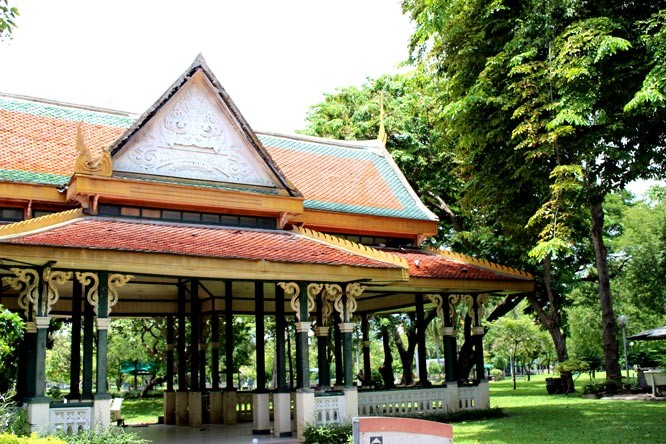 Where:
Lumphini Park
How to get there:
MRT to Si Lom or Lumphini
How much:
free
There are no food or drink shops inside the park, so make sure you have everything you need before going in (there are stands right in front of it though).
---
Bangkok Art and Culture Centre BACC
The Bangkok Art and Culture Centre at National Stadium shows changing exhibitions, all free and open for the public. They also have some nice air conditioning and when I was there it was quite empty and relaxed.
At the moment (until September 30th 1015) there are two photography exhibitions, one about street photography from Bangkok, one about the German photobook award.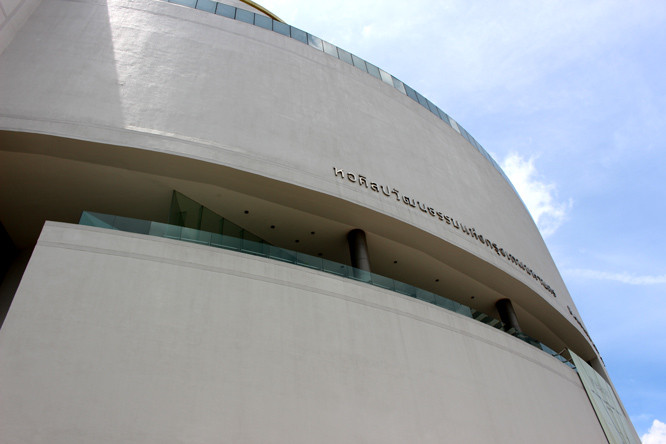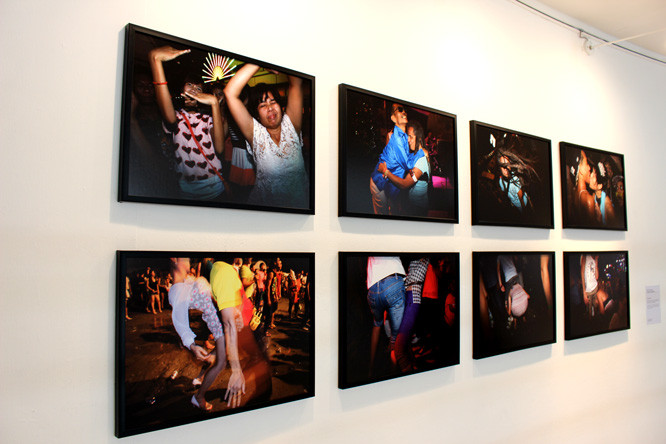 What's exciting about the space is the spiral shaped centre, which "helixes" you to the top while watching pieces of art.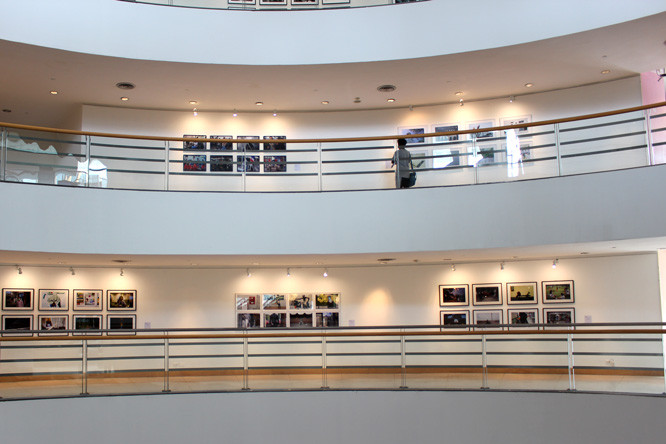 On your way you'll find several shops for books and art supplies and on the higher stories additional exhibition spaces (where it's not allowed to take pictures. I tried but there were guards everywhere).
According to their website, the brief for the architect Rober G. Boughey and Associates was to incorporate classic Thai architecture shapes like slanted walls and narrow windows into a modern and memorable building.
The result is an open room which leaves space for the art and the visitors. Due to the round shape, there is 
a visual connection between the different floors, areas and visitors.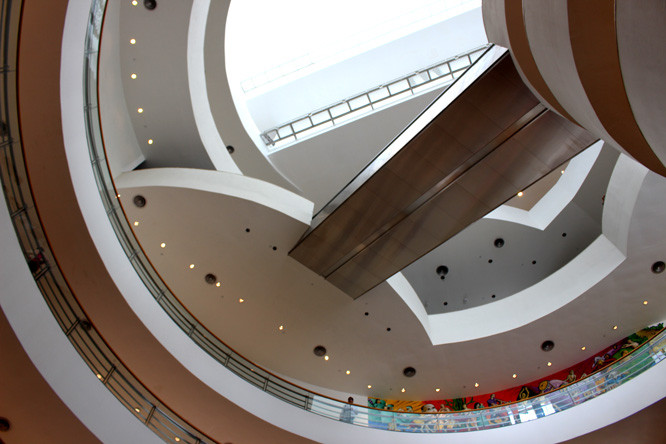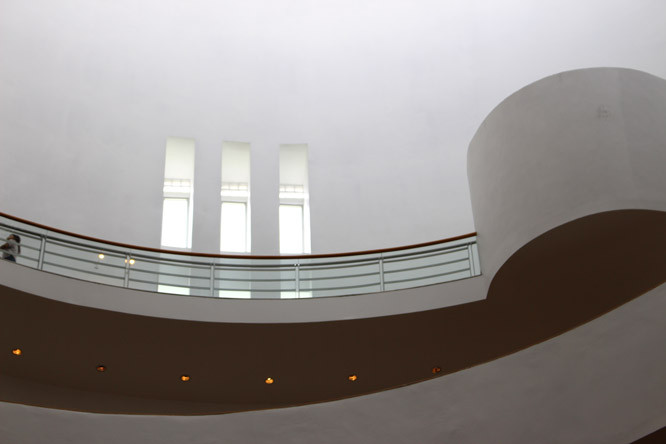 I spent a very peaceful afternoon at the BACC, strolling through the exhibitions and having tea at one of the cafés. Just like my trip to Lumphini park I found it a great activity to "arrive" in Bangkok and to get away from the hustle and bustle for a while.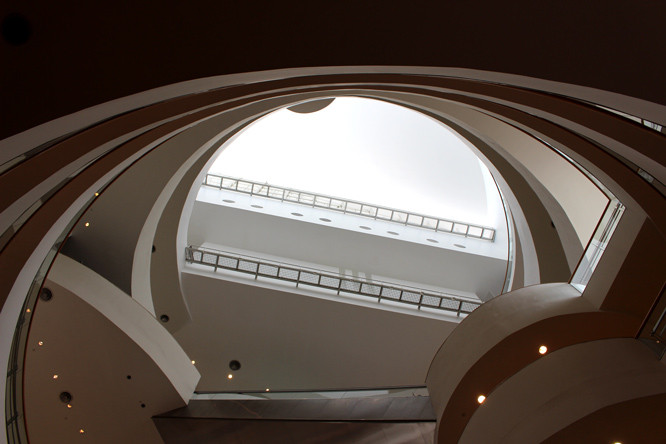 What's your way to get out of the heat in Bangkok? Any advice?
---
---
Where:
Bangkok Art and Culture Centre BACC
How to get there:
BTS to National Stadium
How much:
free!
Need a place to stay in Bangkok? I keep returning to Yim Huai Khwang Hostel, one of my favourite places in the world and basically my home in Bangkok now. Highly recommended!
Please note that I am an affiliate for booking.com and will earn a small percentage of your purchase if you buy through these links at no additional cost to you. Thank you for supporting Journey to Design! 
---
YOU MIGHT ALSO LIKE
---