I love arriving in a new city. It's the thrill of something exciting and unexpected that keeps me going from place to place, always hoping the next one will offer something I haven't seen yet. New people, new food, new everything.
But then there are all these little incidents that won't make it onto my Instagram feed. Being scammed by a taxi driver because I didn't know how close my hotel was, getting lost in the middle of the night, dragging the backpack through the city looking for a place to stay...
That's why from time to time, there is nothing more enjoyable for me than returning to a place that I liked. Where I can tell the taxi driver where to turn and where my phone connects to the wifi without asking.
My place for that in Bangkok is my favourite hostel in Thailand: Yim Huai Khwang.
Arriving here, I was greeted like an old friend and I felt like I was coming home.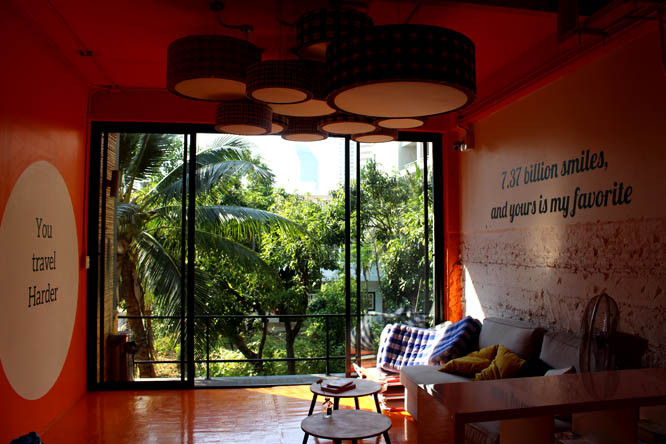 ---
The Area
Huai Khwang is far away from the backpacker scene at Khao San and that's exactly what I love about it.
In this neighbourhood you will find mostly locals and nobody will offer you a t-shirt, tuktuk or tattoo when you walk down the street. There are restaurants and massage parlours and the location right at the MRT is unbeatable to get basically anywhere in the city.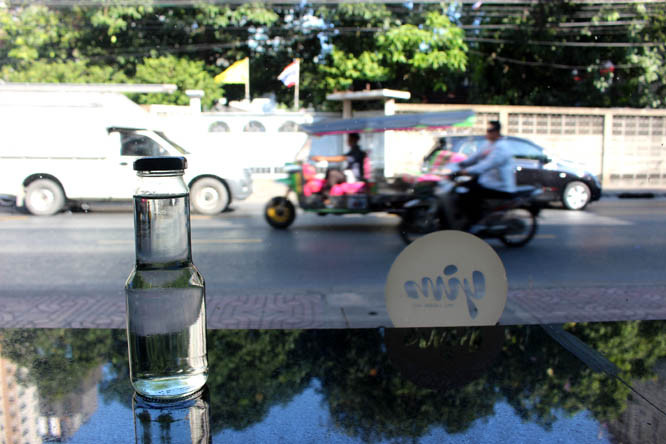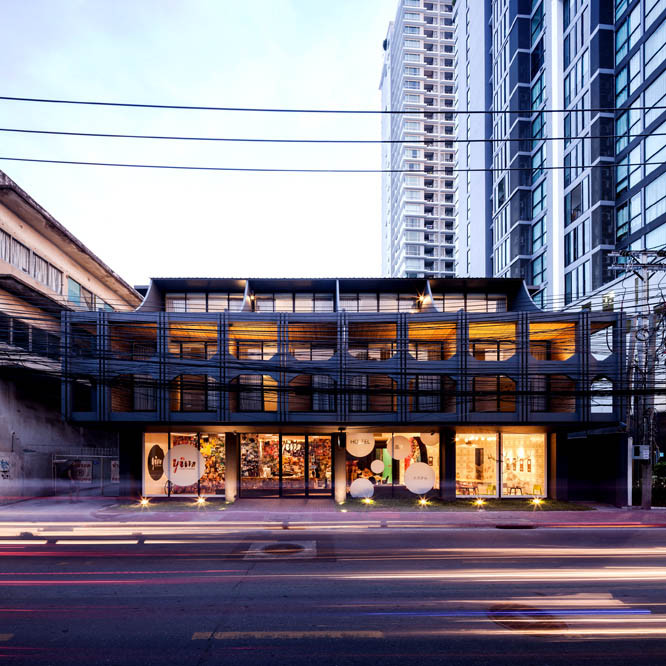 Photo above by Yim Huai Khwang / Wison Tungthunya
---
The Design
Yim means "smile" in Thai and that's what their design keeps doing to me again and again.
While the facade looks cool and stylish, the interiors are more funky and inviting.
Each floor has it's own colour scheme for the common areas, which all swirl together in the staircase.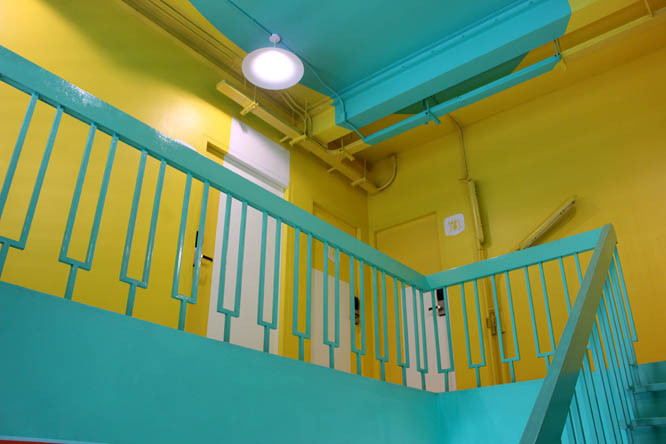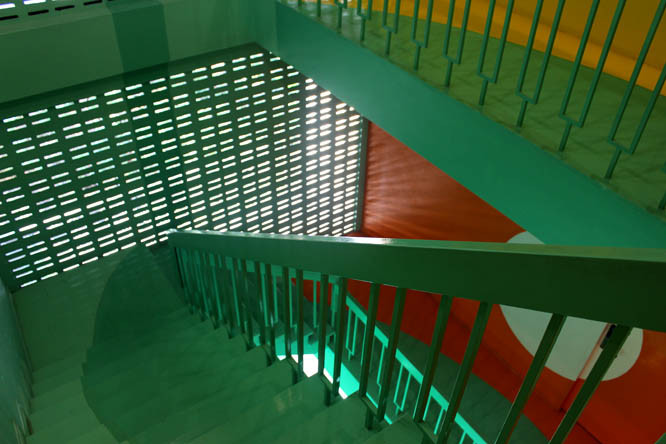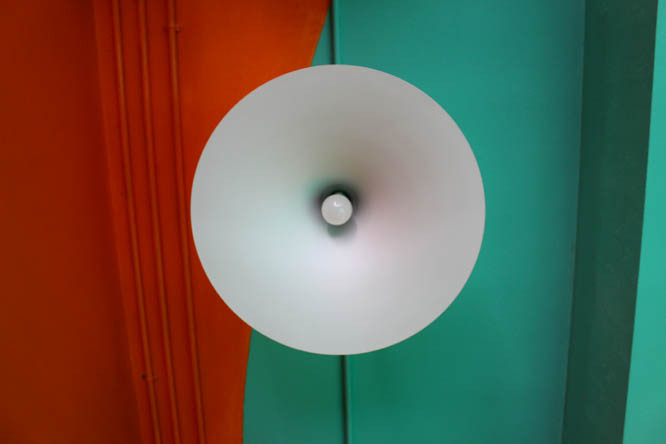 The colourfulness reaches it's high in the lobby with a wall papered with pages from fashion magazines to create a rainbow colour scheme and with a massive clock built out of thousands of tiny toys.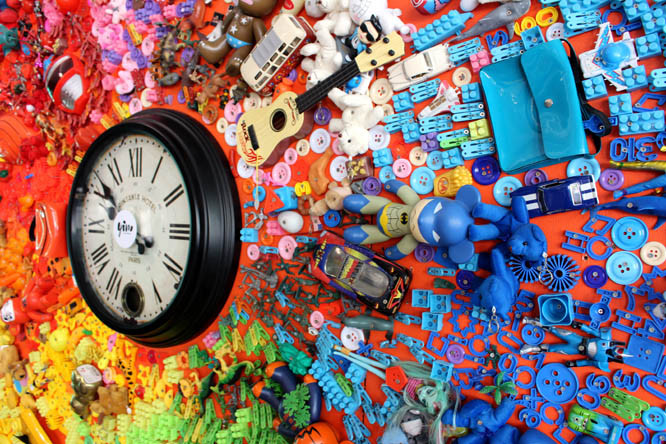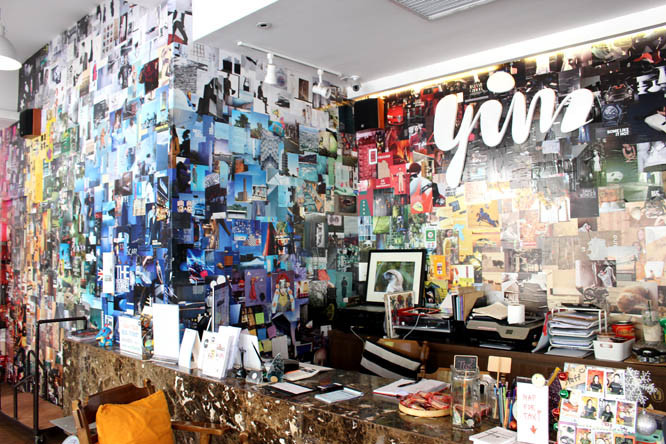 All through the hostel there are cute inspirational quotes, that will trigger your wanderlust again and again.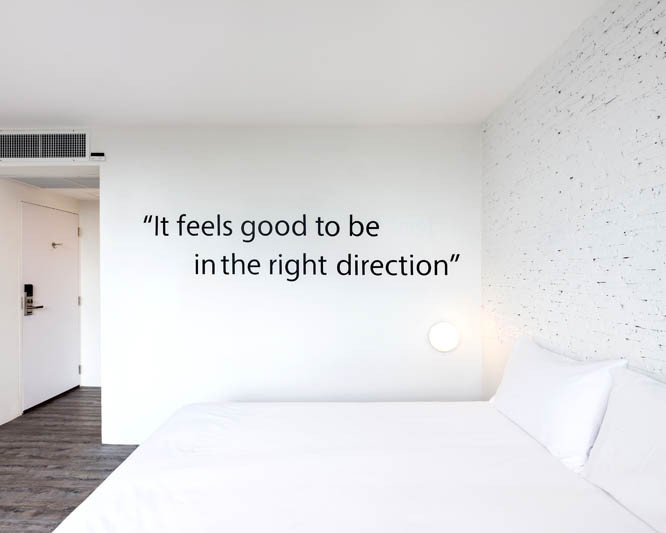 Photo above by Yim Huai Khwang / Wison Tungthunya
---
The Rooms
I've stayed in both the dorms and the private rooms and loved them all.
The owners have travelled a lot themselves, so when they teamed up with a local designer, they knew exactly what a backpacker needs.
Compared to the candy coloured public areas, the room are more plain to guarantee a good night's sleep.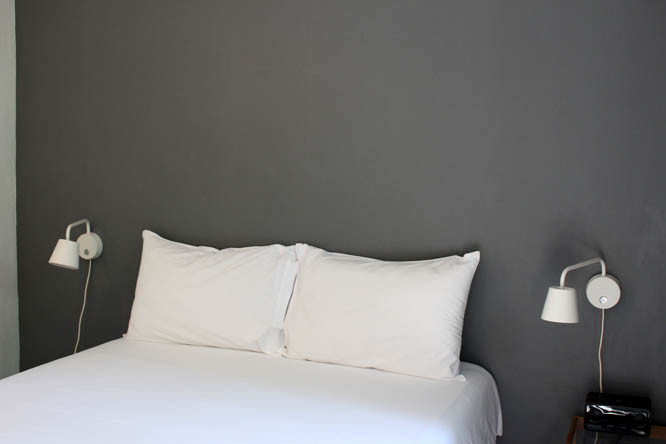 The Dorm
If you are worried if staying in a dorm is for you, try it here.
Their pod-like beds offer privacy and with my own outlet, light and locker inside it, I felt like staying in a tiny hotel room.
The wooden surfaces feel super stylish while still making the pods comfy and a great place to relax in.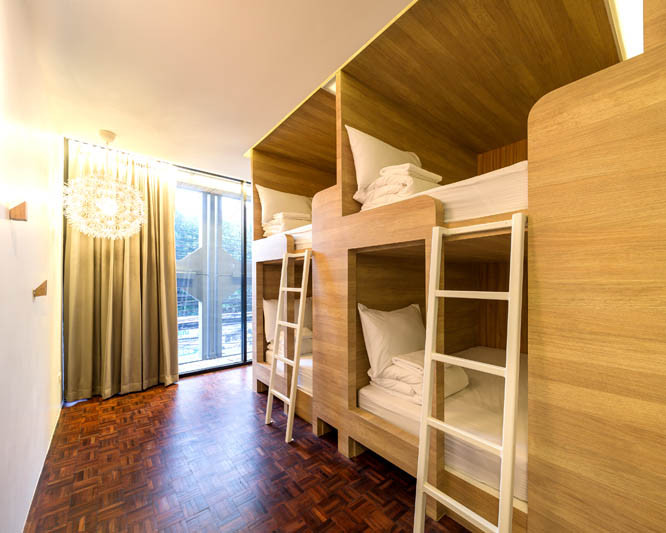 Photo above by Yim Huai Khwang / Wison Tungthunya
The Private rooms
These rooms offer everything you would ask for in a hotel while still having the cool vibe of a hostel.
I stayed in two different rooms on my stays.
On my very first trip there, I had a room on the top floor with a balcony overlooking the area. With an ensuite bathroom and a queen-size bed, it was perfect for sleeping off my jet lag and arriving in Thailand.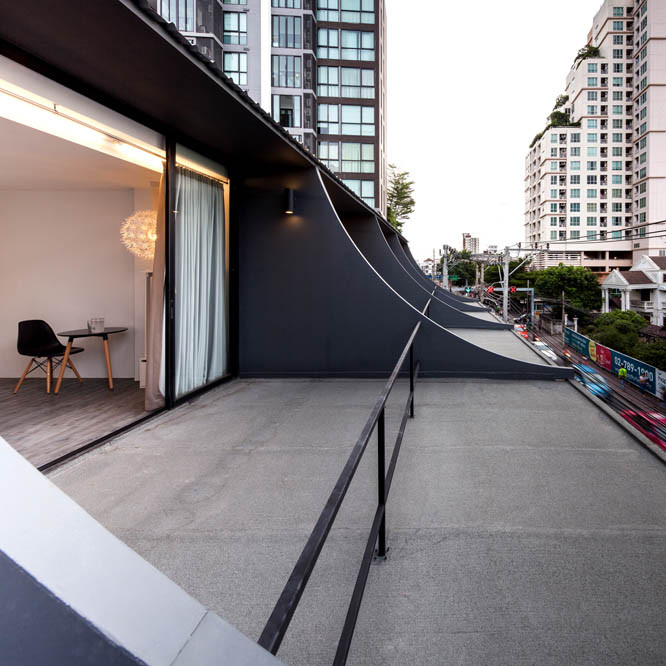 Photo above by Yim Huai Khwang / Wison Tungthunya
This time I stayed in a room on the ground floor, opening towards the backyard.
A bamboo fence covered the window front and I loved having my own little outdoor area. Opening towards the backyard, I didn't hear anything from the busy city surrounding us.
This room was a little bigger and had a massive bathroom.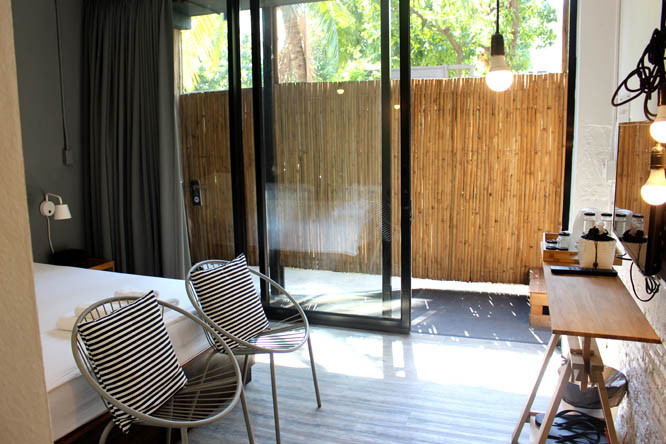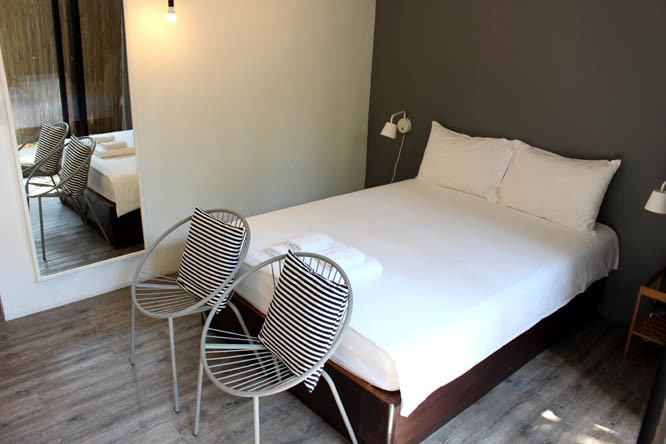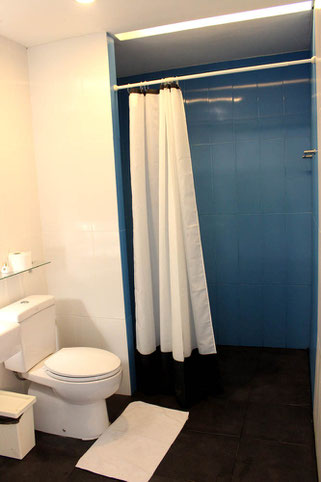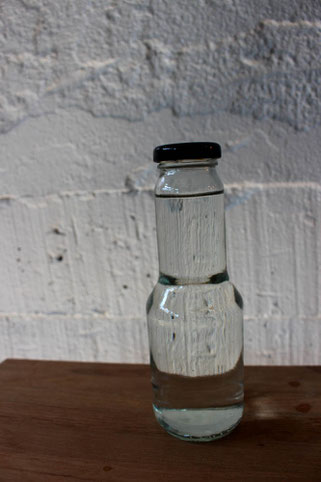 I loved the industrial style with plastered walls, light bulbs hanging from the ceiling and a white and grey colour scheme.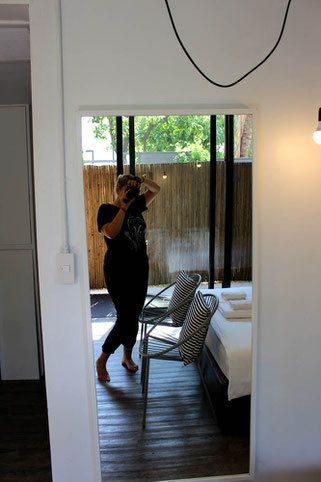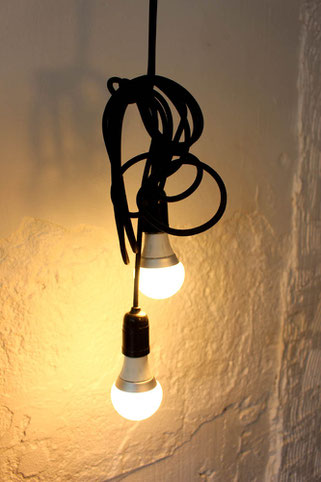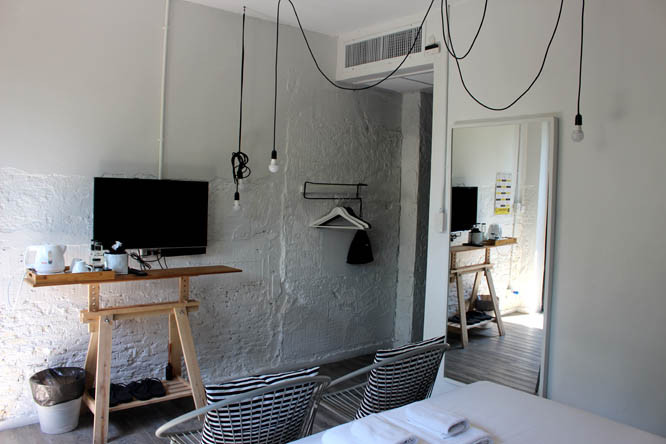 ---
Over All
Yim Huai Kwang was my first and my last stop on my trip through South East Asia. I remember arriving here, super nervous and tired and felt welcome right away.
The lovely staff made sure that I didn't miss the best parts of the city and couldn't have provided a better start for my journey.
Now this has become my home in Bangkok and I'm so happy to have found a place to return to.
I will be back.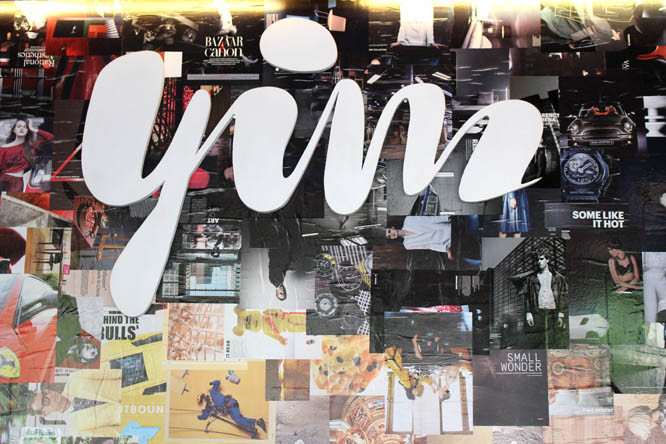 ---
Where:
70 Pracha Rat Bamphen 5 Alley
Huai Khwang
Bangkok 
How to get there:
Take the MRT to Huai Khwang.
Take Exit 2, then turn right and then right again into the first street. You will find the hostel on your right hand side after 50m.
How much:
dorms start at 450 Baht.
Click here for current prices
Pin for Later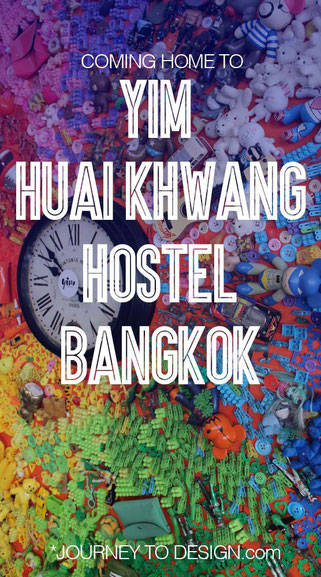 ---
Thank you, Yim Huai Khwang, for inviting me. As always, you guys get my full and honest opinion, no matter who sponsors a post.
Please note that I am an affiliate for booking.com and will earn a small percentage of your purchase if you buy through these links at no additional cost to you. Thank you for supporting Journey to Design! 
---
YOU MIGHT ALSO LIKE
---