"What do you bring to a lonely island? Not in a "the bible and a flashlight"-way, but really, what do you bring?" I asked my friend Natasha.
I was about to be picked up from Coron town to stay at Two Seasons Coron on a tiny island for a couple of days. I came to Coron for wreck diving but what else do you do in a luxury resort on a private peninsula? "Uhm... bring sunscreen?"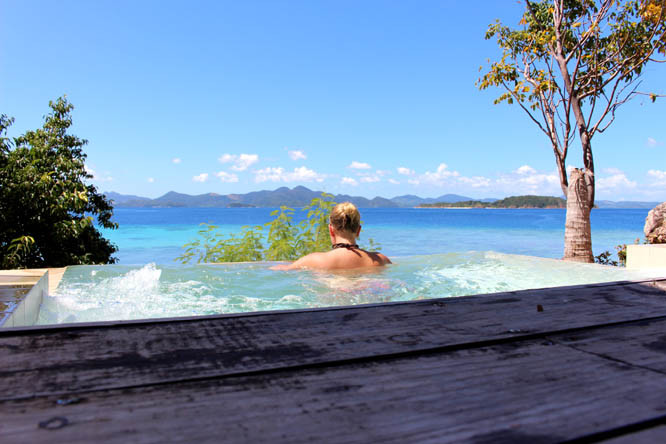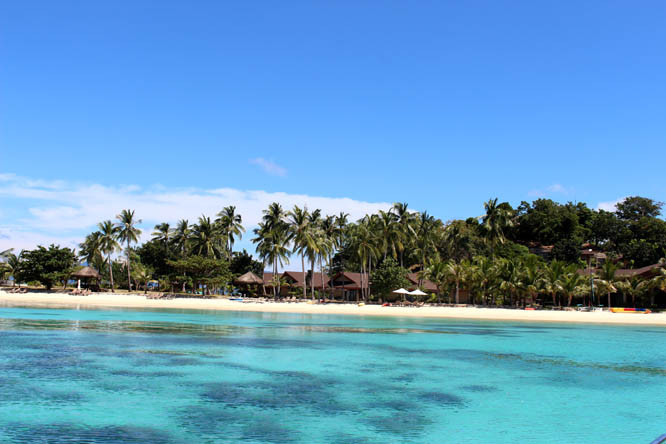 ---
---
The area
Two Seasons Resort Coron is located on Bulalacao island and occupies a private peninsula, which can only be reached via boat.
I was picked up in Coron town and brought to their own speedboat in the morning. After a splash-free
45 min ride I saw the little bungalows on a small stretch of sand on the coast of the tiny island.
With it's own little pier, where an employee waited for me with a parasol, this felt like the classiest way I've ever arrived anywhere.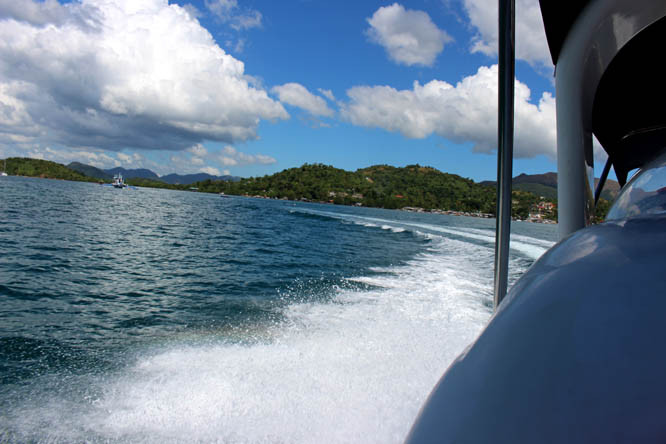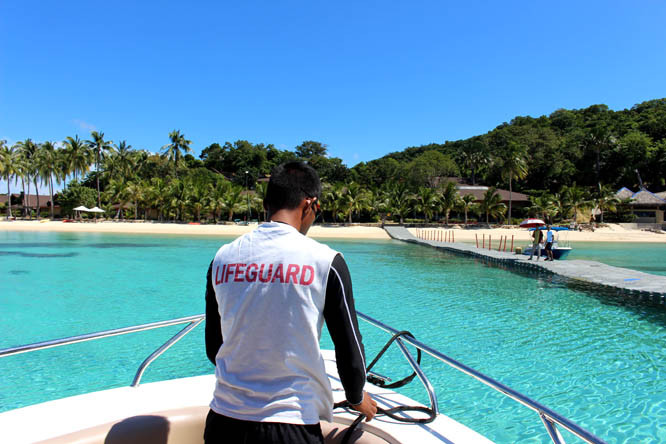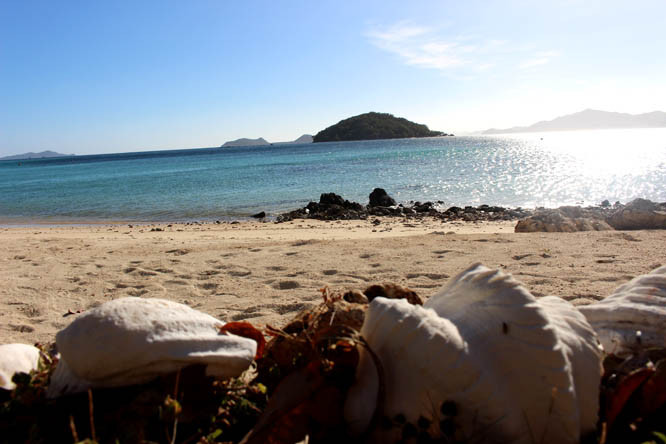 ---
The Design
The design was created by John – the owner – himself, who isn't a trained architect but has developed a passion for design.
For the overall layout, he estimated the sizes of the buildings and marked them on the floor with wood and ropes, to then check from afar if they worked with the space available.
After this, he teamed up with several local contractors, using local recourses in a minimal Filipino style.
When you're on the island, you can tell, that the design was done by someone who made sure the proportions and materials match the surroundings and who respects the environment.
I personally find this much more interesting than a traditional design hotel, here you can tell how much love John put into the design of his island.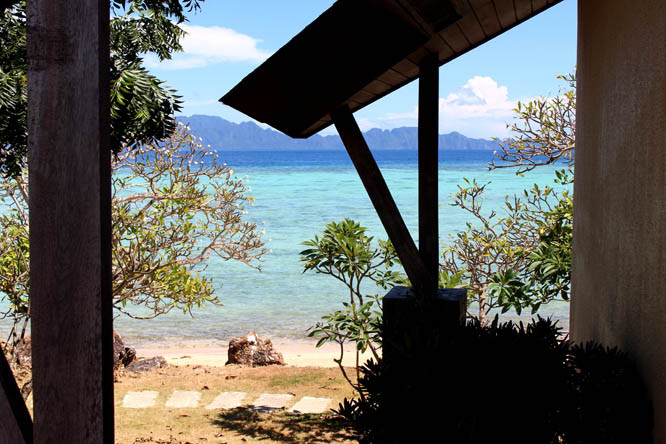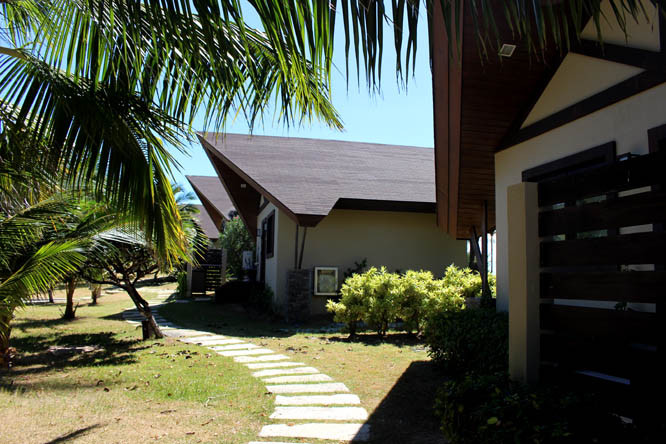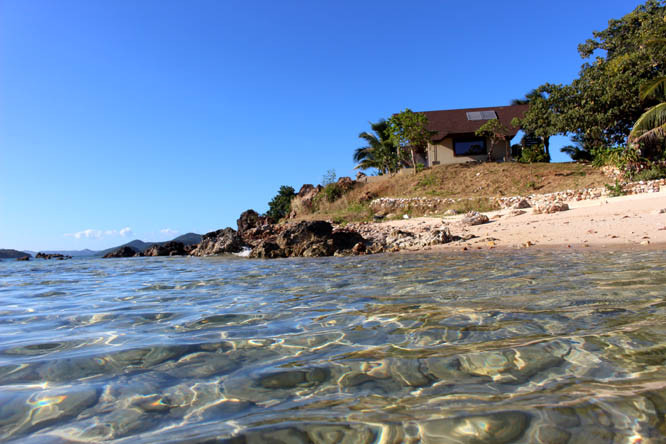 The resort consists of an array of bungalows spread over the peninsula.
Every guest (or goup of guest) has their own bungalow, so privacy is guaranteed for everyone.
In the middle of the area, there is a giant 600sqm pool. With it's organic outline, it doesn't disturb the paths on the premises and matches the shape of the island perfectly.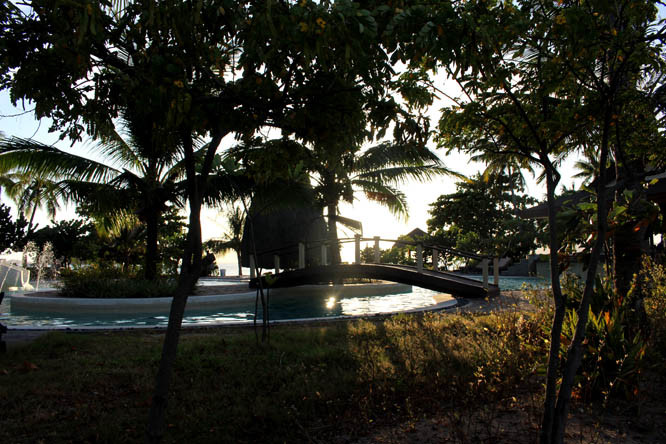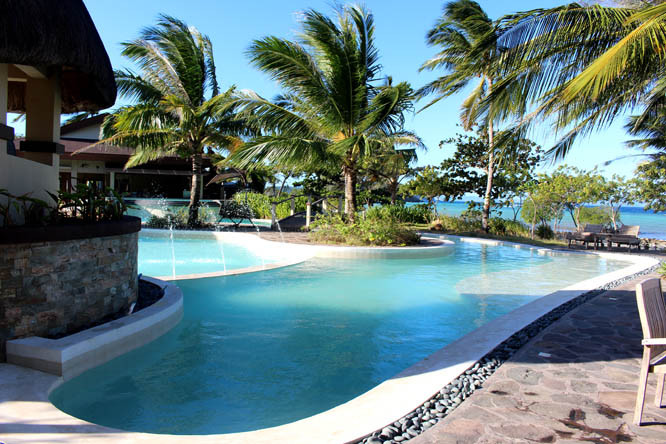 The entire resort is designed in warm earth colours, blending in with the rocky island. The rooms have different sizes, but all have hardwood floors, crème coloured walls and dark wood furniture and fixtures. This tropical Filipino theme can be found all over the premises, visually connecting the restaurant, lobby and other communal areas with the rooms.
My favourite detail was the aged wood, that was used for all kinds of furniture and accessory. It was found in dismantled houses in the northern part of the Philippines and reminded me of driftwood, fitting in perfectly with the lonely-island-style.
Local furniture and accessory designers worked together with John, to create a unique and relaxing atmosphere.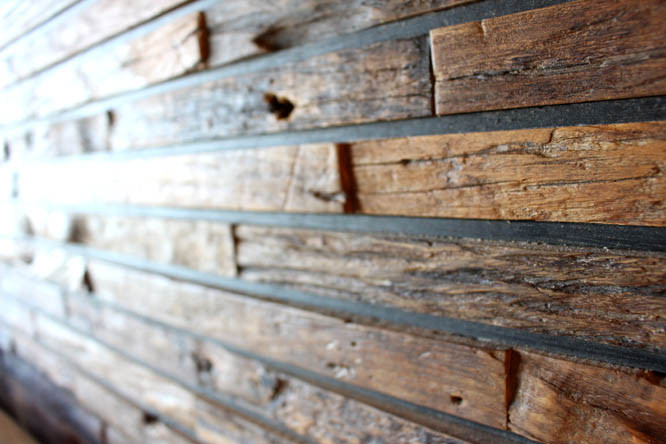 I was surprised to find a church next to the pool. Arnold, the resort manager then told me, that there was a dilapidated wooden chapel at this spot when they arrived at the island and that John's belief didn't allow him to build an income generating structure there. Instead he built a beautiful new church, which is now used for weddings or masses.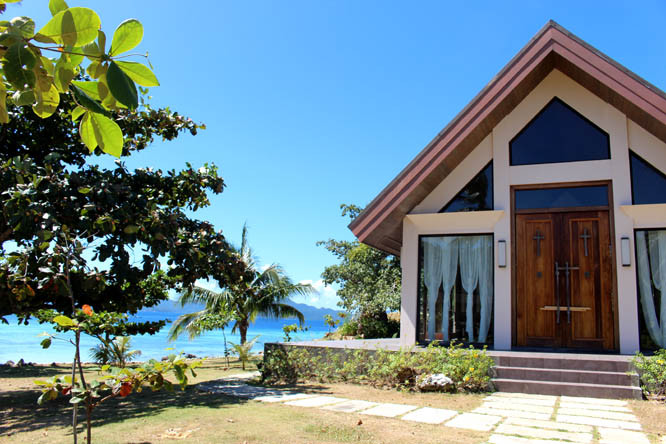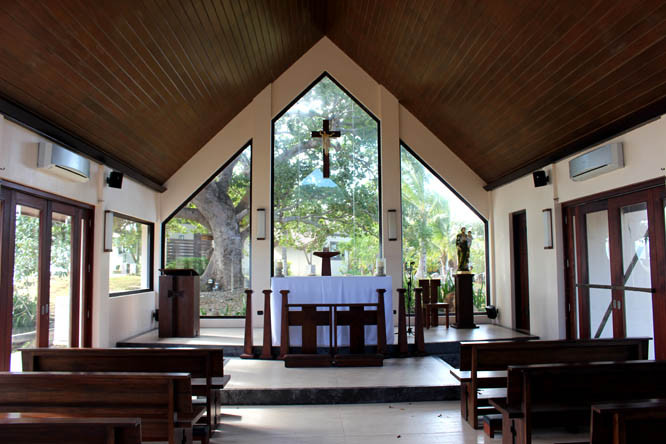 ---
The Room
My room was located towards the tip of the peninsula, surrounded by water on two sides.
Apart from a huge king size bed, I had a desk, a lounge chair, an always-full mini bar and a giant tv-set.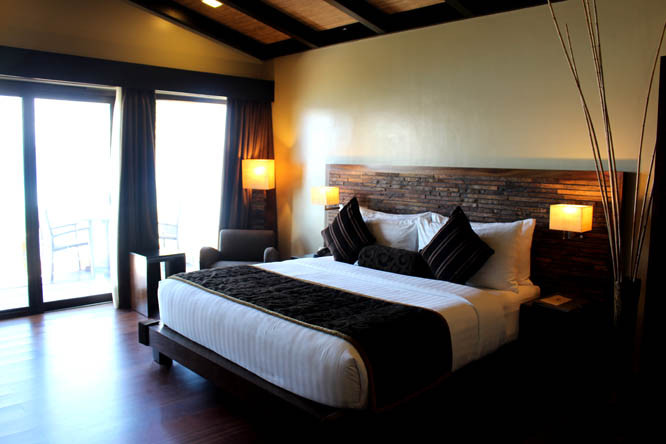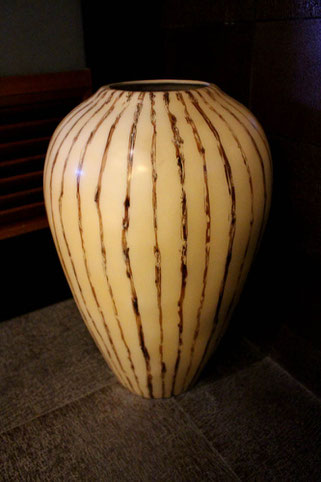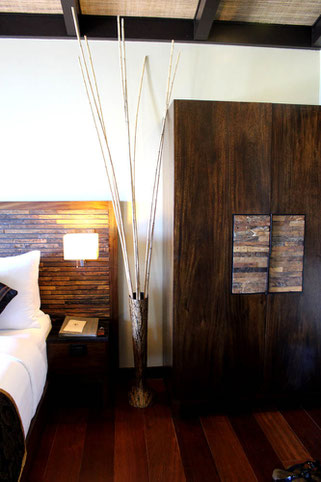 The highlight was the terrace tough. I had a private jacuzzi overlooking the bay!
After napping on my lounge bed, I just had to roll over to land straight in the cool pool and wait for flying fish to come by in the ocean just in front of me.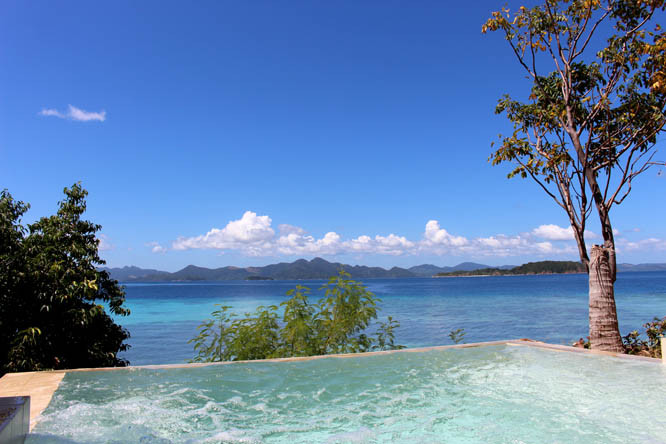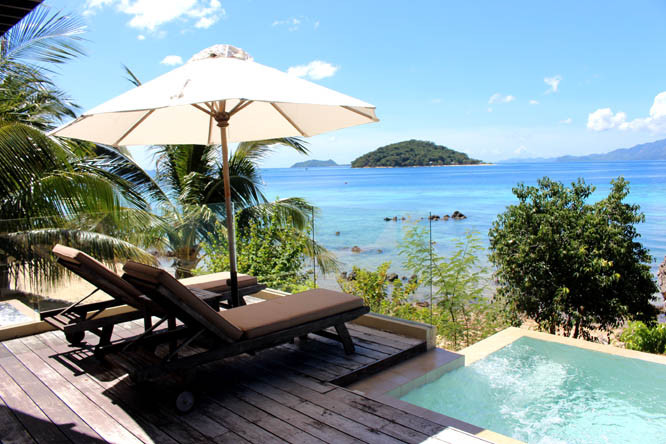 The terrace also had a direct access to the bathroom (and therefore, from the shower you could overlook the bay). On a practical note, this means could also walk straight into the bathroom from the jacuzzi without getting your room all wet.
With high-end tiles and still using dark wood whenever possible, this bathroom felt like a mini spa to me.
And they know how to make a girl happy: all products are l'Occitane, which finally managed to wash the backpacker-smell off me.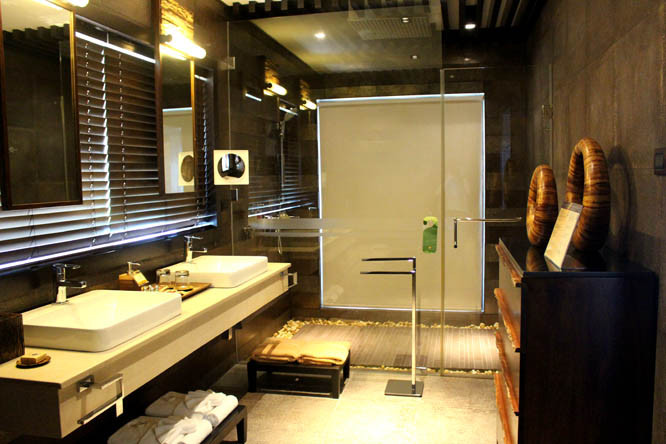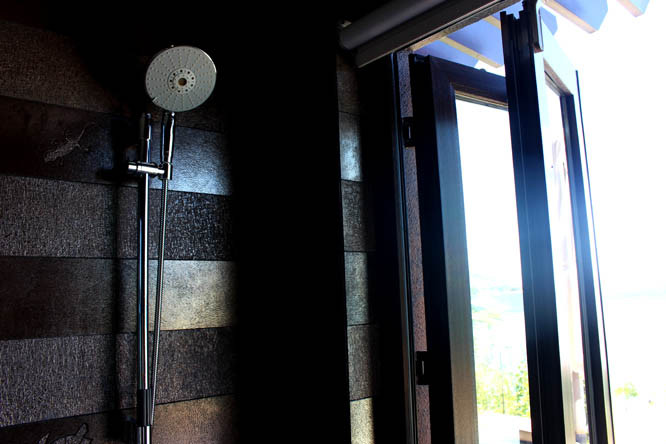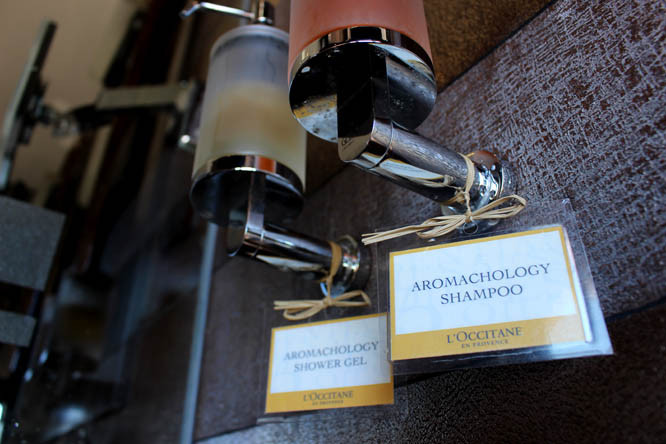 Arnold showed me around and I got to see the other room types as well. They come in different sizes and can even host a larger family. The style stays the same, they all fit in the calm tropical style.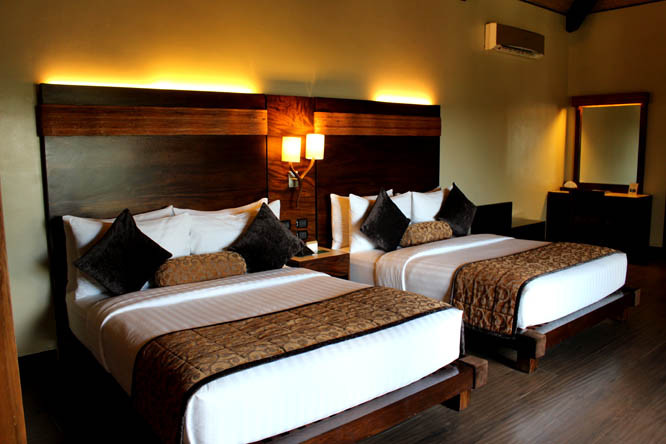 A true highlight is the honey moon suite though, located at the tip of the peninsula. Surrounded by rocks, it is more private than the other rooms and has a view to dream of.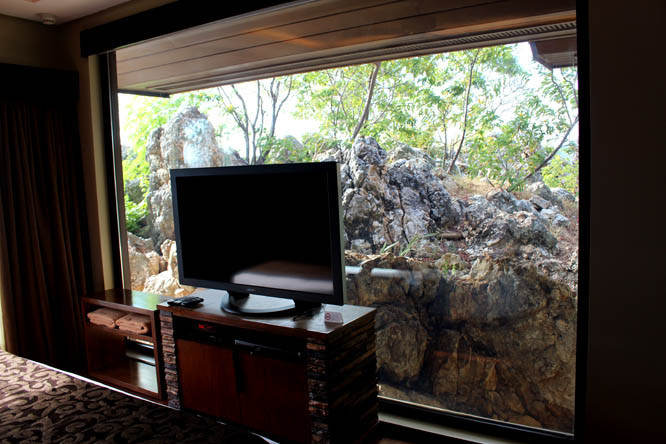 ---
The Activities
Laying in a private jacuzzi all day sounded tempting, but there was so much to do on the island, that even I got out of there every now and then.
There are a lot of activities but I could only do this much in my three days (as you can't forget about the nap times on the terrace):
I started off with renting a transparent Kayak and paddled around the sunset side to see what this island had to offer over and under the ocean surface. Through the bottom I saw beautiful coral, a starfish and all kinds of little fish. The boys at the shore saw a small shark, which I must have just missed (I saw it later on from the pier. My first shark! It was tiny and not scary at all though).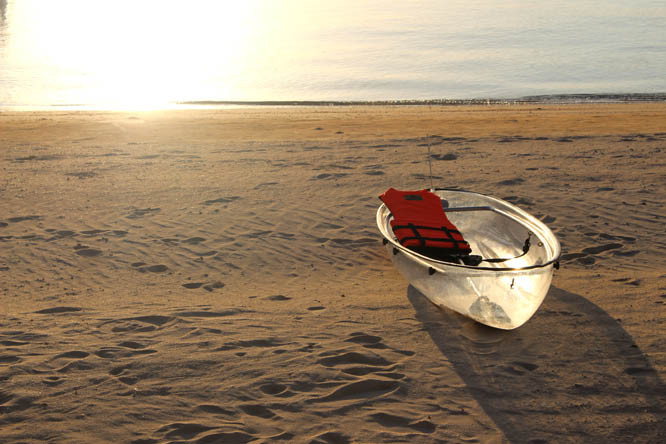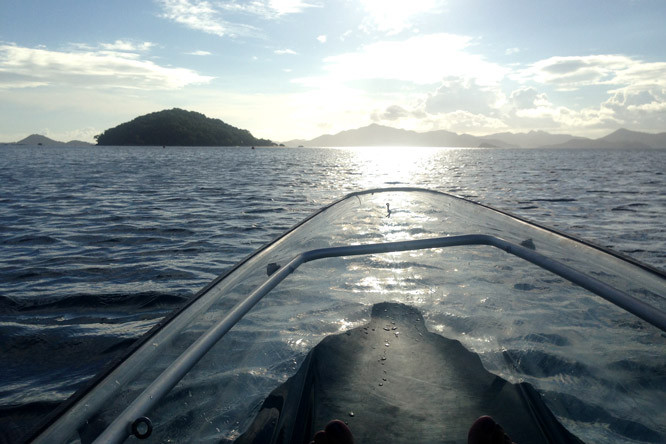 In the evening, I headed over to the Gym on top of the mountain overlooking the sunset bay. Not having set a foot into a gym for two months, I was excited to have this one just for myself. There was a set of new machines, a TV and obviously the view to keep me busy.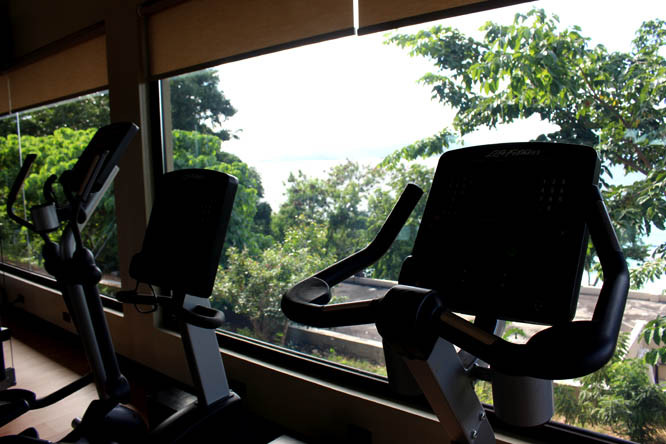 My second day was reserved for diving three wrecks in Coron bay with Pawikan, their on-site dive shop. Bon, the dive master is absolutely brilliant. He is actually a marine biologist, so he can point out every single fish there is! I wrote an entire post about my wreck diving experience last week.
After that day, I was too tired for any more activities, and headed over to my terrace (can you blame me?). In the evening, I went to the small Library next to the reception, where the guests can borrow books and movies. Since there isn't much wifi on the island, there are also two computers for the guests to use.
I was super excited to watch a DVD on an actual tv for the first time in months (they even had "Cruel Intentions" there. Definitely my kind of place.)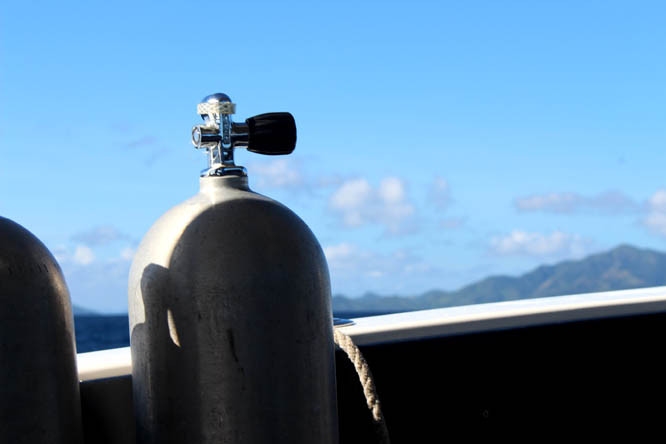 I started off my third day with an hour of snorkelling at the sunrise side of the island. The ocean was a little choppy that day, so I didn't see anything super exciting but I liked swimming to the tiny island right next to the peninsula. At low tide, you can walk there over a sand bank and – as there is nothing on that small island – get the full cast away feel.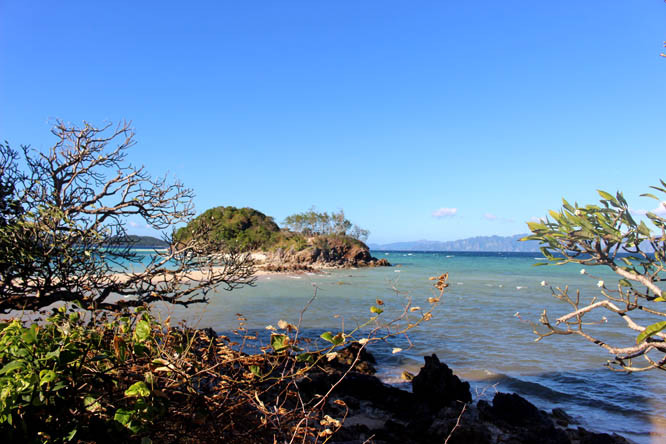 The girls at the reception all agreed that the Narra Spa Massage is something I couldn't miss. It didn't need too much persuasion from their side.
The Spa is located on top of the hill, overlooking the island. The small bungalows are built entirely from wood and glass and the interior looks so peaceful, that I felt relaxed before my massage even started.
I had a traditional full body Swedish Massage with a lighter pressure than what I'm used to. It basically felt like I was caressed to sleep. When I opened my eyes, I looked up to the beautiful native cogon ceiling. This is how designers should relax!
After 1,5 hours, I was in trance. This was one of the best massages I ever had, without all the pain of a Thai Massage. After that, all I could do was watch another movie in bed and fall asleep early.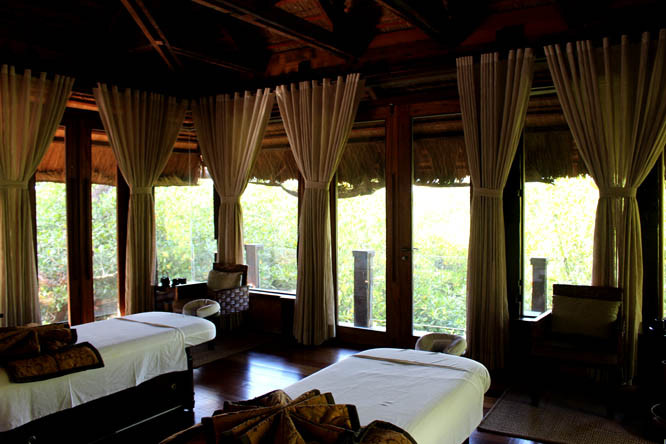 Although I was pretty active, I wasn't able to try out everything. Basically any kind of water sport is available or if you dare to get away from the island, you can do trips around Coron bay.
---
The Food
Since the resort is located on a private island, I took every single meal there and was very happy about it!
I loved everything I had and even the breakfast consisted of three courses! You don't have to worry about losing weight there.
There is a main restaurant and another one along the pool, so you could even eat sitting in the water.
I usually went to the regular restaurant and enjoyed the view over the bay during my meals.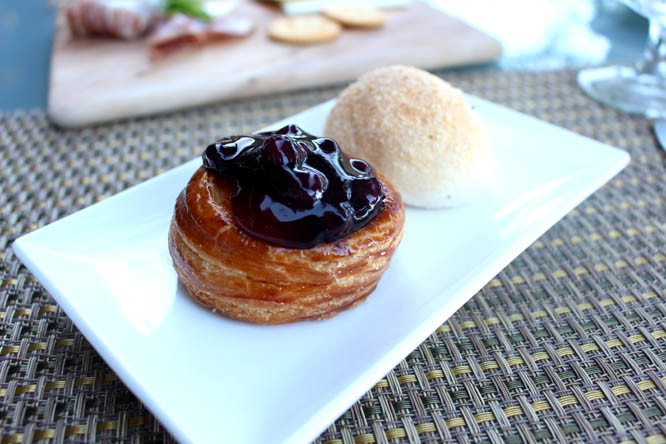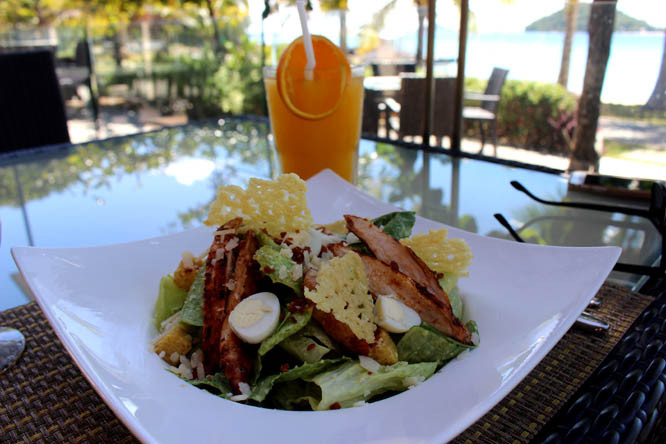 ---
The People
This is where you will definitely feel that you are in a luxury resort!
I could not believe how nice everyone was. Basically whenever I wanted to carry / hold / walk / do anything, one of the staff was there to assist me. They were super friendly and made me feel welcome at all times.
Since everyone working there, is also living on the island, you can also feel the community spirit within the team.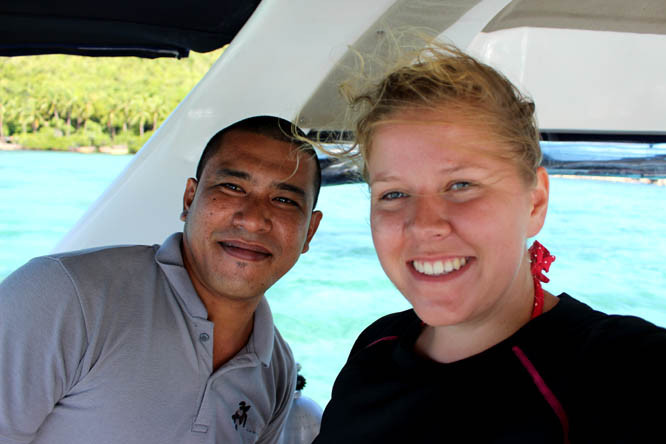 My arrival is probably the best example to show their amazing hospitality.
I was picked up at my hotel in Coron town and brought over to the pier in a van, although it would have been less than five minutes to walk there. Ever since, the employees didn't let me carry my backpack or hold my parasol while making sure that I always had enough to drink. Arriving at the resort, I was greeted with a smile and a shell-necklace. Within a minute I was served churros and a smoothie, without even having been to my room. The lovely Liza came to me to ask about my trip, and when I said that I'd like to dive the next day she called the dive master right away, who was there in less than 2 minutes.
I was driven to my room in a golf cart, where, mysteriously, my backpack was already waiting for me.
I encountered this kind of hospitality during my entire stay. "Walking the 500m to the dive shop?" "No, I'll pick you up in a golf cart!"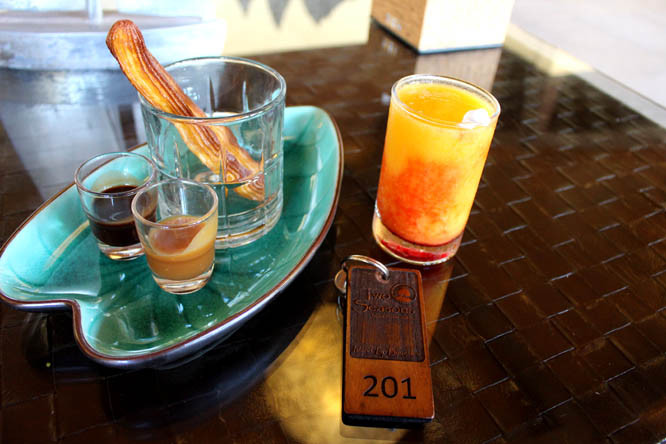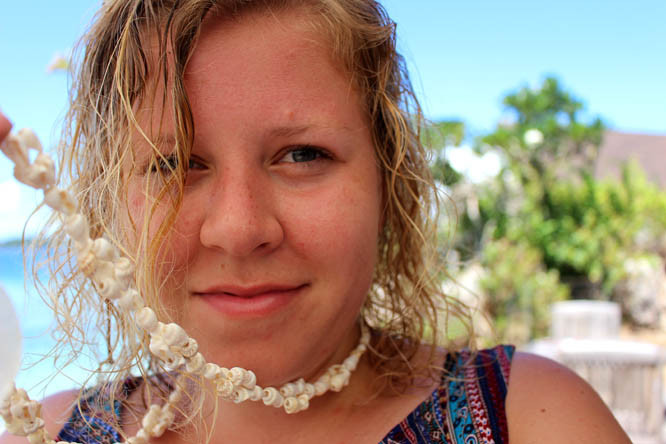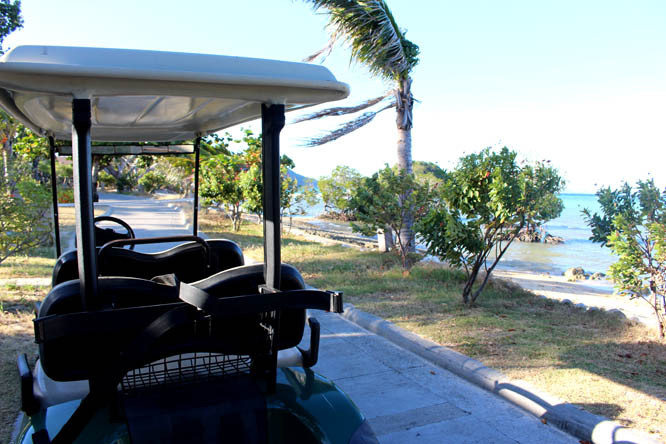 ---
Over All
I had an amazing time at Two Seasons Coron. Before I arrived, I was wondering if staying in a luxury resort on a private island was really for me. Now I can say: Yes, it is. I've never met such a nice team, felt so welcome and had such a relaxed time.
Obviously, this is not a place for the small purse but I could see myself coming back here for a special occasion (hello future husband, I'd like to go there for our honeymoon).
The team took such great care of me that I knew I didn't have to think of anything during my stay. I loved my terrace and finally got to work on my tan.
Oh, and what do you need to bring to a lonely island? Nothing, they will have it all there for you.
---
---
Where:
Two Seasons Coron Island Resort and Spa
Malaroyroy Peninsula in Bulalacao Island, Coron, Palawan
How to get there:
When staying at the resort, you will be picked up in a speedboat from Coron Town, Busuanga Island.
There is also the much more exciting option of a private plane.
How much:
My bungalow was a Island Tip Bungalow, starting at 33.000 php / 751 USD
click here for current rates and bookings
---
Thank you, Two Seasons Coron, for inviting me! As always you guys still get my full and honest opinion.

Some of the links above are affiliate links to booking.com . I will earn a small percentage if you buy anything through them. Thanks for supporting Journey to Design!
---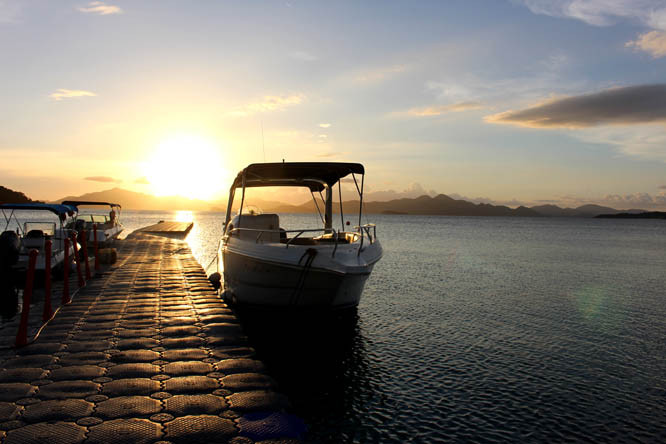 YOU MIGHT ALSO LIKE
---