Ever since I got a first glimpse at a wreck in Koh Tao, I was so fascinated by the size of the ship, by the history around it and by the coral stuck to it, that I definitely wanted to see more.
I knew that I had to travel to Coron in the Philipines.
During the second world war, several ships had tried to hide in the Coron bay and were all sunk.
Today this makes a great dive site, one of the best for wreck diving in the world.
Two months later, I climbed off the speedboat at Bulalacao island in Coron bay.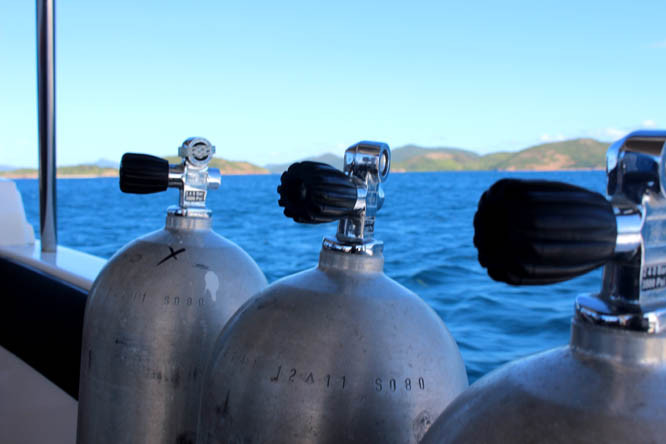 ---
---
I was staying at Two Seasons Coron, a resort with it's own dive shop (you'll hear all about the resort in my next post).
Before even going to my room, I talked to Bon, the in-house dive master and booked a tour with him for the next morning.
We decided that all three of my dives that day would be wreck dives, as I could look at coral everywhere else in the world. I heard that many dive schools only do two wrecks in one day (and reef for the third dive), so I was super happy to have my private dive master.
Staying at Two Seasons, I was slowly learning that the lovely staff were assisting me with basically everything, not letting me carry my backpack, walking anywhere or even holding my own parasol (the need of a parasol is another matter).
So, when I arrived at another sparking speed boat the next morning I wasn't too surprised anymore to find everything set up for me.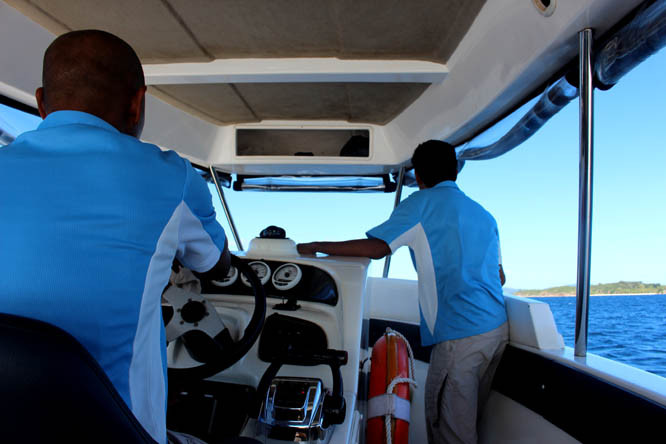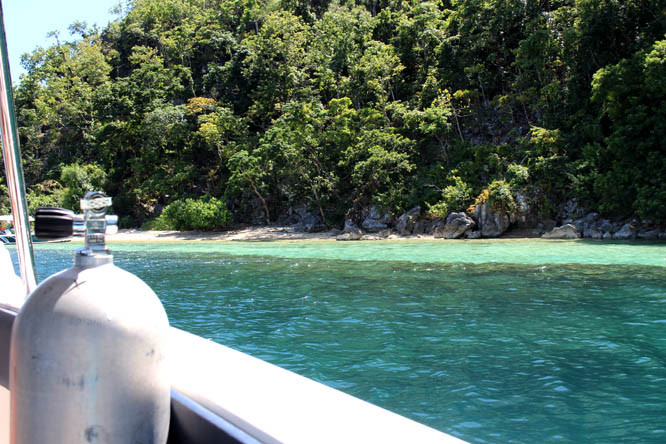 ---
Our first site of the day was the Tangat Wreck (formerly called Olympia Maru), a freighter ship in Coron Bay.
I was pretty nervous as I had never been inside a wreck before (only looked at it from the outside) and knew about my terrible buoyancy.
Bon was super helpful and took all fear away by going very slowly and always showing me the easiest way through the wreck.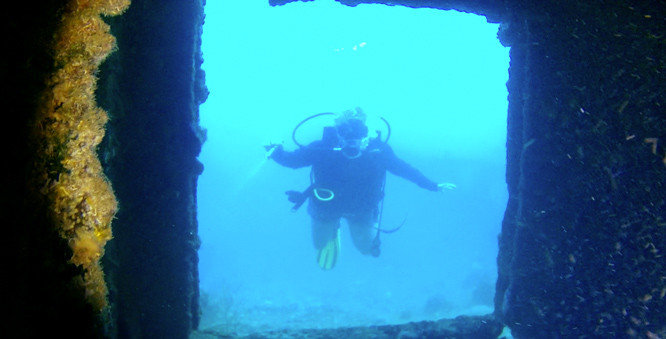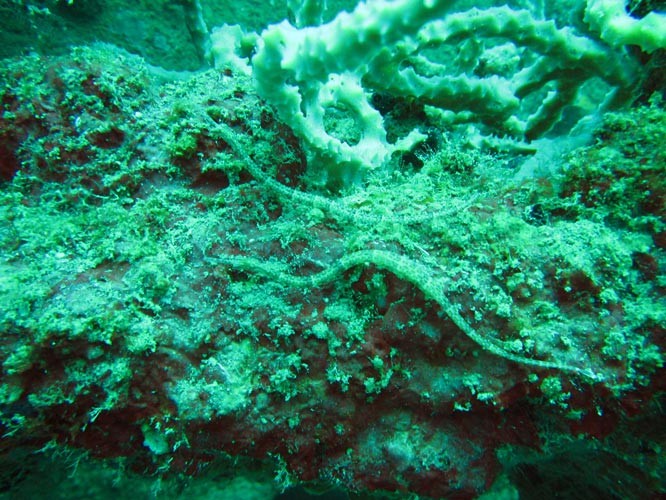 This first dive site was also the most challenging one, being at a depth of about 30m, with a vessel of 122m length. It just stands upright in the sand, making the access a bit easier through the cargo wholes. As there was a strong current the day we were diving, the visibility wasn't the best but apparently you can usually see large puffer fish, lion fish and scorpion fish around there.
As I don't like diving in a wetsuit, I didn't wear one here either, which probably wasn't the best idea. I managed to scrap my knee on the wreck right in the beginning.
If you – like me – don't have the best buoyancy, I'd advice you to wear a long wetsuit although it's warm enough without.
Of course, Bon could also take care of that and had everything I needed in his first aid kit.
For the following two dives I was fully suited up.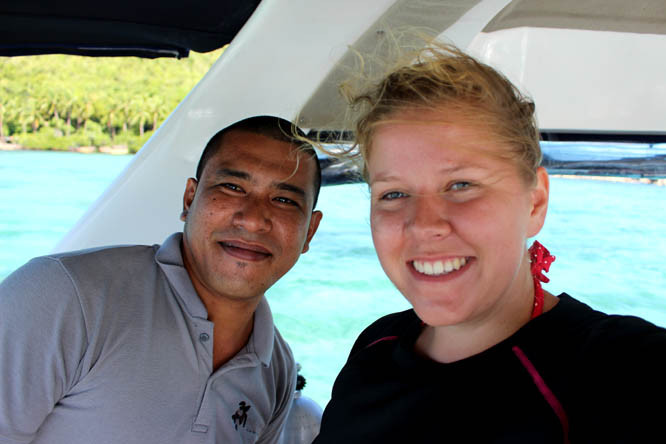 I'm not used to having my own dive master or basically my own boat, but this was a very luxurious experience. I don't really need anyone setting up my gear for me but it's just very nice to be taken care of and to be handed a fresh towel when coming out of the water.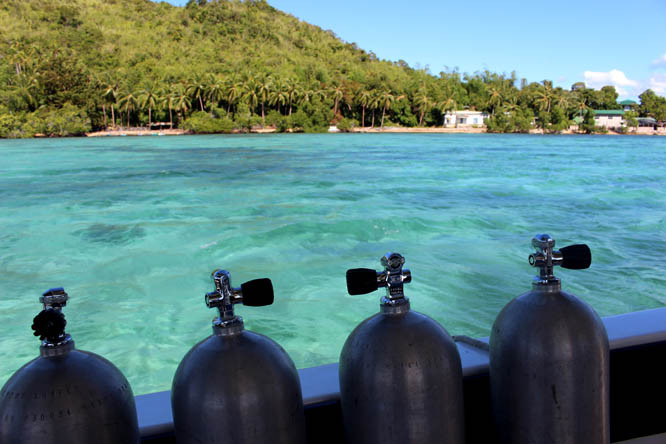 ---
After our surface interval, we proceeded to the second wreck, Olympia Maru (there is a bit of a confusion here as apparently the names of the ships were exchanged at some point and some dive shops still go with the old names. I'll go with the "new" name: Olympia Maru).
Being slightly more shallow than the first one, we found a whole lot of different fish and coral. Did I mention that Bon was a marine biologist? So if I had any questions about the sea life when coming out of the water, he knew the answer!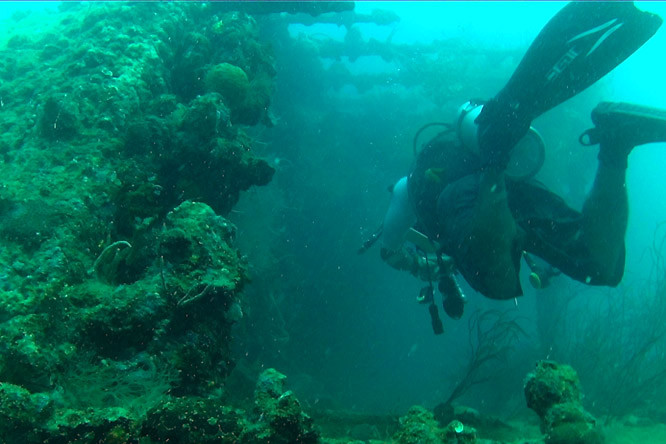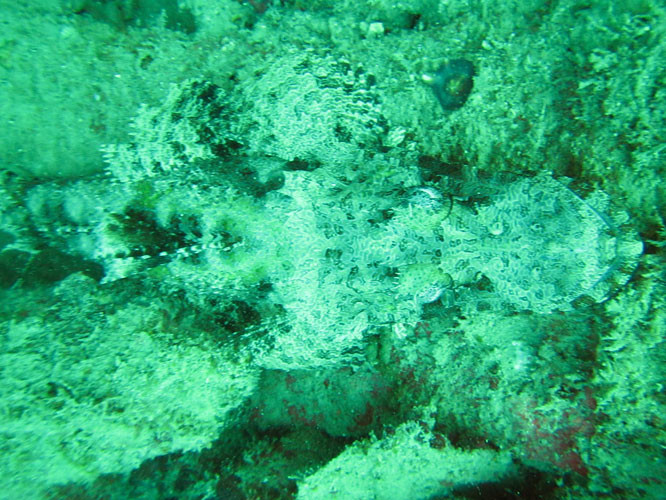 We even found a crocodile fish!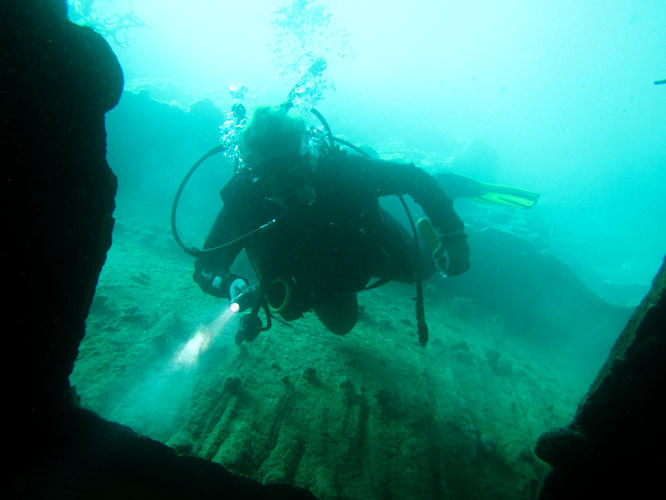 ---
After this wreck, it was lunch time. This is where the luxury hotel came back in the game, with a lunch that
I had ordered à la carte at the restaurant the night before. The boys had brought actual cutlery, so I had my first proper meal on a diving boat ever. They even offered me to take a nap in the sun afterwards, as we still had some time in our surface interval left!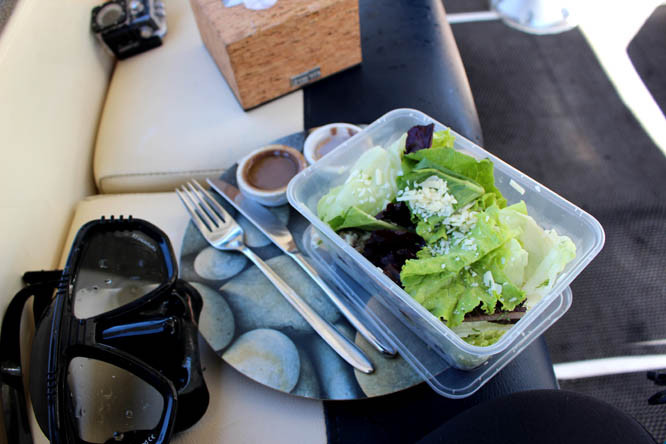 ---
Our last diving site was the East Tangat Gun boat, which used to be a submarine hunter! The tip of this one lays at only 5m, meaning that you could go there for introductory dives and as well.
Actually you could just go there for snorkelling.
The 40m long wreck lies on a sandy slope, only reaching 22m at it's deepest point.
Due to the shallow height, I found this the perfect last dive, being less challenging and more relaxed. The colours of the corals come through nicely in this depth and there is still enough to see.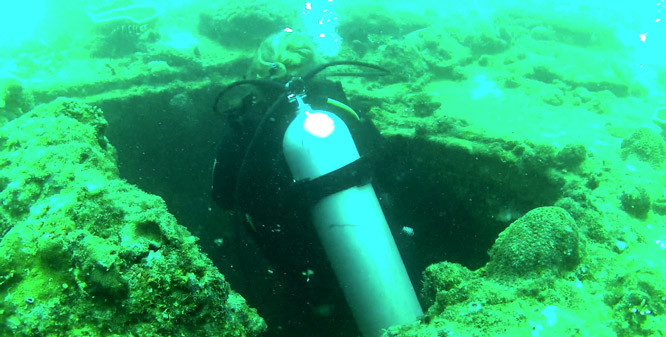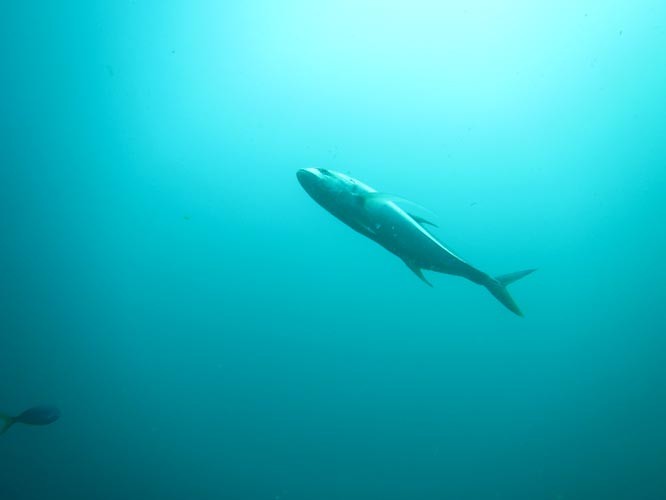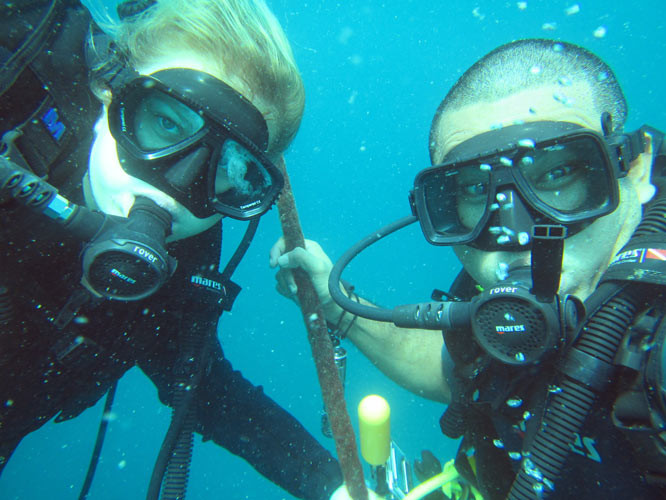 I can highly recommend wreck diving in Coron and especially with Bon at Two Seasons. He took such good care of me and I basically had to do nothing but jump into the water. We had a perfect lunch on board and visited three of the most exciting dive sites I've ever been to! I'm pretty sure this wasn't my last wreck dive.
The resort is beautiful and the perfect starting point for design-loving divers! I'll tell you all about my stay there in my next post.
---
---
Where:
Two Seasons Coron Island Resort and Spa
Malaroyroy Peninsula in Bulalacao Island, Coron, Palawan
How to get there:
When staying at the resort, you will be picked up in a speedboat from Coron Town, Busuanga Island
How much:
starting from 3000 Php for a fun dive. Check here for current rates
---
Thank you Two Seasons Coron and Bon for this trip. As always, you guys get my full and honest opinion, no matter who foots the bill.
Please note that I am an affiliate for booking.com and will earn a small percentage of your purchase if you buy through these links at no additional cost to you. Thank you for supporting Journey to Design! 
---
YOU MIGHT ALSO LIKE
---