I mean, there is a chance that Leonardo di Caprio comes back to Maya bay for a sequel of "the Beach", right?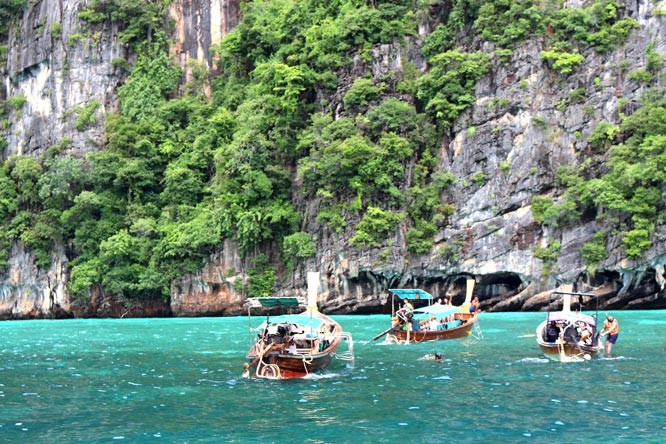 ---
---
So during my stay in Aonang, I decided that I'd have to join the rather touristy activity of visiting Maya bay. The tour combined this with two more islands and some snorkelling, which is basically my favourite activity in the world.
The lovely team of AliSea Boutique Hotel send the even lovelier Ped to accompany me and to be my personal tour guide. Ped means duck in Thai and she got this nickname for being so chatty – we obviously had a great day.
Ped and I got on a speed boat in Aonang and headed over to our first stop:
Bamboo Island
There is literally nothing you can do there apart from beach bumming and swimming. Aka: perfect island
As it was still pretty early, we just opted for some beach time and people watching.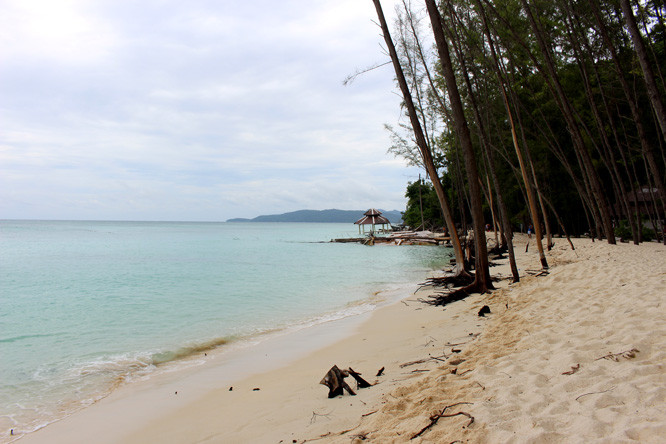 ---
Viking Cave
we just drove by this one, it's a cave where apparently you can harvest edible bird's nests. Too weird for me.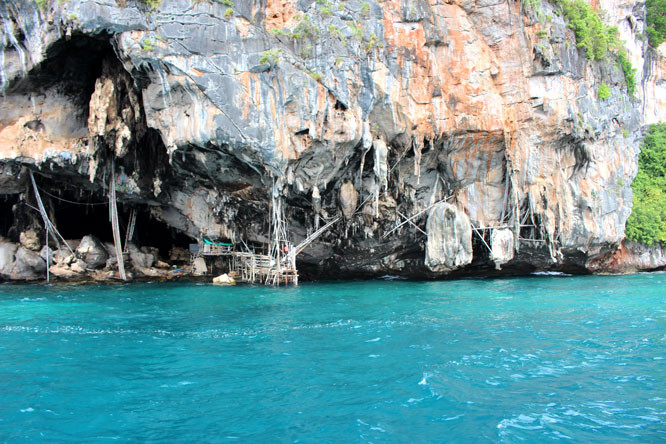 ---
Maya Bay
this is the one from "the beach". I had feared that it would be kind of crowded and of course it was even worse than I had expected. I stared at a Chinese family taking absurd pictures in the water for half an hour ("look, I'm holding wet sand") and was happy to get back on the boat afterwards. Leonardo wasn't to be seen either.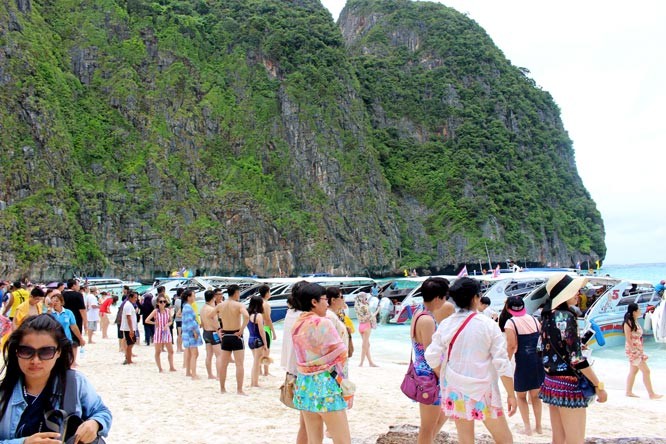 ---
Monkey Bay
Snorkelling! The visibility was amazing! There weren't too many fish but I had a lot of fun playing with my underwater camera and simply paddling around.
I don't really get the concept of snorkelling with a life vest, which is rather popular in Thailand, but nobody drowned, so maybe that's enough of a reason already.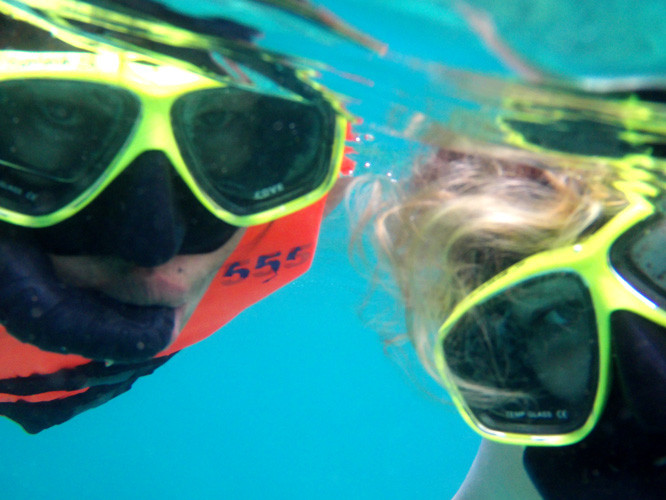 ---
Phi Phi Don
This is the main island of Phi Phi, where you can also stay in hotels and party pretty hard.
We only had lunch there and went for a walk, where Ped showed me the still present impact of the Tsunami. I thought it was super interesting how this island had to start from scratch and unfortunately didn't take the chance to make something pretty out of it.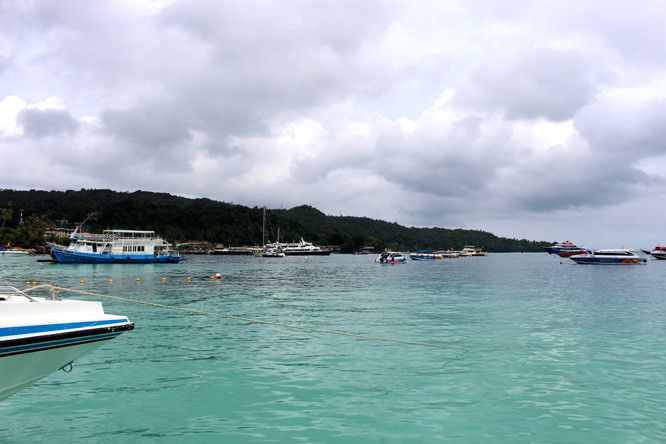 ---
Long Beach
more snorkelling! We jumped back into the water just off the shore of Phi Phi don.
The fish and visibility were the same but this time there was more coral, which according to Ped gets even better in high season.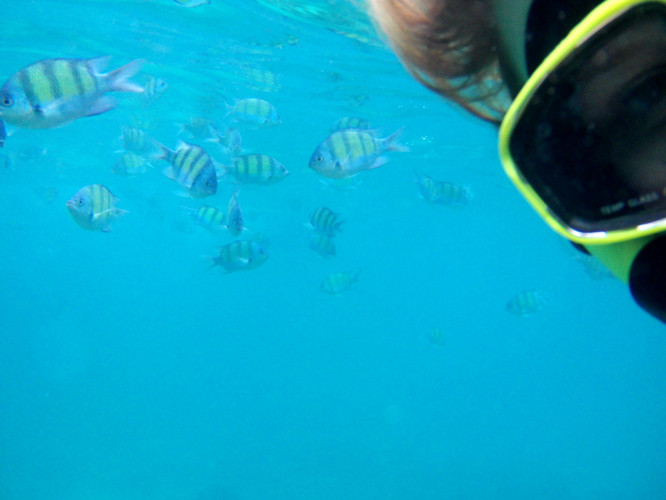 ---
We had a fun day exploring the islands and snorkelling! I was super happy that it was low season because it was rather crowded already and for me it would have been a little stressful it there were more people.
This tour was operated by Aonang travel, who were super nice and professional. You could book this tour through them of through AliSea Boutique Hotel.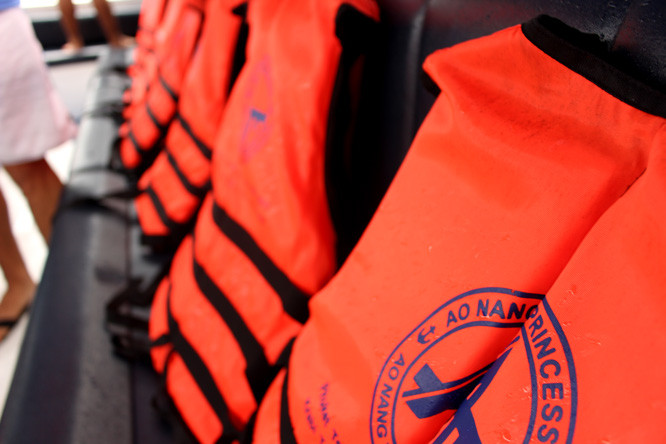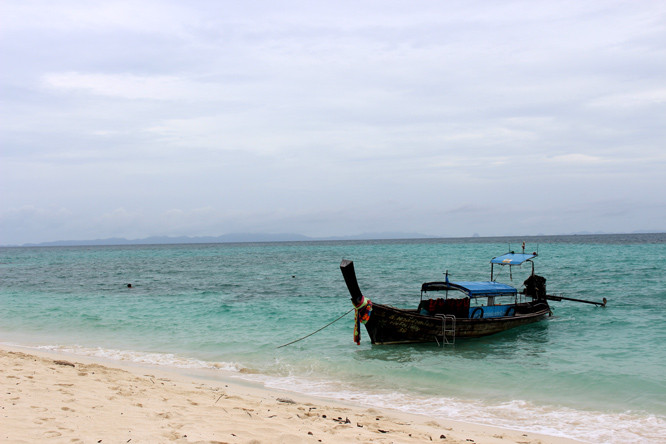 ---
---
full disclosure: AliSea Boutique Hotel invited me to this tour. As always, you still get my full and honest opinion, no matter who foots the bill.
---
YOU MIGHT ALSO LIKE
---