The word "destiny" is too much for the choice of a hotel, right?
Well, my friend Antje and I were discussing going to Berlin to visit the DMY Design festival when I received an invitation from Crowne Plaza Berlin City Centre right at that moment!
Obviously our plans were set and we took off for a weekend in Berlin a few days later.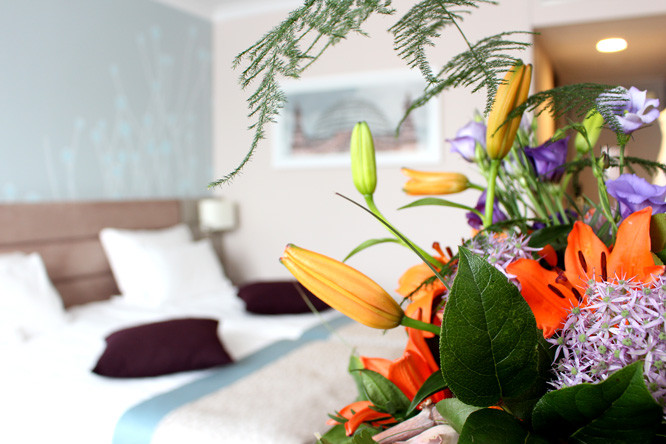 ---
---
The Area
Crowne Plaza Berlin is located between Kurfürstendamm and the Berlin Zoo.
While at first sight, this area appears less trendy compared to other parts of Berlin, a new design district is developing around Bikini Berlin, a very stylish design mall just a 5 minutes walk from the hotel.
With several pop-up stores, a great new interior and the location right at Kurfürstendamm, this mall is already attracting everyone who is interested in design in Berlin.
And they really made their location at the zoo work: By including a glass facade you can actually see monkeys run by while you are shopping!!
Being close to Bahnhof Zoologischer Garten, you'll also be very well connected to wherever you want to go in Berlin.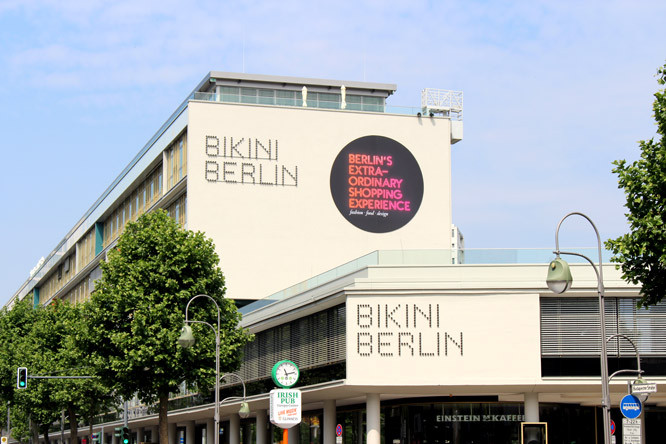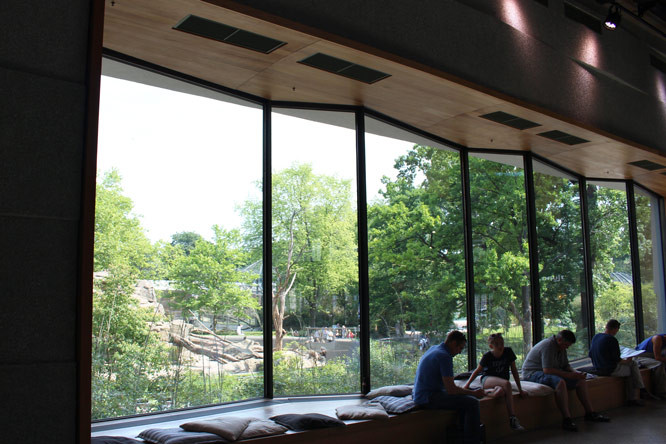 ok, you can't see the monkeys in this picture but they are there!

---
The Design
You can tell, that Crowne Plaza Berlin and their designer Andreas Neudahm put a lot of effort in making their rooms comfortable and welcoming.
They used warm colours for their furniture and the main walls, combined with colour accents for accessories like the sofa cushions and one feature wall behind the bed. The selection of mute colours is very harmonious and even the grey-green wall with blue highlights behind the bed doesn't disturb the overall relaxing and calm atmosphere but provides a nice touch of colour.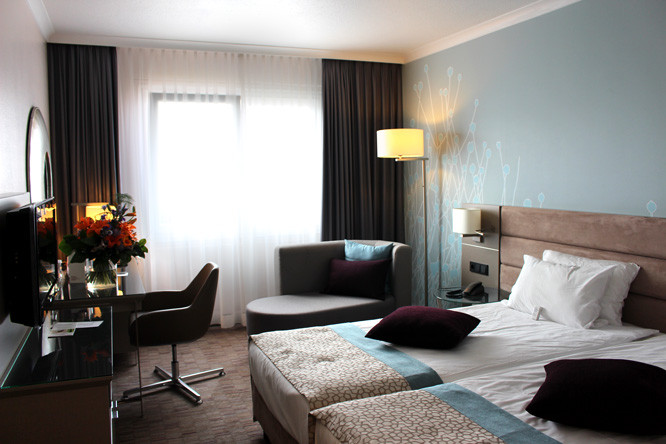 By combining the colours with patterns on the feature wall, the place felt young and fresh without trying to be too hip. We loved our flowery pattern on the wall behind the bed, which managed to look rather stylish than girly due to the use of straight lines in everything else in the room.
You will find these straight lines, colours and patterns all over the hotel. 
We especially liked this wooden wall in the restaurant, translating the other two-dimensional patterns to a third dimension.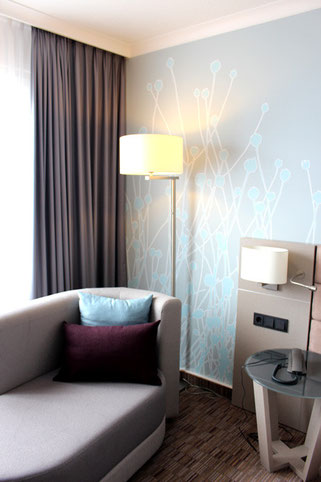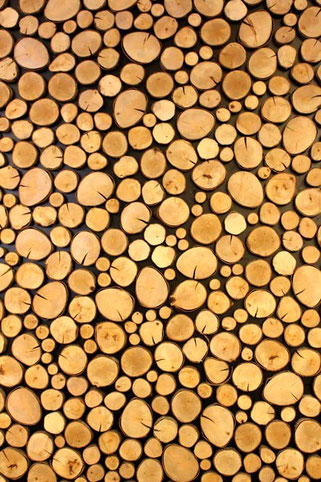 ---
The Room
Antje and I shared an Executive room, which is the same size as a Standard room but offers a few extra features like free access to the sauna and a nicer view.
There was a giant bed (you can choose between King Size and twin), a chaise longue, a desk and basically everything you will need in your hotel room.
I loved the fact that there was an actual desk with a proper chair and high-speed internet, which made our room my little home office while we were there, still leaving Antje with the chaise longue and not stuck on the bed like it often is when one person is working and the other one is trying to read a book.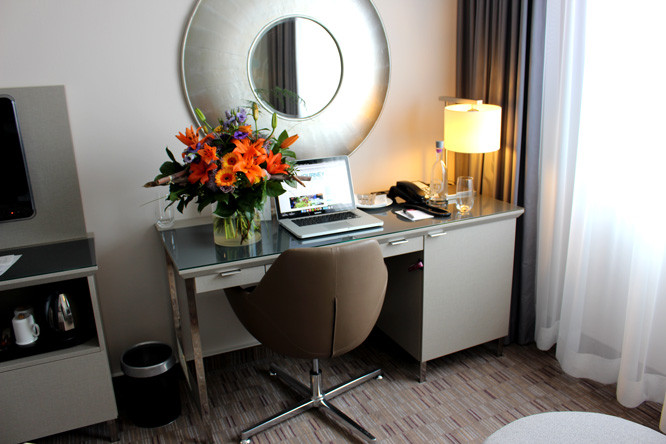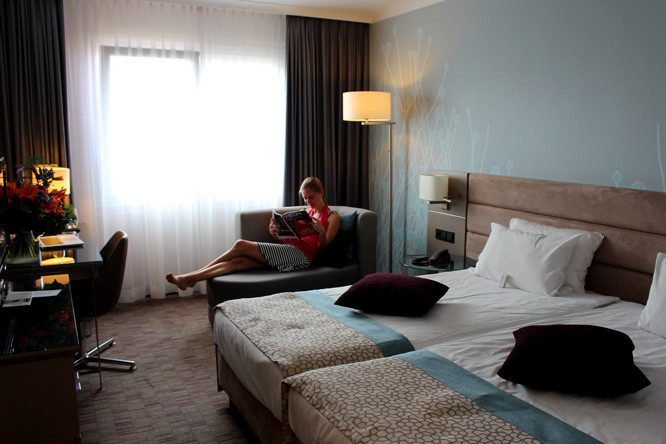 The bathroom looked like a mini spa with the same colour scheme as the room, combined with dark grey tiles.
There were adorable details everywhere, my favourite one was a box of "this works: sleep" on our bed, including a lavender spray and roll on for your wrist. Maybe it was this or the selection of different pillows – we slept like babies.
What I didn't now before we arrived:
There is a whole wellness area with a pool, a sauna and a gym and you can even get massages.
Because we didn't bring gym clothes, we only used the pool every day, which we had all for ourselves! But the gym looked great as well, next time I'll definitely bring something to wear and make use of it!
---
The Food
You should have seen our welcome platter! We arrived pretty late, starving and were so excited about a plate with tiny deserts just standing on our desk. This is the kind of welcome we like!
We had actually planned to just drop of our luggage and find a restaurant (there is one in the hotel as well), but then changed our mind and ate our desserts while watching several episodes of friends, staying in all night.
Of course there is also a massive breakfast buffet in the mornings with everything you need if you have just been jumping around the pool for an hour or need something to cure your hangover (just to name two random examples).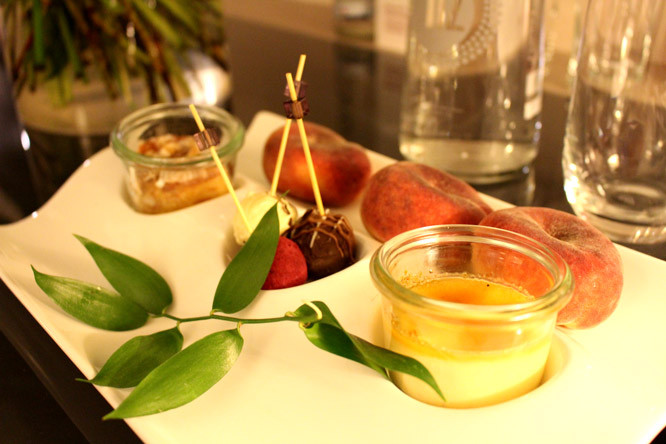 ---
Over All
We loved the staff, the welcome platter and the massive bouquet of flowers on our table! Everyone at the Crowne Plaza was so nice!
I was surprised how close the Bikini Berlin Mall was and how hip this district is becoming.
If you're coming to Berlin to go shopping around Kurfürstendamm, this is a great base.
We had a perfect girl's weekend at the hotel and spent much more time there than we had planned
(I mean, how exciting can Berlin be, right?).
Thanks for having us, Crowne Plaza!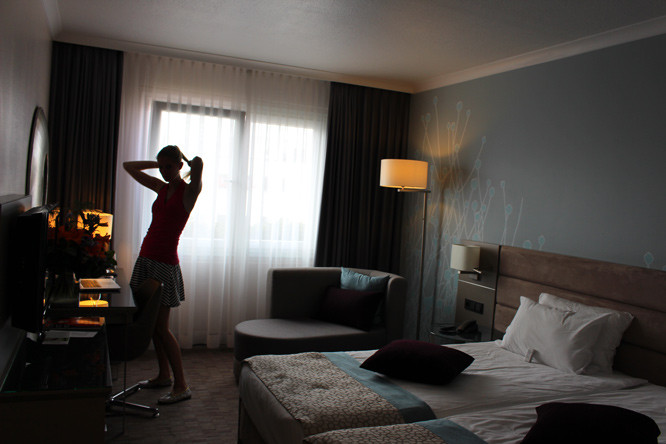 ---
---
Where:
Crowne Plaza Berlin City Centre
Nürnberger Straße 65
10787 Berlin
How to get there:
walking distance from Zoologischer Garten or Wittenbergplatz
How much:
officially the price for a standard room is 139€, but this depends on availability and chances are you'll get a cheaper price by booking early.
Click here for current rates
---
Many thanks to Crowne Plaza for inviting us! As always, you still get my full and honest opinion.
Please note that I am an affiliate for booking.com and will earn a small percentage of your purchase if you buy through these links at no additional cost to you. Thank you for supporting Journey to Design! 
---
YOU MIGHT ALSO LIKE
---