When I first heard about the Banksy Exhibition at Moco Amsterdam, I was outraged, thinking they were showing his pieces, that were literally ripped off the walls.
Only then, I found at that Bansky actually also creates indoor art on canvas, wood and paper. Whoops.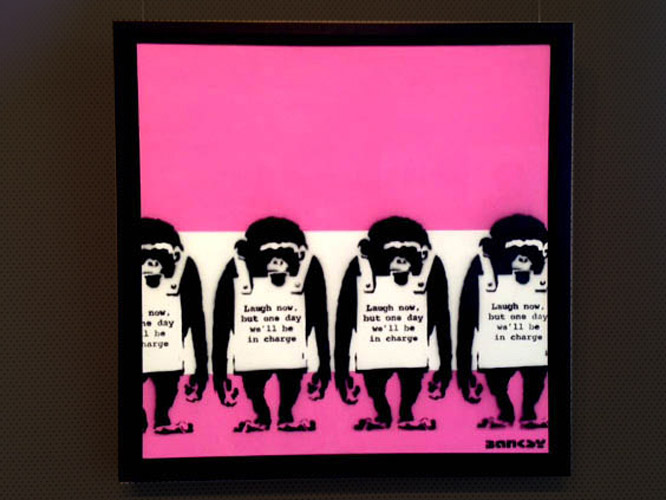 Moco Musum only shows this indoor art and a few pieces, that were rescued from buildings, that were torn down, but as far as I know, no stolen pieces.
The second part of the exhibition shows pieces by Andy Warhol next to Banksy's work. Banksy often uses Warhol's work as a reference and these pieces are shown together for the first time.
With a clean conscience, I headed to Moco, which is right across from Rijksmuseum on Museumplein where I fell in love with the building's architecture and once again Banksy's art.
---
Part 1: Banksy – Laugh now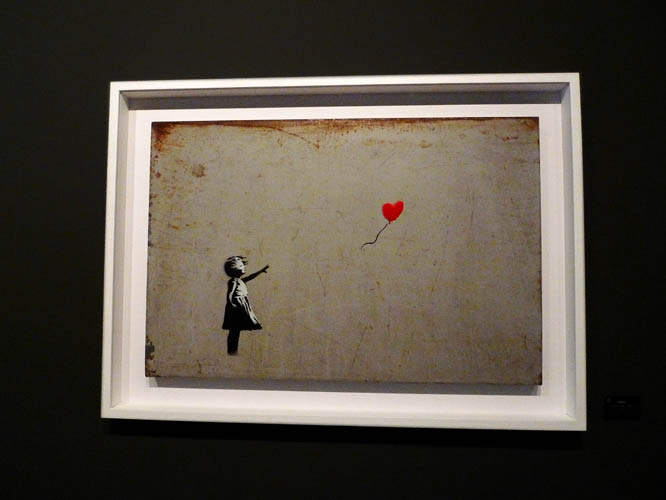 Right at the entrance, you'll find "Girl with balloon", one of Banksy's most famous pieces. It was originally found on a staircase, which has "there is always hope" etched into it. The girl is seen standing in the wind, losing her heart-shaped balloon.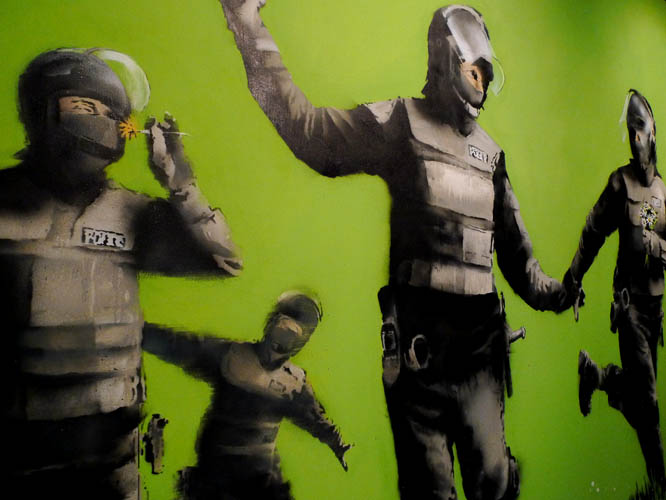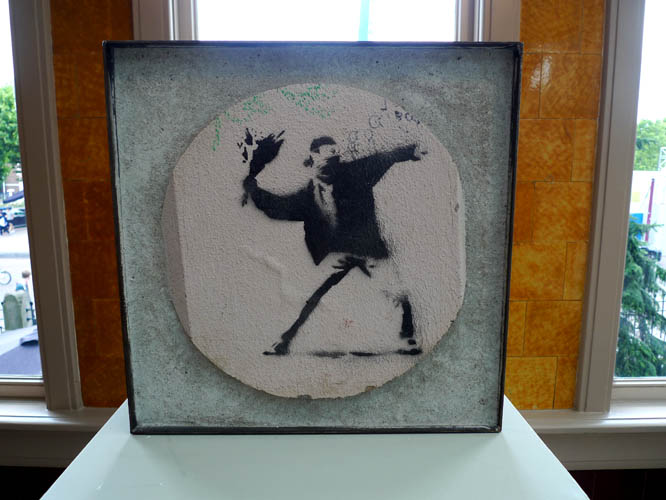 "Love is in the air" is a small stencil piece, showing a man in a kerchief throwing a bouquet of flowers. The image quotes the pictures of the 1960's street riots, while the flowers show a hope for a peaceful resolutions for conflicts.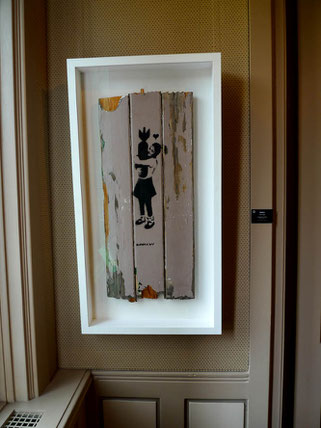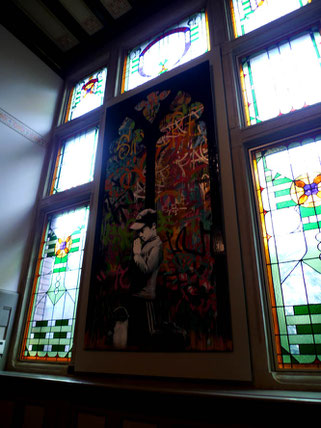 "Bomb hugger" –as the title says– shows a little girl, hugging a bomb. A small heart is flying above her head. Just as the "Girl with balloon", this piece is showing hope in an otherwise hopeless situation.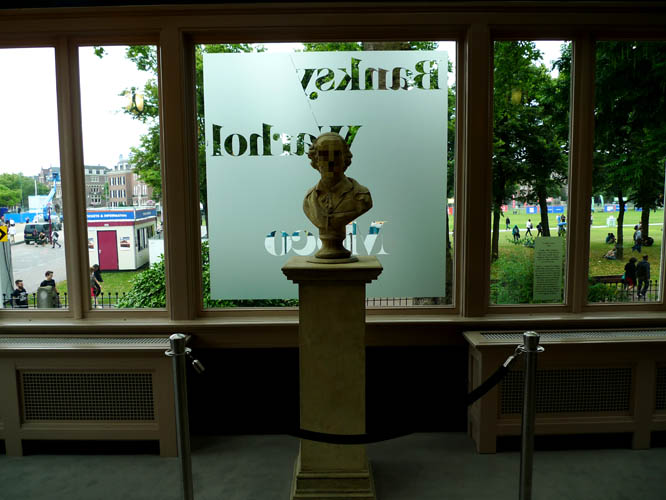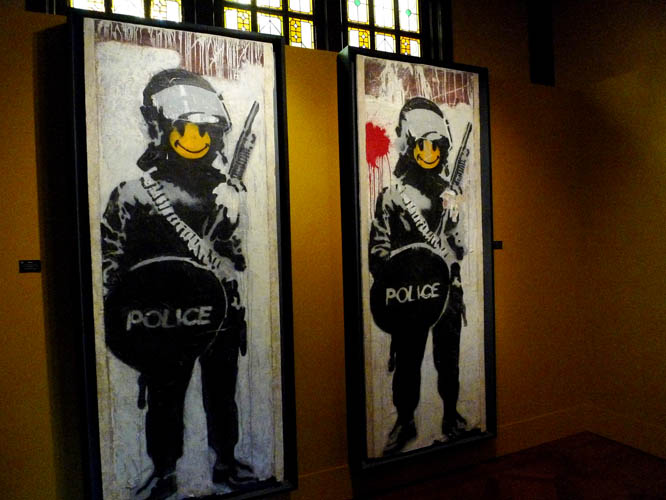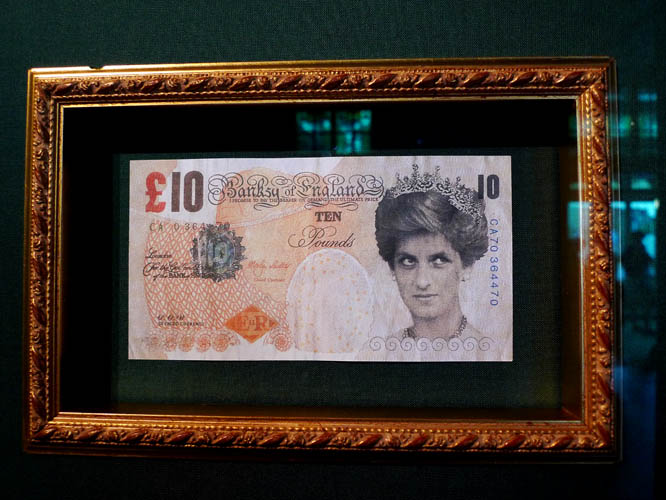 Do you remember when Banksy dropped notes worth one million pounds over the Notting Hill Carnival in London in 2004? He had replaced the Queen's face with an annoyed looking Lady Di and also featured the "Banksy of England" as issuer. The notes then were actually misused as payment in London after this. 
---
Part 2: Warhol – Royal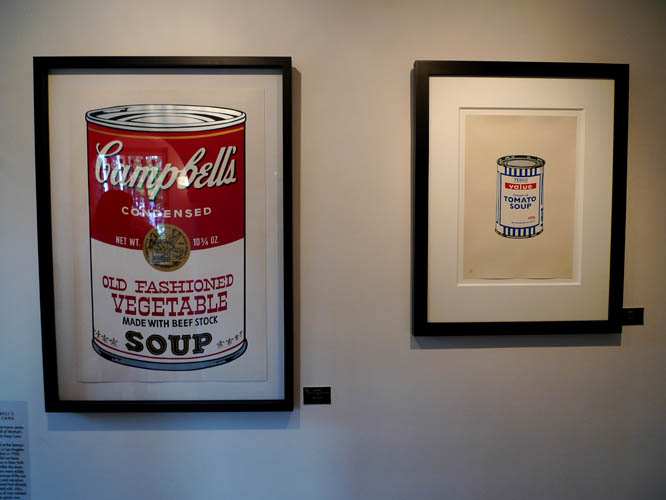 Where Andy Warhol celebrates consumer culture, Banksy shows what the same consumer culture has come to, drawing attention to Tesco as a corporate giant.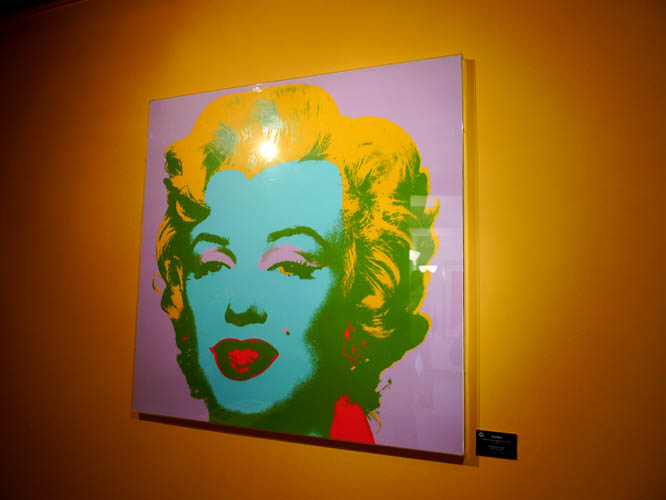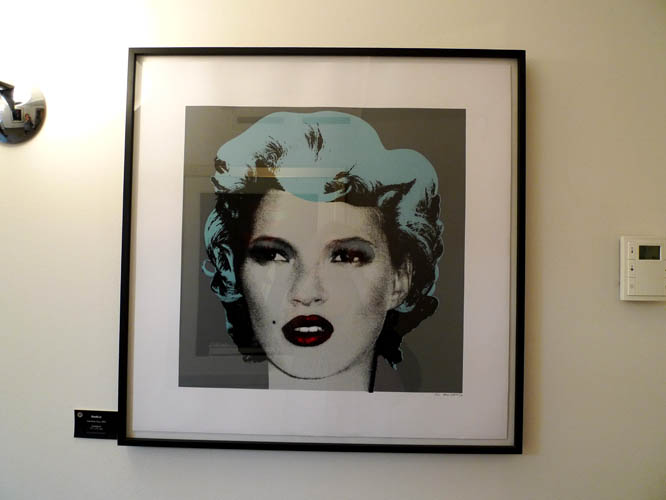 ---
Moco's architecture
The museum opened its doors in March with this exhibition.
Right between the Van Gogh and the Rijksmuseum, the Moco is located in an "Alsberg" townhouse.
It was designed by Eduard Cuypers, cousin of Pierre Cuypers, who designed the Rijksmuseum on the opposite site of Museumplein.
The 19th century monument consists of five floors and has a beautiful little greenhouse attached to it where the sculpture was placed for this exhibition.
The refurbishment was done by Studio Piet Boon. Guided by original drawings and photographs, they had over three hundred stained-glass panels reproduced. Also, all original murals were kept.
Even if you're not interested in the art, this building alone is worth visiting!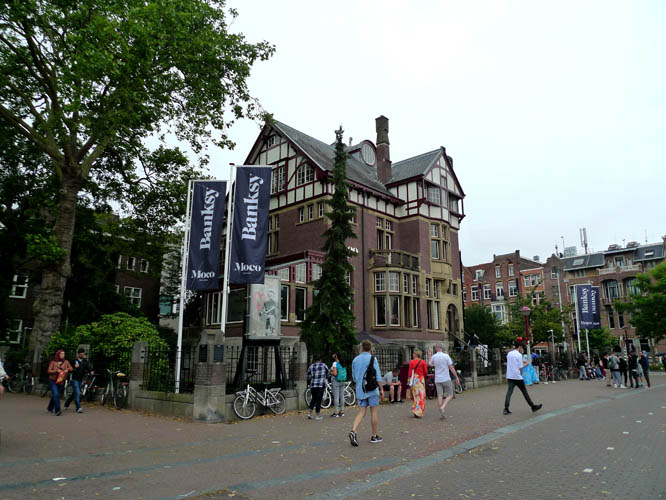 ---
Where:
Moco Museum
Museumplein
Honthorstraat 20
Amsterdam
Open daily 10am to 6pm
How much:
12,50€ for adults or 10€ for students
The exhibition will be open until October 2016, so hurry up, guys!
Pin for Later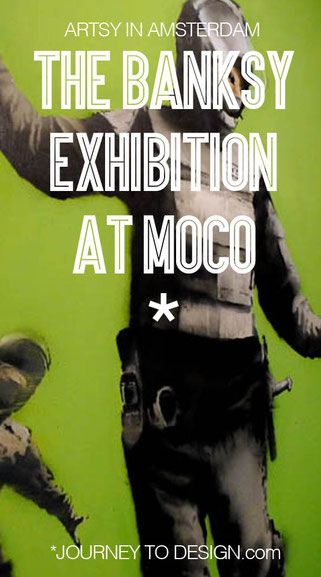 ---
---
YOU MIGHT ALSO LIKE
---