After a couple of busy days in Athens, I needed a break from the city and a swim in the ocean for the first time this year.
I had chosen Milos to fuel up on Vitamin E because my online research revealed that it had the best water, good snorkelling, diving and nice beaches. Sold!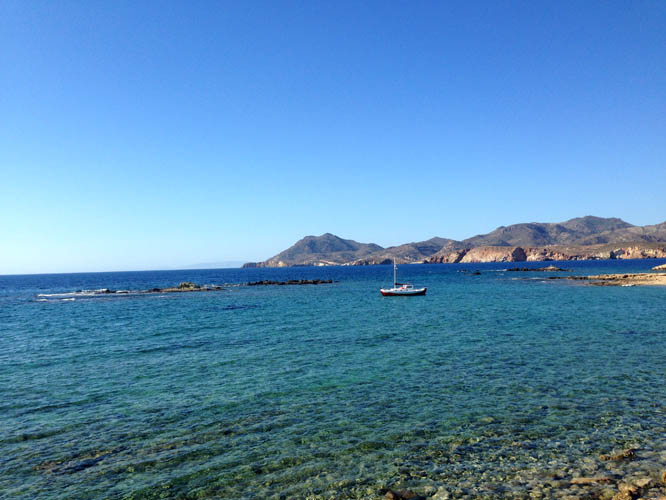 ---
The beaches
Guess what, this professional beach bum did nothing but lay on the beach and only stopped when she got the worst single-sunburn (you know, that part of your back where you can't reach with the sunscreen?
I need to do more yoga).
These are my top five beaches on Milos
Pachena
I only ended up here because I got lost (the reasons for about half of my findings).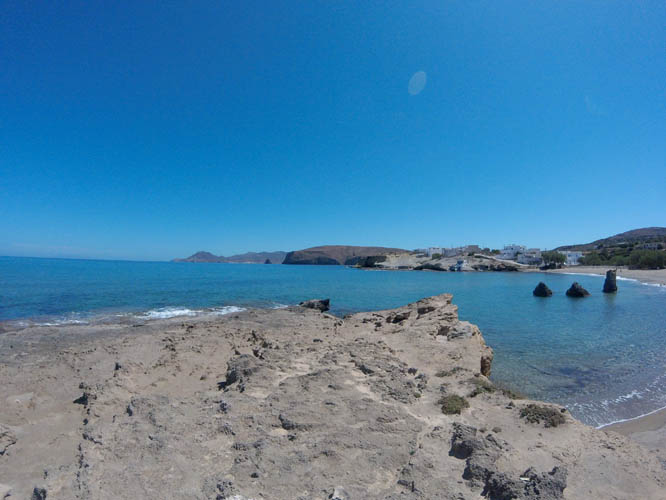 It's not the prettiest beach I've ever seen in my life, but there were literally no people and the water was amazing. With the whole beach to myself, I spent an entire morning there. And look at this crystal clear water!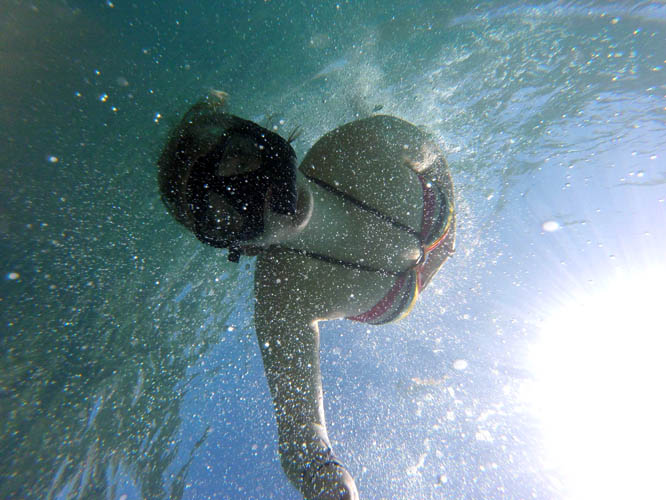 ---
Sarakliniko
Visiting Sarakliniko felt like setting foot on another planet.
The white cliffs were formed by the sea and the water is glaring in a bright turquoise.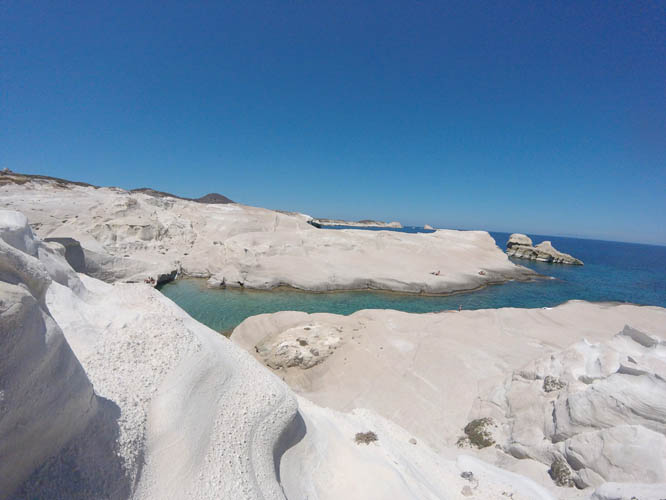 Definitely a must-see on the island!
---
Firopotamos
The drive alone through the mountains is worth visiting this tiny village.
Again, the water is bright blue and you won't see many people there.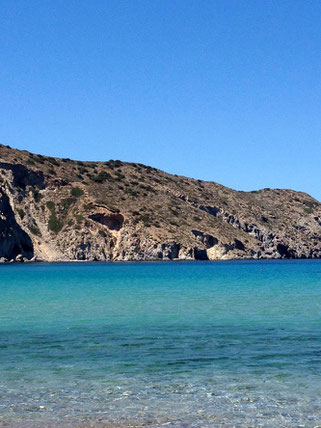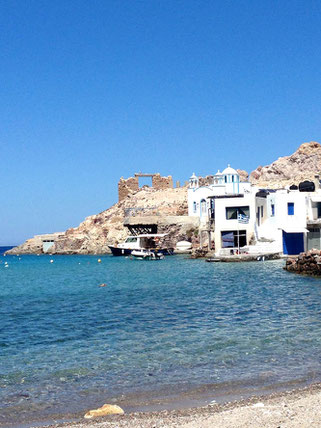 ---
Firiplaka
You'll have to drive through a stone mine, telling yourself that you really are on the right way. Once you've made it, it's stunning. The same blue waters as everywhere, just even clearer due to the cliffs in the water and the lack of waves.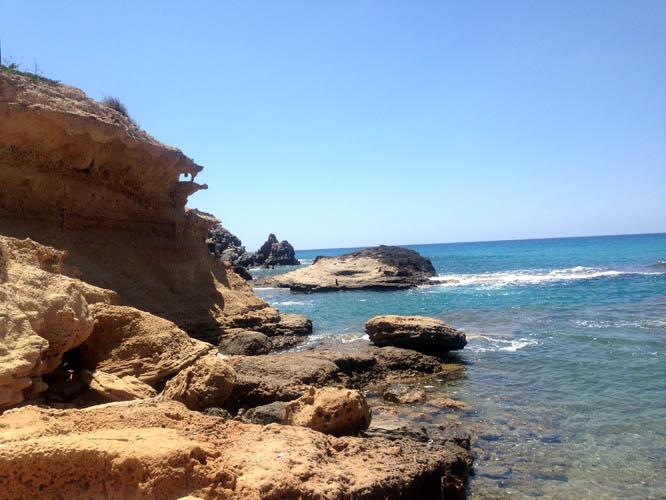 I didn't go swimming due to the stupidest reason: the hand break on my ATV didn't really work (or I am too weak, another reason for doing more yoga and less beach bumming) and I couldn't find a flat surface to park it on without rolling down the cliff. The view alone was worth going though.
---
Paliochori
My favourite beach on Milos! It's pretty, it's empty and it's easy to get to.
The red cliffs blew my mind and apparently there's even good snorkelling (just not when I was there – too many waves).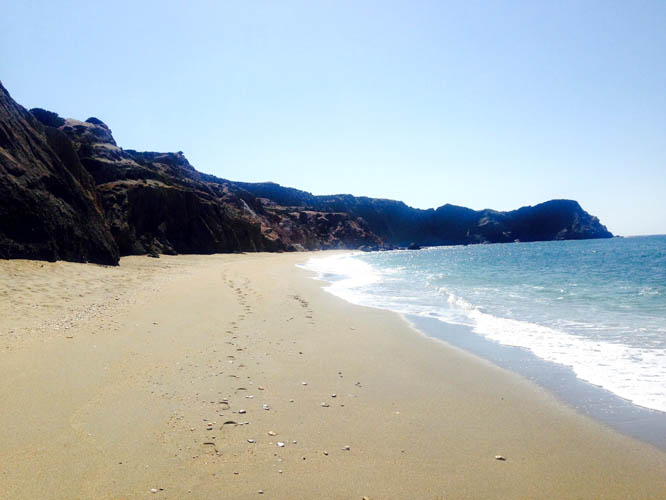 ---
Where to stay
I stayed in Pollonia. This adorable village at the north tip of the island offers everything you need (including a sandy beach) without being too busy.
I'd advise you to find a hotel in one of the small villages (like Pollonia) and not near the port. The villages all looked so peaceful and since you'll need a vehicle anyways, it doesn't really matter if you have to drive a bit to the next supermarket.
I stayed at Salt, which I can highly recommend for the beautiful rooms, the nice staff and – wait for it – your own jacuzzi on your own terrace.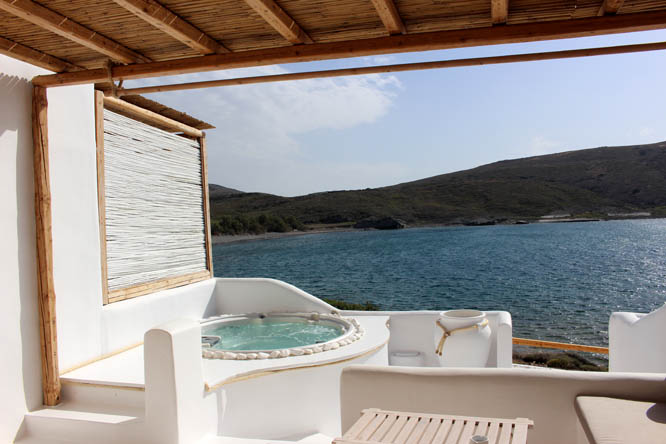 ---
Getting around
You will need some kind of vehicle. There are busses, but they'll only take you to the stops on the main road and not to the best beaches.
You can go for a car, an ATV or a scooter. I've seen crazy people on bikes, but that definitely wasn't an option for me with these mountains and the heat.
I usually opt for a scooter, but Antonis, my new friend and car guy in Pollonia recommended to rather take an ATV as the roads are a little bumpy.
After seeing them, I'd say you'll be fine driving a scooter if you already have some practice and stay on the northern part of the island. For the south, you should get a car or an ATV.
Do you remember me talking about driving on Koh Tao? It's just like that. The main roads are fine and the smaller roads are a bit rough, but all manageable if you just go slow enough.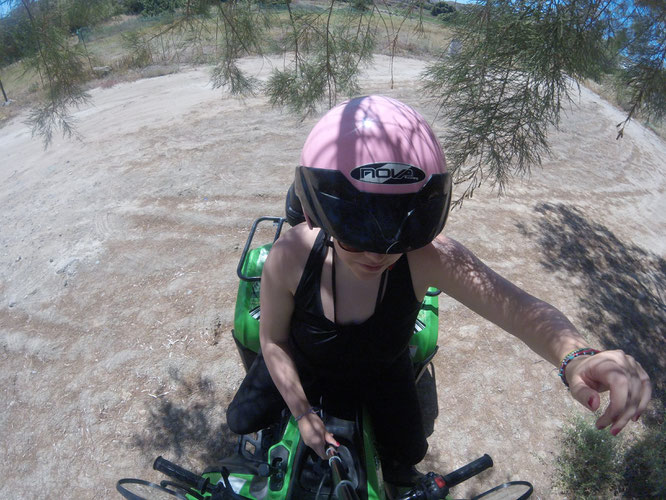 ---
The Cities
Adamas
You'll find a few shops and a supermarket around the port. There are cute small alleys and – obviously – blue an white houses. The prices at the restaurants around the harbour are significantly higher than at the rest of the island, but they also have a nice view.
Plaka
The capital of Milos is simply adorable and worth a visit. This is what I always imagined Greece to look like!
---
What else?
If you get bored of the beach, there are also museums and ruins to look at. Most people also take a boat around the island. As I said, I was too busy working on my tan for that.
My days in Milos were pure bliss, laying in the sun, glass of wine and book in hand.
For me, this was the perfect place to cool down in between exciting days in Athens and Santorini.
Milos, I will be back.
---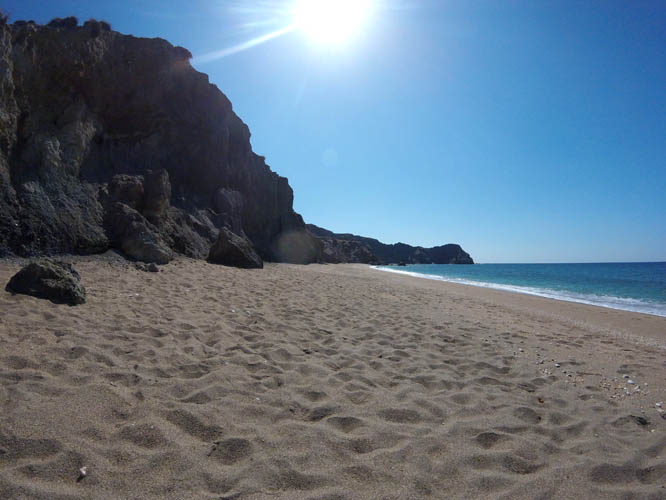 Pin for Later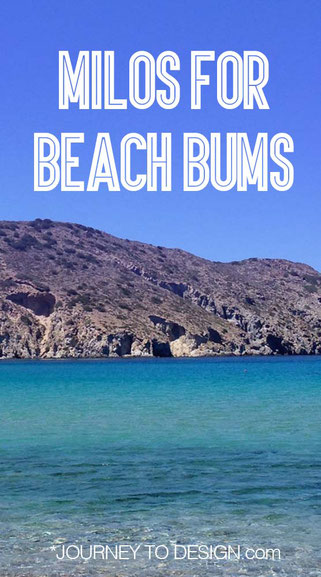 ---
YOU MIGHT ALSO LIKE
---