After almost a month in Indonesia, I realized that I hadn't been to a single beach there. If you've followed my journey for a while, you probably know that this is highly unusual for me, that's why I decided to spend my last three days in Bali looking for the perfect beach.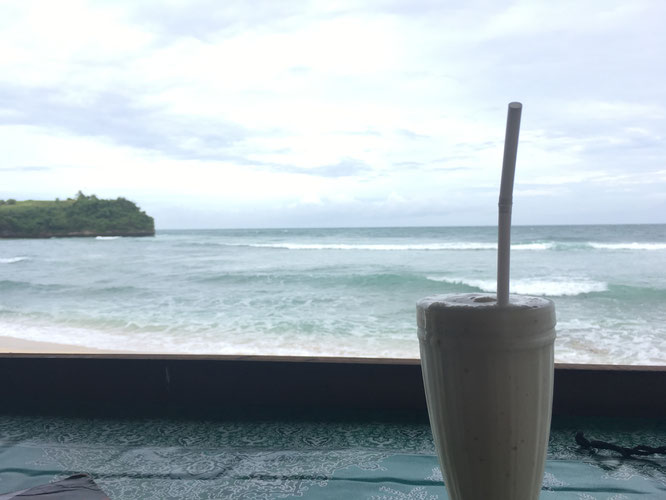 While Bali isn't a classic beach destination (I'd recommend the surrounding islands for that – my favourite is Nusa Ceningan), I heard that the beaches on the Bukit peninsula are the best, and decided to stay there for a couple of days to give them a try.
I stayed in Jimbaran, which is a great starting point to explore Bukit, as it's close to Bali's mainland (therefore also close to the airport) and it's right on Jalan Uluwatu, one of the few main streets on the peninsula. I rented a scooter and drove to the beaches myself. If you're travelling with a couple of people and don't feel comfortable on a scooter, you could also book a driver for a day or take taxis.
I've visited 6 beaches in three days and I've ranked them in a highly professional evaluation from nightmare to paradise for you:
Dreamland
Don't get fooled by the name, this beach is a nightmare.
First of all, you'll have to walk through a market to get there. And it's not a nice one, but a market where the sellers will yell at you, asking you to buy stuff.
After I made it to the beach, new sellers tried to get me to rent and umbrella. The waves were huge, so there's no way anybody could swim there (at least not on the day I was there). For some reason there were still tons of people. I left after five minutes.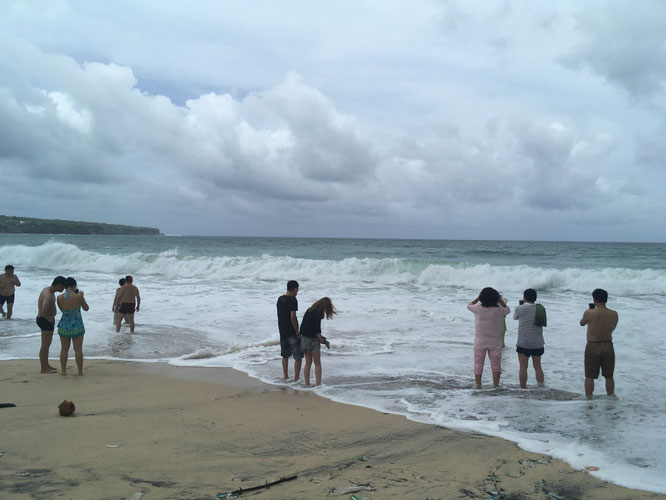 ---
Padang Padang
You'll have to walk through a tiny path between massive boulders to get to this beach, which I enjoyed. Again, there were lots of people there and the current was pretty strong for swimming.
The scenery between the boulders is nice, but the beach was too busy for me.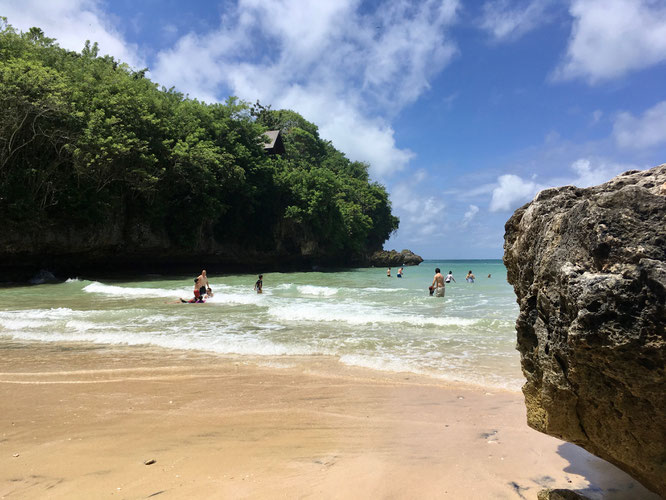 ---
Uluwatu
This place is famous for its surf, therefore it's not that great for swimming. But I don't mind sitting in a bar looking down at the waves and some hot surfers!
There is a bar right on top of the cliff, called single fin, so if you're happy with not actually going into the water, this place is great.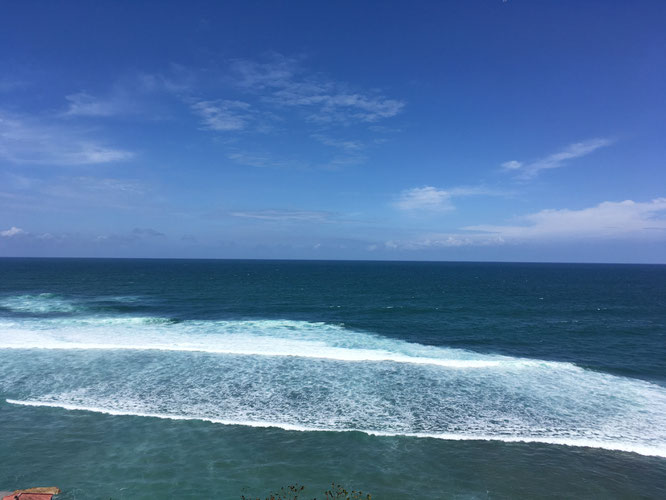 ---
Jimbaran
This is one of the few beaches I've been to, which is accessible by scooter, as there aren't any stairs. After a day of climbing up and down hundreds of steps, I was pretty excited about this one.
The beach itself is nice and it's famous for the seafood restaurants, that pop up at sunset.
Some parts are quite busy, some aren't, so if you don't mind walking for a bit, you'll find a nice spot for yourself.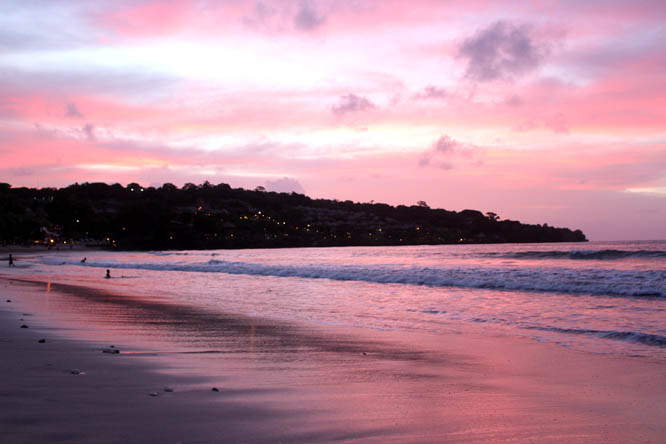 Between Uluwatu and padang Padang
I found this beach by accident when I took the wrong turn looking for Padang Padang.
The street there is bumpy and there are scooters parked along the way, when people gave up and walked the rest. At the end of the street, there are stairs and you'll have to climb down a lot of them.
But once you've made it, you'll find a huge beach with only one restaurant. The waves were pretty big, but ok for swimming and apart from a lady selling coconuts, there was nobody there.
I had a great afternoon there, just laying in the sand.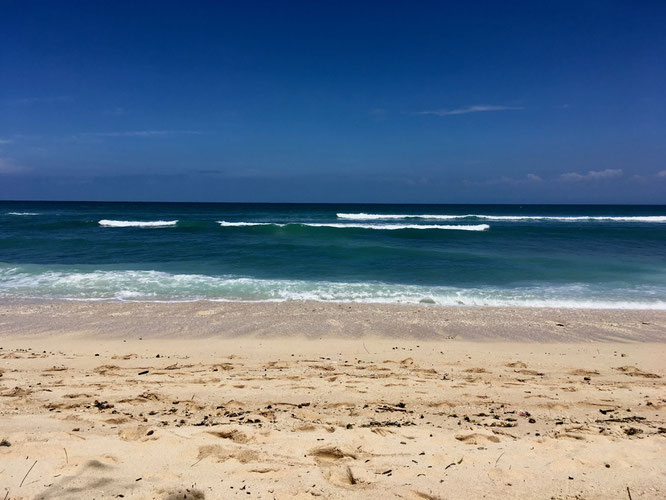 Balangan
My clear winner!
This beach is super quiet and has nice big waves, which are still alright for swimming. There were many surfers there, but they were out far enough, that I didn't feel in the way when I was swimming. There are a couple of restaurants there, but no sellers.
Also, you can drive all the way to the beach, no stairs needed.
I spent my last day in Bali here, looking at the waves, milkshake in hand and could not have been happier.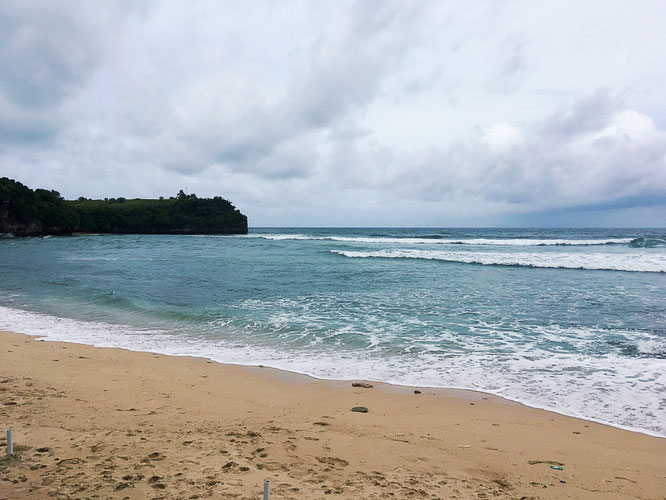 Did you find any nice beaches on Bali or did I forget your favourite one? Let us know in the comments section! Also, does anyone know the name of the beach between Uluwatu and Padang Padang?
---
Pin for Later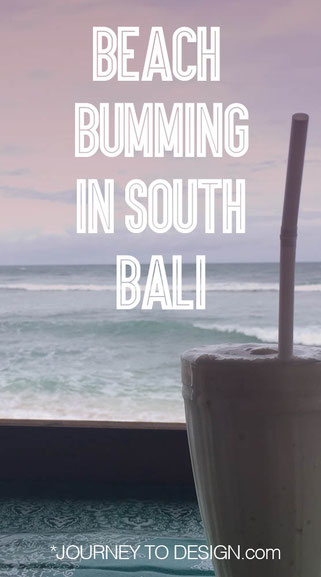 ---
Sharing is Caring
---
YOU MIGHT ALSO LIKE
---