I bet you've all arrived at a new place before and weren't "feeling it". It can be too big or too small, too busy or with not enough going on – simply not what you had hoped for. When I arrived in Eilat in Israel, it was all of that.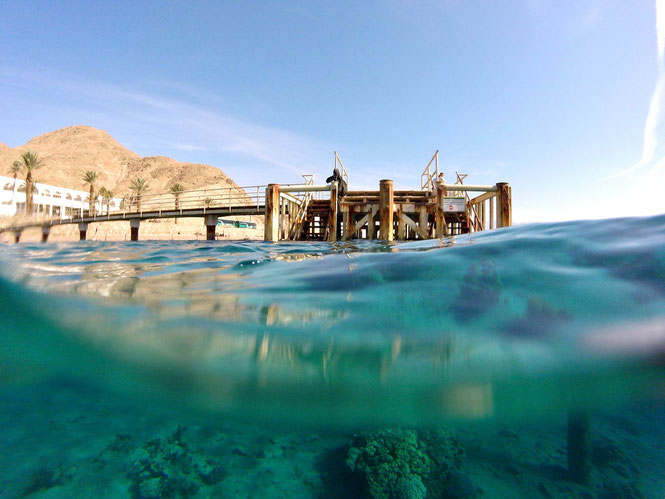 After falling madly in love with Dahab, a cute beach town on the Egyptian side of the red sea, I decided to go to Eilat on the Israeli side for my next trip.
I expected empty beaches, adorable cafés and hippie coast life, since the two places are just a two-hour drive apart.
But Eilat offers tax-free shopping with several large malls (one even has an ice skating rink) and massive hotels with private beaches. I stared out of the airport bus in horror as we passed an entire "hotel zone" with a fake lagoon and a marina, to then be dropped off at the central station, where I couldn't spot a single person, as it was the Sabbath.
Generally arriving anywhere in Israel on the Sabbath isn't perfect, as most shops will be closed and many people are staying inside with their families.
I trotted to my hostel through a dark park, expecting to find more quietness. Instead, I walked into a group of about 50 people having dinner together, while a few more were sitting in a circle playing guitar and singing hymns.
A girl introduced herself as a volunteer and asked if I was there to check in, while I was still assuming that I had walked into the wrong door. I asked what was going on and she said "oh you know we are a Christian hostel, right? Would you like a free bible?". I didn't. Later on, I found out that the Christianness came with a curfew, a no alcohol policy and with boys and girls sleeping in separate parts of the building. 
Not coming from a religious background, I was overwhelmed and confused. What had I gotten myself into?
Hoping to make friends in this bizarre place I sat down with them and was handed a tambourine within minutes. When somebody realised that I wasn't singing along, they presented a text book.
I like singing and am a pro at the tambourine, so I decided to make the best out of it and spent the rest of the night in the drum circle.
The next day I was invited to a bible study or to join the service and was relieved that nobody seemed upset when I declined.
Everybody was very friendly, but I felt uncomfortable.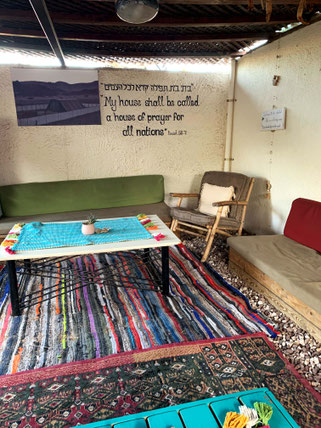 So, I decided to explore Eilat. Walking towards the beach, my first impression was confirmed. More malls, more big streets, all beaches seemed to belong to cafés. I was still considering moving out of the Christian hostel, but couldn't find anything else that I liked. This trip was not up to a good start.
---
Mosh beach
My google research recommended Mosh beach and I decided to start my day there. I had finally found the Shanti Shanti Style I had hoped for and sat down in the sand overlooking the red sea. I could see the same mountains and Saudi Arabia on the other side, just like in Dahab where I had been so happy. In Eilat I felt lonely and confused.
In the evening, I came back to my hostel, planning to squeeze by the drum circle without having to join them. It was quiet and just a few people were sitting in the yard, chatting. It all looked pretty normal. One girl sat by herself and I joined her. She leaned over: "did you know about this place?"
My new friend Charlotte had – just like me – simply booked this hostel online without reading what it was about. We decided to make the best of it and made plans to explore the beaches together the next day.
---
Princess beach
We started at the southernmost beach, right at the Egyptian border.
As we arrived early in the morning, we had the beach all to ourselves. Snorkel in hand, we walked over the piers straight into the ocean without having to worry about stepping on the coral. We saw all kinds of fish and even an octopus and had a perfect morning snorkeling.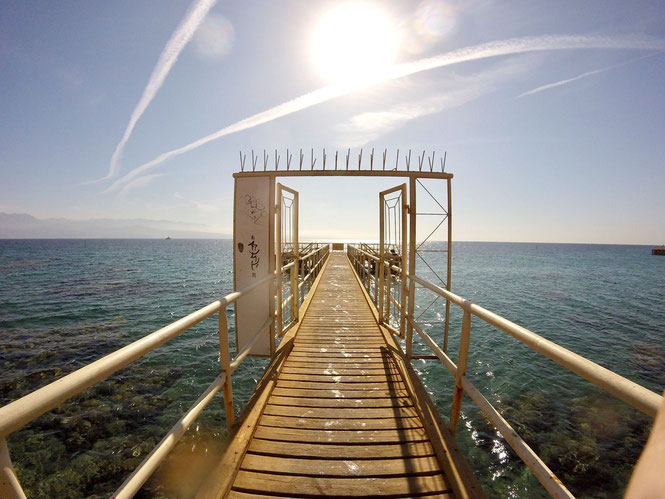 ---
Dolphin ReeF
We were told that there were usually dolphins around that area and that this was the reason there was a cover for that beach. Arriving there we realised, that there was a net in the water, keeping the dolphins from getting out.
I wouldn't have supported this, had I done my research in advance and was pretty annoyed with myself. The beach itself wasn't great either, that's why we left pretty much right away.
I heard great things about their spa, but didn't try it after this experience.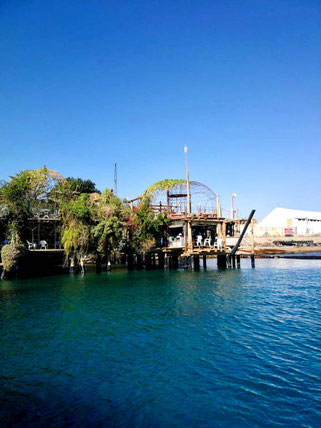 ---
Freediving
In the afternoon, I walked over to Freedive Israel, where I had planned to do a few fun dives.
From the second I walked in I felt relieved: everybody was bubbly and friendly, I was invited to join all kinds of dives and I knew that I'd simply spend my week here.
We went to a new beach every day, freediving at the Satil wreck, at coral beach and looking for free dolphins next to the dolphin reef.
I spent the days diving and chatting with my new friends, meeting Charlotte in the afternoons at Mosh beach and cooking dinner together at the hostel kitchen.
(I'll buy you a beer, if you can spot me in their video on Instagram)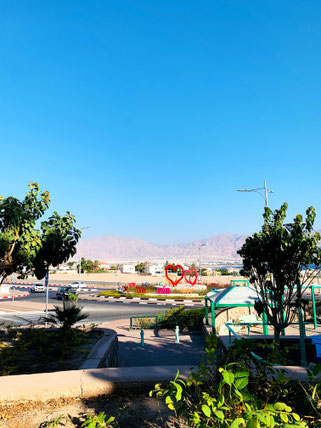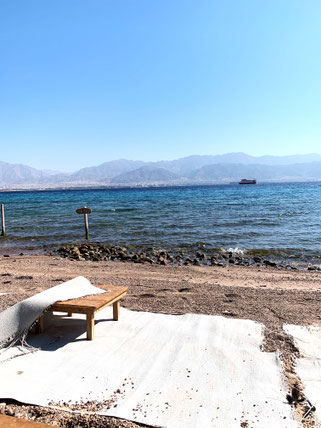 While the city of Eilat didn't win my heart, my new friends there certainly did.
And in the end, it's really just about the people, right? I'll be back. 
---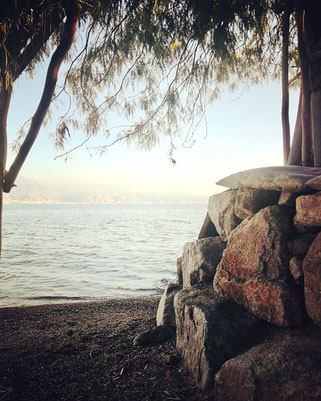 PS:
I didn't mention the hostel's name, as I think it's a great place for people, who are actually religious.
While it was definitely too much for me, everybody I met there was very very friendly.
I called them a cult, because the fact that the people working there seemed to be ALL volunteers, made me feel uncomfortable. 
Charlotte felt more pressured to join the religious activities, as she was invited to the bible study and a service again and again. Since I arrived during the busy Sabbath night, I probably didn't get the full briefing.
We both didn't read through the information online properly, otherwise we would have kind of known.
---
Getting around
The bus 30 goes down Egypt road, the one that's parallel to the coast between Jordan and Egypt.
It's the only bus I took, as it connects the beaches with the city and the airport. It's  4.20 Schekel, no matter how far.
---
where to stay in Eilat
as a large group
I'm actually already looking at places to stay in Eilat, as I'm thinking about coming back with a large group of friends. If I can actually persuade up to 14 people to come, we'd love to stay at Villa Gardenya.
---
for up to 4 people
Pin for Later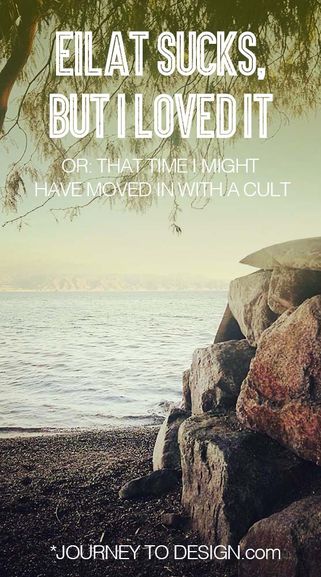 ---
Please note that I am an affiliate for booking.com and will earn a small percentage of your purchase if you buy through these links at no additional cost to you. Thank you for supporting Journey to Design! 
---
Sharing is Caring
---
YOU MIGHT ALSO LIKE
---