I was absolutely thrilled about my stay in Georgetown, Penang, as it's famous for its street art and – as regular readers know – I love strolling through a new city looking for exciting public art.
The great thing about Penang is, that you don't really have to look for long.
The city actually curated a large part of it's public art for its town festival in 2012, making it a mecca for street art lovers from all over the world.
Kids on Bicyle by E. Zacharevic, Lebuh Armenian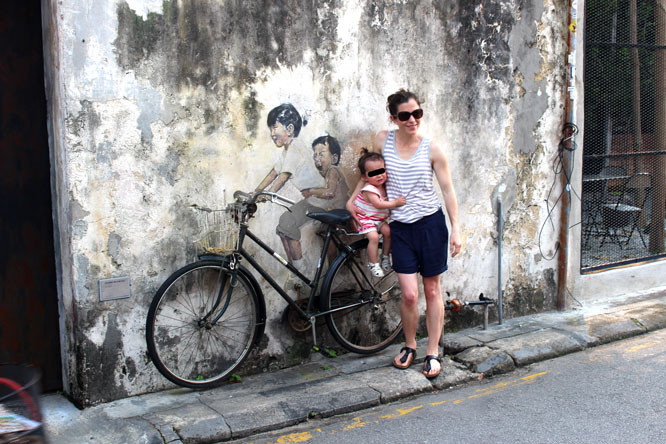 ---
---
The Lithuanian artist Ernest Zacharevic has created a selection of murals throughout the city and with many tourists attracted by his art, by now other artists have followed and created murals in the same areas, to steal some of his attention.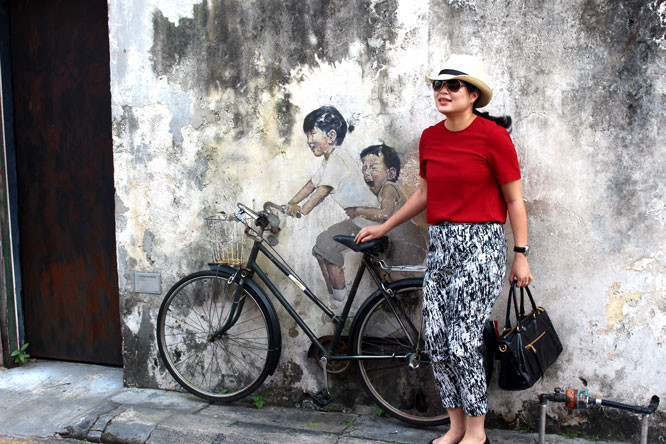 Unfortunately, many people don't seem to appreciate the art as much as they would in a museum and keep touching the walls while taking pictures in front of it.
I tried to find a second when no one is standing in front of the murals for a while and then realized that it's actually pretty interesting how people interact with the artwork.
I spent two days simply strolling through the city, keeping my eyes open for street art. If you are a bit more efficient than me, this can easily be done in a day.
I'll show you my favourites...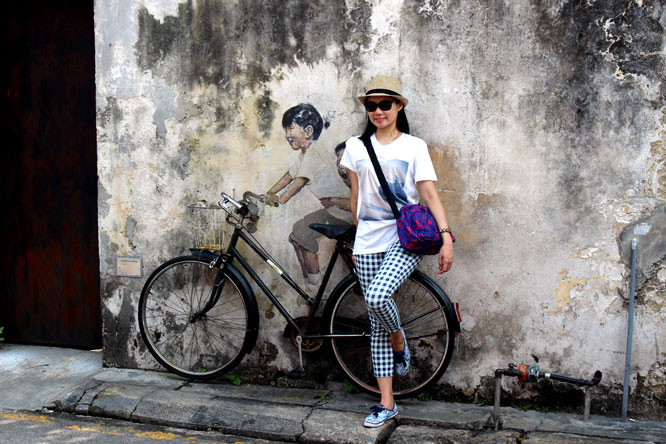 this is the one of his most famous pieces of art and it attracts a lot of people. Some of them seemed to realize that it's not cool to sit on the bike so they awkwardly tried not to sit on it all the way...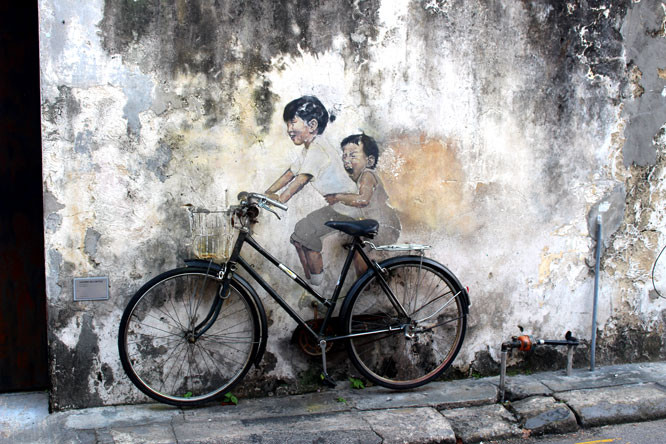 ---
Cats and Colours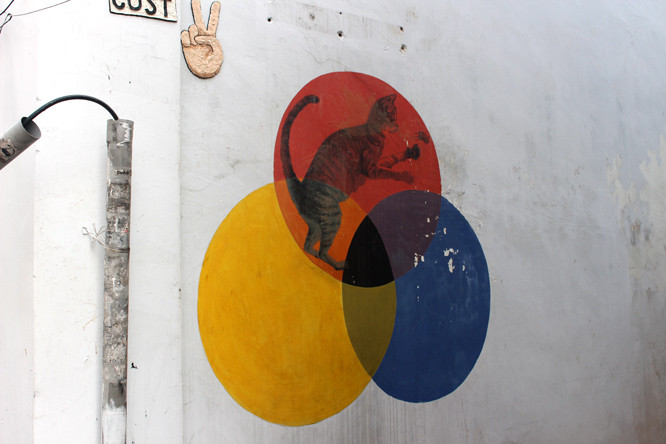 As all these murals are in one area (and I've forgotten some of the street names), I decided to not make a map for you and rather have you walk around through the city randomly, that feels much more like Penang. Also you should take a lot of breaks to have street food or drinks in between.
---
Cats and people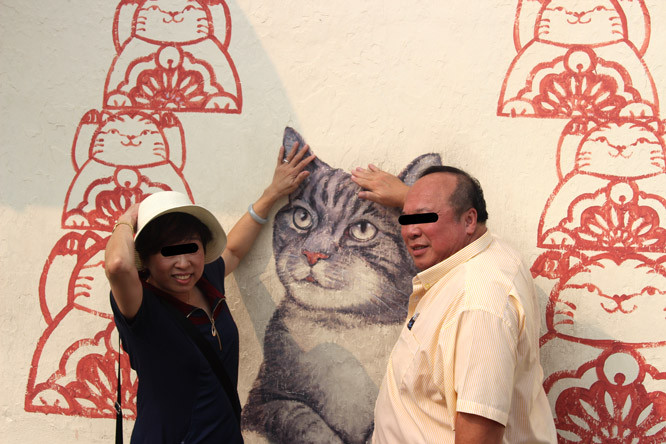 this couple is my favourite, I met them several times during my stay.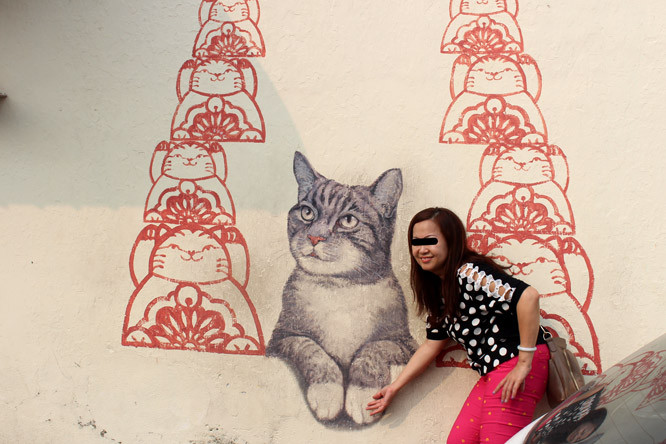 ---
Old Motorcycle by e. Zacharevic, Lebuh Ah Quee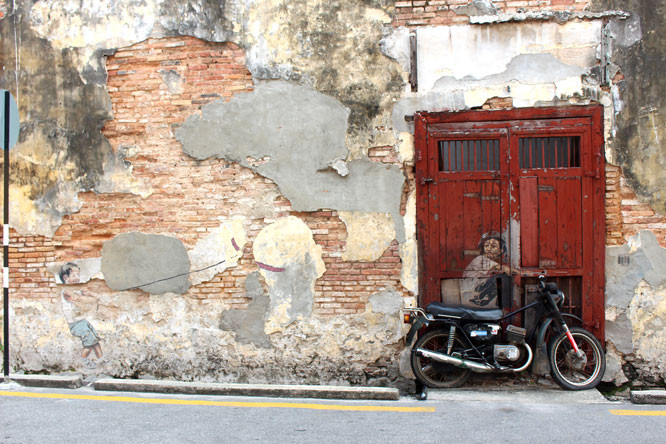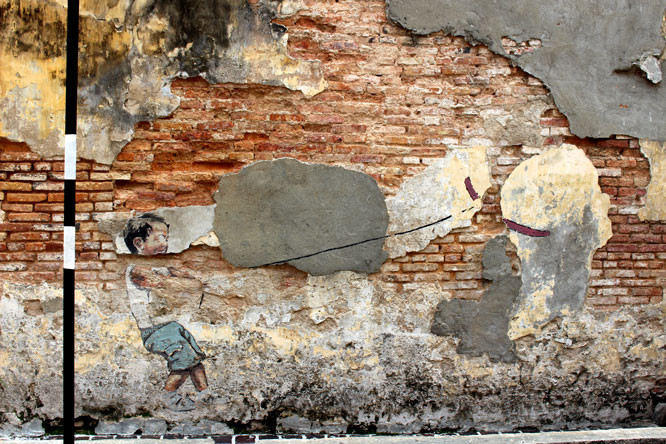 The boy once held a dinosaur on his leash. Unfortunately only the collar is left but you can look at the original picture here.
---
Kids at the window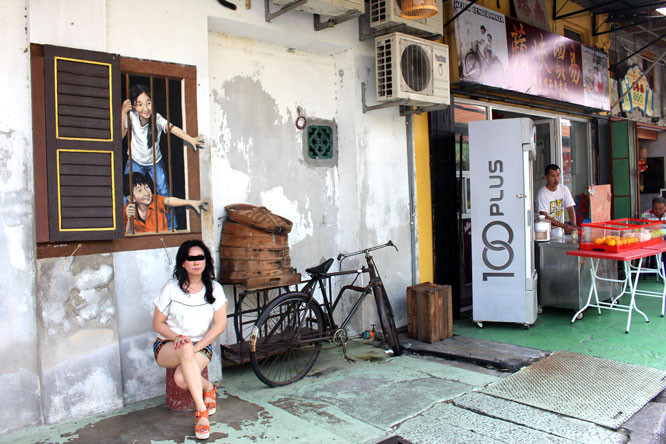 " I don't know what to do with my legs"
---
Fisherman, Lebuh Klang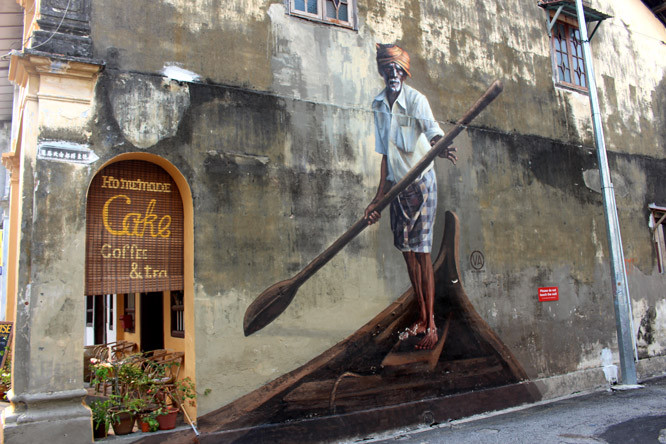 ---
Boy on Chair by E. Zacharevic, Lebuh Cannon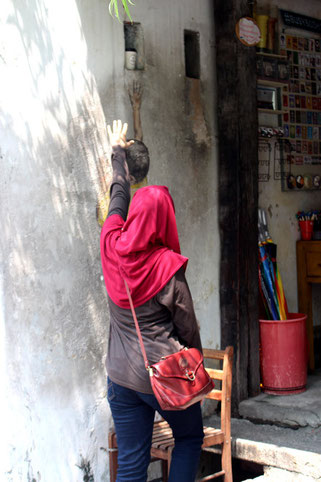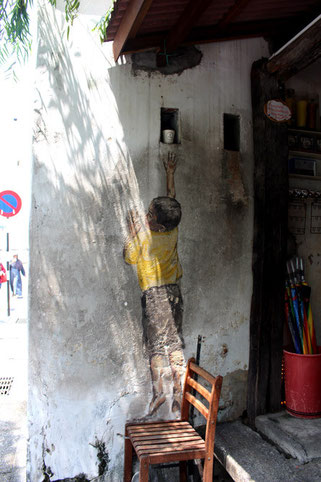 This one is pretty hard to find. Walk down Lebuh Cannon towards the mosque and then look into the entrance of the last café on the right (or try to spot a group of tourists with cameras).
---
Kungfu Girl by E. Zacharevic, Lebuh Muntri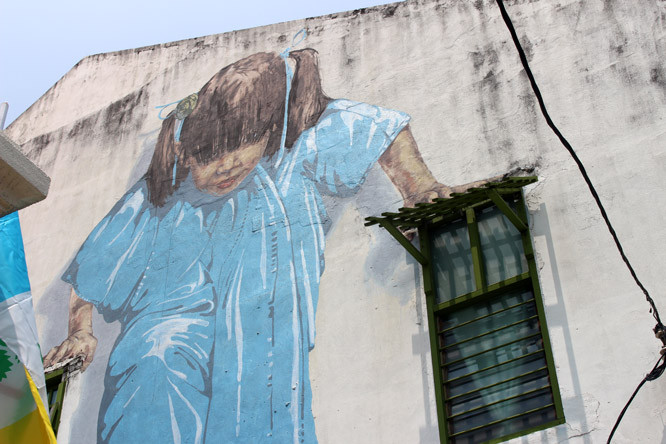 ---
Trishaw Man by E. Zacharevic, Jalan Penang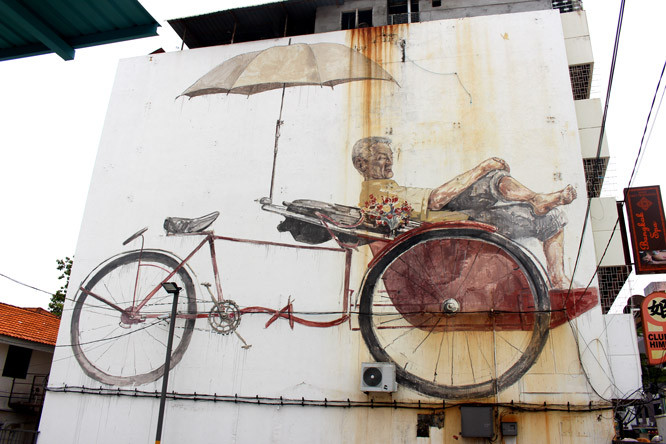 Although it's so big, I had trouble finding the Trishaw Man, as you have to walk onto a parking lot to see him.
Penang was the first Asian city, that felt calm and relaxing to me. Maybe it's the art that makes people happy again and again during their day? It definitely worked on me.
---
---
What I find interesting about street art is how it is constantly changing. So if you find something cool and new in Penang, let us know in the comments!
---
If you're one of the people I took pictures of – sorry. Please let me know if you'd like to be removed from this website.
looking for a place to stay in Penang? I absolutely loved the 80s guesthouse on Love Lane. Great design and the nicest receptionist you'll ever meet.
They are not paying me for this, but please note that I'm an affiliate to booking.com and will earn a small percentage if you book anything through this link. Thank you for supporting Journey to Design.
---
YOU MIGHT ALSO LIKE
---