When Alex and I decided to spend the second wave of Covid somewhere else, we picked Fuerteventura for its accessibility, for being part of the EU and therefore our health plan and for its low infection rates.
We quickly fell in love with this strange little place in the Atlantic and stayed for two months before moving over to Lanzarote, so I'm pretty sure we've seen almost everything on this small island.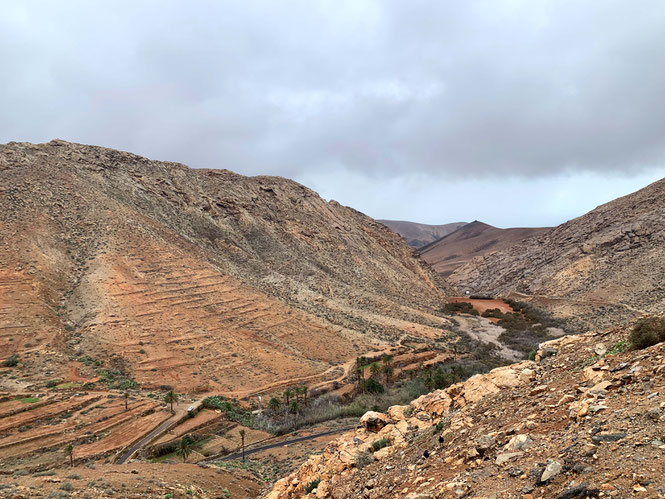 If you're coming to Fuerteventura as well (and you should) and are wondering what to to there, these were our most and least favourite spots:
North
El Cotillo
We stayed in El Cotillo for the first few weeks and loved it. This small coast-town has a chill surfer vibe, while still being large enough to offer some cafés and shops. It's great for surfing, snorkelling and just hanging out at the beach.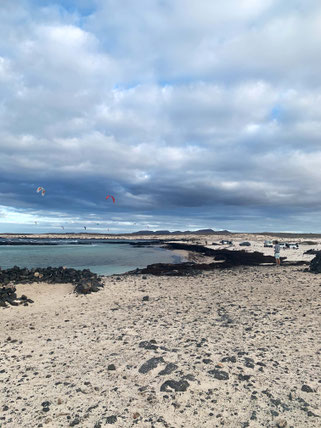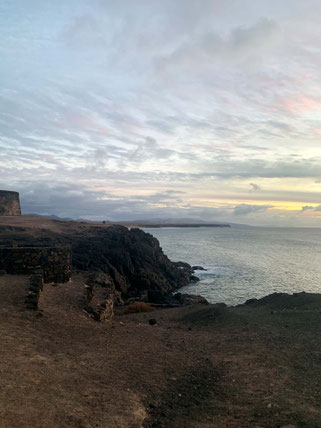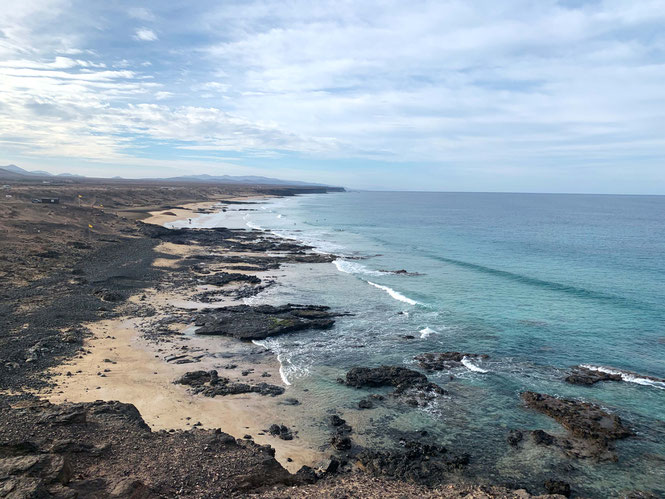 Lajares
Lajares quickly became our favourite spot on the island. Being located between two surf spots, it's mostly frequented by a young crowd of surfers.
It's probably just as touristy as El Cotillo, but doesn't feel that way.
If you're deciding between staying in Lajares and El Cotillo, it really just matters how much time you'd like to spend at the beach, and if you mind driving there. We ended up staying in Lajares for a month and couldn't have been happier.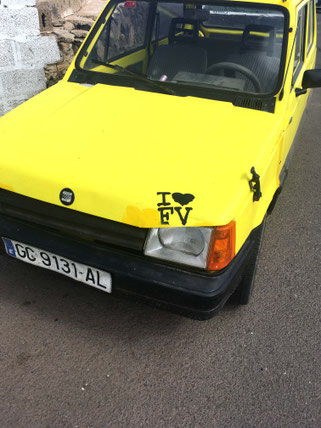 Don't go to Corralejo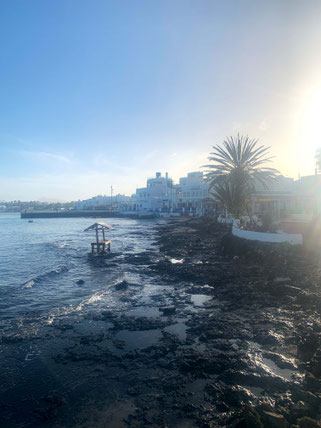 We went to Corralejo a few times to renew the lease on our car or to run errands. There are also a few nice restaurants, but nothing you wouldn't find in other places on the island. 
Diving
What I do recommend is going for a fun dive around around Corralejo though.
Due to Covid the dive schools weren't allowed to go out with boats, so we just did a simple shore dive, but I'd like to go and explore more when it's possible again.
Have a look at Abyss Fuerteventura, they were super friendly and we had a great day diving with Hannah.
Las Dunas
The Dunes between Corallejo and Parque Holandes are a must-see on the island. The first time we got there, there was actually a little sand storm, which dusted the inside of our car with sand while the windows were still closed.
The second time there was no wind at all and we had a great beach day with lots of locals at Moro Beach.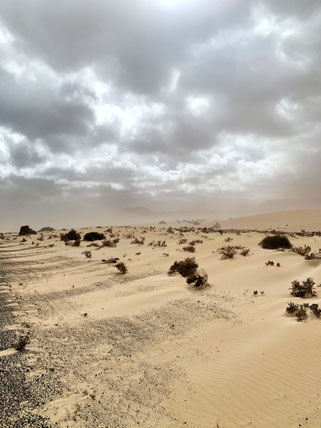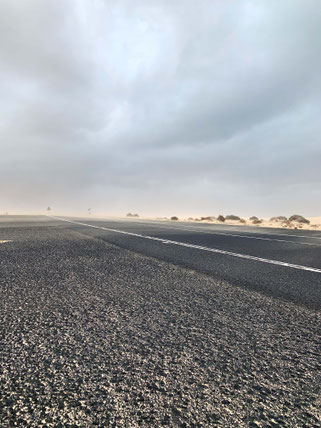 Parque Holandes
Parque Holandes is a strange place, which I wouldn't recommend for a day trip. Many expats have built large villas there, but there is nothing else to do.
As we met some friends for a week, we decided to spoil ourselves and rented a big villa with a pool. There were five of us, so this ended up being a pretty affordable stay and it was perfect for just that.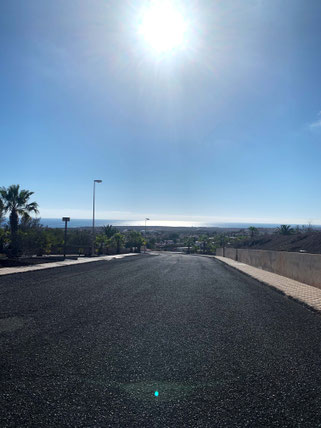 Take a day trip to Lobos island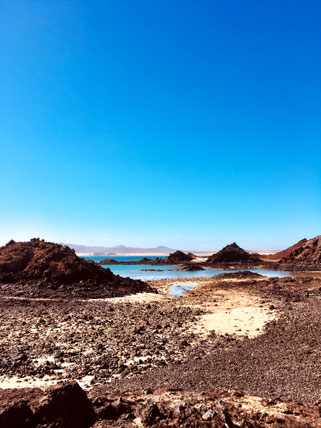 We took a 15min boat ride from Corralejo to Lobos for a day of sunbathing and snorkelling. There really isn't anything to do there, except for that and taking a walk up a small volcano.
Since Lobos is a Nature Reserve, only a few people can visit the island daily and the trips are limited to four hours.
We picked La Concha beach, which is a ten minute walk from where the boat will drop you off, because it was the beachiest with proper sand and nice spots to put your towel down. The lagoons around the village also looked great for snorkelling, but since our time there was limited, we just picked one.
If you're looking for a day of relaxation, we can highly suggest it. You can book online or just walk up to one of the huts at the harbour.
We paid 15€ each for a return ticket.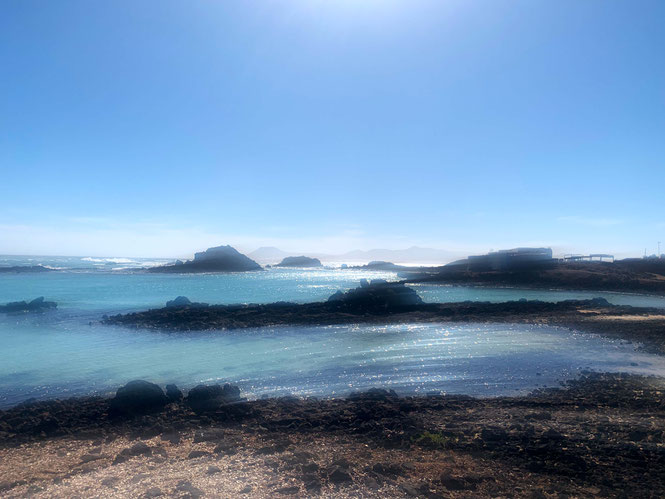 Centre
Betancuria
Betancuria was the old capitol, named after Jean de Béthencourt who conquered Fuerteventura in the 15th century.
The drive there is going through serpentines and is therefore pretty exciting. Since Betancuria is in the hills, it's a green city, which is great to see after a few weeks of stone and sand on the rest of the island.
This little town is nice to have a look at, but you'll probably be done within twenty minutes.
We enjoyed having coffee at La Sombra, a small restaurant, which reminded us both of the Bali surfer vibe with giant plants, driftwood furniture and a large choice of vegan dishes.
Ajuy
Ajuy is a small town on the west coast, known for the caves in the cliffs. Rumours say that pirates used these caves as a storage space when they robbed the different islands.
There is a path at the beach, which takes you to see these caves and the massive waves on that side of the island. Also, a bunch of squirrels live alongside the path, which I found even more exciting.
Ajuy is definitely worth a day trip. I got overly excited about the squirrels and the waves in this area are stunning.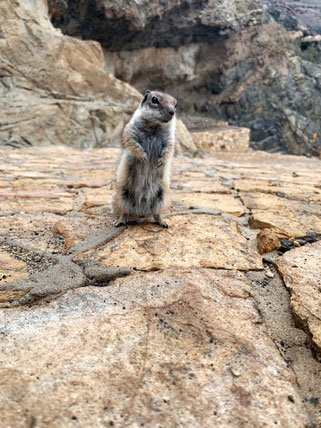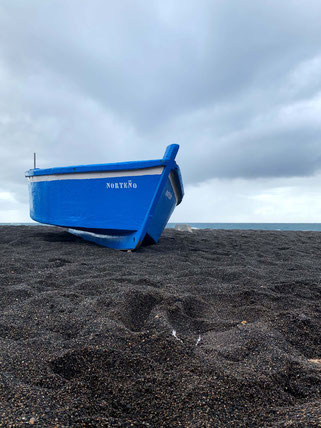 the natural pools at Playa del valle
This was one of my highlights on the island. The waves fill these natural pools in high tide, creating a perfect place to swim or relax in the shallow water in low tide.
We sat in the water overlooking the giant waves, that crashed in the rocks right in front of us and couldn't have been happier.
Make sure to be there right before low tide, as the waves come back quickly and could cut you off. The ride there is bumpy, but doable even in a small car.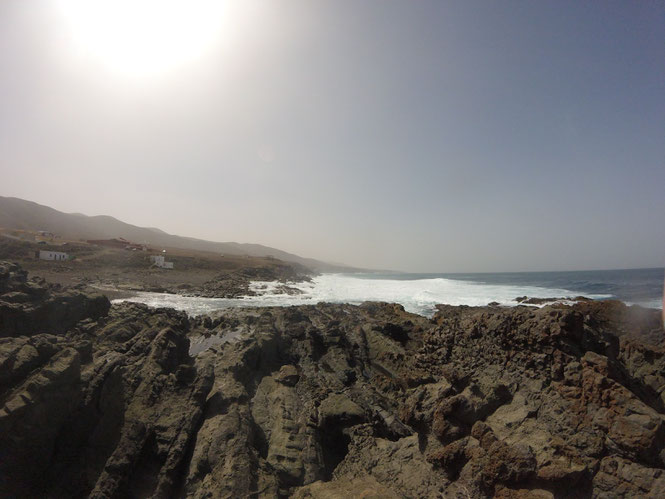 South
La pared
The view over the coast in La Pared is amazing!
As the rest of the South part of the island, the town itself is very touristy, so we just went to look at the ocean.
Sotavento
Since Alex does kitesurfing, he went to Sotavento a few times. There's a massive beach and depending on the tide a lagoon forms right on the sand. It's great for water sports, but since the water is filled with surfers, it's not really suitable for swimming.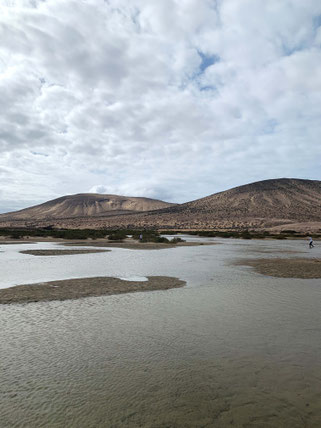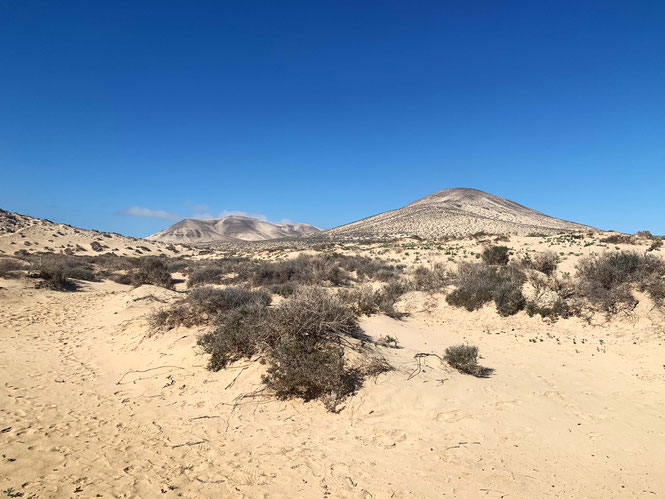 Cofete
You can't miss Cofete, when you go to Fuerteventura. It's quite an effort to get to, but absolutely worth it. Especially if you have a friend who actually enjoys driving serpentines.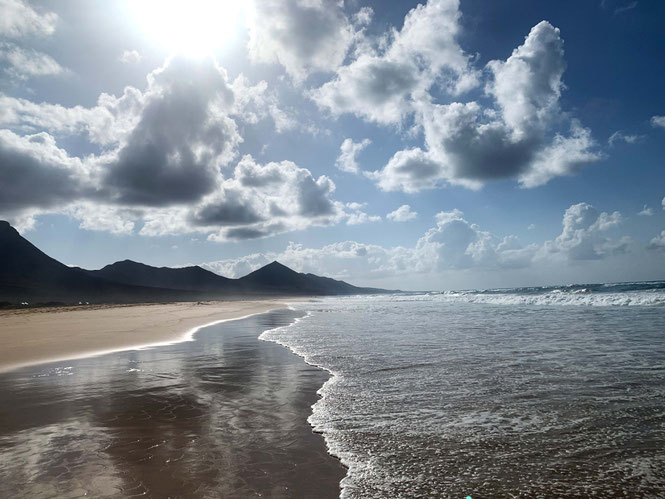 Don't go to Morro Jable
To be honest, I suggest that you skip the entire south of the island, except for a day trip to Cofete.
Morro Jable is as touristy as it gets and I'm way more excited about little lagoons than giant beaches.
---
As you can tell, I love love love the north of Fuerteventura and I don't care for the south at all. The beaches there are nice, and I'm sure there are some cool spots, that I didn't see, but overall it felt very touristy around there. Cofete can't be missed, but it can easily be seen in a day trip.
On the other hand, the north offers quiet beaches, a chill vibe and is a place I'll definitely have to come back to.
Did you find any great spots, that we missed?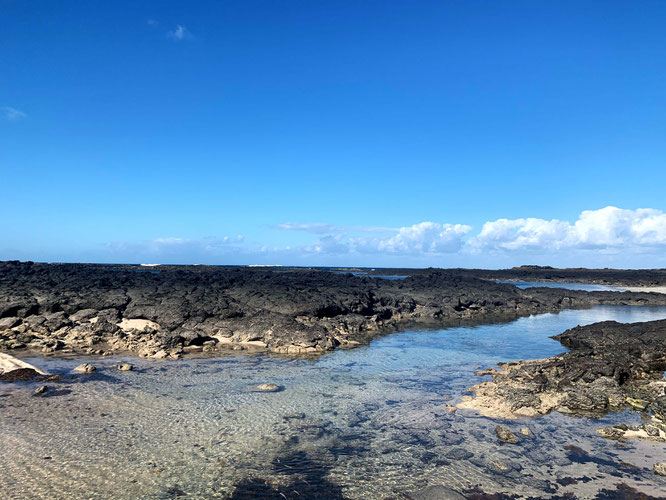 ---
Pin for Later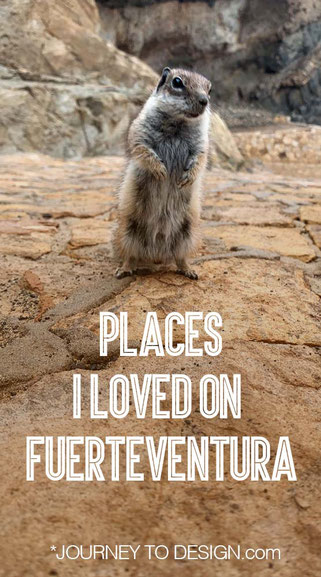 ---