Are you as obsessed with true crime as me? After binge-watching almost everything there is in this genre, I was very excited to find out that there is a mystical villa in Fuerteventura's desert of Cofete, that may or may not have been built for the Nazis.
The desert didn't look so bad either, so Alex and I decided to go see for ourselves.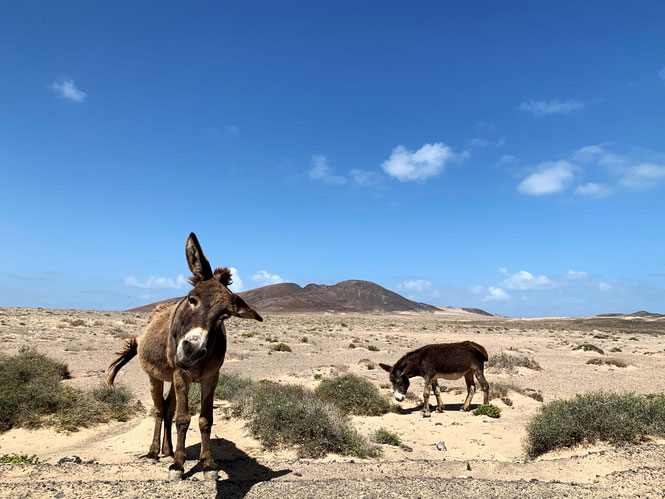 Cofete is a village in Fuerteventura's south, but also the name-giver for the entire surrounding area, which is just desert and mountains. We heard great things about the beaches there, they have two lighthouses and since Alex loves cars, he was excited to find out that we would have to swap our Fiat500 for an off-road vehicle to go there.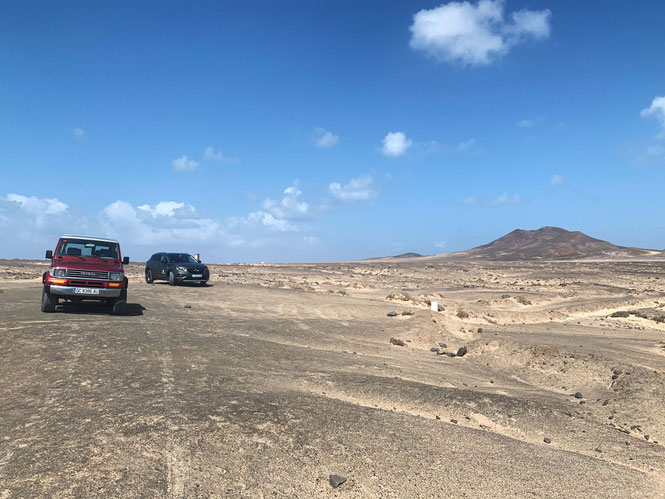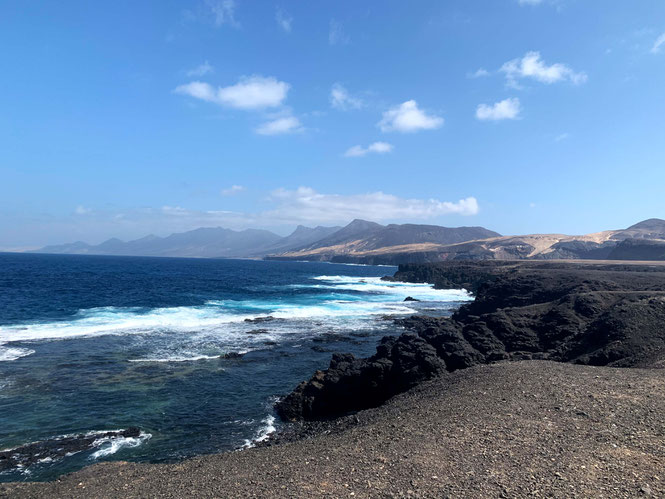 We started our day in Morro Jable, where we picked up our car. I felt like a trophy wife being driven around in an SUV.
From there we drove straight into the desert. As soon as we reached the entrance to Cofete (there is only one road), we felt like we had entered a different world.
There were massive mountains on one side, the ocean on the other. Every few minutes another car passed, but apart from that it was just us there.
We decided to go to the lighthouses first, before driving towards the village of Cofete.
On the way we stopped to look at some goats and donkeys, so I was sold already.
Right before the first light house, there is a small village called la Playita, which is really just a few trailers and a restaurant. Some of the trailers had wooden structures attached to them, visually melting cars and buildings together, which we found pretty cool.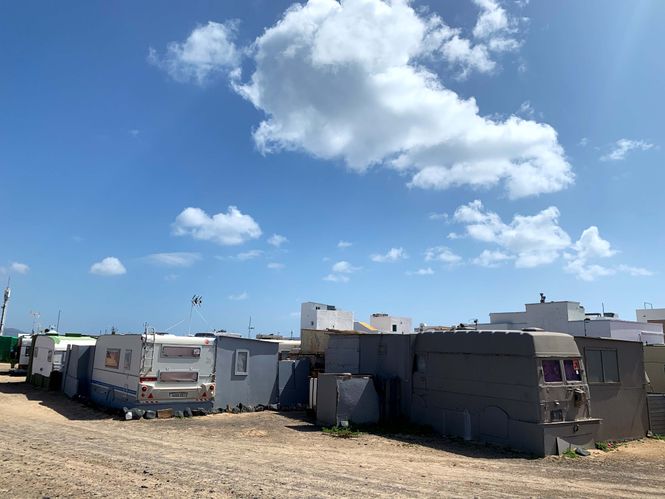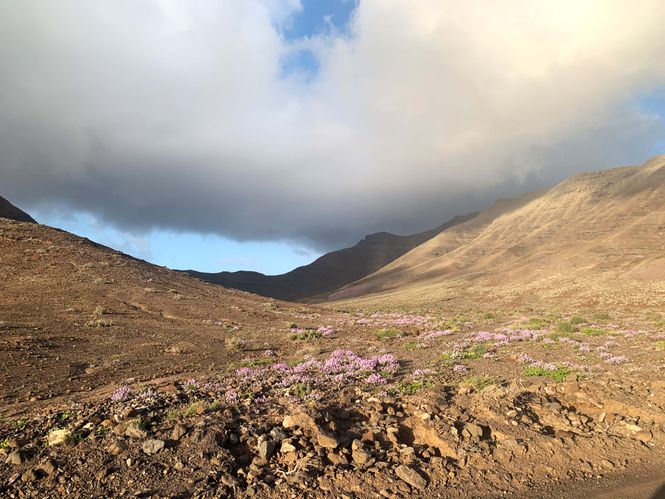 We decided to go snorkelling, as the water looked amazing. And amazing it was. There was a massive swarm of fish right at the shore, as far as we could see. We couldn't believe our eyes and played in the water until we were both shivering. If I wasn't such a terrible underwater photographer, I could show you some beautiful pictures of colourful fish. Well.
We did have a discussion about what the village does with their grey water and didn't really find out, just FYI.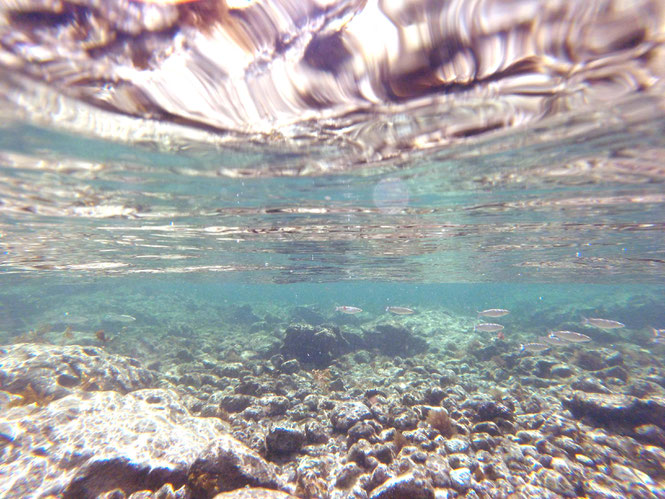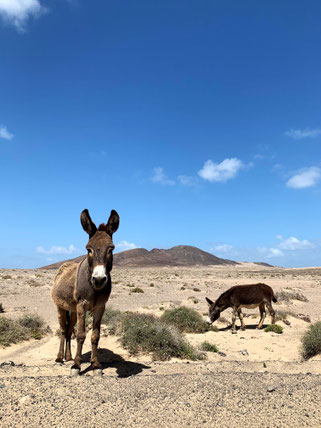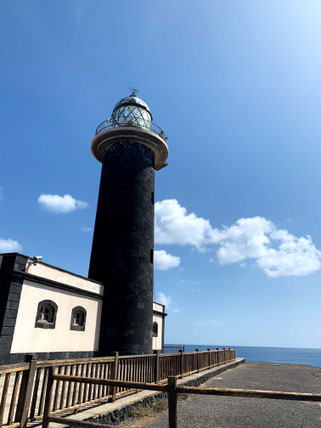 Back in the car, we looked at the lighthouses, which were alright, and then headed towards Cofete.
I'm not a big driver and was very thankful that Alex actually enjoys it, because I would have stopped the car right there and have gone back to the beach.
The unpaved roads are wrapped around the mountains and you can tell, that every now and then a piece of road or a piece of mountain just falls off.
I tried to look at the mountains, but my main focus was not to image all the horrible ways we could die here.
Was it worth it to look at a Nazi Villa?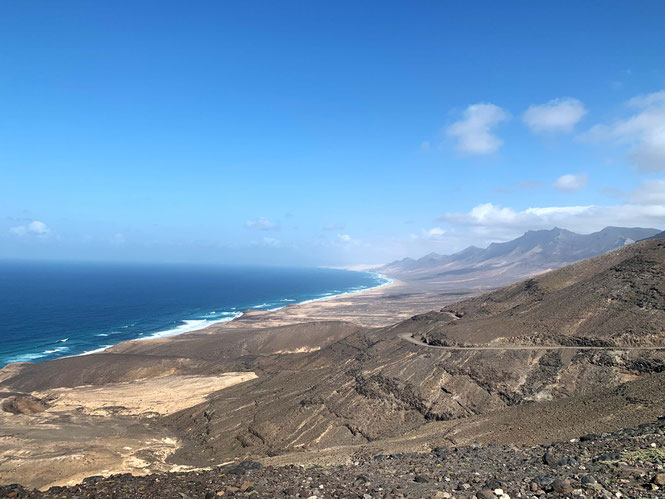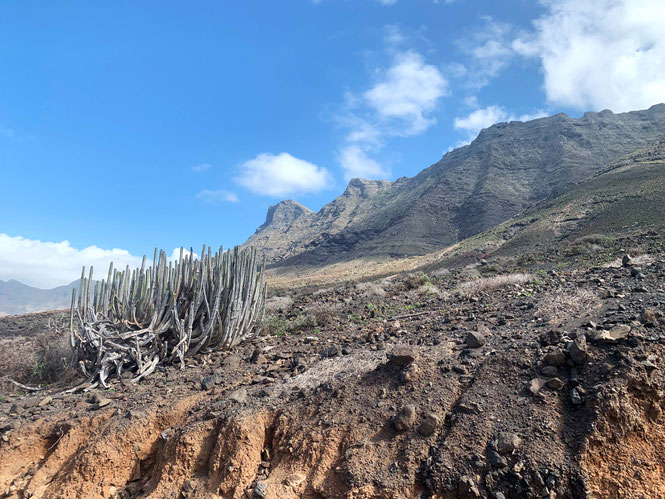 The villa was constructed in 1936 by German architect Gustav Winter. It has two stories, a look-out tower and a helicopter pad. Being located in the middle of nowhere, rumour says that the villa was built for German war criminals on their way to South America and that there were plans for a submarine base in the area. What makes things even scarier is that there is a tiled room in the basement, which could have been used as an operating room. For the true crime fans: There are a few "documentaries" on Youtube about the villa :)
Twenty years ago, the Winter family sold the villa to Lopesan, a hotel group, but it didn't look as if anything had happened there.
So if anyone is planning to vacation like Hitler, this could be your next holiday resort.
We drove our car in front of the villa and decided that the architecture wasn't too special and that we were a bit freaked out about the history.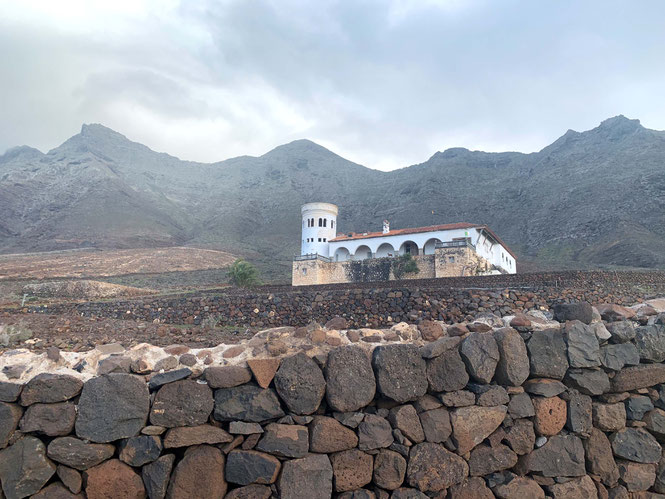 As we sat back down in the car, we smelled burning rubber right away. We stopped to look what could be going on and couldn't find anything. We tried driving for a few meters, but just going was no option, as the smell was nauseating. Also, we really didn't want to break down in the serpentines. There was no phone reception and nobody around. While Alex was poking around the engine, trying to find the source of the smell, I was joking that I really didn't want to ring Hitler's doorbell to ask to use their phone.
In the end he found a plastic part that had shifted and landed on the engine. Phew!
Relieved we drove to Cofete beach.
The view on the beach is amazing, as it is completely surrounded by mountains.
There was white sand, big waves and few people. Totally worth the hustle of the day.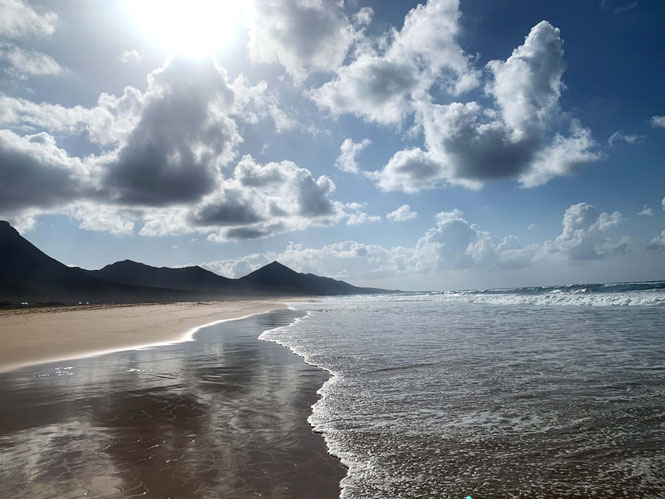 ---
What kind of car is needed to go to Cofete?
While we felt like we could have done this trip with our regular tiny rental car, we were very happy with our choice of a massive SUV.
First of all, the insurance for the small car wouldn't have covered any off-road accidents and popping a tire in this area isn't unlikely.
Also, it would have taken forever in the small car, as we could have only gone super slowly. In the end, the car cost us about 50€ for 24h including gas, which was totally worth it.
There is also a cute bus going there, which is 8€ one-way and goes twice a day.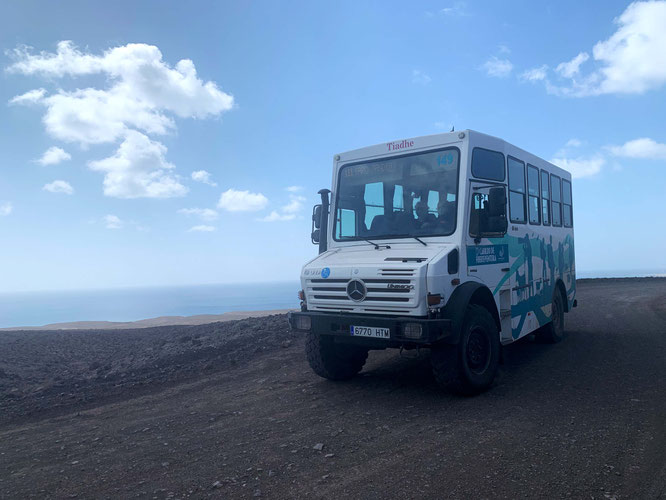 ---
Pin for Later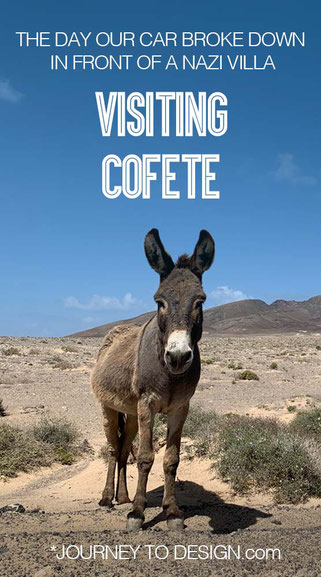 ---