Put on your billabong sweater, a beanie and manage to get a little sun burnt: we're going to Lajares.
This small town in northern Fuerteventura is located between El Cotillo and Majanicho, two of the major surf spots. Therefore it became a popular hang-out for surfers and those who'd like to be one, despite not being at the coast at all.
As you might remember, I'm a terrible surfer and have given up on it. But I do appreciate a good vegan burger and also don't mind strolling around shops that specialize in surfboards and knitted hats, so I'm always happy to spend time at popular surf spots.
When Alex and I stayed in the even smaller El Cotillo for a few weeks in the beginning of our trip, Lajares became our place to have a better coffee, to run errands and to simply hang out when we didn't feel like going to the beach.
Later on, we moved to the "suburbs" of Lajares to be closer to all our favourite spots.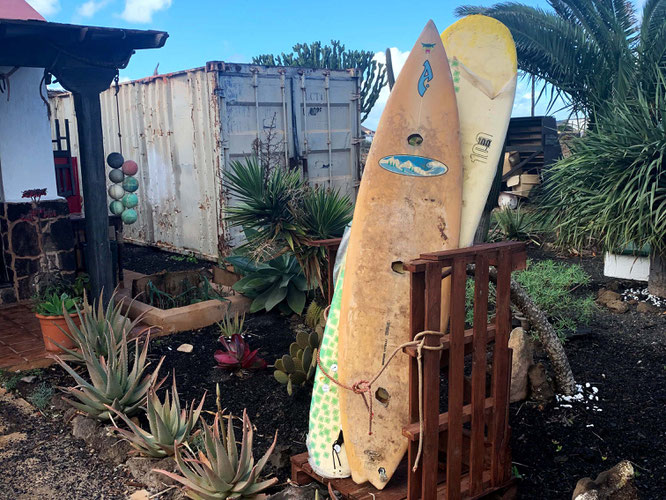 Coffee and cake at la paneteca
We stopped by at la Paneteca every single time we were in Lajares, because Alex was obsessed with their coffee. They also have a daily changing schedule of the kinds of bread they bake, so don't look no further if you are super serious about your sandwiches.
The ladies there were very patient with my terrible Spanish and made sure I learned every single word there is to describe bread. 
I enjoyed their hip coffee house vibe with vintage lamps and reclaimed wood.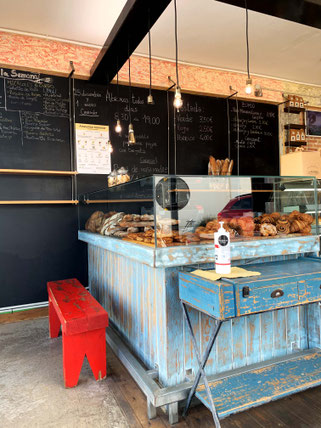 ---
Lunch at Agua tiki bar
A short drive away from the main area and towards Majanicho you'll find Agua Tiki Bar. The owner made us feel like we had been friends forever and we loved going there any time of day for lunch, dinner or drinks.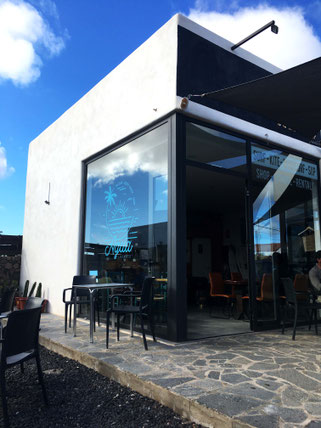 ---
Shoes and knick-knacks from island steps
Alex also bought a cork sunglass holder thingy from island steps, where the owner designs, sews and sells all kinds of shoes, purses and knickknacks from cork. 
---
Focaccia at Alberta
Our next stop was usually Alberta, an adorable pasta and pizza place. Martina runs the place together with her aunt Alberta, who is the master chef behind it all.
Order a slice of focaccia and hang out in the bench in front of the store to watch the hipsters longboard by.
The shop is so simple, yet beautiful and I loved the little hand-drawn sign in the front.
I basically went every day, even if it was just for a little chat with Martina.
---
Hike Calderon Hondo
I've mentioned it before... Isn't hiking just an exhausting way of walking? I don't think it will ever be my thing, but this hike up the volcano is absolutely doable and the view over Lajares is worth it. 
It took us about two hours back and forth and only a few parts were quite steep. From the top looked into the volcano and over the city, where we could even spot our little house in the distance.
For the way down hiking shoes would have been amazing. I slipped in the gravel three times and landed on my bum, leaving me look like I had been hit with a shotgun for the next week.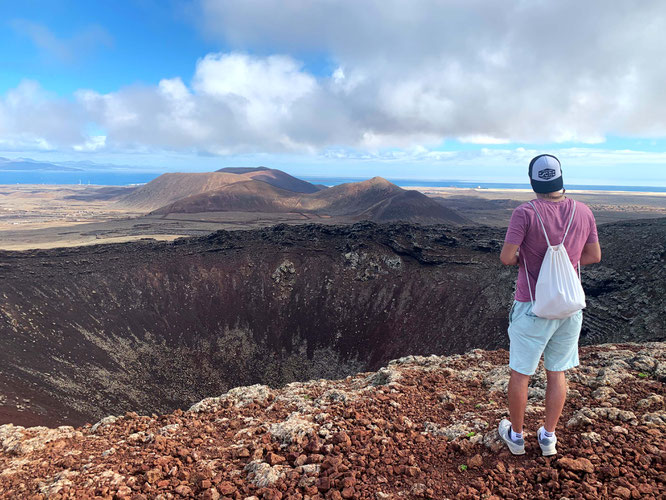 ---
Smoothies at Fuerte Viva
Right next to Agua Tiki Bar, you'll find a café that looks in the best way like a cactus junk yard. With palette sofas, used surfboards, an old jeep and giant plants, it's a confusing yet adorable place to hang out at.
Grab yourself a smoothie to round up your day.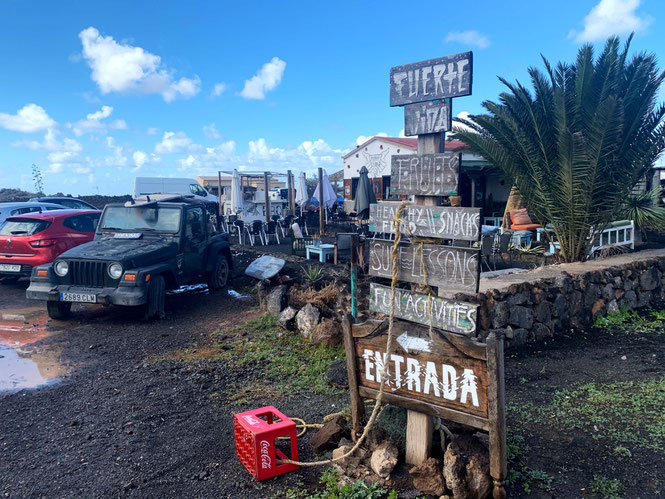 ---
Shop at the clean ocean project store
I've already mentioned the store in El Cotillo, but A: it's cute AF and B: it's for a good cause, so let's talk about their branch in Lajares as well.
The Clean Ocean Project, as the name says, runs several projects to keep the oceans clean. In their shops they sell clothes, zero-waste supplies and jewellery by local designers to fund said projects.
I especially liked the logo, they have made out of garbage in front of their store.
---
I already miss a life where Lajares is the next "big city" to drive to and where I can have a daily chat with Martina while buying a slice of focaccia as a snack.
---
Where to stay in Lajares
high end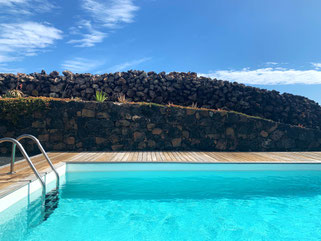 we stayed in this beautiful villa in the hills and got a great deal, since we booked it for a whole month.
I loved the heated pool, the spacious outdoor area and the big kitchen. Say hi to my man Hervé, if you end up staying there.
mid range
The Agua guest house , belongs to Agua Tiki Bar and it looks absolutely beautiful. Knowing how welcoming Martín is as a host in his restaurant, I'm sure he takes great care of everybody in the guest house as well.
---
Sharing is Caring
Please note that I am an affiliate for booking.com and will earn a small percentage of your purchase if you buy through these links at no additional cost to you. Thank you for supporting Journey to Design! 
Pin for Later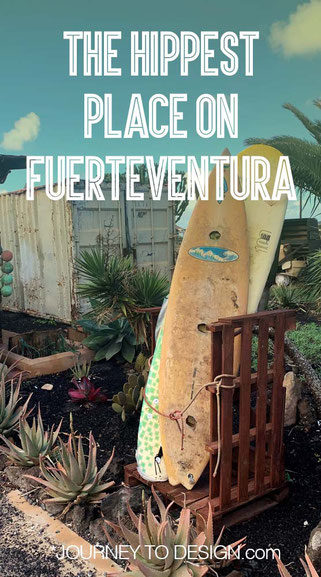 ---