For many Europeans, including myself, the Canary islands were a spot where our parents loved to vacation in the 2000s. I remember many spring holidays in small bungalows on Gran Canaria, surrounded by other Germans, in walking distance to a pebble beach and a schnitzel restaurant.
When I decided to leave Hamburg before the second lockdown to spend this time somewhere else, I looked for places within the EU to make visa arrangements easer.
I also wasn't keen on changing planes, not wanting to expose myself and others to more possible Covid interactions than necessary.
This left me with exactly one place to go: Fuerteventura, right next to Gran Canaria.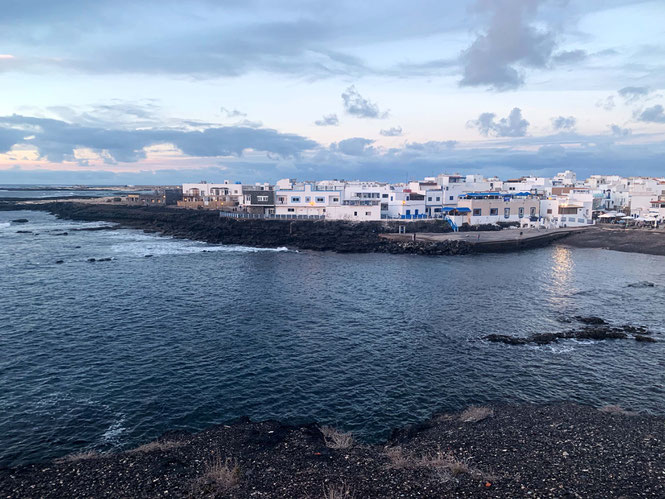 So, here I was, moving to a place that I was already bored of.
When I called up my friend Olli, an avid surfer who had been to Fuerteventura many times, he responded: "oh, you'll hate it. There is nothing there if you don't surf, just rocks. Move to El Cotillo, it's cute".
Brilliant. At least I was able to bully my friend Alex into coming with me.
While I was excited about leaving Germany for the first time in more than a year, I was already worried about not liking the place I had chosen.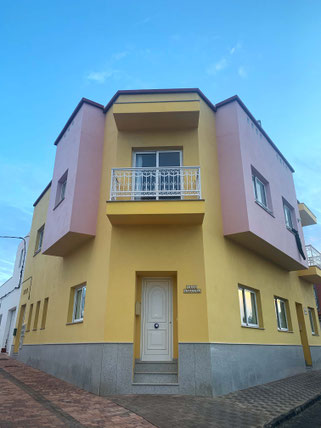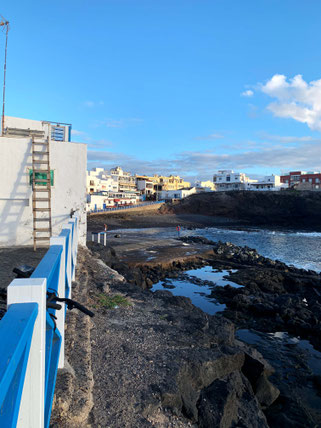 Well let me tell you, I was proven wrong so quickly.
El Cotillo is absolutely adorable. Yes, there isn't much to do, but there isn't much to do anywhere in the world right now. My level of expectation was low.
I was thrilled to smell the ocean, to stroll around pebble streets and to be able to walk into a shop or even sit outside in a restaurant.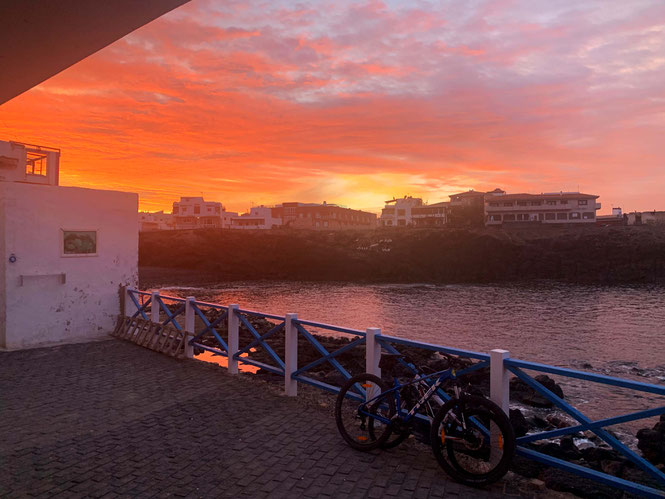 El Cotillo is a small town with 1.500 inhabitants in the very north of Fuerteventura. There are no big resorts and due to the perfect surf conditions, you'll find a younger crowd than on the rest of the Canaries.
Of course, the highlight in and around El Cotillo are the beaches. I'll tell you all about them in a whole blog post.
But there were also things to do, if we wanted to keep the sand off your feet for once:
---
Eat and drink at Happy Cactus
A vegan restaurant right at the shore, with a daily changing menu and amazing smoothies.
They rock a cute handmade-vintage design and the owner is so committed to their logo, that she actually got it tattooed on her arm.
She also recognized us from our second visit and was ridiculously patient in teaching us every word for fruit there is in Spanish (cómo ce dice beetroot?).
Happy Cactus became a staple for smoothies, cake and ice cream.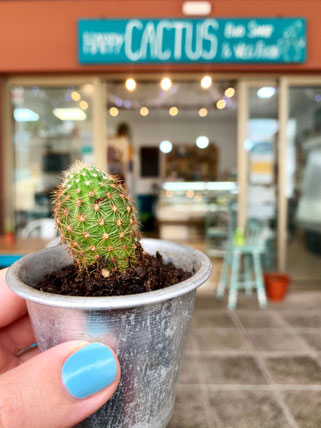 ---
Drive through the Dunes
Fuerteventura has its own little desert right south of Corralejo. It's an amazing drive through the Dunes, especially if you're there on a windy day. Even with the windows closed, we ended up covered in sand within our car.
Stop at Playa del Moro for a little swim or snorkel.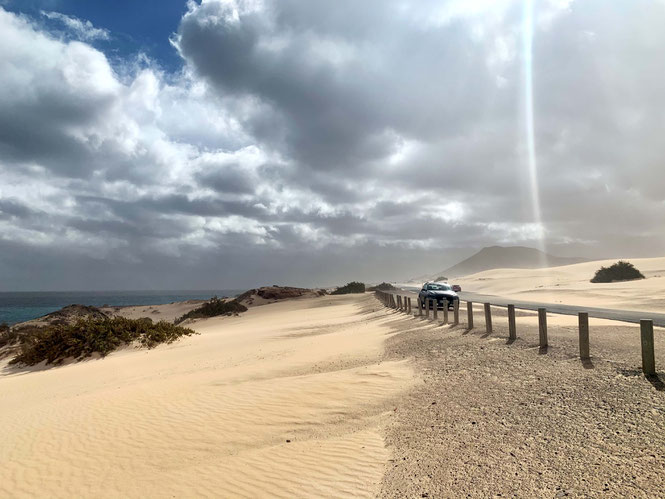 ---
Shop at the Clean ocean project store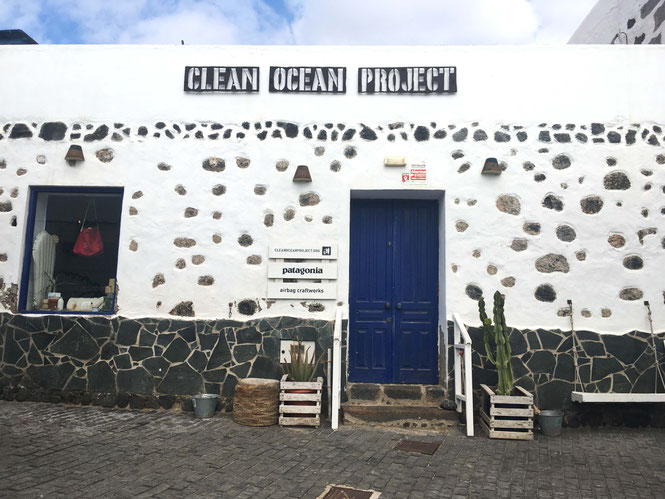 The clean ocean project aims to reduce the amount of waste, that ends up in the ocean. In their shops, they sell beautiful clothes, zero-waste supplies, jewellery and posters by local artists to fund their projects.
So really, I wasn't just shopping, I was helping the environment ;)
---
take pictures at Popcorn playa
One of the most instagrammable spots on the island: Tiny bits of corallinales (some kind of chalk algae), shaped like popcorn, have been washed up on this beach.
Bring some proper shoes, they are spikey.


Simply turn right in Majanicho and accept the painfully slow ride over a bumpy path. We had a tiny car and still managed, though (thanks for driving, Alex)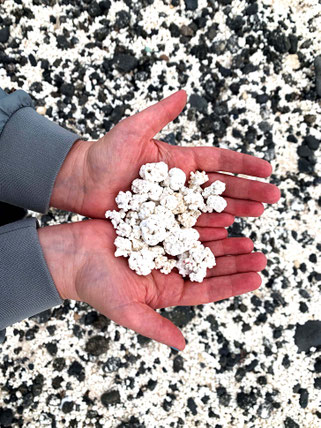 ---
Shop some more at Lapa
I love love love the Lapa Store. For the things they sell, but especially for the way they arrange them in little still lives and for the beautiful restored building, they are in.
I got a hat with a mermaid on it, which I will be rocking despite of the warm temperatures here.
---
Watch the kite surfers at the old lighthouse (or go in yourself)
Since Alex loves kiting, he is also overly interested in watching others kite. While I couldn't care less, it's still a nice spot to just watch the ocean.
Being a lagoon surrounded by rocks, it's a challenging spot, so only go in if you're super good at kiting. Alex' instructor told him that he could go in, but would 100% die.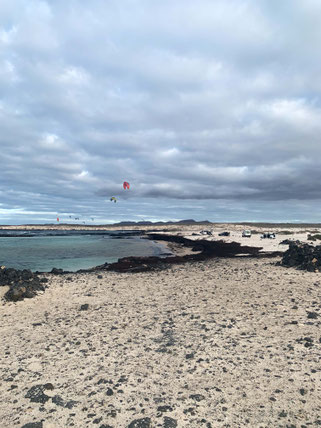 ---
join the hipsters in Lajares
One of my favourite spots on the island: Lajares is young, hip and has a few nice cafés. Only ten minutes drive from el Cotillo, we ended up spending many afternoons here and moved there later on our trip.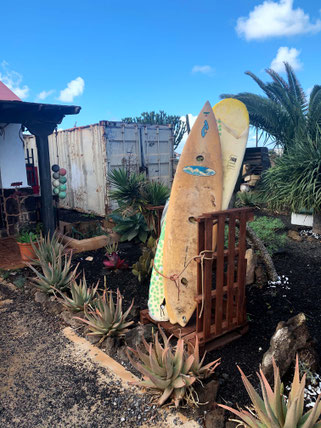 ---
We loved our time in El Cotillo and moved to Lajares, super close to it to make sure we could still come to Happy Cactus for a big chunk of our meals. 
Did you visit a place, that really surprised you (probably before Covid)? Tell us about it in the comments section!
---
Some helpful info about staying in el Cotillo
Getting around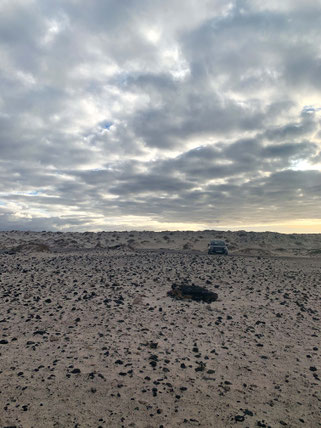 There are a few busses on the island, but they don't go very often and only to the cities, not to the nice beaches.
The easiest way is to pick up a rental car right at
the airport. They are ridiculously cheap and since you can't drink the tap water or even use it for cooking, you'll be thankful for a car later. 
I really don't like driving, but it's absolutely fine on the island. There isn't much traffic and the main roads are in great condition.
---
Where to stay in el cotillo
Casa Cotillo
Alex and I stayed at Casa Cotillo, which is right in the city centre. We loved the huge kitchen and our private little yard.
They chose a simple colour scheme with light colours and turqoise accents, which feels very beachy and matches the surrounding city.
Alana Cotillo Garden
I saw Alana Cotillo Garden when I walked to the beaches north of Cotillo and was jealous of their designy 70s vibe with an ocean view. I checked online and it was booked way in advance, so be quick if you like it as much as I did.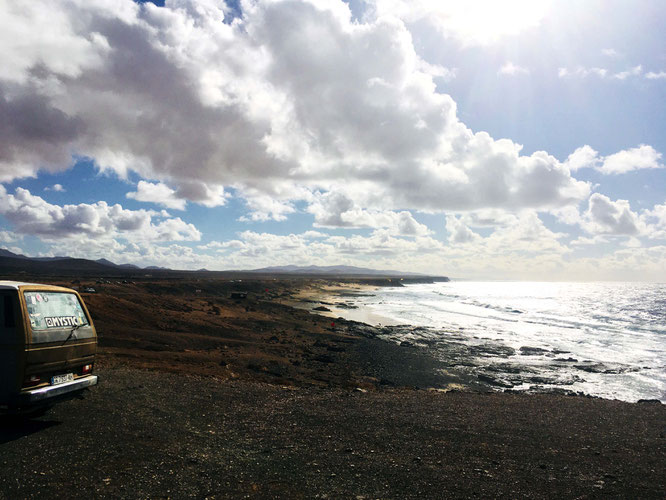 ---
Sharing is Caring
---
Please note that I am an affiliate for booking.com and will earn a small percentage of your purchase if you buy through these links at no additional cost to you. Thank you for supporting Journey to Design! 
Pin for Later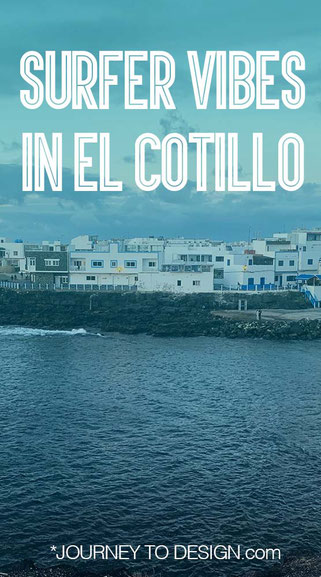 ---