Hanoi was tough on me. I arrived there after deeply falling in love with Luang Prabang's calm friendliness and cute architecture, with smiling children on the street and with being greeted hundreds of times a day with a charming "Sabaidee".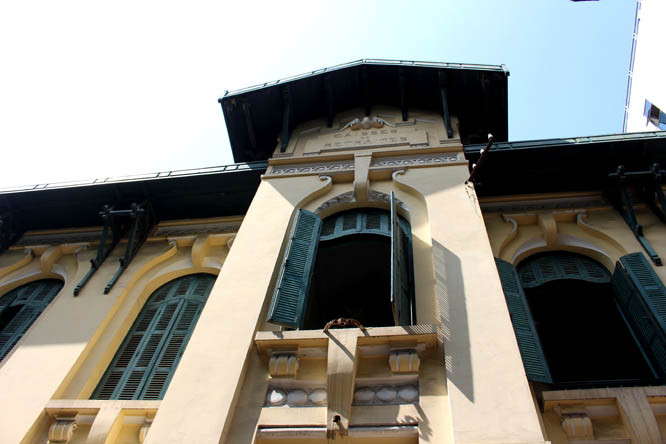 An hour on the plane and I arrived in Vietnam. In front of my hotel it took me several minutes to bring up the confidence to cross the street through a never ending stream of scooters. "Just go. They will stop" I tried to tell myself. They did but it was a very different vibe from Laos a couple of hours earlier.
I went to bed, hoping the city would feel more welcoming the next day.
this is a very quiet street. On the busy ones I was focussing on surviving instead of taking out my camera.
I usually just go for a walk when I arrive at a new place, here this felt like suicide. I saw two small accidents between scooters and people walking on this first morning, maybe they don't always stop.
In the nicest Lao-style, I walked into a small shop and brought out my best "Xin Chao". The lady didn't even look up. I felt rejected and confused. What had happened to my friendly and always smiling South East Asia?
That night I went to bed early. After several not-so-smiley interactions I didn't feel like talking any more.
The next day I got up, motivated to fall in love with Hanoi just like I did with Luang Prabang. I was determined to find the beautiful French colonial architecture I had read about and to forget my first negative impression.
The French quarter is located between the opera house and the French embassy, so I aimed for the opera to start my walk.
My way there felt just like the day before. Scooters over scooters, honking their way through the traffic. If they are honking from all sides, where do you go?
I found a market to walk through. Dried fish isn't my favourite but at least it won't kill me walking by.
I again tried to start a conversation when buying a drink - nothing.
When I turned into Trang Tien Street, I felt relieved right away. An actual pavement! Without scooters parked on it and wide enough to walk on!
Trang Tien Plaza on the corner remembered me of a vintage cinema. High windows, white pillars, I was on the right way.
In front of it: a street lamp with curly ornaments, just like in Paris.
I walked towards the opera, surrounded by impressive colonial buildings. This "generosity" in architecture was something I hadn't seen for a while. Asia makes me feel like a freakishly tall person almost every day (although compared to most Europeans I'm rather short).
These streets let me breathe again!
I passed the opera. If it wasn't for the Vietnamese flag on top, it could have been standing in Paris.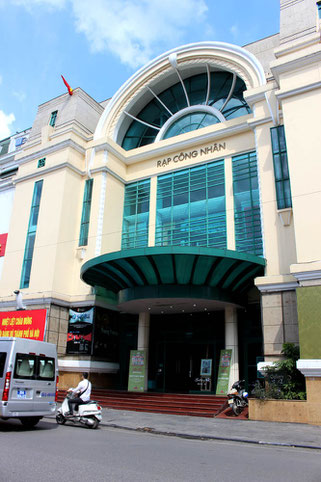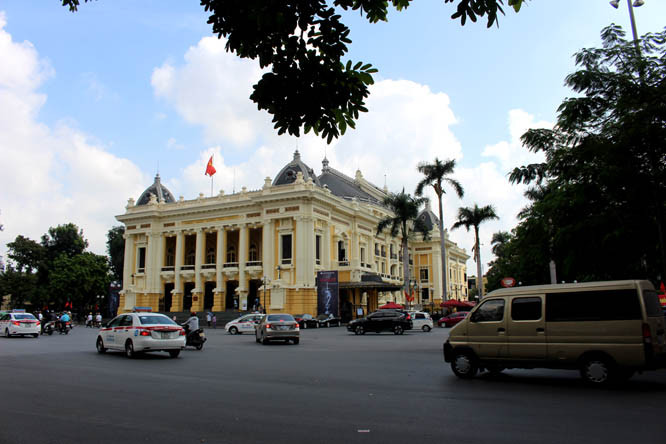 My first travel memories are from Paris. My Dad took me there to visit his friends and family every year. The impressive buildings, the excitement of riding the Metro for the first time. People speaking different languages. Paris was the big wide world for me all through my childhood. For years I thought my Dad spoke all these languages surrounding us there, because whenever I asked him which language someone was speaking, he knew. For me, he had seen the entire world.
I kept walking. Colourful shutters in front of the windows. Roman arches. Everything white and beige.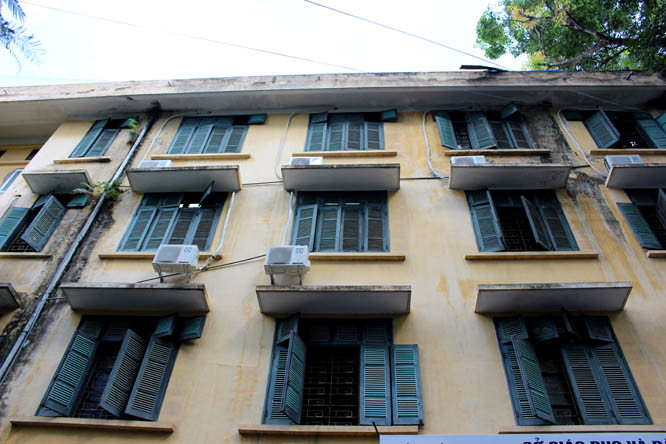 I remember that one time a travelled to Paris from London by train just to buy a meringue at my favourite bakery. I convinced my friend Deb to come, although all I could remember was that the bakery was close to the river Seine and a bridge. I still can't believe that we actually found it (It's simply called Boulangerie and it's on Rue de Barres. Seriously, get on a train and go there). We sat at the river, overlooking the city with wine and our meringues.
This was one of the best days of my life, being able to say "hey, wanna go to Paris for a meringue" and just doing it.
The ministry of finance looked like a tiny tiny Versailles.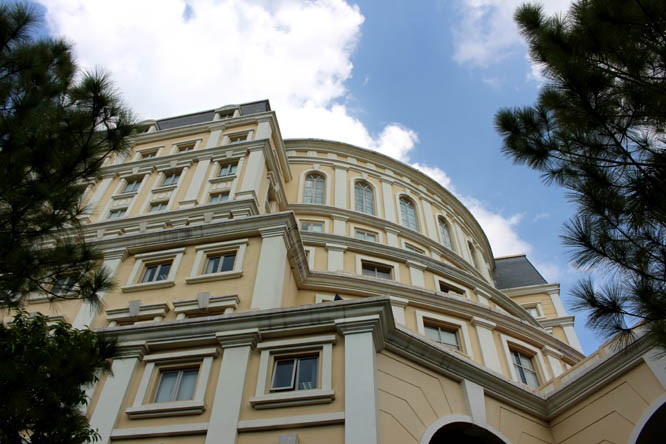 My Dad took me there to tell me everything about French history. I wasn't interested at all, but I liked the shiny, overdone architecture. He had promised me to go to Disneyland the next day, so my mind definitely wasn't with French architecture at Versailles.

I returned several years later on an exchange for school (to Versailles, not to Disneyland). This was my frist trip by myself and I had almost made it half-way through. I wasn't exactly having fun with my host-family but I was proud for every day that went by without me calling home.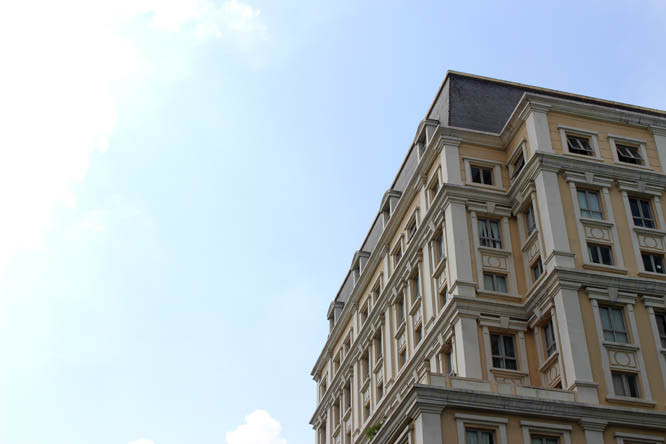 I kept walking, turned around a corner and there it was: a tiny Eiffel tower. This could not be a coincidence!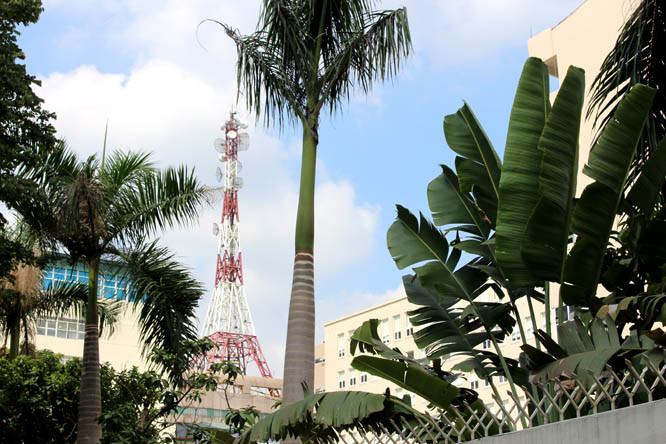 Again, I climbed up the French Eiffel tower with my Dad. He doesn't get tired of telling the story how hard it was to travel with a small child in a stroller in the nineties, "you couldn't even get through the entrance of the Metro". I'm very thankful that he still tried. We stood on the Eiffel tower and looked over the city. He probably told me something about its history, I don't remember. I do remember that I admired the tower's construction. And that they were always painting it, when they arrive at the top, they start again from the bottom. I assume that's also something my Dad told me while we were standing up there.
Vendors are approaching me on the street, offering fruits. This is when I realize that I'm still in Hanoi.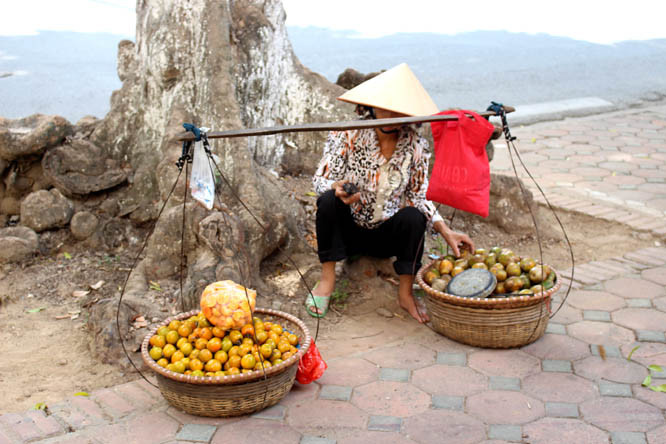 In Paris, the vendors around Montmartre tried to sell me and my Mom necklaces. She got scared because she didn't understand French and why they were following us. After the initial shock, she was impressed with the view, which I had seen several times and was excited to show her.
I pass the embassy and am standing in Hanoi again. I'm thinking about looking for a bakery with meringues and decide to have noodle soup instead.
I can still dream of Paris, no matter where I am and don't need meringues for that.
---
---
YOU MIGHT ALSO LIKE
---