It happened in Indonesia. An old man at a tiny shop handed me a key and pointed at a scooter:
"that's yours". It was green, heavily scratched and the speed indicator didn't work.
I was freaked out and definitely in danger when I started driving, but I was in love.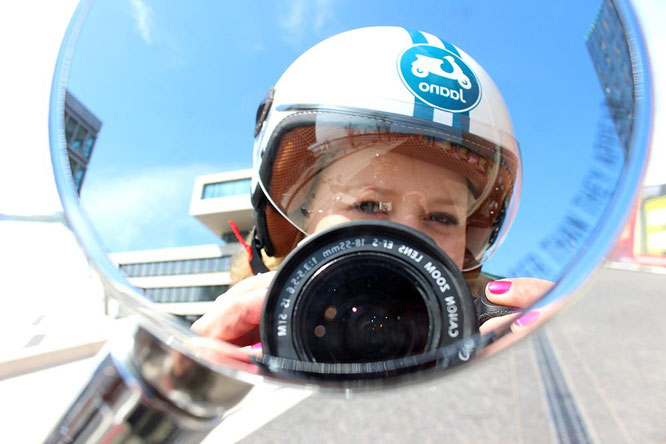 When I got back to Hamburg, I bought a Vespa right away.
For me, it's still the perfect way to discover a city, to drive around the traffic jams or to simply cruise in the sun. 
And in Hamburg you can rent Vespas now. Just like with car sharing services, you can now sign up with Jaano and jump on any of their Vespas, you'll see standing around.
edit 2018: Jaano was sold to Emmy, it still kind of works the same
---
---
I'll show you my favourite tours through my favourite city (maps included below each tour so you don't get lost):
1. Hafen city: discovering new and old architecture (40min)
Let's start at Bei St. Annen-bridge and turn right into Neuer Wandrahm.
Keep your eyes open for the amazing red-brick architecture around here.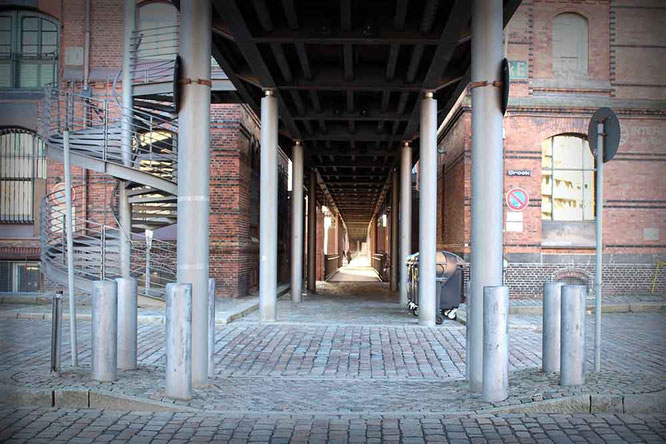 This is a cobbled street, so please be extra careful here.
Turn left at Auf dem Sande and left again at Am Sandtorkai.
This is the best spot to see the new and old parts of Hamburg together. You'll have the warehouses where you can still buy oriental carpets on your left and the new office buildings on your right.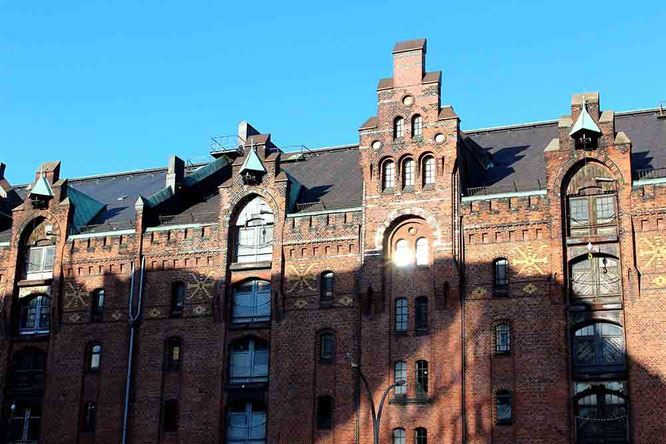 By turning right twice now (Großer Sandbrook, am Kaiserkai), you'll have circled the Museumshafen. The bridge there opens for bigger boats, so if it is open you can also cross there.
Now you're driving towards Elbphilharmonie, this one is worth a little break.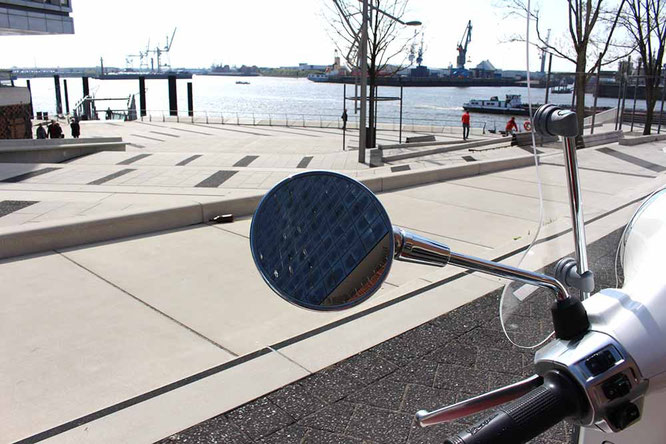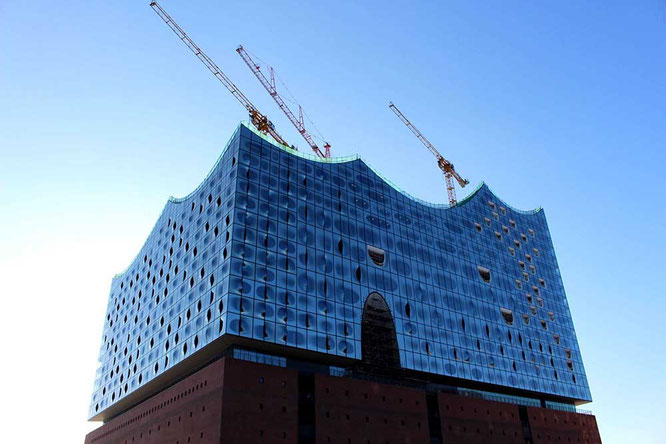 Now head towards Hafen City Universiät via Am Kaiserkai – Großer Grasbrook – am Dallmannkai – Überseeallee.
You'll have the Hafen City Universität on your right-hand side, which is worth another break. The stairs in front of the new building are perfect to watch the boats go by.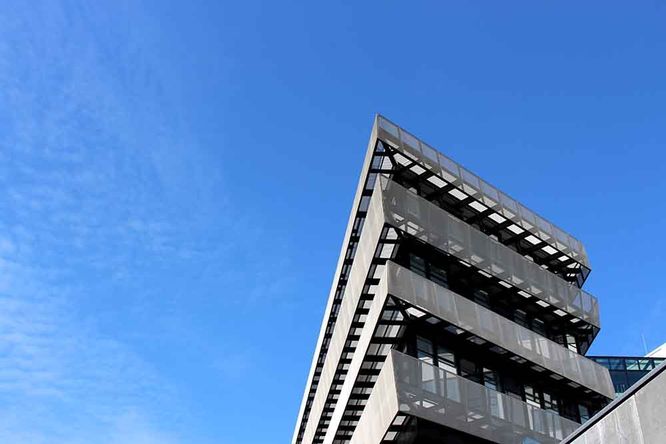 To go to the Baakenhöft island, drive over the new bridge Grandeswerder Straße.
After this, you'll be in the harbour area, where the construction of the Hafen City is going on.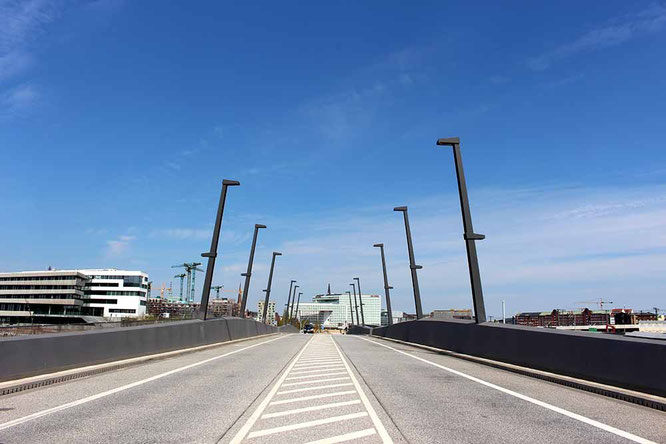 Cruise around the Baakenhöft Island and check out the massive warehouses around here.
And don't forget to take a break to enjoy the view over the city.
---
2. The relaxed one: a tour around the Alster (30min)
This is a nice and relaxed tour between beautiful villas, ladies with shopping bags and families of swans.
Let's start at Alsterperle, a café right at the water, which is a great place to watch the lake and the people sitting there.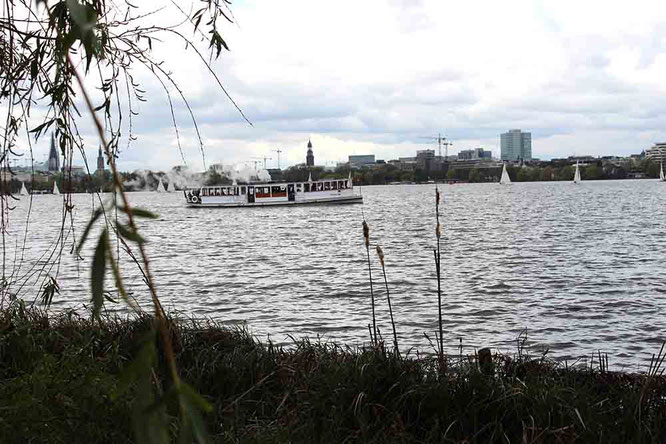 You'll have the water on your right-hand side the entire time and there are many opportunities to take pictures on one of the piers.
Turn right onto Schwanenwik and right again to An der Alster.
Here you'll be away from the water a little but this is a great section to see how fast your Vespa can go.
You'll pass Hotel Atlantic, which is pretty famous because a James Bond scene was shot there.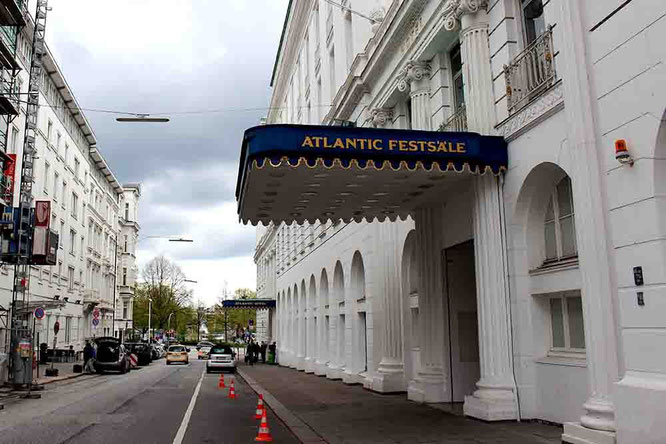 Turn right in front of the Hotel to go over Kennedybrücke.
And right again onto Alsterufer. You'll now pass several impressive villas, many of them are embassies for different countries.
The road is blocked in front of the US Embassy, but you can simply get off and push your Vespa over the bike lane or take a little detour and drive around it.
Now you can go straight ahead for quite a while. There are several small piers you could take a little break on, like the one at Alte Rabenstraße where you can also buy ice-cream or rent a boat to paddle on the lake.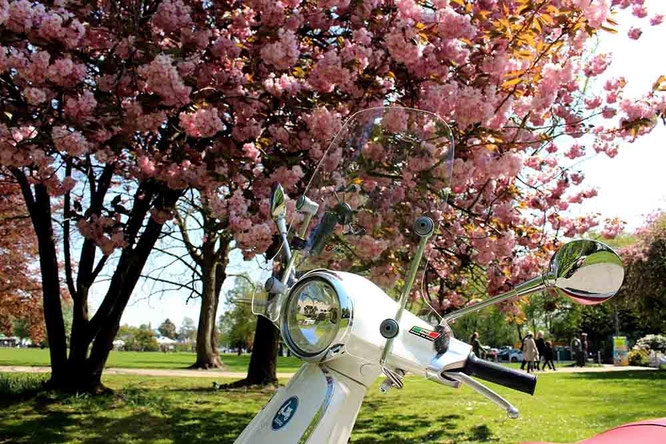 At the end of this street, turn right onto Fernsicht bridge. This is another nice place to take a picture.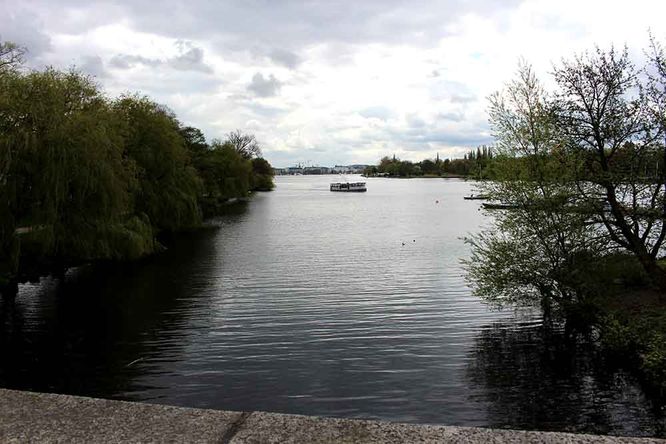 Right after the bridge turn right onto Bellevue. Keep your eyes open for huge villas again!
Turn right twice to get back to the water at to one of my favourite buildings in Hamburg:
the blue mosque at the Islamic centre.
I love the colours, the blue tiles and how it fits in perfectly although it's so different from the surrounding buildings.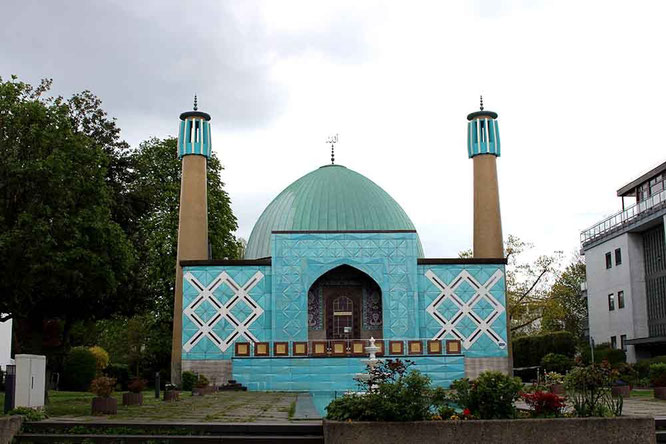 Going straight ahead for a while, you'll get back to where you started and end up at Alterperle. You've earned yourself a drink now!

---
3. Drive to the beach: Elbstrand (40min)
This is a classic for Hamburg (and for a reason!)
Starting at Landungsbrücken, drive out of the city on St. Pauli Hafenstraße.
Make sure to take a little break at "Park Fiction", my favourite place in Hamburg. Just park your Vespa at the bottom of the stairs next to "Golden Pudel club" and walk up.
From here you can see the entire harbour!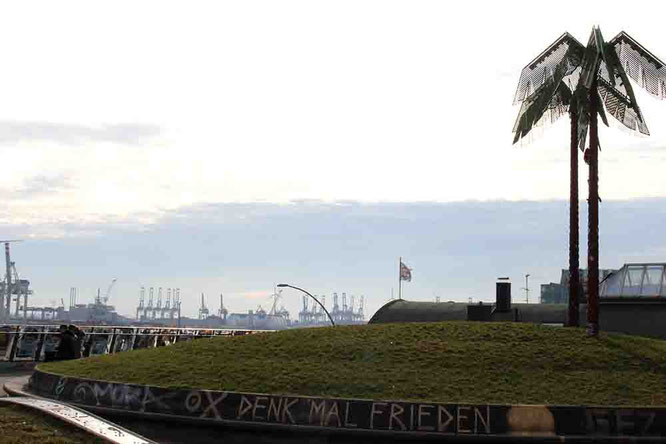 Driving on straight ahead (on große Elbstraße) you'll pass Fischauktionshalle and Stadtlagerhaus, both examples of great change of use from old warehouses to an event location and an office building.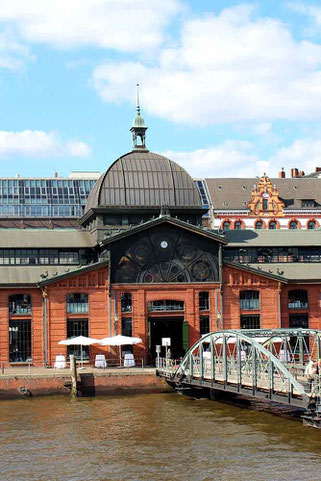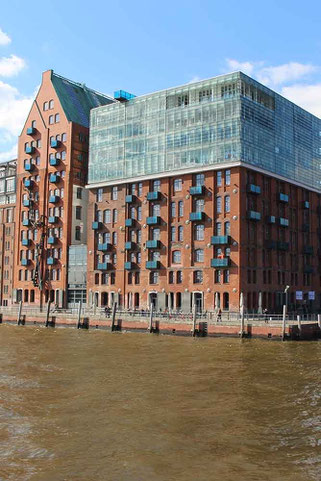 At große Elbstraße you'll see Hamburg's "chain of pearls", a line of new buildings, all projecting over a walkway right at the water.
To see the building's facades, park your Vespa and take the stairs in between one the buildings to get to the waterfront.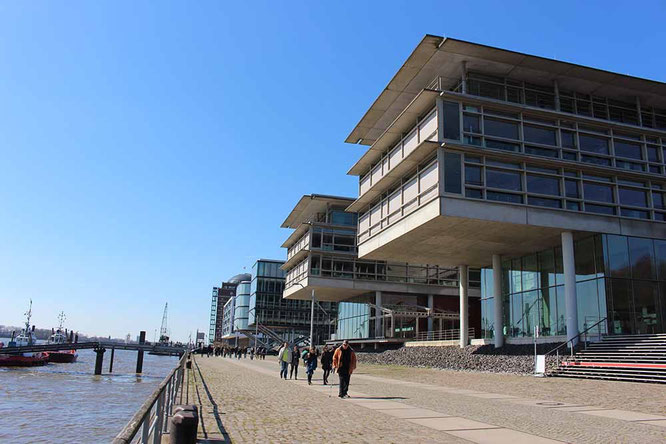 Continue going straight ahead until you end up at "Museumshafen".
Park your scooter here and walk for about 5min until you reach the beach. The farther you walk, the nicer the beach!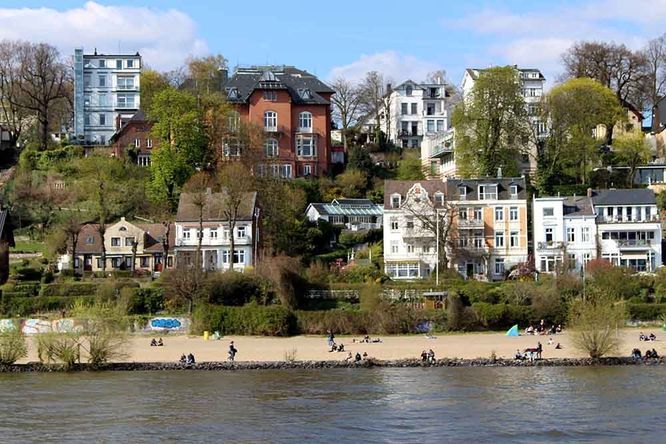 Have you found any great routes to take throughout Hamburg? Let us know in the comments section!
---
---
This post was sponsored by Jaano. As always, you still get my full and honest opinion.

---
YOU MIGHT ALSO LIKE
---