"Are you cold, darling?" Kevin, the ticket inspector asked me on our train from Glasgow towards the Isle of Skye, while I was putting on my jacket. I agreed, assuming he was just trying to have a conversation. He then forced everybody in the entire coach to close the windows, while explaining to us which bridge we were about to cross and offering help with our luggage. This was the first of many overly friendly encounters, that almost made me feel like a bad person for not constantly offering help to everybody. 
As a result, my friend Ashton (you might remember her from our trip to Laos) and I were in love with the Isle of Skye, before we even set foot on it.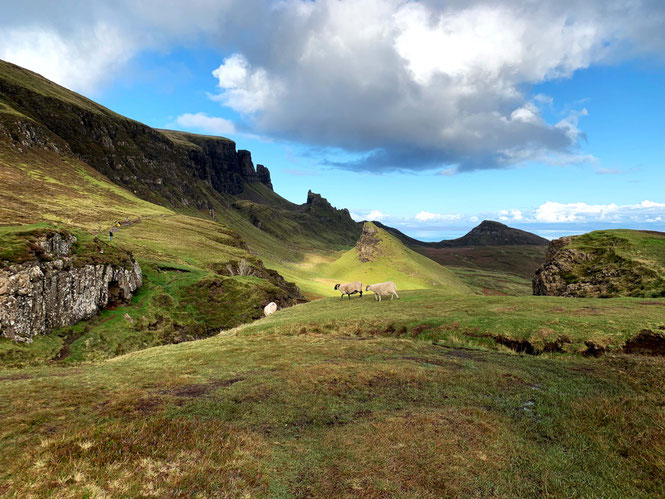 Portree
We stayed in Portree, the main and only city on the island, with a few cute stores and restaurants.
As neither Ashton nor I were too excited about driving a car, especially not on the left side of the road and definitely not in single lane traffic, we booked a tour, that would take us to the main attractions.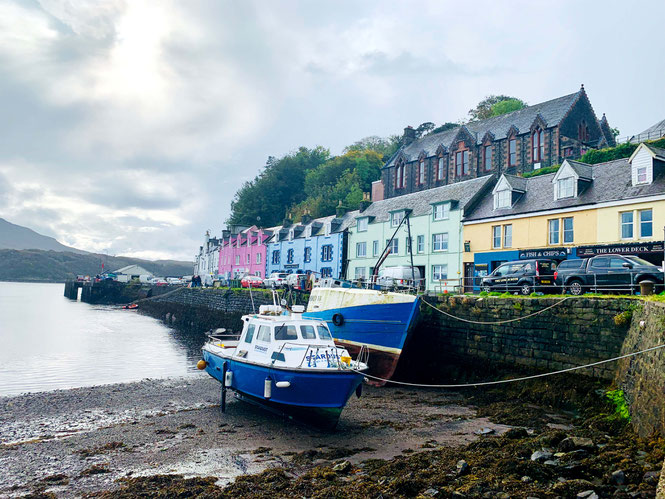 Fairy pools
Our first stop was at the Fairy Pools. Surrounded by dramatic landscapes, it's said to be a spot where fairies bathe, keeping them young. Anne, our tour guide suggested that we held out faces in the water for more than 9 seconds, to have the ferry magic work on us, too. I stepped in a puddle instead.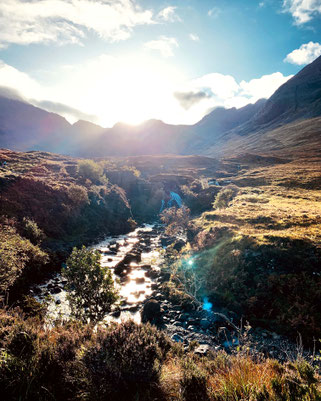 Neist Point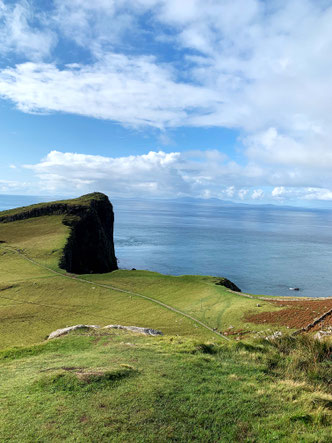 This viewing point is located at the far west of the island and offers beautiful scenery, awesome skies and endless ocean. In the right time of the year you can spot whales, dolphins and sharks.
Dunvegan castle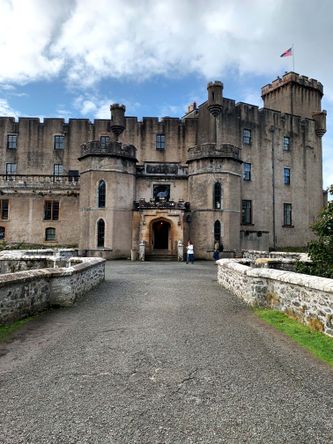 The castle is the oldest continuously inhabited castle in Scotland and has been the home to the Chiefs of the MaxLeod Clan for more than 800 years.
There's a full on dungeon there, many many oldtimey pictures on the walls and a beautiful garden.
Fairy glen
Anne was obsessed with fairies, and this seems to be the place to find them.
Her instructions included putting our ears to the grass to listen to them work inside and to look out for elves. She also offered a high reward for anyone actually taking a picture of a fairy.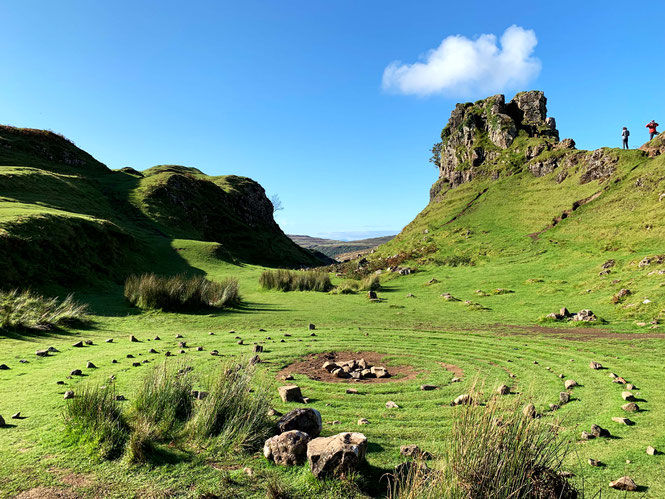 Quiraing
This place is just unreal and has for this reason been used in many sci-fi films.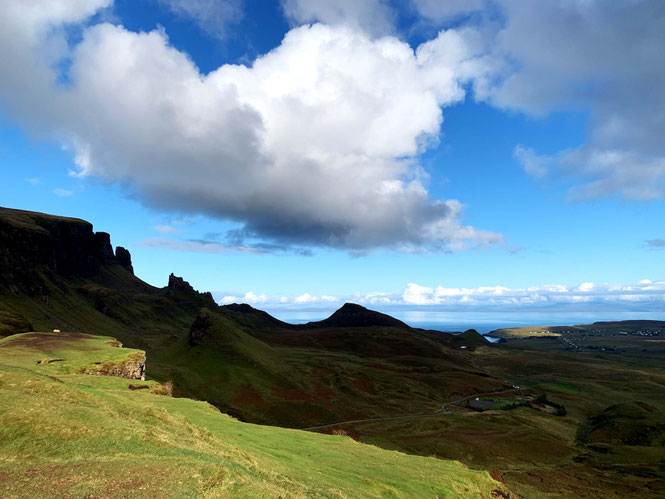 ---
FAQs
how to get to the isle of skye
the scenic way
When Ashton and I realized that it would take us about 12 hours to get from Glasgow to Portree, we both dragged our travel day.
In the end, we spent the train ride pressing our nose against the window and trying to take pictures of the landscape flying by.
We then took a quick ferry trip from the Mallaig to Armadale, then a taxi to Broadford and a bus from there.
Although it was a long day, it was definitely worth it.
the easy way
Although we were happy with our trip to Portree, we decided to go the easier way on our return trip, hopping on a bus from Portree to Fort William, to then catch the same train going back to Glasgow.
The bus in Portree leaves at the main square and will take you straight to the train station in Fort William.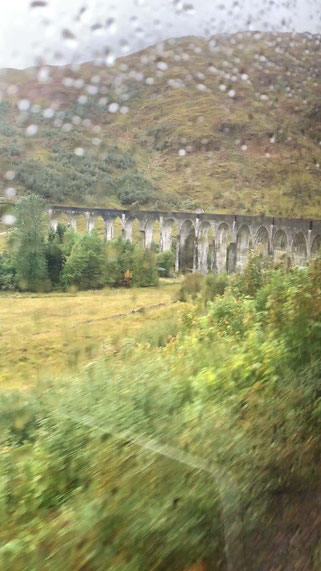 ---
Which tour company to go with
We went with Tour Skye, simply because they still had availability and we loved Anne, our tour guide. The same tour is offered by several companies, so it probably doesn't really matter which one you go with.
---
Restaurants
I was delighted with the choice of restaurants on the island, which to my surprise all offered several vegan options. Have you tried vegan haggis? You should!
Apparently it's crucial to book tables during high season (several of our new island friends told us about "walking dead" circumstances with starving tourists looking for restaurants in the evenings). We were there in September and it was no problem at all.
We had breakfast at Café Arriba in Portree and Dinner at Café Sia in Broadford and can recommend them both.
---
Where to stay on the isle of skye
Hostel
We stayed at Portree Hostel, a very simple and crowded hostel in the center of Portree. It was fine for just two days, but if you have a little budget left, we'd suggest opting for one of the following options:
Budget
Oisean Shownag is a traditional B'n'B with a small garden right in Portree. I'll stay here on my next visit.
Modern
Big groups
If you're travelling with up to 6 people, have a look at Quayside apartment, a beautifully decorated building right at the harbour.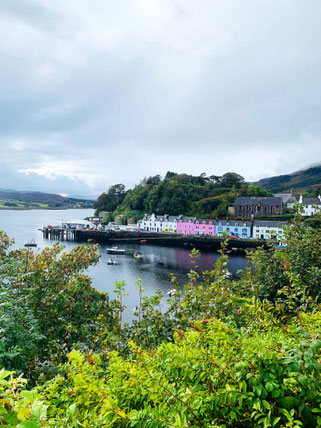 ---
I was blown away by the Isle of Skye and by Scotland in general. While the scenery was just unreal, what really made our trip were the people we met. Everybody was absolutely welcoming wherever we went and felt at home from the first day.
We'll be back.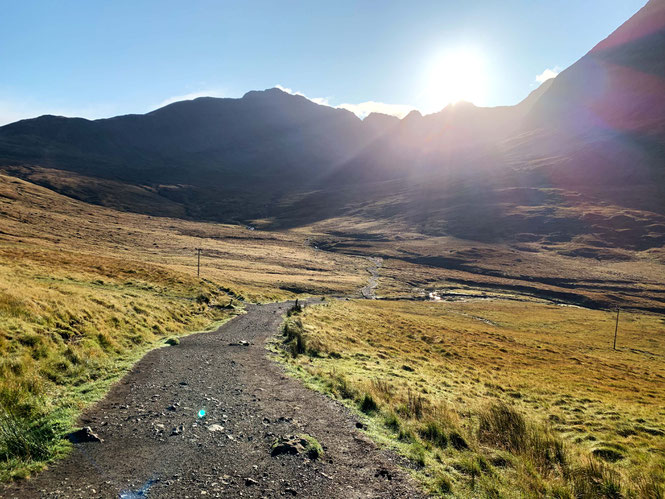 ---
Sharing is Caring
---
Please note that I am an affiliate for booking.com and will earn a small percentage of your purchase if you buy through these links at no additional cost to you. Thank you for supporting Journey to Design! 
Pin for Later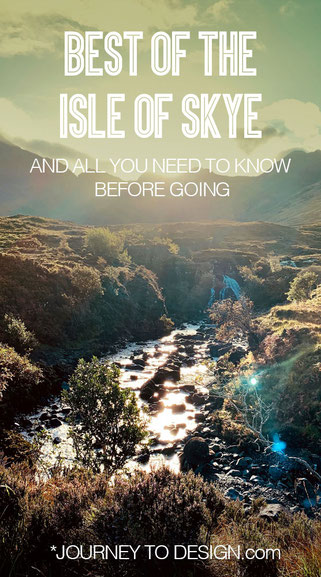 ---
YOU MIGHT ALSO LIKE
---