My first travel memories are of the many times my Dad took me to Paris. I was fascinated by the Metro system, loved the abundance of crêpes stands and the proximity to Disneyland.
We always stayed in the same area – the quartier latin – and had a deal with each other that we could both choose the activities for one day each. Mine has always been Disneyland, his was always Versailles.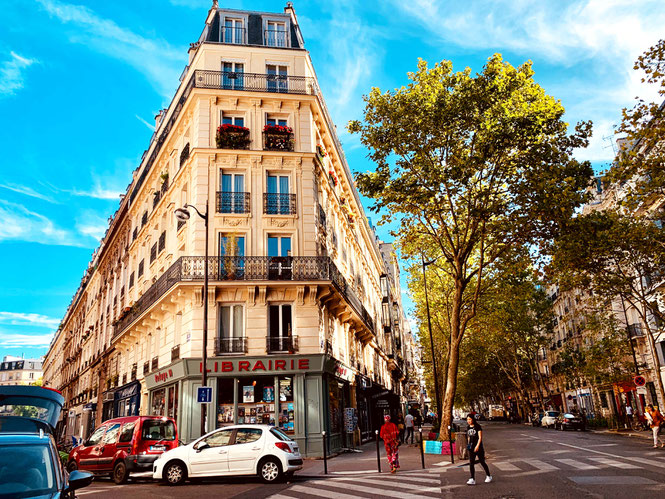 This summer, I went to Paris by myself for the first time, realizing that I had seen most of the attractions, but always from the perspective of holding my father's hand.
I chose a new area to stay in: The 11th arrondissement. A younger, hipper district with fashionable cafés, restaurants and nightlife.
Stepping out of the Metro and knew that I had made the right choice: while the streets were still filled with people, there were only a few tourists to be recognized as such, but Parisians enjoying the last rays of sunshine in the many cafés around.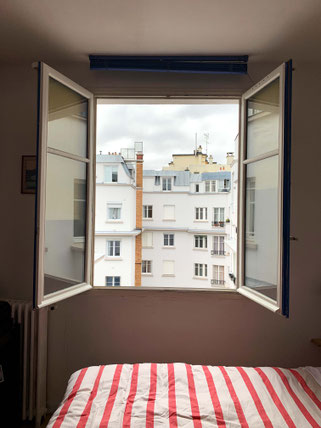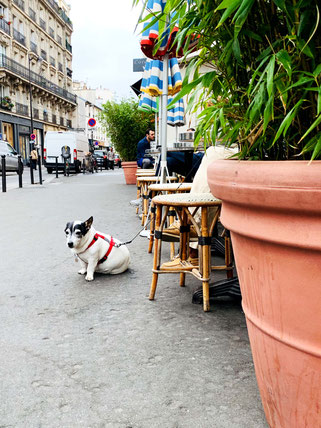 I rented a small Airbnb in Rue de Charonne and spent the following two weeks exploring the neighbourhood and the surrounding arrondissements (some of my tips therefore aren't exactly in the 11th arrondissement, but walking distance from it).
These were my favourite parts:
---
Co-Working
Grounded became my office and home base for my entire stay. I had their avocado toast for breakfast every single day (#basic) and they didn't seem to mind that several guests spent their days working on their laptops there.
---
Food
Right next door is Bistrot de Beyrouth, which became my favourite place for dinner.
For more restaurants simply walk down Rue de Charonne, there's one next to the other and everything was great.
---
have a drink
The Canal St. Martin is a very young and very hip area leading from la Vilette to Place de la Bastille.
You can either have a seat in one of the many bars surrounding it or just grab a bottle of wine and sit at the edge of the canal.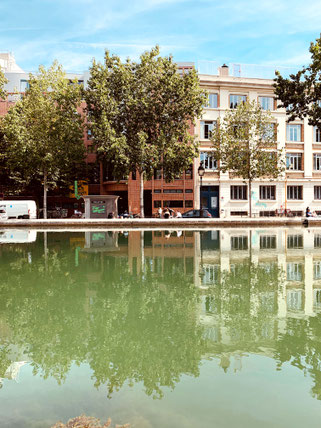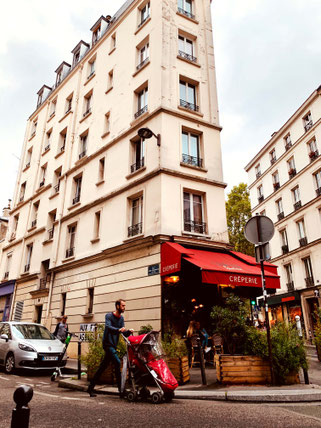 ---
Go for a walk
Another great area for a walk, basically all over the city, is la petite ceinture, which I already checked out on my last trip to Paris. One part of it is also located in the 11th arrondissement and is a great way to get from one place to another without having to worry about the cars or to just sit down and read a book.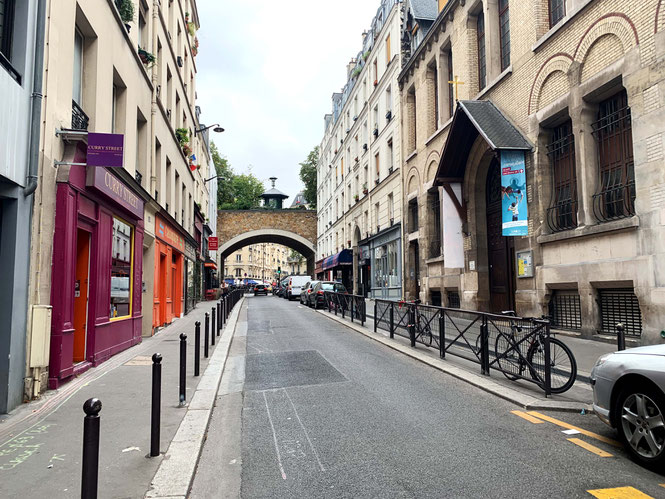 While there are many parks in the arrondissement, the Père Lachaise cemetery is an impressive alternative for a walk. Large mausoleums, giant statues and simple crumbled graves are lined up in this massive cemetery. You can actually find many famous graves there, like the ones of Jim Morrison or Oscar Wilde.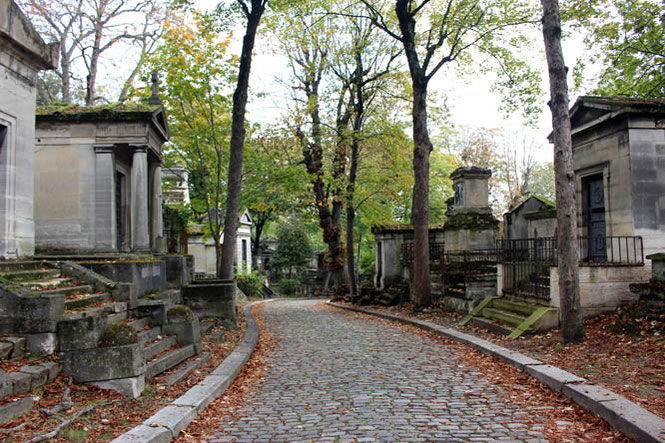 ---
Culture + Instagram
If you want to impress your friends at home with some instagrammable pictures, head over to the Atelier de Lumières. This industrial place has projections on all walls, telling short stories while you can sit down on the floor or take some cool pictures.
While I wasn't too impressed with the actual media content, I love the idea and would head over a second time when there are new projections being shown.
---
Markets
Marché des enfants rouge
The Marché des Enfants Rouge is the oldest covered market in Paris at 400 years old.
If you call yourself a foodie, you'll have to head over there. Find the longest line and place yourself at the end of it, to grab one of the famous galettes or sandwiches at "Chez Alain Miam Miam". He also has a restaurant right next door, if the lines are getting too long.
---
Marché d'Aligre
Marché d'Aligre is a traditional fruit and vegetable market, with friendly vendors and good prices. If you're staying in the area, this is a great place to do your actual shopping while meeting locals and looking very Parisian while carrying a baguette.
Head over here to find all market days in the area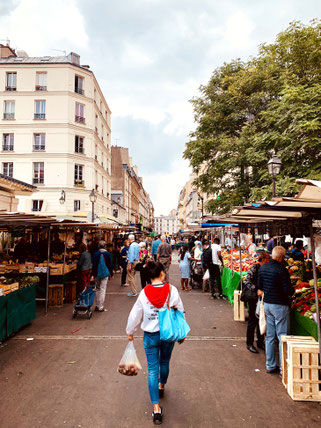 On this trip I've gotten to know Paris in a completely new way. Less Versailles, more wine.
The 11th Arrondissement felt like home within just a few days. I'll be back.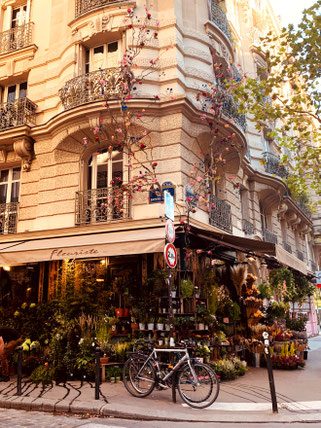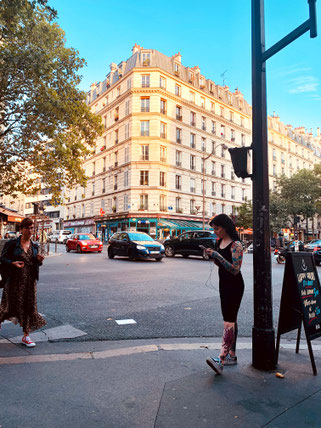 Have you been to the 11th arrondissement and saw something cool, that I missed? Let us know in the comments!
---
Where to stay in Paris
Budget
---
Hip and stylish
I went to Mama Shelter Paris East to grab a drink after checking out la petite ceinture. Philippe Starck's design is super modern and cool - I was jealous of everybody staying there.
---
Quirky and Designy
my parents stayed at Hôtel Exquis right on Rue de Charonne when they came to visit me and loved everything about it.
This place has a quirky vintage style with colourful furniture right in my favourite street in Paris.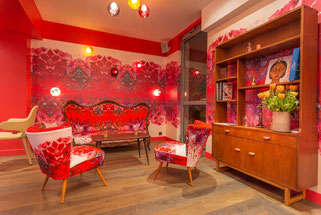 Pin for Later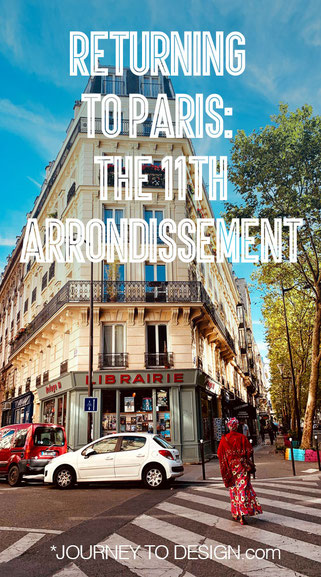 ---
Please note that I am an affiliate for booking.com and airbnb and will earn a small percentage of your purchase if you buy through these links at no additional cost to you. Thank you for supporting Journey to Design! 
---
Sharing is Caring
---
YOU MIGHT ALSO LIKE
---