Judith and I have been travelling together for more than ten years now and are known for the most chaotic and randomly chosen trips. We've booked flights after several bottles of wine and ended up in Latvian beach towns and industrial areas in Poland, usually positively surprised but never well planned.
So, when we booked our flights to Budapest, we felt very grown up and reasonable: this is actually a place where people go on vacation!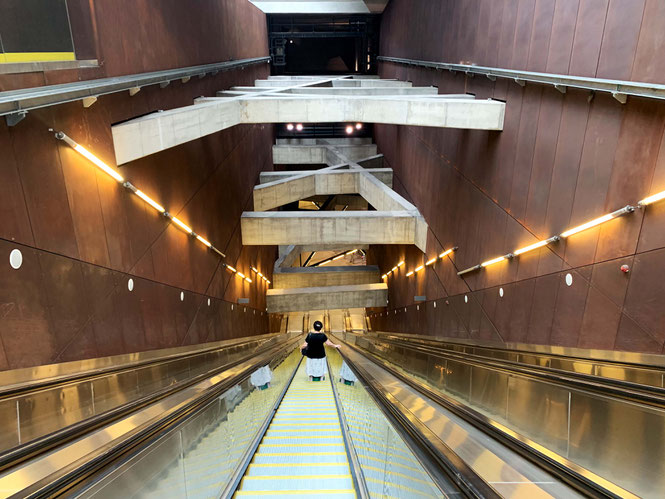 We arrived with zero planning and were stunned before we even arrived at our Airbnb:
Budapest has a beautiful new subway line, worth a visit by itself.
The M4 is an entire new line with ten stops, all of them well designed.
But two of them stand out, not only for their design, but also by being situated on opposing banks of the Danube river, only a few hundred meters apart.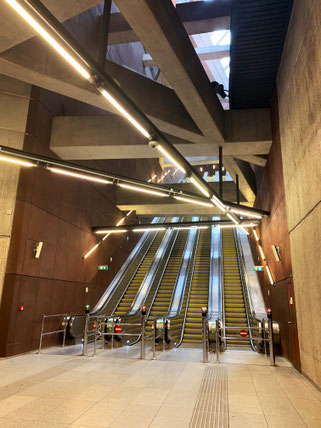 The city of Budapest was only officially created in 1873 by merging the neighbouring cities of Pest, Buda and Obuda. Until today you can feel the difference between the two sides of the river, Buda being considered calmer and more residential, while Pest has more going on, including most of the nightlife. Obuda is the smallest of the three and located in the northern part of Budapest.
Connecting these opposite parts of town with a metro line is therefore about more than just public transport, but about uniting areas, that still aren't considered to be one city.
The stations of Szent Gellért tér and Fővám tér have the same design principle, visually connecting both sides of the river.
Both stations, while being the deepest on the M4 are cut into the surface, therefore introducing daylight into the underground areas.
Criss-crossing concrete beams reduce the need for columns, creating open, uninterrupted spaces.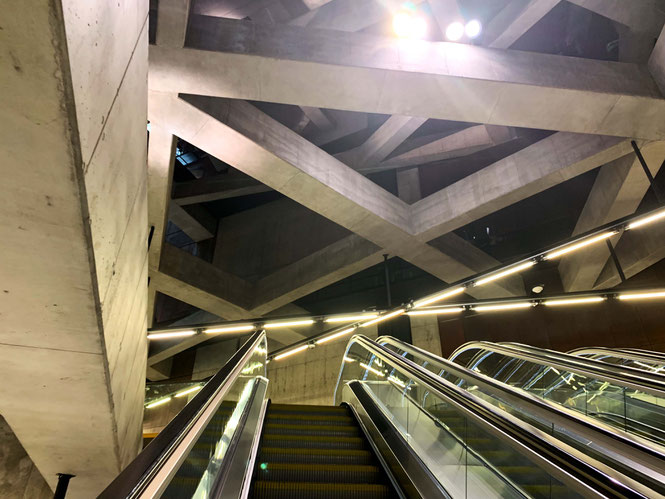 The above-ground and underground spaces at the Fővám tér are designed to accommodate an interchange between different modes of transportation, with the interior carved up into a series of expansive halls.
Here, the complex system of beams reminded us of the streets and traffic systems above ground.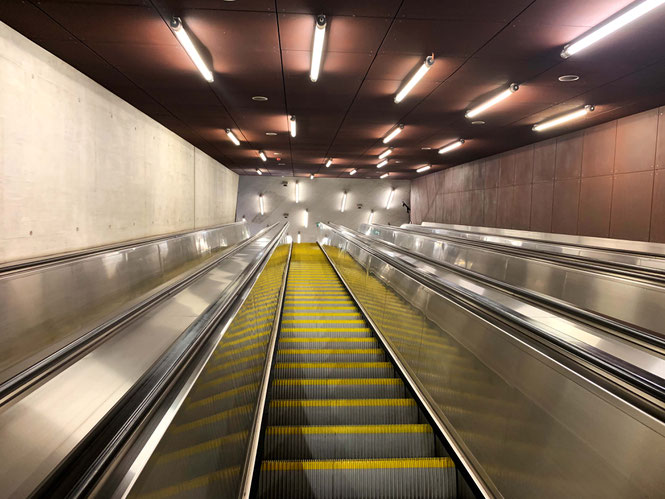 Tunnels within the Szent Gellért tér station are decorated with a swirling mosaic by artist Tamás Komoróczky, which references the tiles used in the famous Gellért hotel situated nearby.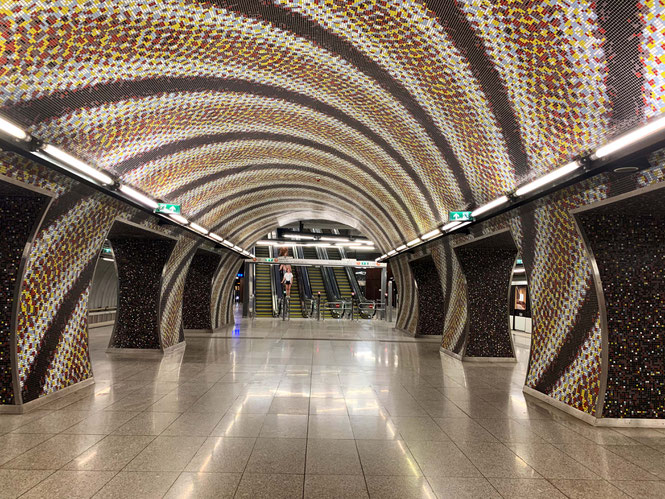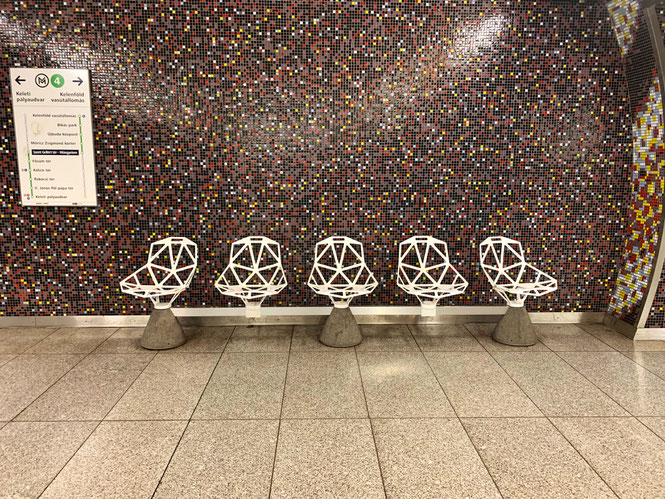 The entrance areas of both stations feature weathered steel panels, offering a warm contrast to the cold light and concrete structures.
We rode the escalators up and down, underneath the neon tubes and concrete beams and were in love with Budapest before we even made it to ground level.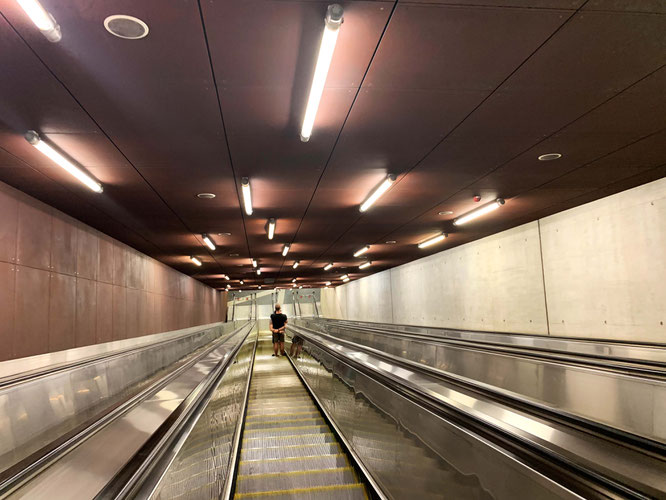 ---
Where to stay
Budget
It's very common to stay in apartments instead of hotels in Budapest, which means that you can get great deals, especially if you're travelling with more than two people.
The two of us stayed in this lovely Airbnb close to Fővám tér. If you haven't used Airbnb yet, you can get a 23€ discount through this link
---
Mid-range
---
Luxury
The Hotel Gellért is famous for its spa pools and the location right at the river. It's also right at the Szent Gellért tér station.
---
Please note that some of the links are affiliate links and will earn a small percentage of your purchase if you buy through them at no additional cost to you. Thank you for supporting Journey to Design! 
Pin for Later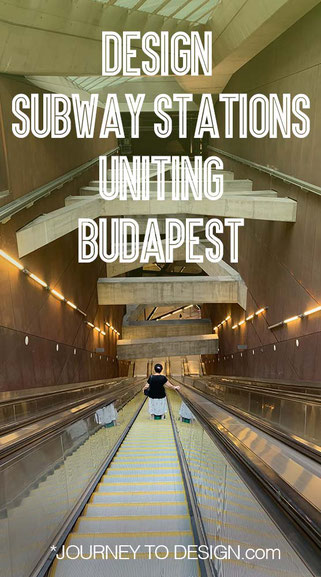 ---
Sharing is Caring
---
YOU MIGHT ALSO LIKE
---