It's almost impossible to get bored in Hong Kong but being at such a busy place, it was time for some peace and quiet for me. Introducing: Macau.
The former Portuguese colony is just an hour by boat away and rocks some cool European architecture, combined with quieter streets and an almost traffic-free old center.
Of course there is also the gambling part, but this is a total different area, which I didn't visit (ask my friends in Hamburg who once took me to a Blackjack-bar. You should simply keep me away from gambling).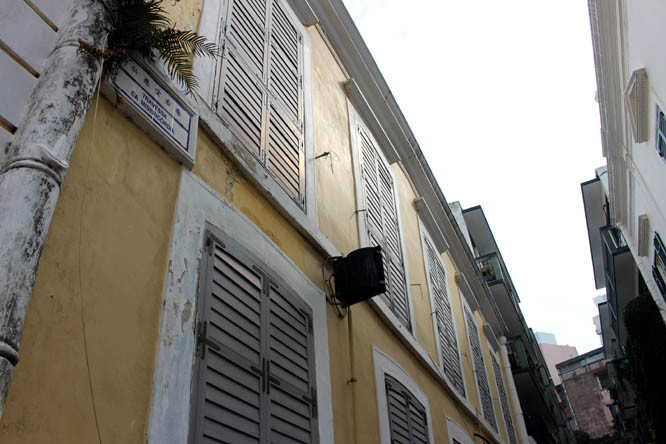 ---
How to get to Macau
As I was based in Causeway bay, the easiest way was to take the MRT to Shuen Wang and then the ferry at Shun Tak Center.
If you are starting from Kowloon, heading to Tsim Sha Tsui and catching the Star Ferry there will be easier.
The price (no matter from what pier) is 132 to 172 HKD, depending on the time. It's more expensive on weekends, holidays and evenings.
You can either buy your return-ticket straight away or get it later, both no problem or price difference.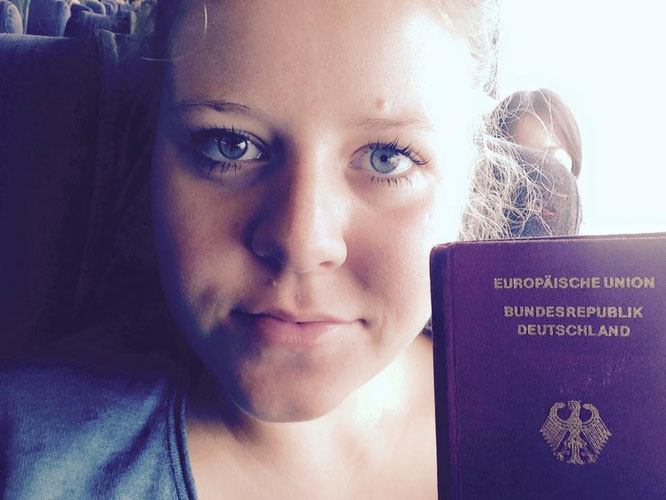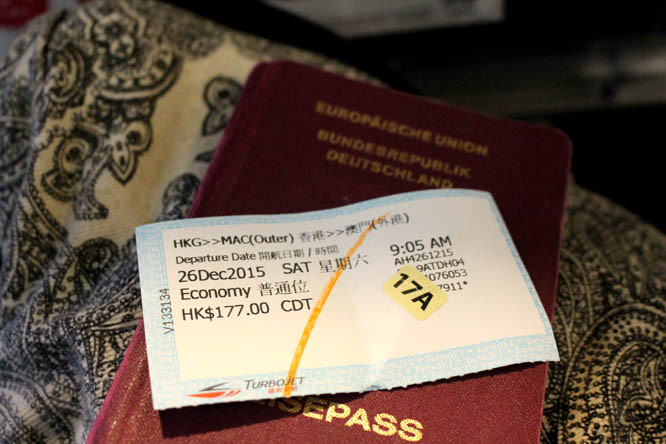 Don't forget your passport, as you will have to go through the regular immigrations just like at the airport.
No worries, the process is very easy. From arriving at the station to stepping on the ferry it took me about an hour, which even included a quick breakfast.
The ferry ride takes 1.15h and the interior of the ferry feels like a plane, "fasten your seatbelt"-announcements and everything. On one of my rides I even had wifi there.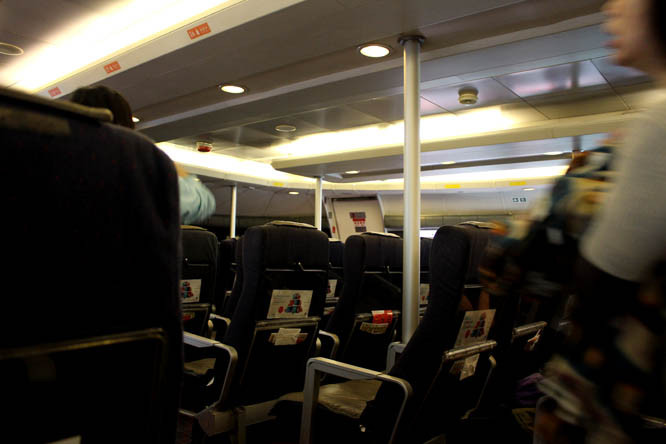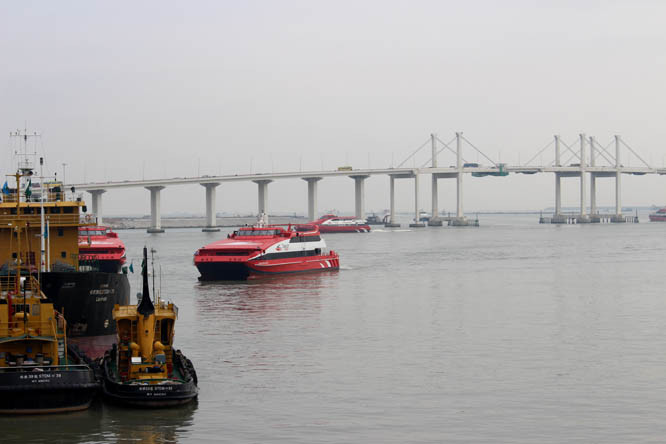 ---
How to get to the city from the harbour
Once arrived in Macau, don't worry about exchanging money. Hong Kong dollars are accepted all over Macau.
To get to the old center, the easiest way is to take the #3 Bus, which will only take about ten minutes.
Simply get off where everybody else gets off (San Malo).
Alternatively you could of course hop on a taxi.
You can also walk, but although it's not too far (2.5km), it's simply not a nice walk next to the highway, sometimes even without a pavement. I tried it on my way back but wouldn't do it again.
I'd definitely opt for the bus!
---
What to do in macau
Now comes the easy part: All through the old center you will find cute Portuguese colonial architecture, yellow walls with green shutters and all.
Sedano Square
Start at Sedano square, the centre of the old part. If you don't -like me- show up on Christmas, you'll be surrounded by beautiful old buildings here (unfortunately I had to fight my way through dancing Santas and inflatable christmas trees).
The church on the square, as well as about 20 other buildings there, is listed UNESCO World Heritage site.
There are several churches around the city, all in a very good state and all open to the public. I trust you to find them by yourself, they are all very close together and there are signs everywhere.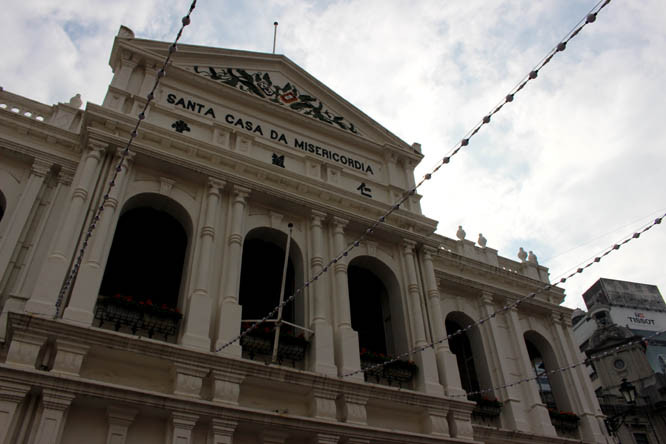 ---
Cathedral Square Largo da sé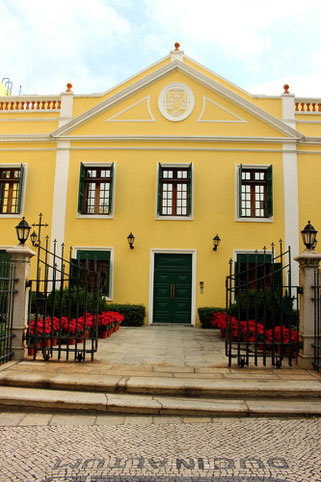 Entering the square head right (assuming you arrived from the main road or the bus station) in one of the little streets.
You'll get to Cathedral square, where you'll (surprise) find a cathedral and a yellow building next to it.
While I liked the church on the square, my favourite was the "Bishops house", a bright yellow building, that looked like it came straight out of a movie.
On your way, grab an eggtart, the only Portuguese food I saw in Macau (I've heard there is a lot, I just didn't find it). It's not the same, but close enough to make me feel like I was sitting in a Portuguese café with my friends at home for a moment.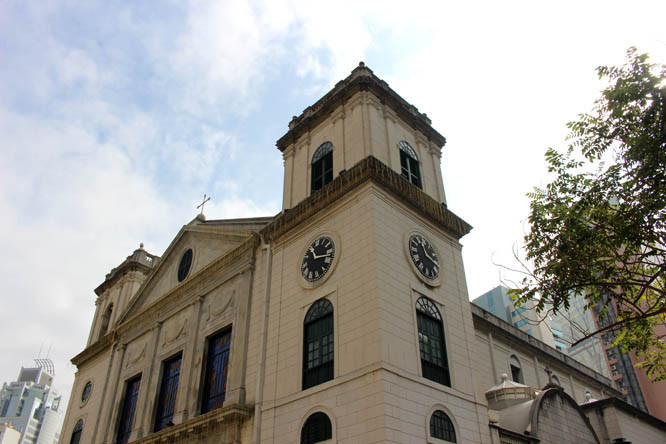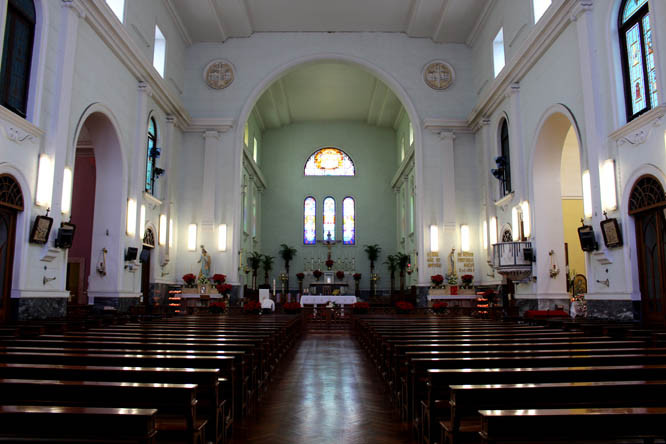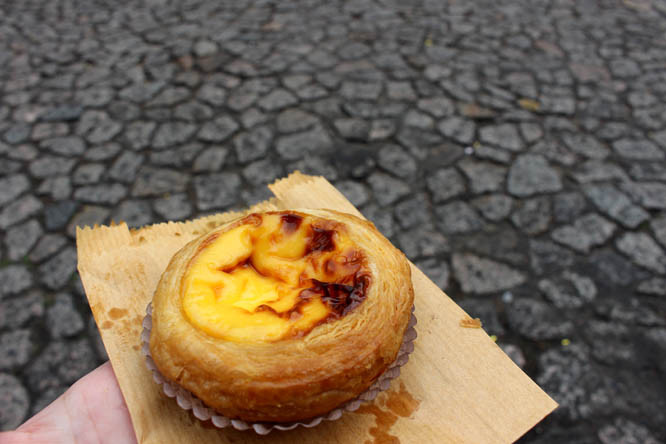 ---
St. Dominic's Square
Heading back toward Sedano Square, you'll find St. Dominic's square a few steps farther away from the main road. 
The main building here is yet another church, resembling the Bishop's house I admired earlier.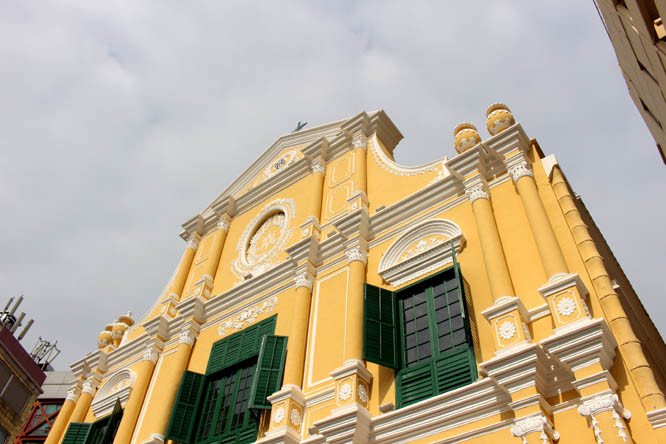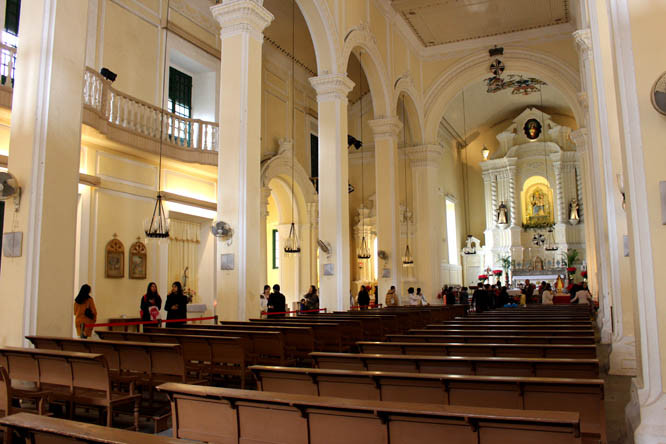 ---
Ruins of St. Paul's
Then head over to the ruins of St. Paul's. Only the south-facade is still standing, you can imagine the size of the college and the church that have been behind it once. It was built in the 17th century and destroyed by a fire during a typhoon in 1835. Look out for the detailed carvings, they were made by Japanese Christians in exile from their homeland.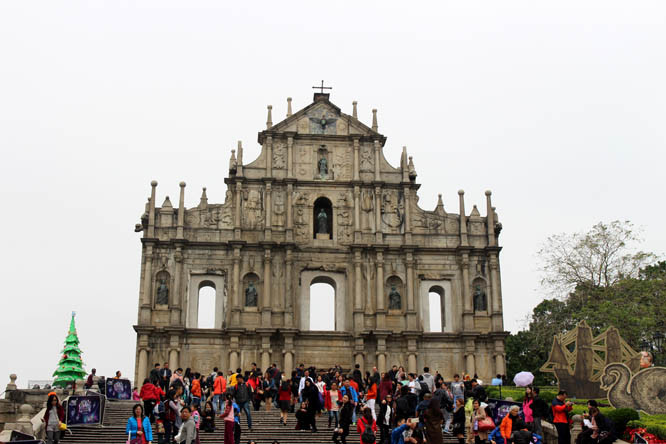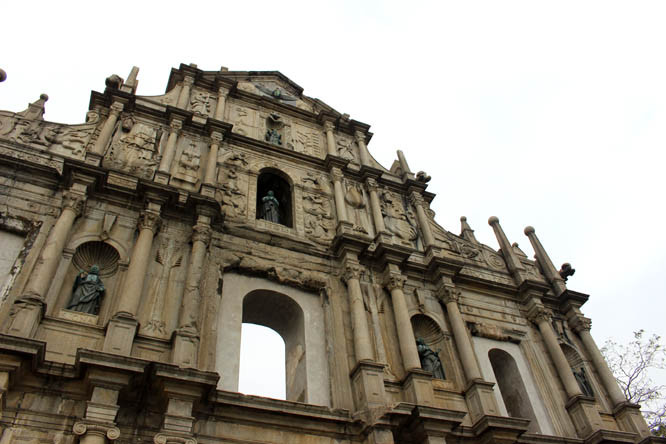 ---
Fortress Armourial Gate
Right next to it, overlooking the ruins, you'll find the Fortress Armourial gate, from where you'll have a view over the city.
As most Portuguese buildings are smaller than the Chinese ones, you won't really see them from the top but it's still beautiful.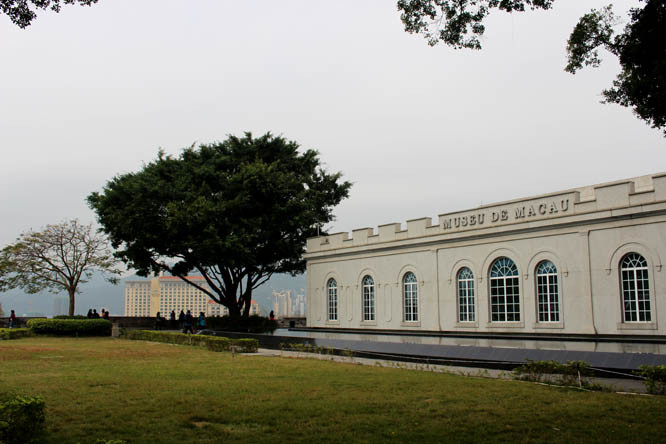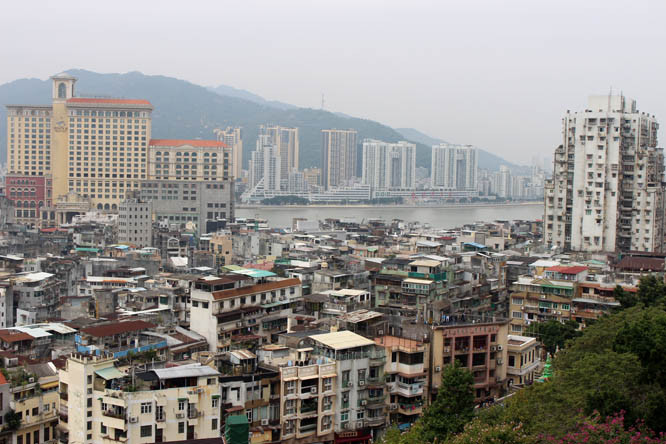 I headed back to the harbour after the fort and was back in Hong Kong around 4pm, meaning this trip can easily be done in a day.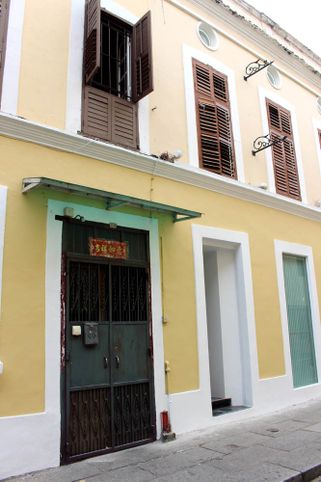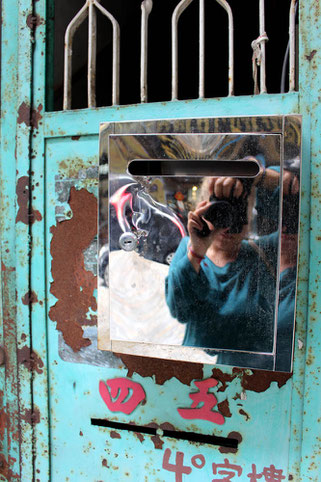 Macau won my heart at first sight with its architecture that made me feel at home in Europe, with fewer
people and more space to walk and with eggtarts at every corner. The combination of European and
Chinese architecture makes Macau unique and I bet you will find much more than I showed you here if you just take your time and go for a walk. It offers a nice break from the hectic life in Hong Kong and is
definitely worth a day trip.­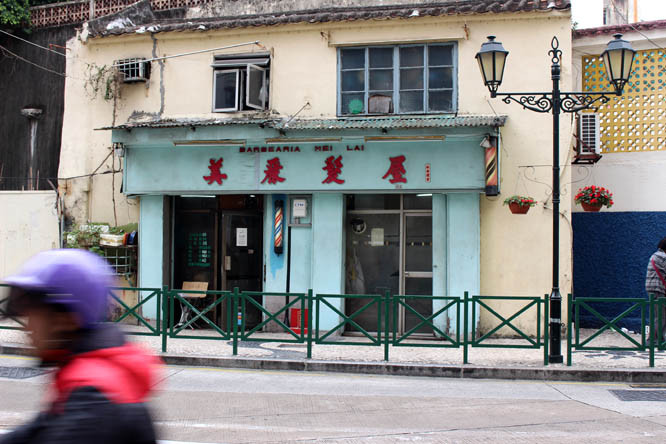 ---
Where:
Old Macau, San Malo
How to get there:
Boat and Nr. 3 Bus
Pin for Later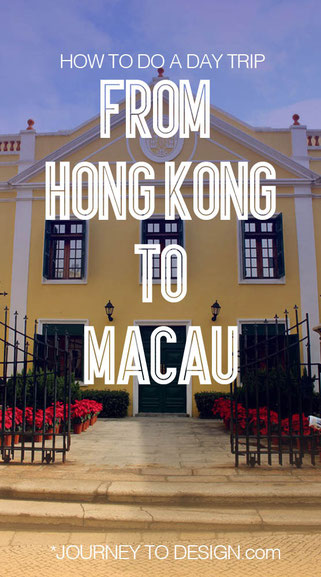 ---
YOU MIGHT ALSO LIKE
---