"So what did you do today?", I asked my new friend Thomas at our Hostel in Kuala Lumpur. "I went to look at this old train station. It was supposed to be super interesting because of the mix of different architectural styles, but I didn't like it". WHAT? To Thomas's confusion, I left to look at this cool train station right away.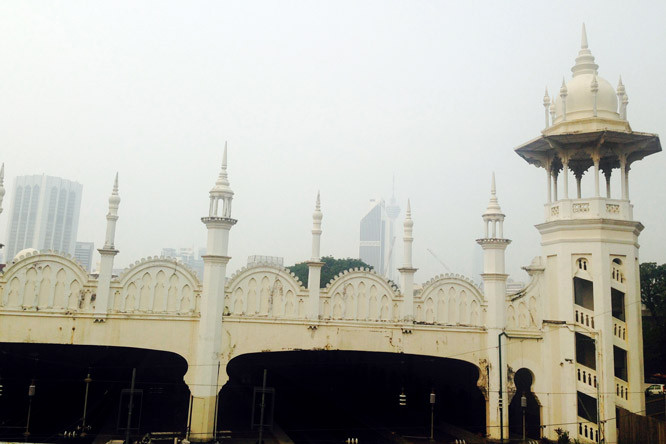 ---
---
The Kuala Lumpur Railway Station is famous for its mixture of eastern and western architecture.
According to an info board in front of the building, it was designed by A.B. Hubback, a British architect, who also designed the Old city hall and the Jameck Mosque.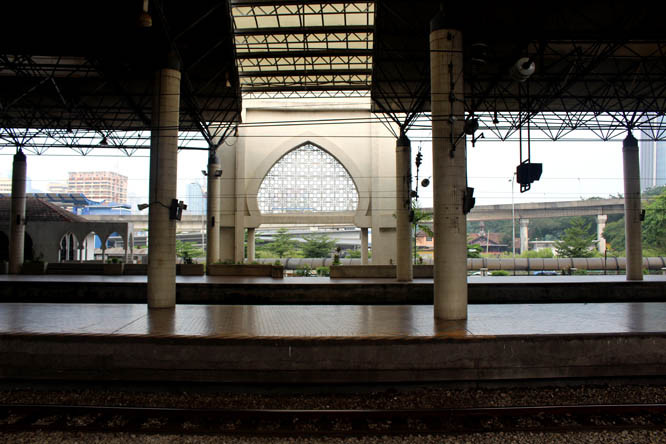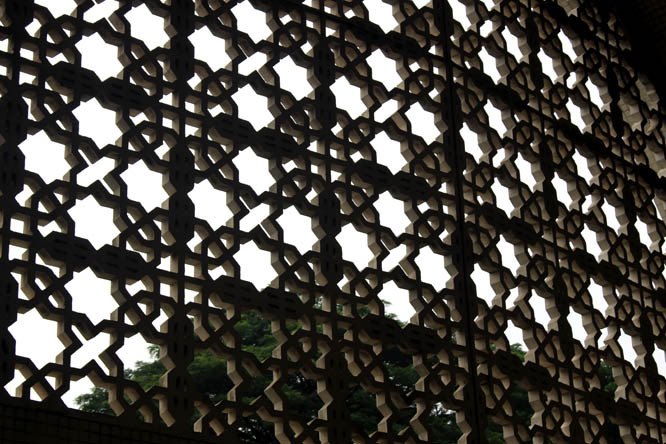 You can either arrive by train or you take the Skytrain to Masjid Jamek and walk from there, which is what I did because I wanted to pass Merdeka square and the national mosque, which are on the same street.
The main structure, which contains the main hall, the ticket counters and offices, is primarily designed in a Raj-style (look out for "horseshoe arches"), which you will also find at many other buildings in the area surrounding Medeka sq.
The platforms are covered by a large steel-frame structure. Apparently the roof was originally glazed but was partially opened later on to allow the smoke from the locomotives to escape. By today, the glass has been replaced with corrugated steel.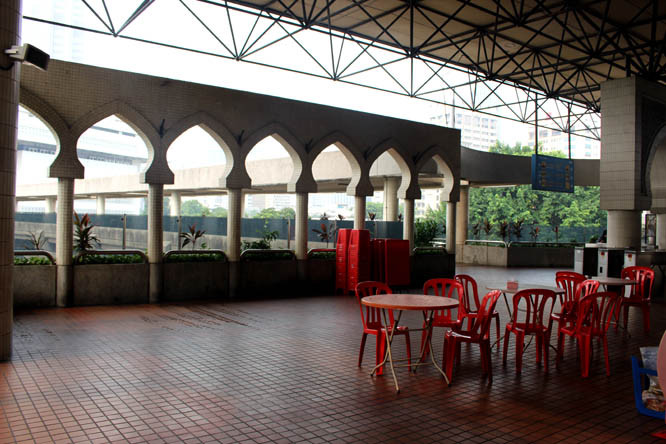 With a refurbishment in 1986, the designers took a more modernist approach, using mainly large concrete pillars to support a latticed roof and a ticket office at the north end.
While I was taking pictures of the moss, that has developed on a wall where water was coming in, a local guy asked what I was doing. As I tried to explain that I'm just looking at the architecture, he stared at me confused: "You don't want to take a train? Why don't you look at the other building then?".
Even better! There was another building on the other side of the road, which serves as the headquarters for the train company.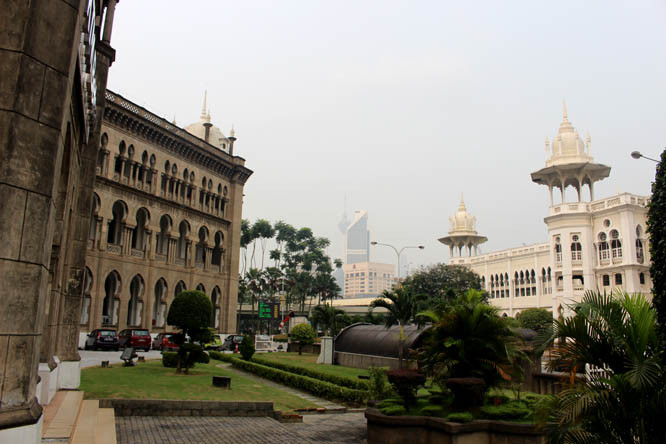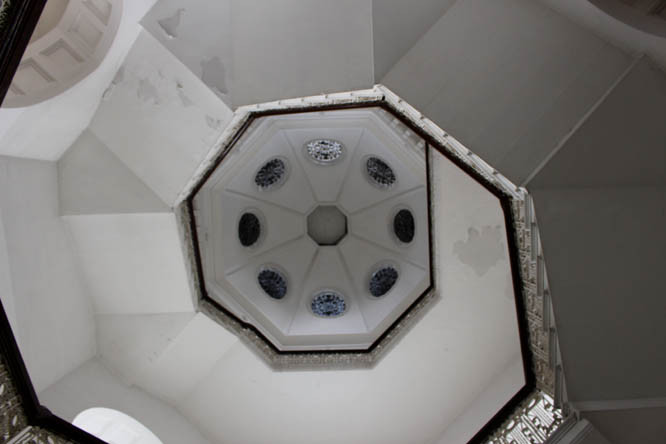 Designed by the same architect in 1917, this building actually never was a train station but the headquarters and administration office for the main station (at least that's what a sign in front of it said). Think Hogwarts in the middle east, this building is much more representative and solid. I was only allowed to enter the ground floor, which was already impressive enough.
I was happy to find the horseshoe arches again, as I had just learned that this is a key element in Raj-architecture. Apart from that, I loved how this building rather felt like a monastery than an office building. It had a little backyard and little alleys around it.
The guards didn't let me explore the higher stories, but you might be luckier than I was.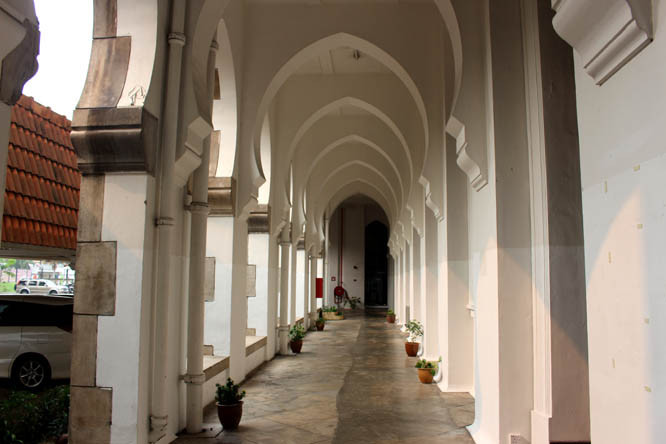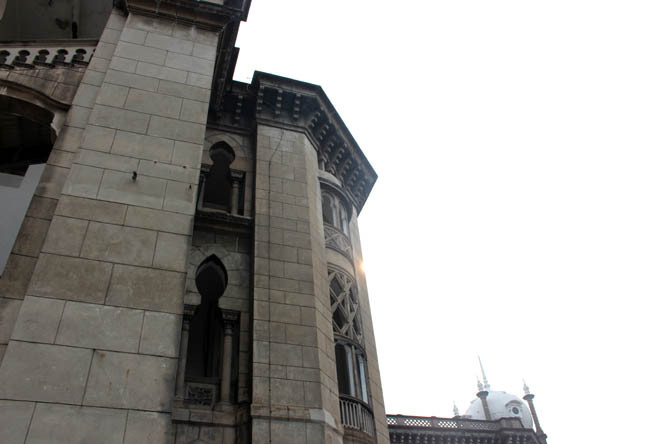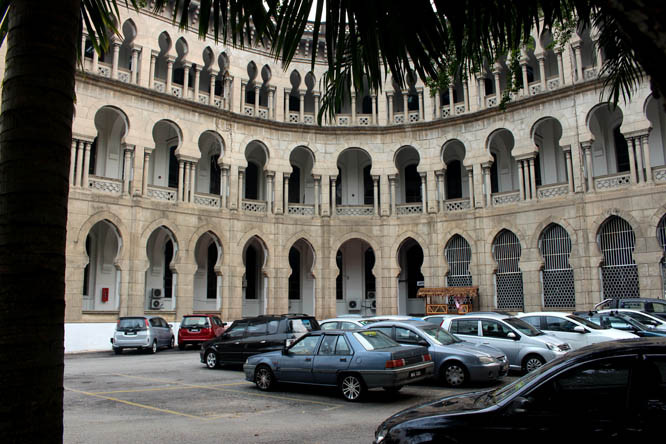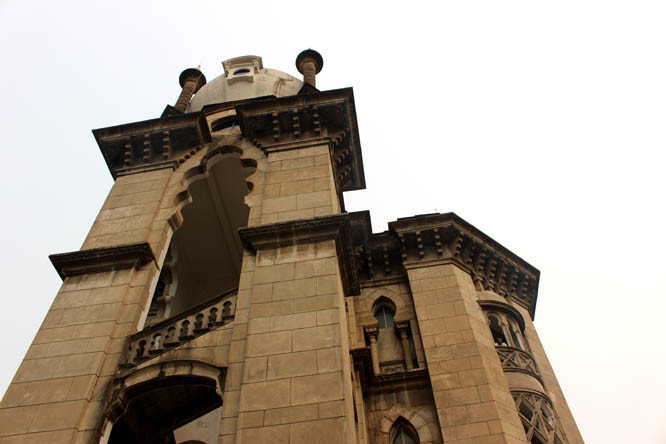 As I don't have a clue about this style of architecture, I found it super interesting to look for old, new, Eastern and Western architectural features (and you said it was boring, Thomas! ).
---
---
Where and how
Where:
Bangunan Stresen Keretapi, Jalan Sultan Hishamuddin, 50000 Kuala Lumpur
How to get there:
check this map
How much:
free!
Where to stay in KL
I stayed at two places in Kuala Lumpur:
first the hostel, where I met Thomas.
Definitely one of the nicest hostels I've ever stayed at with a beautiful shaded backyard to escape the heat:
BackHome Hostel Kuala Lumpur

From there I moved to Maya Hotel Kuala Lumpur, a beautiful design hotel next to the Patronas Towers, as it was my birthday and my friends surprised me with a stay there.
This is not a sponsored post, but please note that I am an affiliate for booking.com and will earn a small percentage of your purchase if you buy through these links at no additional cost to you. Thank you for supporting Journey to Design!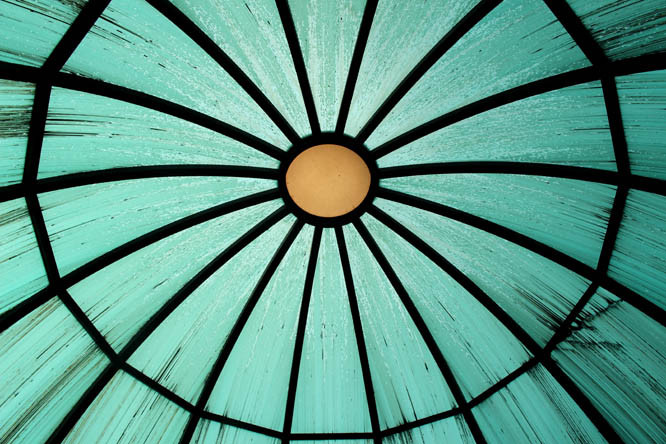 ---
YOU MIGHT ALSO LIKE
---