Since Alex and I accidentally "moved" to Fuerteventura, we made absolutely no prior plans and ended up moving quite a bit.
While there were very few Covid cases on the island during our time there, we still wanted to make sure not to meet too many people, therefore we always tried to find apartments or houses, that we really liked, so we didn't mind spending more time there. And of course, we wanted our apartments to be pretty.
 
While typing this, I'm realizing what this post really is about: about being irresponsible. Spoiling yourself with the nice apartment, you can't afford. Staying as long as you like, in the places you love.
What I'm not showing you: the dark and smelly places, we stayed in after realizing that we're living way out of our budget. Totally worth it.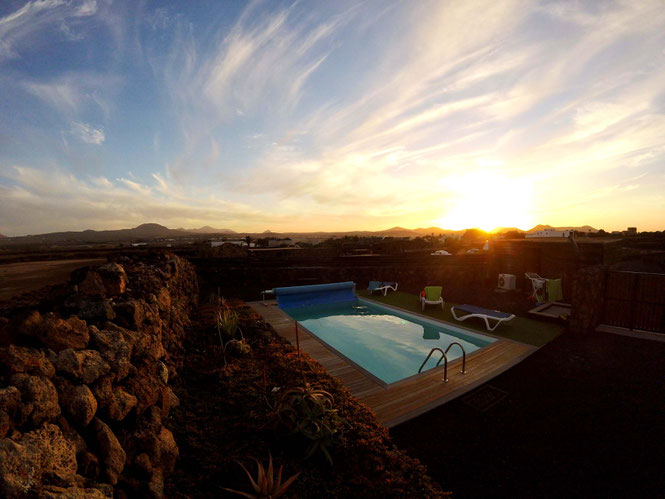 El Cotillo
El Cotillo is a small town in the very north of Fuerteventura, well known for its surfing and beaches.
We stayed there for the first couple of weeks, in an apartment in the centre and in walking distance to the beach, which we loved.
The interior was simple, but beautiful. Very clean and white, with a few turquoise coloured accessories. We also enjoyed having a little private patio, simply to dry our wetsuits and to hang out.
Michael was a super sweet host, taking great care of us.  You can tell, that he has designed the apartment with love and thought of the little things that really make a difference, like having proper knives in the kitchen and outlets on the terrace, so we could work there on our laptops. He has smaller and bigger apartments for up to six people.
Click here for current rates at Casa Cotillo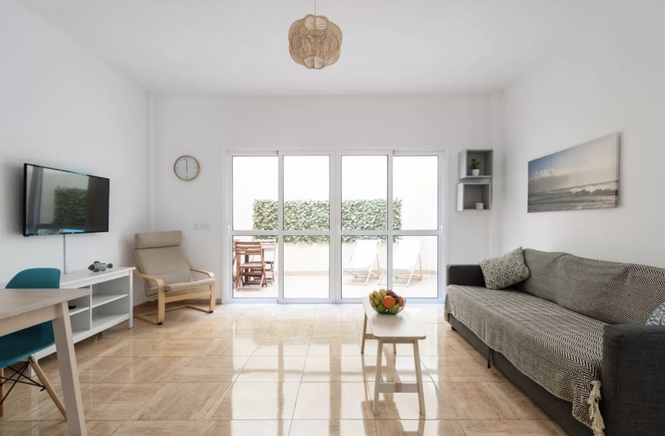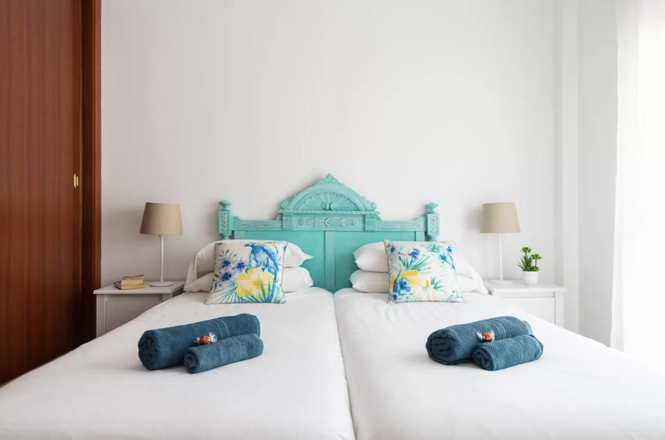 ---
Parque Holandes
Parque Holandes is a tiny village in the actual desert of Las Dunas. Since we met friends there, all we wanted to do is have bbqs with them and chill at the pool, so we didn't care where we ended up. We just looked for the nicest house, which we found: Casa Montana.
We loved the house for its massive pool, the bbq and the cozy interior. We stayed there with our two friends and their baby, so it was great that the house was so spacious and since Adam, the owner, also has a baby, everything we needed for the little one was already there. While being priced more towards the high-end range, it ended up being pretty affordable for the 4.5 of us, and there would have been enough beds for up to six people.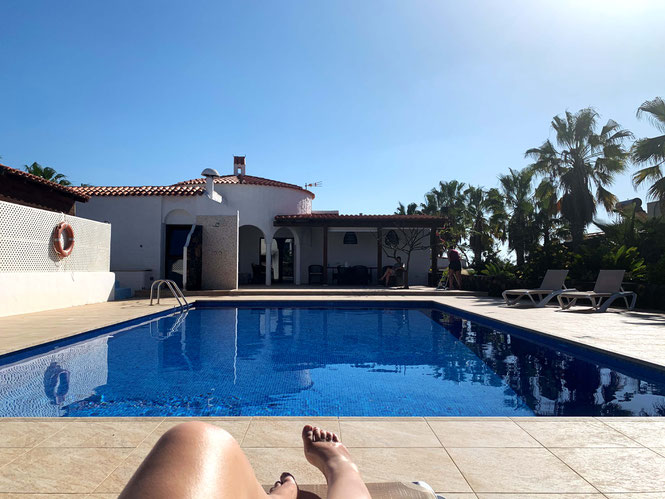 ---
Lajares
We fell in love with Lajares, while staying in El Cotillo. It was the next town and it quickly turned from the spot where we went for shopping to the spot where we hung out most afternoons.
So of course, we moved over there after leaving Parque Holandes.
What was supposed to be a one week stay ended up being more than a month.
We spoiled ourselves with a nice house again, since we had gotten used to the luxury of a pool. 
Casa Juanita offers enough space for up to six people, with a heated pool and an amazing outdoor area. The interior was quite simple, but since we enjoyed the terrace so much, we usually spent all day there.
We loved that we were a bit outside of Lajares and had a view over the mountains, while still being in walking distance to the cafés and shops.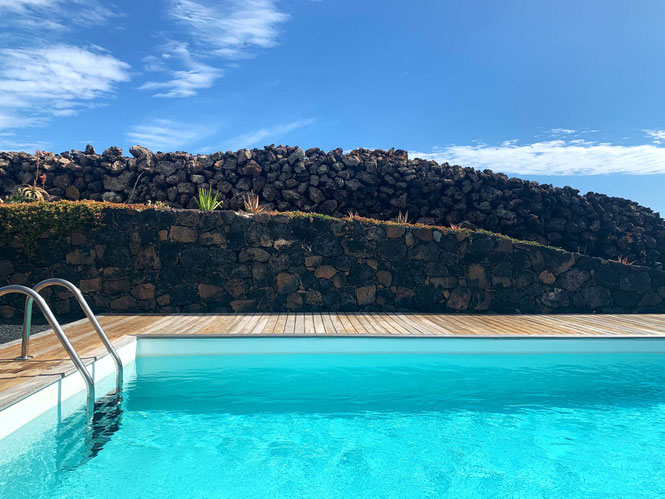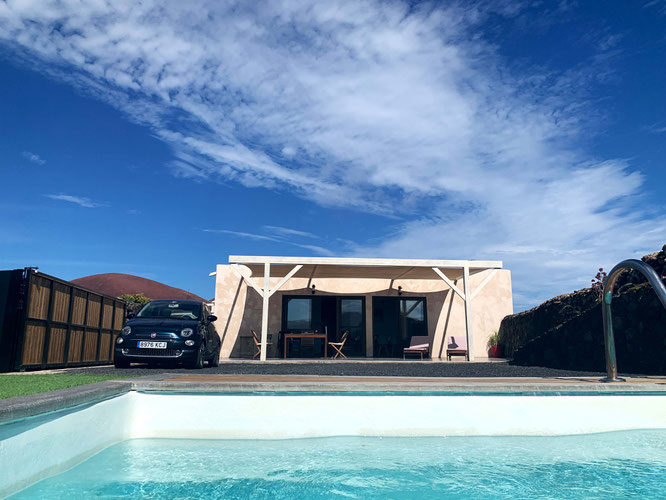 Damn, looking at these pictures really makes me miss Fuerteventura! And it helps, that I didn't show you the small and smelly apartments, we stayed at in between :)
If you end up staying at any of these places or if you can recommend somewhere else, I'd love to hear about it in the comments section!
---
Sharing is Caring
Please note that I am an affiliate for booking.com and will earn a small percentage of your purchase if you buy through these links at no additional cost to you. Thank you for supporting Journey to Design! 
None of this was sponsored. The owners of the apartments didn't even know about this blog and we paid the full price for all of them. As always, you get my full and honest opinion.
Pin for Later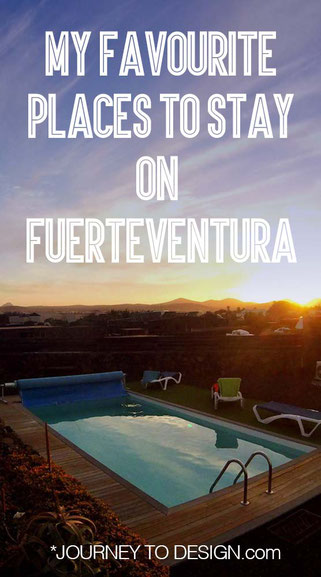 ---