If you get the chance to start a story with a real fairytale, you have to do it, right?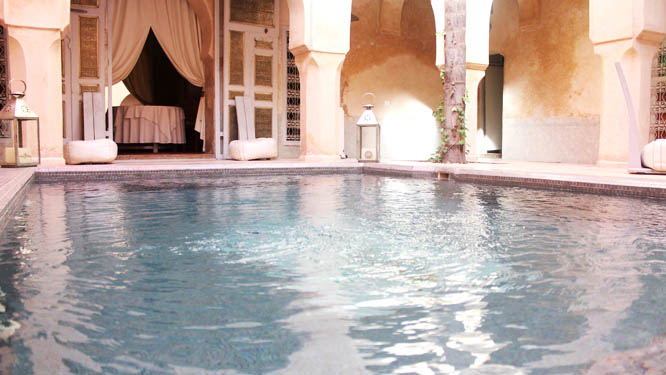 Once upon a time there was a girl called Yela living in a luxurious Riad in the Marrakesh Medina. As she wasn't allowed to go out by herself, she secretly climbed on the roof of her house every night to look at the stars. That's where she met the neighbour's boy. They became friends and he told her, that the carpet she was sitting on would fly, if she only gave him a kiss.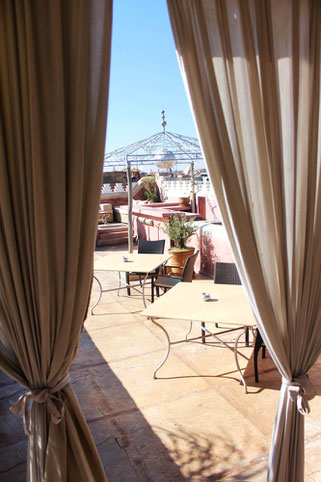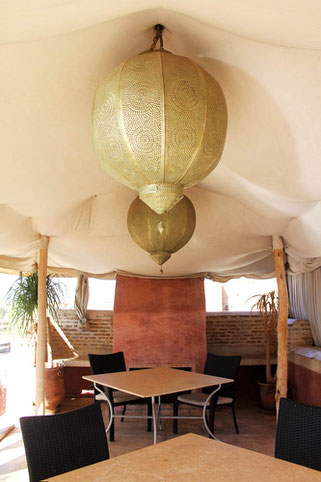 Weeks later, she gave in and as the two kissed, the carpet really started flying. Yela's father was a kind man, who accepted the love between the two and so they got married. Many years later, Yela still remembered the words that changed her life and the first words she said to the boy who later became her husband: AnaYela – I am Yela.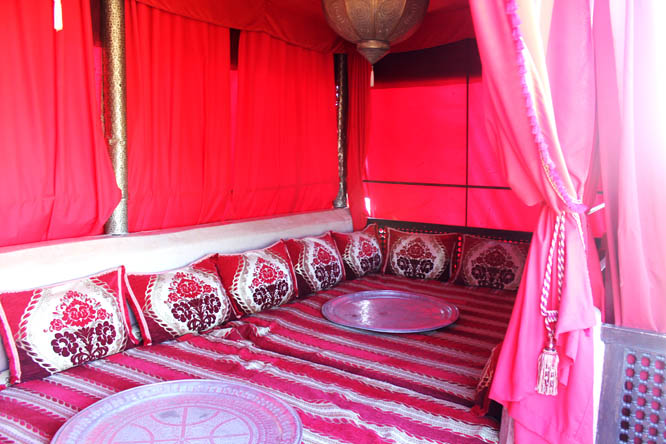 ---
The Design
About 300 years later, the palace was restored to become a hotel, only using Moroccan craftsmanship without the use of electric tools. During this process, which involved more than one hundred artisans, a wall was torn down and uncovered a small room containing a jewellery box with a letter inside. It was Yela's story.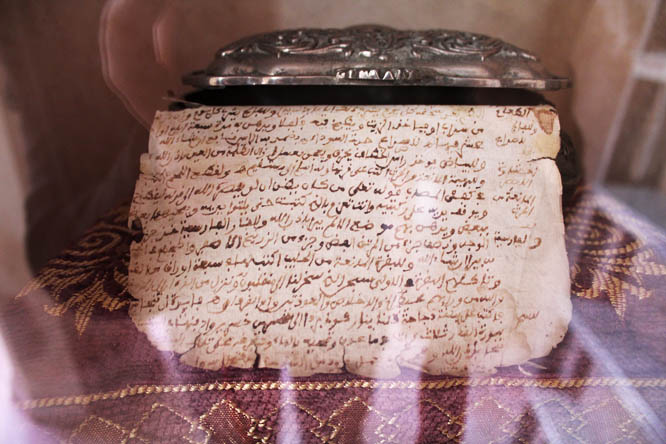 Keeping her memory alive, a calligrapher hammered the story in metal on all doors in the Riad, like pages in a book. Whenever you open a door, you turn a page.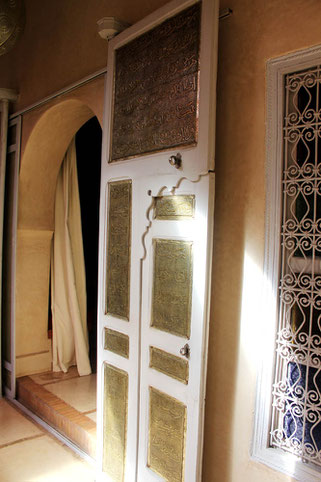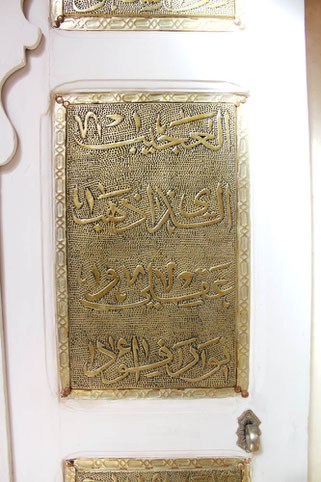 All things you'll find in the Riad, from the furniture to the lamps and even the tableware, were designed by Bern Kolb and Yannick Hervy, and finished by Moroccan artisans. Everything fitting together creates a unique and peaceful atmosphere, as if you were walking into a piece of art.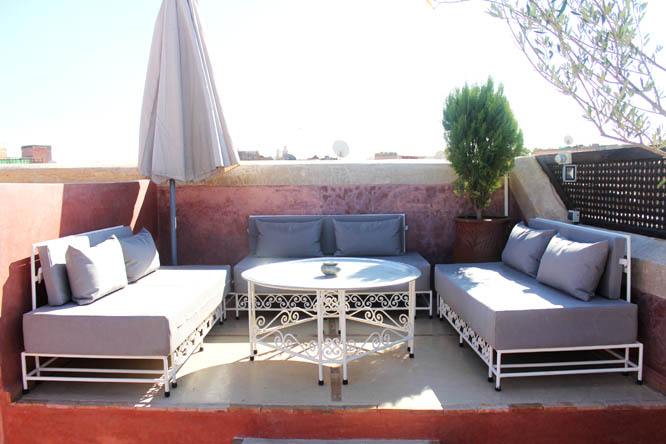 The traditional Riad architecture leaves an open outdoor space in the center of the building, where AnaYela now has a pool. On the first floor, there is a large lounge area and on the roof terrace, you can gaze at the stars, just like Yela did.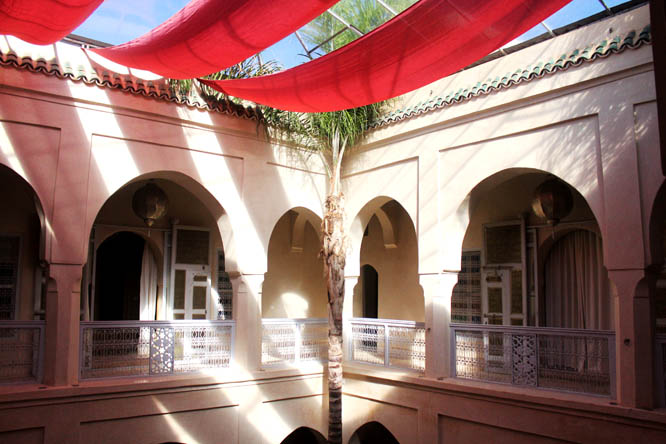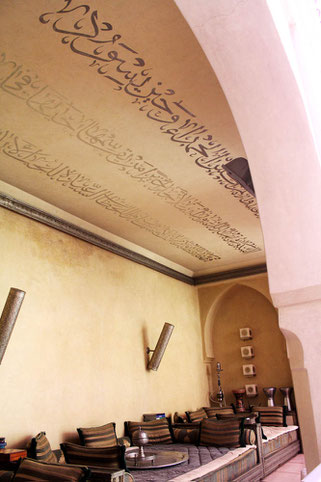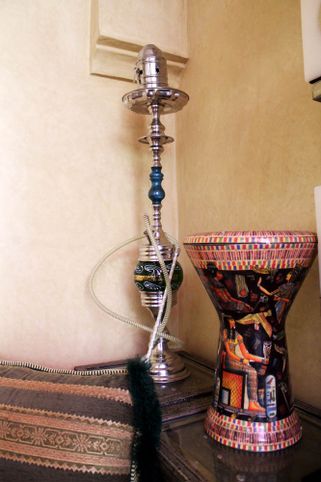 ---
The Room
There are five rooms in the Riad, providing space for only ten guests altogether.
Our room was on the first floor. It had a small sitting area next to a fireplace and a huge bed, which literally had rose petals on it, when we arrived.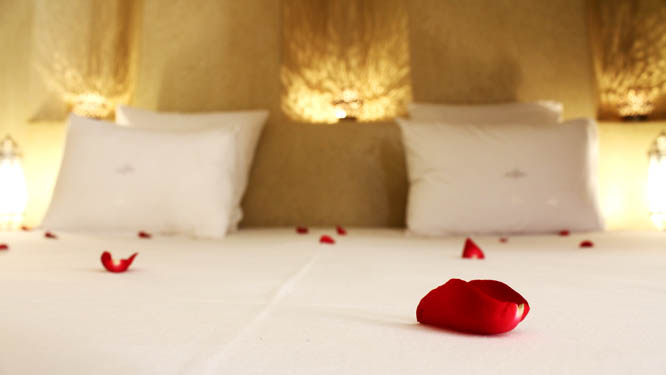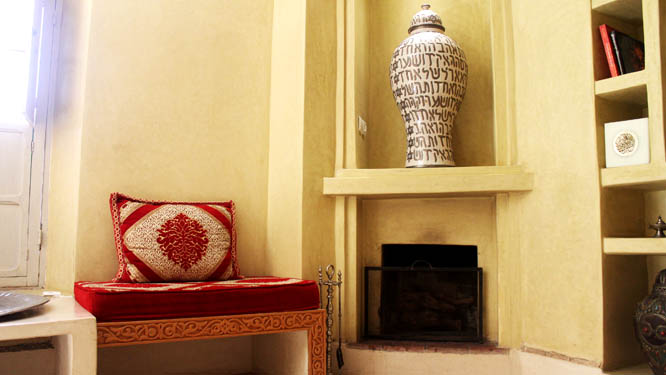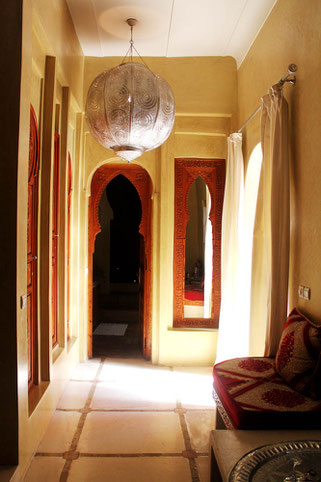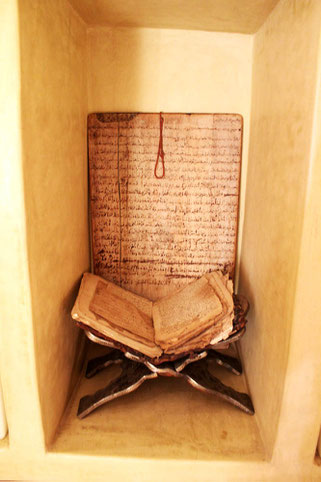 My highlight was the bathtub though, which was big enough for me to completely dive in without even touching the walls. I felt like a princess in there.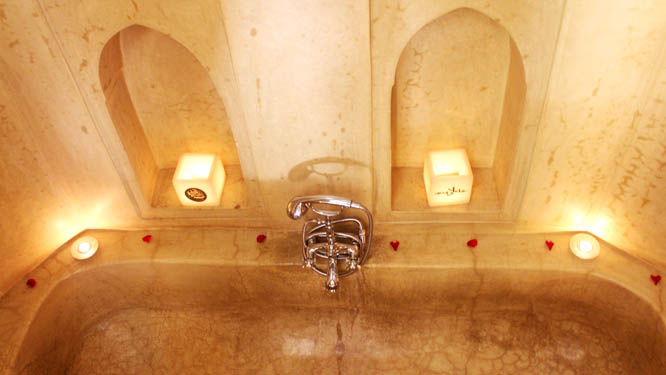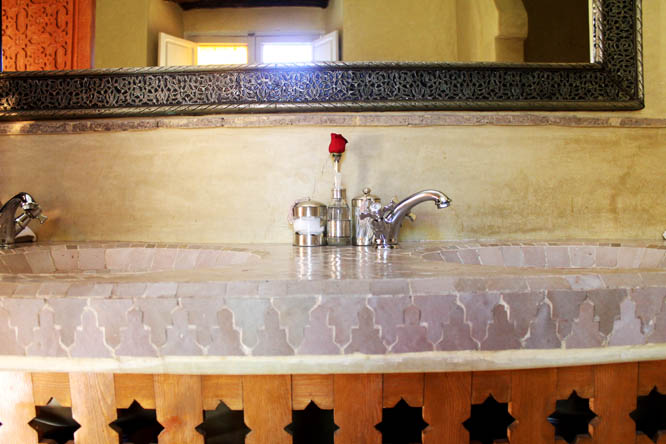 In the room, there were still Yela's quotes on the walls combined with individually designed furniture, drawing together the general design with the rooms and creating one open palace.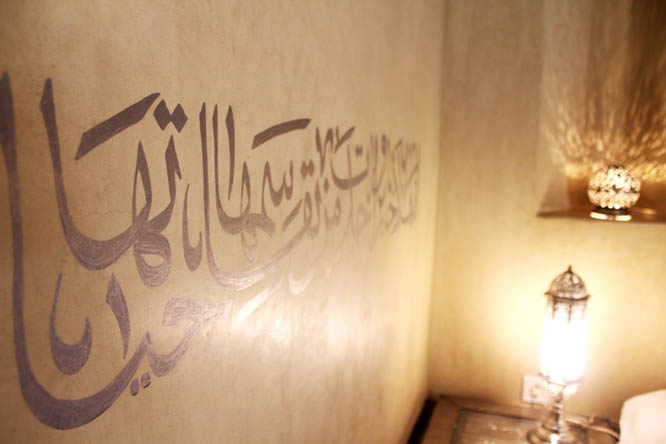 ---
The Area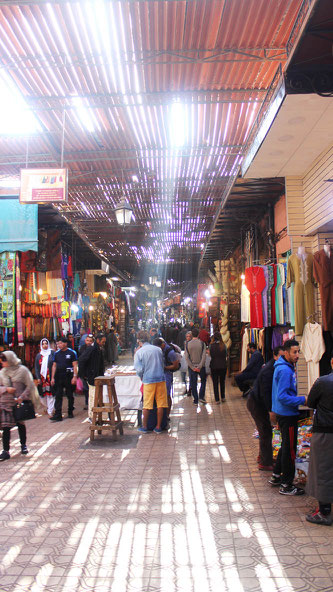 The Riad is located in the Medina – the old town – of Marrakech. We loved, that it's a fifteen minute walk away from the market and the souks, which makes it a lot quieter, with fewer tourist and more donkeys walking by.
Jardin Majorelle is also only a twenty minute walk in the other direction. We didn't need to take a taxi during our entire stay.
The entrance is in a tiny alley and with closing the door behind us, we felt like we were in a different world, as we couldn't hear anything from the outside anymore, just the splashing of the pool and birds singing.
The Food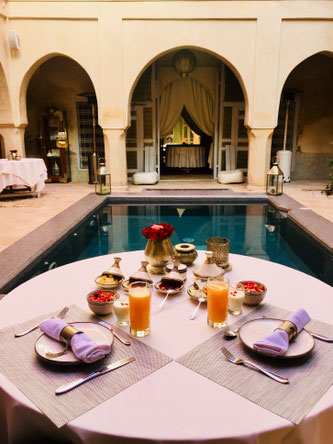 Our breakfast was absolutely overwhelming with all kinds of pastries, fruit and cheese, all served right next to the beautiful pool. It was different every day, which we loved as it let us try all kinds of different Moroccan treats.
Our daily challenge "Let's have enough for breakfast so we don't need lunch" was fulfilled easily.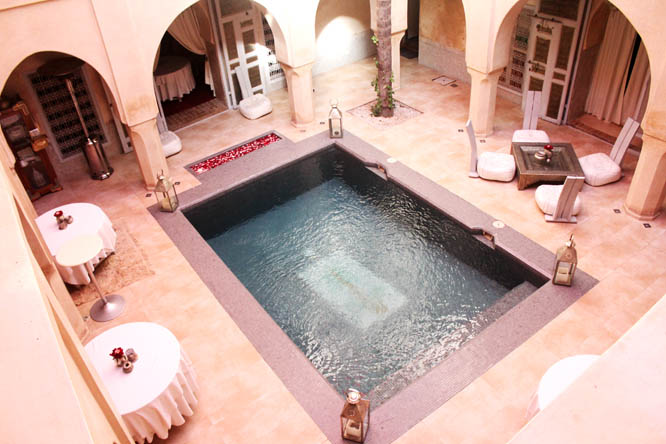 ---
The people
From the second we arrived at the airport, we felt like two princesses on an adventure. A driver picked us up at the airport (oh how I enjoyed the jealous looks of tourists trying to find a cab and figure out how much they should pay for a ride into the city) and Mehdi, the hotel's manager, waited at the Medina for us, to walk us to the hotel. As the streets are tiny there wasn't any chance for us to ever find it by ourselves.
We were then greeted with dates and milk (amazing!), while the staff took care of everything. Every morning, they asked what our plan for the day was and offered to help arranging, as we both don't speak Arabic. When Mehdi handed me a phone to take with me, so we have a Moroccan number to call him if we ever get lost in the city, I was close to hugging him. Every single person we talked to was absolutely friendly and offered help with whatever we were planning to do.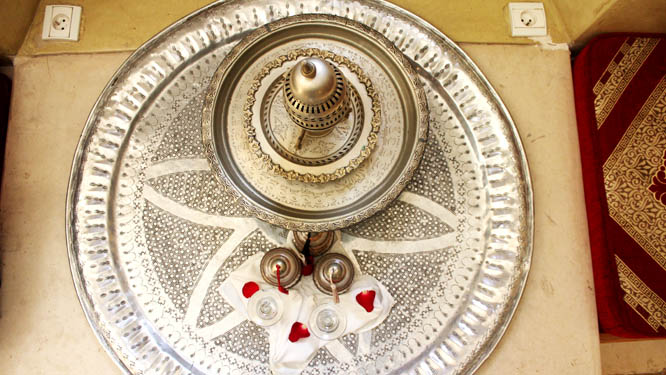 ---
Over all
I've announced that I found paradise a few times already, so this time I'll call it an Oasis.
AnaYela is such a beautiful, inspiring and peaceful place, that I'll definitely have to come back.
If you're looking for a quiet base to explore Marrakech, surrounded by friendly people making you feel like a princess, this is your spot.
Thanks AnaYela-Team for taking such great care of us!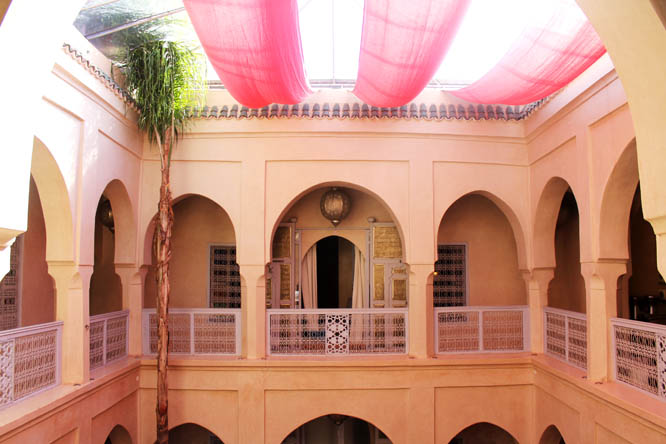 ---
One more thing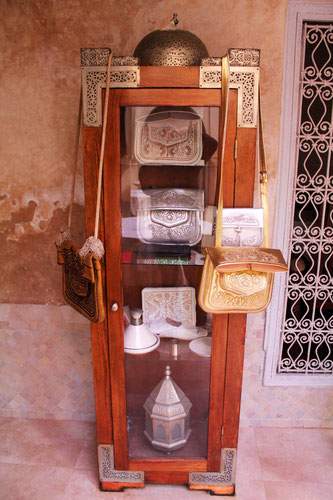 After the renovation Andrea – one of the owners, who had fallen in love with Moroccan craftmanship – started having Berber bags produced in Morocco, which she now sells online and in her store. You can find the full story here.
---
Where:
28 Derb Zerwal,
Marrakesh, Marokko
How to get there:
fly to Marrakesh and use AnaYelas included pick-up service
How much:
rooms starting from 190€
click here for current rates at AnaYela
Pin for Later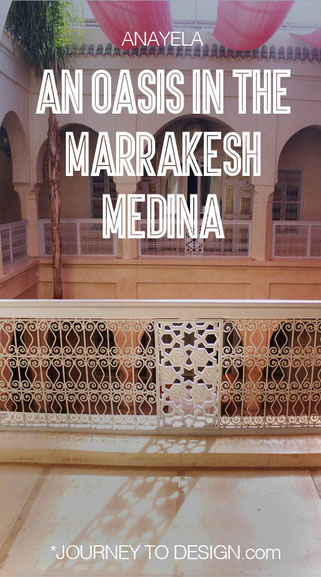 ---
This post was sponsored by AnaYela. Thanks for having us, guys!
Please note that I am an affiliate for booking.com and will earn a small percentage of your purchase if you buy through these links at no additional cost to you. Thank you for supporting Journey to Design! 
---
Sharing is Caring
---
YOU MIGHT ALSO LIKE
---