Planning my trip to Myanmar, I told a couple of people about my itinerary:
Starting from Yangon, I wanted to work my way up north over Inle Lake and Bagan to Mandalay. The common response to that was: "Cool, but don't spend any time in Mandalay. I heard it's a horrible place".
So I was obviously on a mission to find the beauty of Mandalay, and spoilers: I did.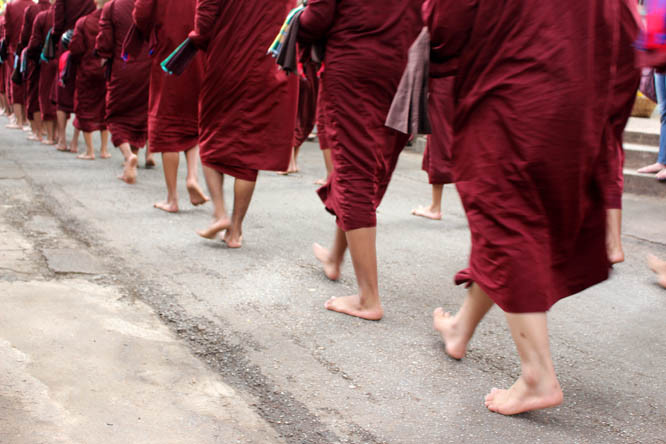 ---
---
The only real plans I made before, were visiting the U Bein Bridge and Mandalay Hill.
Since there were three of us, it was cheaper to hire a driver for the entire day than to each rent a bike. It started pouring later on, so we were quite happy with our decision.
Our very nice driver Mue suggested a couple of activities in between the bridge and the hill and since we had booked him for the entire day anyways, we went for it.
1. Breakfast of the 1000 Monks
More than 1000 monks live in the Mahagandayon Monastery between the U Bein Bridge and Mandalay and every morning they collect their only hot meal of the day in a narrow alley. I was fascinated by how calm even the novices (the little ones in white robes) were and how they just stood there waiting to be served.
As the alley is rather small, I was standing closer than I would have otherwise, but there were signs stating that it's alright to take pictures. I still felt like I was intruding into their daily life a little and tried not to get closer than I had to.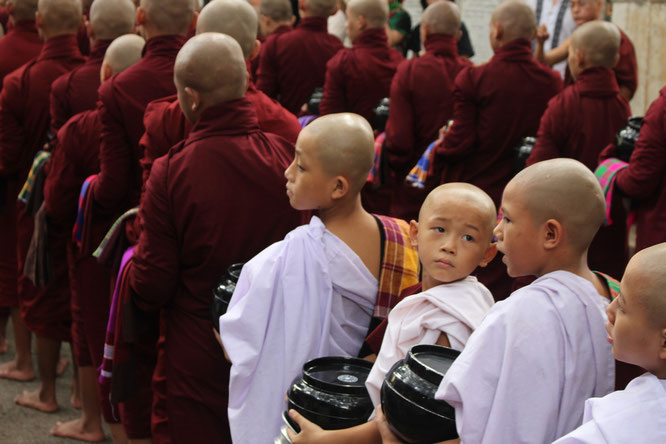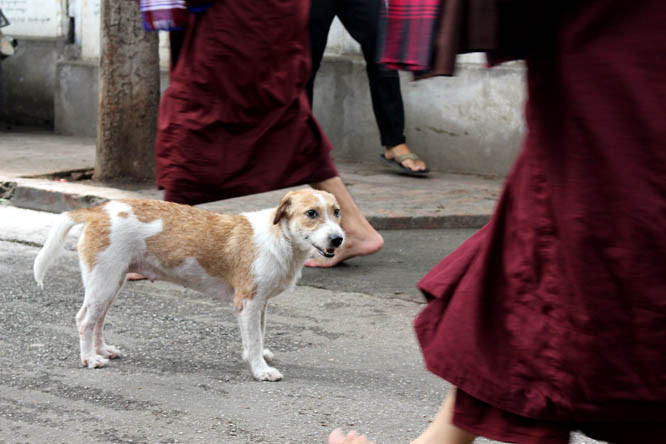 ---
2. U Bein Bridge
That's the classic I came for. The bridge is the longest Teak Wood bridge in the world – and you will know that if you crossed the 1.2km in the burning midday sun.
From the bridge you can watch fishermen on both sides, boats go by and the beautiful surroundings. All I could think was: How did they manage to build this thing in the middle of nowhere??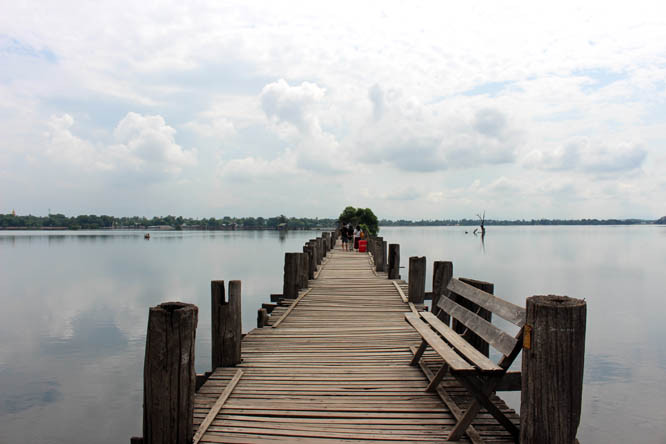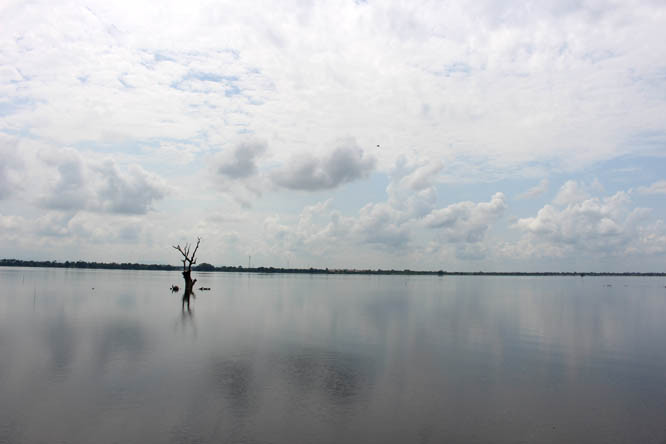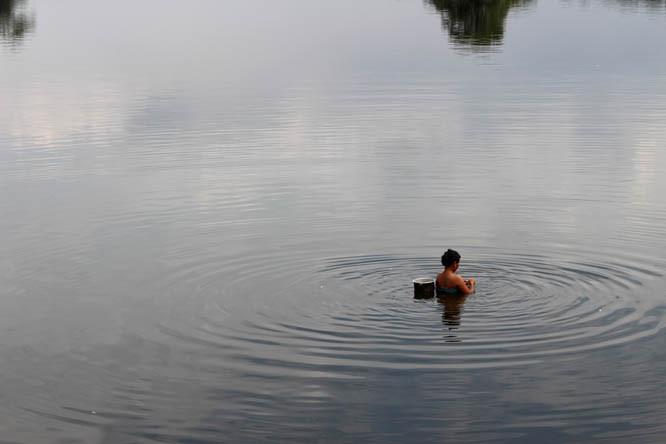 ---
3. Crafts
Mandalay is famous for its wood- and stone-carving, so Mue stopped at a shop where traditional marionettes are made. I loved that this was not one of the "showrooms" drivers often bring you to where you feel pressured to buy something and we could just stroll through the store in peace and watch some impressive craftsmanship going on in the middle of it.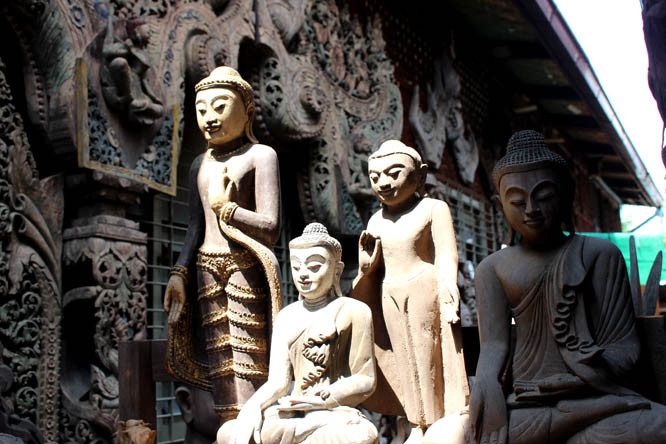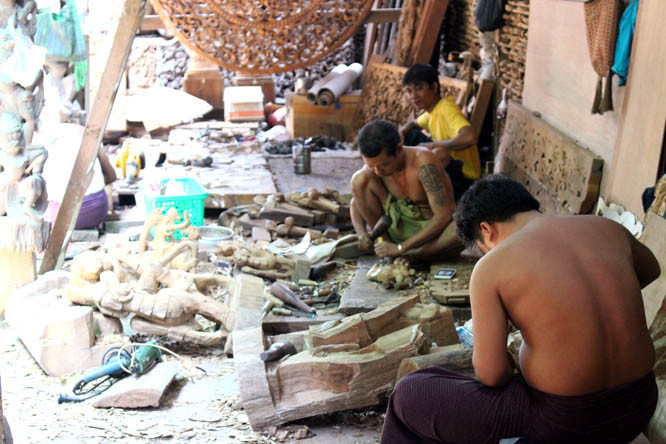 ---
4. The Royal Palace
If you check Mandalay's map, you'll see it right away: The Royal Palace with it's surrounding gardens takes up 4 square kilometres in the middle of the city and is surrounded by walls and canals.
Inside there are dozens of gold and red teak wood buildings, where all kinds of ceremonies took place and where the royal family lived.
Today, the fort also houses the British Army.
Unfortunately it started to pour just when we entered the palace, which is why we didn't stroll around happily and rather ran from one building to another (I'll never be the person who brings an umbrella).
I guess I would have enjoyed it even more in a more relaxed atmosphere, but I found it still very impressive.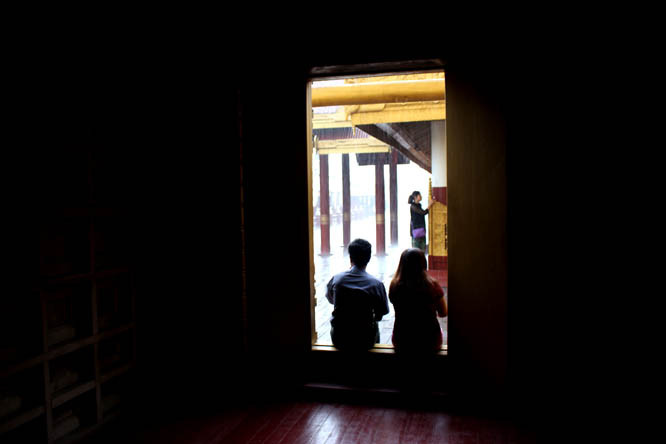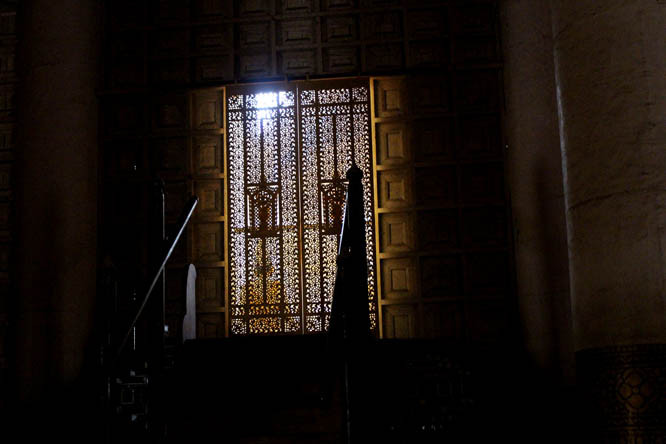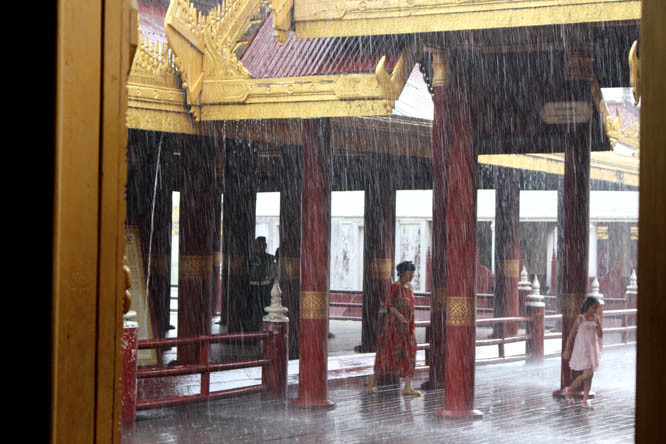 ---
5. Pagodas
Although we were feeling pretty pagoda'd out after visiting Bagan and Yangon, Mue decided he would not let us go without a couple more.
And I was surprised as there were different from the ones we've seen before.
My favourite one was this pagoda:
It was destroyed by an earthquake last year and the monks converted it to a volleyball field.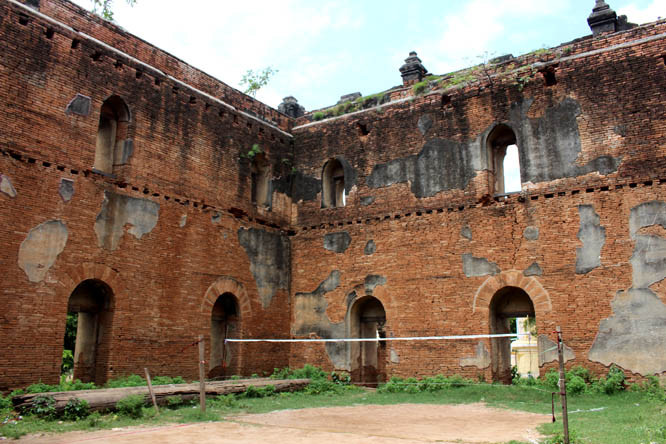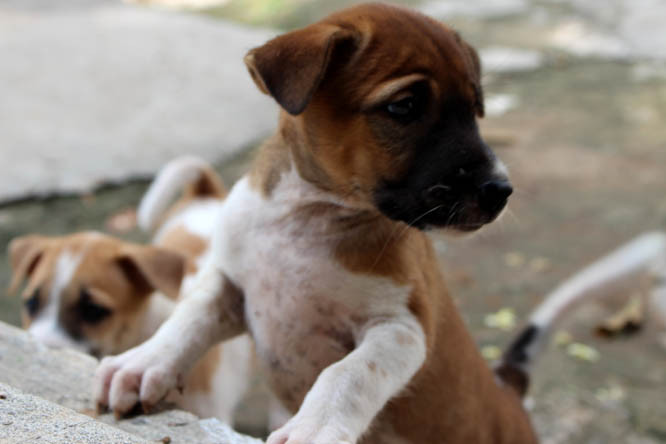 ---
6. Mandalay hill
It was still raining when we got up there, but the view was still great.
This is one monastery where you don't have to climb up anywhere as usual but Mue could actually drive us all the way, where an escalator was waiting.
Call me lazy – I was so happy with my legs still being sore from the 700 steps to Mount Popa I had done the day before.
I especially liked the details of this monastery with beautiful mosaic murals (and yes, this is the fourth dog picture in this post and I have one more coming).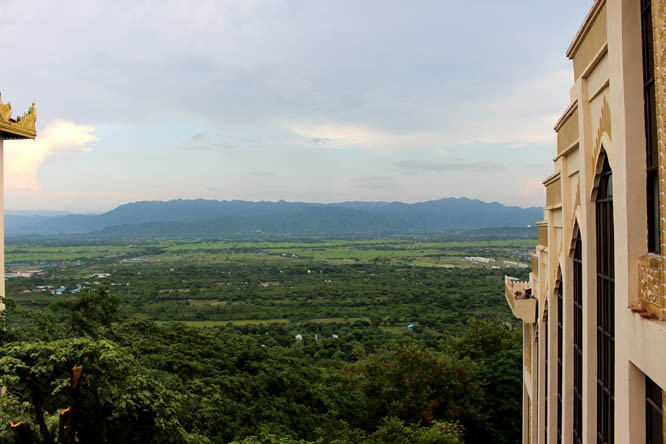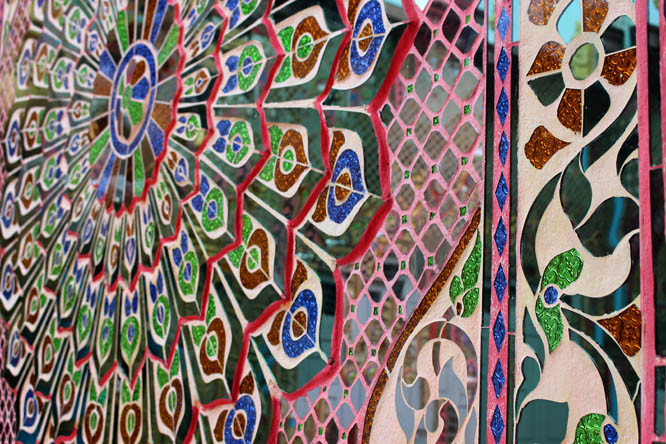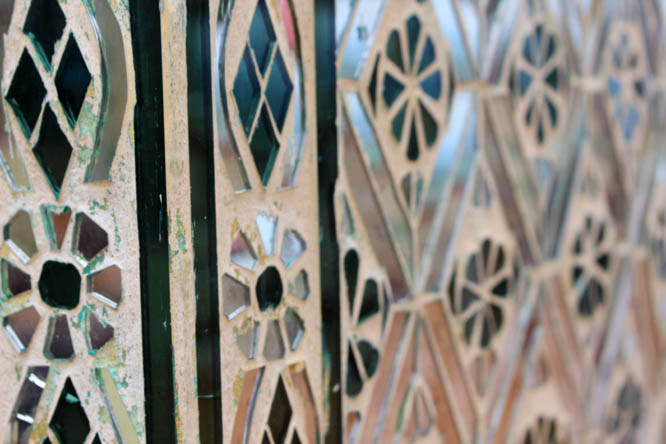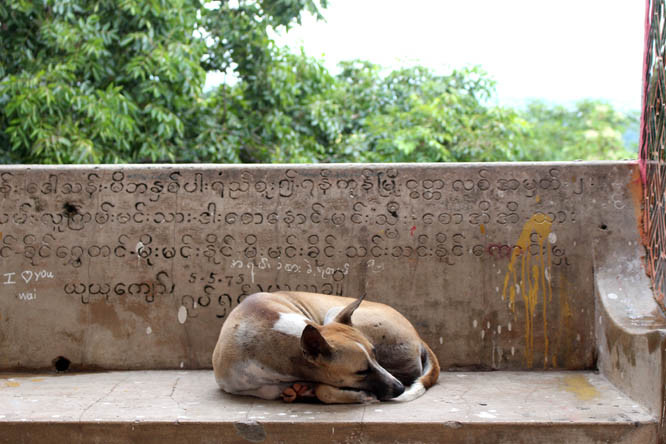 ---
7. Street Food
I loved the food all over Myanmar but the Street Food in Mandalay was my favourite.
Being closer to India and China than the other places I visited, the food was just perfect. Most times I had no idea what I ate there, (like in the picture below) but I enjoyed everything!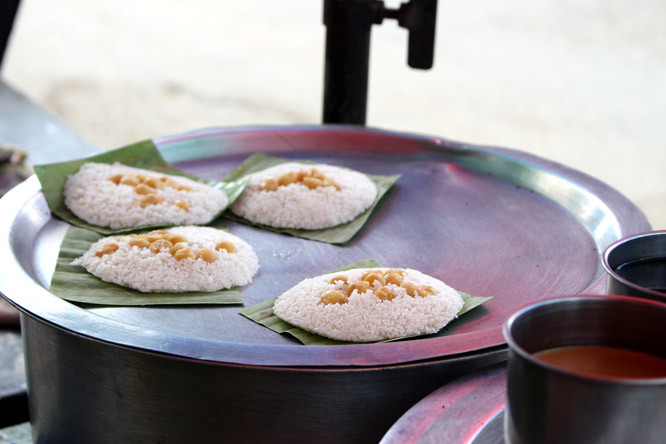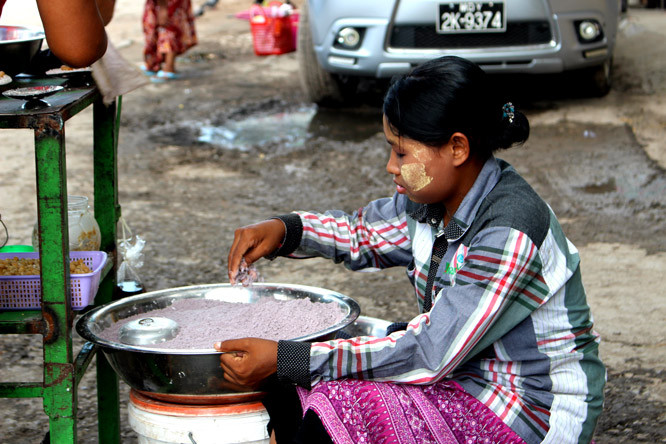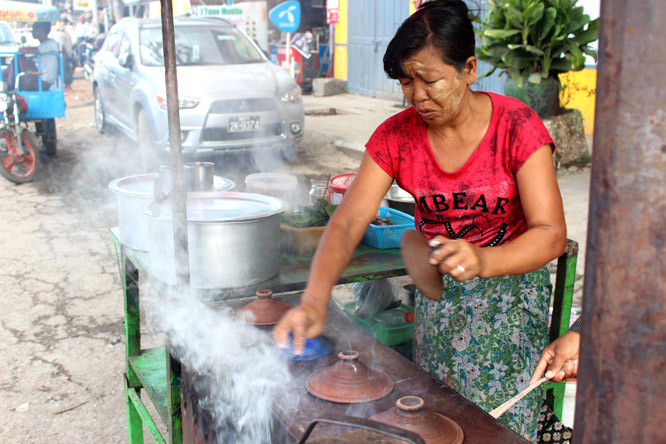 ---
We managed to squeeze all this in one day, it could of course easily be spread over two. The streets felt very stressful to me, so this is not the city for long walks but it's easy to get around and I loved the places we looked at.
I was super thankful we had Mue showing us around and telling us about his life, his culture and the places we looked at ("why is this pagoda white?" "look how big it is! Do you want to donate all this paint to make it golden?") and saving us from the rain several times. 
Mandalay is a great place to start or end your trip to Myanmar for a day. I wouldn't suggest going just there because the other places I visited in the country feel a bit more relaxed, but I had a great time and would love to go back there.
---
---
How much:
we booked Mue through our guesthouse and paid 40.000 kyatt together for the whole day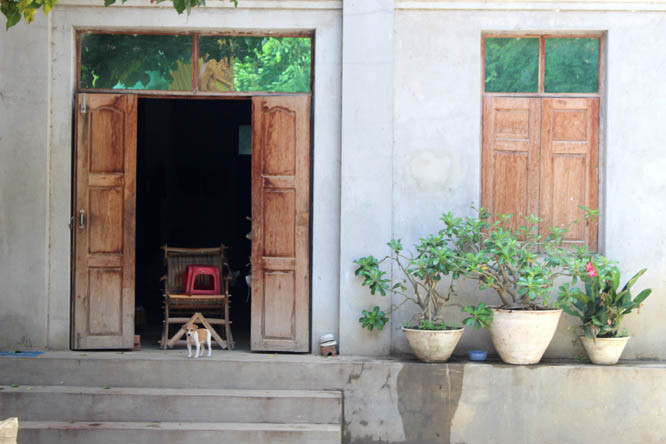 ---
YOU MIGHT ALSO LIKE
---